This homemade mild taco seasoning can be made in less than 5 minutes! It is a kid-friendly taco seasoning that's perfect for all ages. This taco seasoning is gluten-free, dairy-free and paleo!
This homemade mild taco seasoning is quick and easy to make! I personally prefer to make a DIY taco seasoning over a package of taco seasoning, as it has a more robust flavor, yet is not as spicy.
This recipe is mild on the spice level, however there are tips included if you want to increase the spiciness. The recipe makes enough seasoning for 1 pound of meat. I recommend doubling the recipe and saving some for later if you plan to make this frequently!
This recipe can be used for classic tacos. It also pair perfectly in recipes such as this homemade taco soup or this chicken taco bake.
Jump to:
Reasons This Works
This kid friendly taco mix is easy! In fact, it's so easy, your kids can help make it. All you do is measure spices and mix them together.
The spice level is adjustable. This is very mild for those who do not like spice. If you have someone that can tolerate spice, add a pinch of cayenne pepper.
The taco seasoning accomodates many dietary needs. It is gluten free, dairy free, soy free and vegan! (always double check lables!)
It does not contain any cornstarch and has no added preservatives

, unlike some prepackaged seasonings.
Ingredients Needed
Chili Powder: McCormick Seasonings is an excellent brand of chili powder. There are some variations of chili powder called "hot chili powder", only use this if you want the extra spice!
Cumin: ground cumin is a spice commonly used in Mexican dishes. It has best flavor if used within 6 months- consider purchasing a new bottle if you've had it in the cabinet for years and years.
Garlic Powder: select a finely ground garlic powder. Make sure it is garlic powder and not garlic salt.
Onion Powder: select a finely ground onion powder.
Black Pepper: this adds flavor. You can also substitute white pepper.
Salt: use a finely ground table salt. Decrease or increased based on your preferences.
Oregano: this spice is commonly used in Mexican dishes for flavor! Don't confuse it with Italian seasoning!
Paprika: any type of paprika will work. I have made this with Hungarian paprika and with Smoky paprika- both add great flavor!
Instructions
Combine all spices in a small mixing bowl. Mix with a spoon until blended.
To Make Tacos
Brown 1 pound of meat in the skillet. Add the taco seasoning and ⅔ cup of water. Mix well until combined. Bring the meat to a boil, stirring constantly until water is absorbed. Remove from heat and serve warm.
Variations
Low Salt: if you are serving this to a young child or someone concerned about salt intake, simply decrease the amount of table salt added. The other flavors are strong enough that you may not notice the decrease in sodium.
Add More Spice: add ground cayenne pepper to make this spicier. Add ¼- ½ tsp. You can also add ½ teaspoon of red pepper flakes for extra spice.
TIP: if only one person prefers spice, add a tiny pinch of spice to their individual dish on their place. Hot sauce/tabasco sauce are also great ways to add spice!
Large Batch: this recipe makes enough taco spice for 1 pound of meat. Feel free to double, triple, or quadruple the recipe so that you can save it for later or make larger batches of meat.
How to Store the Taco Seasoning
Store the taco seasoning in an air-tight container, such as a zip-lock bag or a mason jar with a lid. Do not let any moisture come into contact with the seasoning. Store in a cool dark area, such as a pantry or spice cabinet. Use within 3 months.
Taco Seasoning Uses
Here are some of my favorite ways to use this taco seasoning!
Season ground beef or ground turkey to make tacos. Serve with homemade salsa.
Mix with shredded chicken
Mix with plain pulled pork
Make a creamy salsa dip
Mix with shrimp for shrimp tacos
Store-bought Seasoning Vs Homemade Seasoning
Preservatives/Additives: store-bought seasoning contains anticaking agents (silicon dioxide) and citric acid. Homemade seasoning simply contains a blend of spices (Double-check your individual spice containers to make sure they don't have preservatives!)
Sodium: the sodium level is about the same, however, can be adjusted with homemade seasoning.
Gluten-Free: some brands of taco seasoning contain wheat or are manufactured on equipment that comes into contact with wheat. Homemade seasoning does not contain wheat (always double-check spice bottles).
Recipes That Can Use Homemade Taco Seasoning
This recipe can be used in place of 1 packet of taco seasoning, or as a Mexican seasoning in your favorite dishes.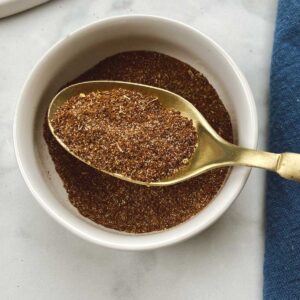 Homemade Mild Taco Seasoning
This homemade mild taco seasoning is kid friendly and easy to make! It's the perfect blend of spices and flavors for all ages! This recipe is gluten free, dairy free and preservative free!
Ingredients
2

teaspoon

chili powder

1.5

teaspoon

cumin

¾

teaspoon

salt

½

teaspoon

black pepper

½

teaspoon

paprika

½

teaspoon

garlic powder

½

teaspoon

onion powder

½

teaspoon

oregano
Instructions
Add all spices to a small bowl. Mix until combined.
To Make Tacos
Brown 1 pound of ground meat in a skillet until cooked.

Add ⅔ cup of water and all of the seasoning.

Cook over medium heat for 2 minutes, or until water is absorbed. Stir frequnetly.

Remove from heat and serve.
Notes
Nutrition facts are calculated for if you eat ⅙th of the taco seasoning. 
This taco seasoning recipe makes seasoning enough for 1 pound of ground meat. 
Double-check your spice bottle labels to verify they are allergen-free and preservative-free if that is a concern.
Nutrition
Serving:
0.25
g
|
Calories:
6
kcal
|
Carbohydrates:
1
g
|
Protein:
1
g
|
Fat:
1
g
|
Saturated Fat:
1
g
|
Polyunsaturated Fat:
1
g
|
Monounsaturated Fat:
1
g
|
Sodium:
303
mg
|
Potassium:
32
mg
|
Fiber:
1
g
|
Sugar:
1
g
|
Vitamin A:
221
IU
|
Vitamin C:
1
mg
|
Calcium:
11
mg
|
Iron:
1
mg