This teriyaki Salmon bowl is flavorful and healthy. A bed of rice is topped with teriyaki salmon, roasted broccoli, avocado and finished with a sticky teriyaki sauce. A healthy meal that take less than 40 minutes to make!
I've been making these teriyaki salmon bowls for years, yet have never taken the time to write down an actual recipe or give them a true name. I decided this recipe is so good, it's worth sharing. These bowls are also known as salmon buddha bowls or salmon teriyaki rice bowls. No matter the name, they are delicious!
As a dietitian, I love recommending foods and recipes that have nutritional benefits. I recommend this recipe because it is packed full of heart healthy fats (omega 3's) from the fish, and it has many nutrients from the vegetables. I have modifications listed below if you are concerned about the sodium content!
Looking for more fish recipes? Check out my air fryer salmon or air fryer tilapia with herbs!
Jump to:
Reasons This Works
The salmon teriyaki bowls are full of flavor. The teriyaki sauce is used as a marinade for the salmon and the leftovers are turned into a sticky sauce for the topping.
These bowls are a filling, low calorie meal option. Salmon provides many healthy fats and broccoli is an excellent source of vitamins.
The ingredients can be prepped the night before and then assembled the next day.

This is also a great way to use up leftovers.

These bowls are versatile; you can customize the veggies and add any type you wish!
Ingredients
Salmon Filets- select 2 salmon filets. Use either fresh salmon or frozen salmon(defrost it first!)
Rice- sushi rice or jasmine rice are my favorites. Any type of rice will work, however!
Soy sauce- use a tamari sauce. This is gluten free and also has a very strong flavor. If you cannot find tamari, use a low-sodium soy sauce. I recommend low sodium because the teriyaki sauce is very salty with normal soy sauce.
Veggies-the options are endless for veggies. I chose avocado, edamame and broccoli.
How to Pick Fresh Salmon
Select a salmon filet that is bright in color. There should not be any brown coloring around the edges or on the skin. Salmon should appear moist and not dried out. Stay away from salmon that has strong odors.
Here's more information on picking out good fish.
Variations
Fish substitute: sub the salmon with tilapia, shrimp, chicken, beef or pork.
Veggies: the options are endless. Add as many or as little veggies as you like. A full list of veggie recommendations is listed below.
Low sodium: soy sauce is known for being a high salt food. You can decrease the sodium content of this bowl by using a low sodium soy sauce or reducing the amount of soy sauce added to the marinade.
Rice Substitute: replace the rice with brown rice, cauliflower rice, or sweet potato noodles. You can also use pasta and make a dish similar to this penne al salmone.
Step by Step Instructions
Prepare the Teriyaki Sauce
Combine the tamarai, honey, rice vinegar, brown sugar, garlic, ginger and water in a medium bowl. Mix until combined.
Place the salmon in a bowl and pour half of the marinade over the salmon. Mix the salmon around until it's fully covered. Set the salmon in the refrigerator for20-30 minutes to marinade.
While the salmon is marinating, make the sauce.
Add 1 tablespoon cornstarch to the remaining sauce mixture. Whisk until no lumps remain.
Heat a medium skillet over medium heat. Add the sauce. Stir until bubbles and thickens (about 4-5 minutes). Stir constantly. Remove from heat and set aside.
Cook the Salmon and Broccoli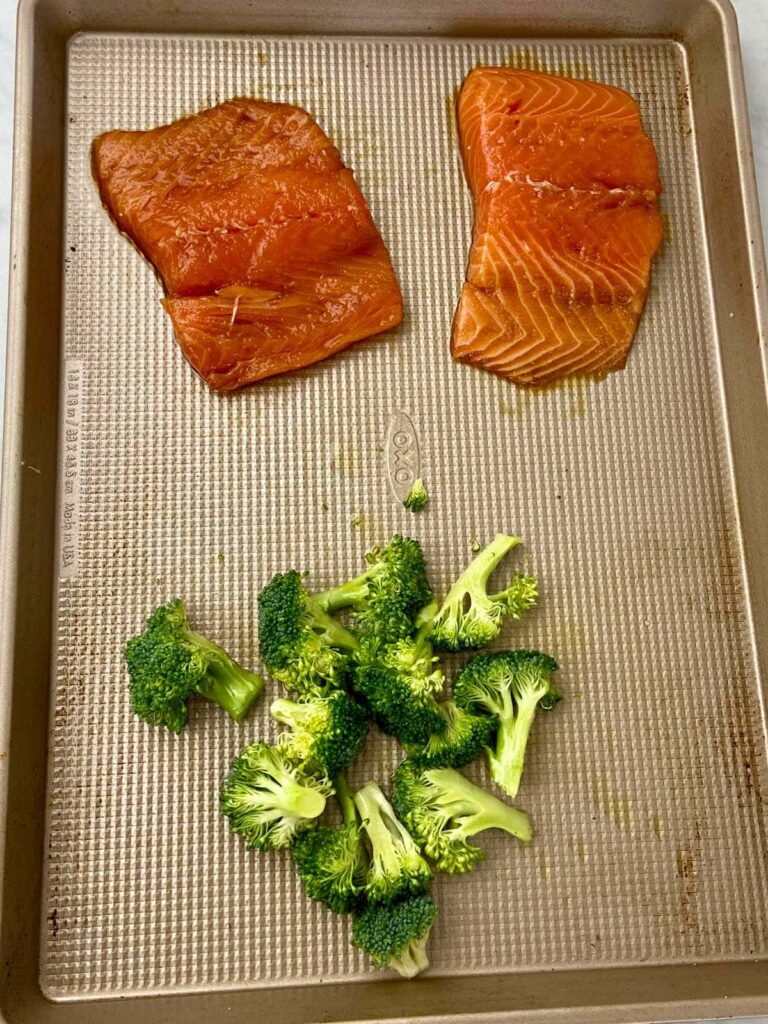 Preheat the oven to 400 F.
Spray a baking sheet with nonstick pan release spray.
Add broccoli florets to the baking sheet. Toss with olive oil and salt (optional).
Remove the salmon from the marinade and place on the baking sheet, skin side down.
Cook for 20 minutes or until the salmon reaches 145F.
Prepare the Bowl
Cook the rice as instructed on the package.
Pour rice into the bottom of a large bowl.
Add the cooked salmon and roasted broccoli.
Add the edamame and sliced avocado.
Drizzle the teriyaki sauce over the rest of the bowl.
Top with sesame seeds (optional).
Toppings
These teriyaki salmon bowls can be easily customized. Feel free to add any of the vegetables listed. I like to choose 3-4 veggies, however, you can go crazy and do as many as you like!
Shredded carrots: purchase pre-shredded carrots in the store or shred your own carrots
Purple Cabbage
Pickled cucumbers
Seaweed Paper
Avocado
Edamame
Broccoli (roasted)
Chickpeas
Shortcuts/Make-Ahead Tips
Use precooked rice. You can purchase a microwavable pouch of Jasmine Rice (Uncle Ben's is a popular brand). It takes about 90 seconds to cook. Or, cook the rice the night before so it's ready to go the next day!
Precut veggies: purchase fresh broccoli that is already cut. If using carrots, select shredded carrots.
Salmon: the salmon can be cooked the night before and then made into bowls the next day.
Frequently Asked Questions
How Do You Know If The Salmon Is Cooked?
The salmon is done when it reaches a temperature of 145F as measured with a meat thermometer.
Can I Use Frozen Salmon?
Yes, this recipe can be made with frozen salmon! The cooking time will take longer, so be sure to use the meat thermometer to make sure it's cooked!
Can I Freeze this Recipe?
I would not recommend freezing this once cooked, as the quality of the salmon does not hold up very well. You could freeze the salmon before it is cooked, and then cook when ready to eat.
More Healthy Dinner Recipes
If you loved these homemade salmon bowls, you will love these other recipes as well! All of these recipes are gluten free, easy to make and healthy!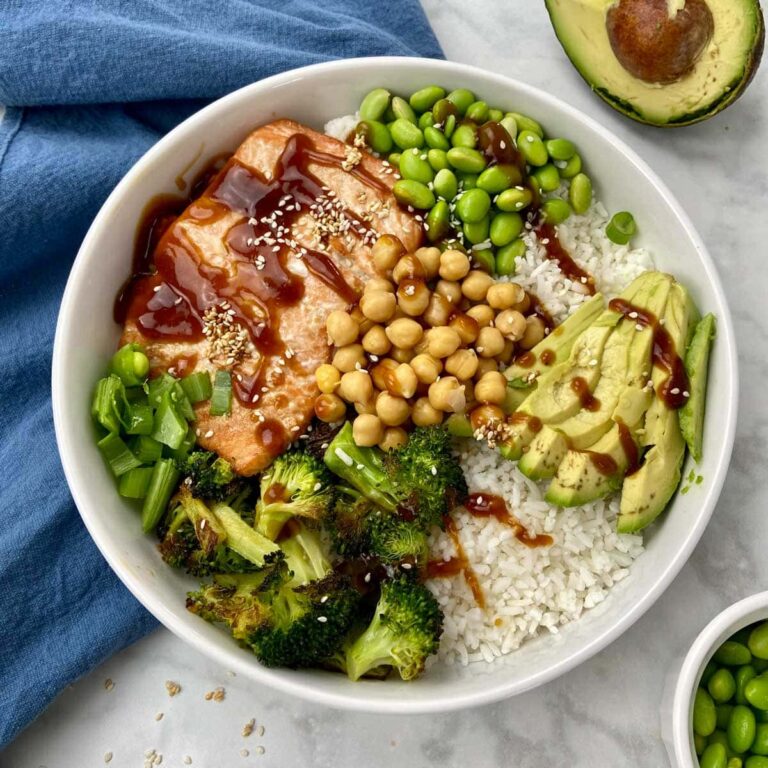 Teriyaki Salmon Bowl
This teriyaki salmon bowl contains rice, salmon, veggies and a teriyaki glaze. This is very customizable and you can add any veggies you wish!
Ingredients
2

4 oz

salmon filets

3

cups

cooked rice

sushi rice or jasmine rice

½

cup

edmame

½

cup

broccoli

1

teaspoon

olive oil

1

medium

avocado

1

tablespoon

sesame seeds

optional garnish
Teriyaki Sauce
¼

cup

tamari or low sodium soy sauce

(use tamari for gluten free version)

1

teaspoon

rice vinegar

1

tablespoon

honey

1.5

tablespoon

brown sugar

½

teaspoon

garlic powder

½

teaspoon

ginger spice

1

cup

water

1

tablespoon

corn starch
Instructions
Prepare the Teriyaki Sauce
In a medium bowl, combine the tamari, rice vinegar, honey, brown sugar, garlic, ginger, and water.

Split the mixture in half. (Half will be made into a sauce and the other half will be used as a marinade.

Place the salmon filets in a large bowl. Top with half of the teriyaki mixture. Allow the fish to marinade in the refrigerator for 20-30 minutes.

Finish making the sauce. Place a small saucepan over medium low heat. Add the sauce mixture and corn starch.

Stir constantly until the sauce begins to bubble and thickens (about 3-4 minutes). Once the sauce is thick, turn of the heat and pour into a dish. Set aside.
Prepare the Salmon and Broccoli
Preheat the oven to 400 F. Grease a baking sheet with pan release spray.

Remove the steps from the broccoli and chop into small pieces.

Add the olive oil to the broccoli and mix well. Set on the prepared pan.

Remove the salmon from the marinade and place it on the prepared pan, with the skin side facing down.

Bake in the oven for 12 minutes, or until fish reaches 145F when measured with a meat thermometer.
Assemble the Bowl
Add 1.5 cups of cooked rice to the bottom of each bowl.

Top each bowl with edamame, sliced avocado, broccoli and salmon.

Garnish with sesame seeds and teriyaki sauce. Enjoy!
Notes
Choose any type of veggies, you don't have to do the ones listed in the recipe. 
Meal prep suggestion: prep everything a few days before and then assemble the bowls right before you eat. 
Nutrition
Calories:
763
kcal
|
Carbohydrates:
96
g
|
Protein:
36
g
|
Fat:
27
g
|
Saturated Fat:
4
g
|
Polyunsaturated Fat:
6
g
|
Monounsaturated Fat:
15
g
|
Cholesterol:
63
mg
|
Sodium:
1585
mg
|
Potassium:
1349
mg
|
Fiber:
10
g
|
Sugar:
12
g