This healthy spaghetti sauce is the perfect addition to your pasta or Italian meal. The sauce has a bold Italian flavor all while sneaking in some extra veggies! It's an easy way to eat healthy, without sacrificing any flavor.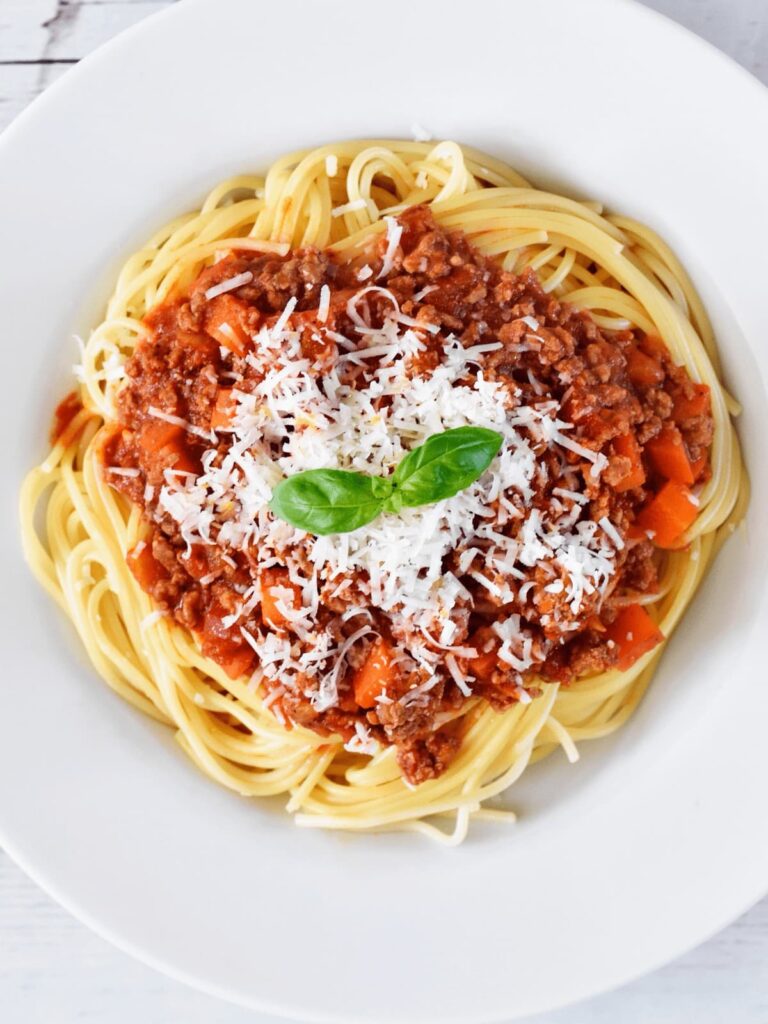 Why This Works
The vegetables add extra nutrients to the sauce. They are cooked and chopped small enough that it is not noticeable.
This recipe makes a large amount of sauce, which is perfect for leftovers or for feeding a large crowd. It freezes easily, making it the perfect meal prep option.
There is a small amount of sugar in the sauce which helps tone down the acidity of the sauce.
The sauce if allergy friendly. It is gluten free, dairy free, egg free and can be made vegetarian.
What You'll Need
Ingredients Notes
Carrots: chop the carrots into small pieces, that are about ¼ inch cubes. For visual reference, this is about the size of an individual green pea. I found it very easy to cut whole carrots, however baby carrots will also work.
Mushrooms: I prefer fresh bella mushrooms. White mushrooms can also be used.
Onion: Use a white onion for best flavor. Cut into ¼ inch cubes
Zucchini: cut into ¼ inch cubes. Leave the skin on. The zucchini does provide excess liquid when cooked, which is why we do not add any extra liquid to the sauce.
Garlic: this adds flavor. A shortcut is to use the pre-minced garlic in water which can be purchased at most major stores.
Granulated Sugar: this helps balance out the acidity.
Seasonings: Fresh Basil, Dried Italian, Dried Parsley: fresh basil adds the best flavor, however you can also substitute this with dry basil
Ground Turkey: use 93% lean ground turkey as a healthy option to limit excess fat. Ground beef or Italian sausage can also be substituted.
Tomatoes- tomato paste, diced tomatoes and diced tomatoes with garlic and basil: I recommend using at least 1 can of the diced tomatoes that are flavored with garlic and basil to provide extra seasoning. This can be found at most major grocery stores.
Step by Step Recipe Instructions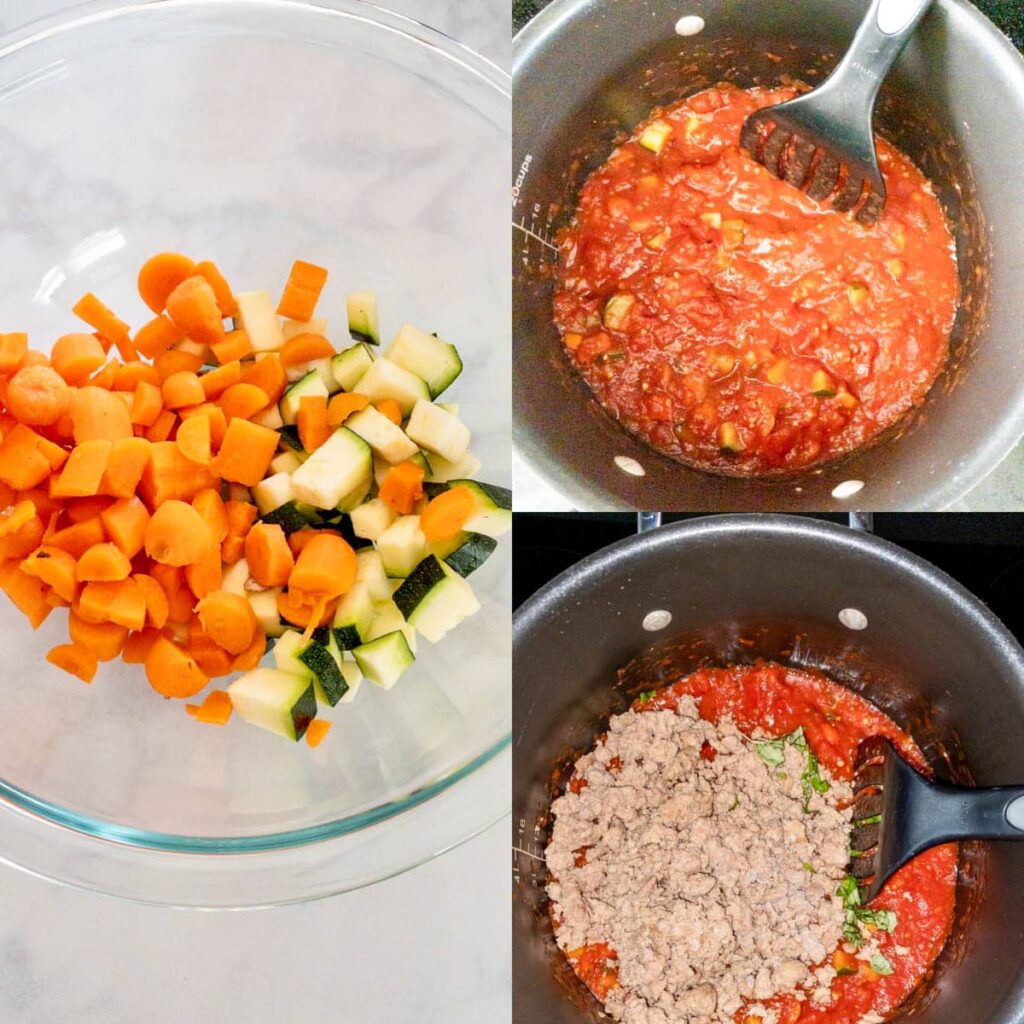 Chop the Vegetables
Chop the carrots, onions and zucchini into ¼ inch pieces. For reference, this is about the size of a green pea. It is ok to leave the skin on the zucchini, as it will be cooked and soften.
The vegetables can also be chopped using a food processor. Cut the vegetables into large chunks before placing in the food processor. Chop one vegetable at a time. Use the chop or pulse button on the food processor until the vegetable reaches the preferred size.
Cook the Vegetables
Add all vegetables to a large stock pan coated with olive oil. Cook over medium heat until soft. Stir frequently to prevent burning.
Add The Remaining Ingredients
Once the vegetables are cooked, add the canned tomato paste, diced tomatoes and diced tomatoes with garlic and basil. Stir in the chopped basil, parsley, Italian seasoning and sugar. Mix well. Cover and cook over low heat for 25 minutes. Stir every few minutes to prevent the sauce from burning.
Storage Instructions
Refrigerator: Store the spaghetti sauce in a glass container in the refrigerator for up to 4 days. Separate it into several small dishes to help it cool quickly and safely.
Freezer: Refrigerate the sauce until cold. Once cold, pour into 2, gallon sized zip lock bags. Lay flat and freeze for up to 2 months.
Serving Suggestions
This spaghetti and meat sauce pairs perfectly with any type of pasta: angel hair pasta, penne, shells or macaroni noodles.
For a low carb meal option, serve this spaghetti sauce over a cooked spaghetti squash.
No need to stay traditional. This sauce can also be served over rice, on top of a piece of toasted bread, or on top of a bowl of quinoa (my personal favorite!).
Expert Tips
Cover the pot with a lid once it starts to cook in order to prevent the sauce from splattering everywhere as it gets warm.
Any type of vegetable can be added to this sauce. Feel free to swap out the zucchini, carrots or mushrooms with other veggies, such as spinach, yellow squash, red or green bell peppers.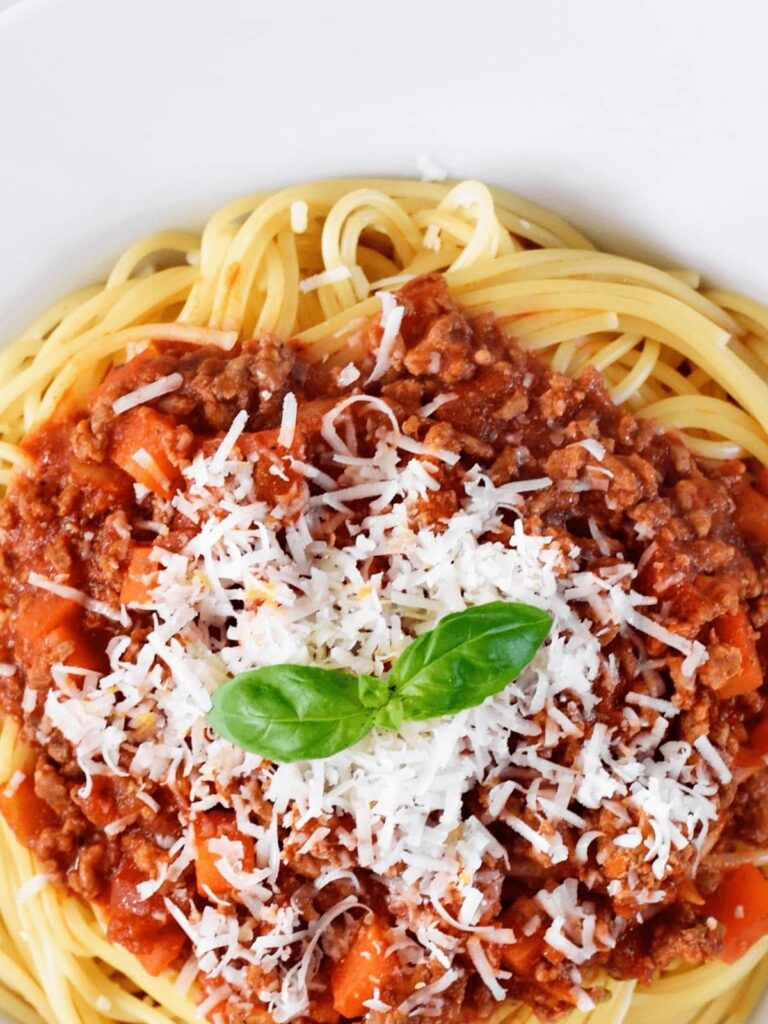 Frequently Asked Questions
Can I make this vegetarian?
Yes, this can easily be made into a vegetarian spaghetti sauce. Leave out the ground turkey and substitute with a meat alternative. Another good substitute is to add extra chopped mushrooms or zucchini.
Can I puree this?
Yes, if you prefer a smoother texture without small chucks of vegetables, I would recommend pureeing this sauce. Once cooked and slightly cooled, this can be added to a food processor and pureed until your desired texture is achieved. You can also use an immersion blender to puree it in the pot.
What Makes This Spaghetti Sauce Healthy?
This sauce is a great way to sneak in some extra vegetables without even realizing it! The sauce contains tomatoes, mushrooms, zucchini and carrots. These provide a variety of vitamins and minerals.
The sauce calls for 93% lean ground turkey. This is a lean cut of meat, which means that it is lower in fat and calories.
Tomato Nutrition Information
The sauce contains tomatoes, which are packed with nutrients. Here's some nutritional information:
Tomatoes are high in lycopene. This is an antioxidant which contains many health benefits to the body. Studies show that foods high in lycopene may provide health benefits to the heart and reduce the risk for cardiovascular disease. (Source.)
Tomatoes are an excellent source of potassium, Vitamin C, Vitamin A and folate.
Tomatoes are low in calories and fat, making them a healthy option to use as a sauce
Modifications
Vegetables: This spaghetti sauce can be made with any type of vegetable. Just keep the ratio of vegetables used the same. Other vegetable options include spinach, red bell pepper, green bell pepper, or yellow summer squash.
Meat: replace the lean ground turkey with lean ground beef, Italian sausage crumbles or extra vegetables.
Adjust the amount made: looking to feed a crowd? Double all ingredients in this recipe to make a large batch! Or, add only half the ingredients to make a small batch
Vegetarian: this spaghetti sauce can be made vegetarian by leaving out the ground turkey.
Low sodium: use canned tomatoes that are labeled "no added salt" or "reduced sodium". Do not add any extra table salt.
More Healthy Dinner Recipes
Healthy Spaghetti Sauce
This recipe for healthy spaghetti sauce combines veggies, ground turkey and bold Italian flavors. It is the perfect addition to your pasta or Italian meal.
Ingredients
1

pound

93% lean ground turkey

½

medium

white onion

chopped

4

teaspoon

minced garlic

½

cup

chopped carrot

½

cup

chopped mushrooms

½

cup

chopped zucchini

28

ounces

crushed tomatoes

6

ounces

tomato paste

14

ounces

diced tomatoes

14

ounces

diced tomatoes with garlic and basil

1

teaspoon

dried parsley

1

tablespoon

dried italian seasoning

¼

cup

chopped fresh basil

1

tablespoon

granulated sugar

salt & pepper

to taste
Instructions
Heat a large skillet over medium heat. Cook the ground turkey until done. Remove from heat, drain grease and set aside.

Add 1 tablespoon of olive oil to the bottom of the skillet. Add the diced onion, garlic, carrots, zucchini and mushrooms. (The vegetables are optional). Cook until the zucchini and onion are tender- about 7-8 minutes. (Note: carrots may still be slightly hard. This is ok, as they will soften when the sauce is boiled in the end).

Transfer the cooked vegetables to a stock pot or very large sauce pan. Add the crushed tomatoes, tomato paste and diced tomatoes. Mix well.

Add the parsley, italian seasoning, chopped basil and sugar. Mix until combined.

Add the cooked ground turkey and water. Mix until combined. Add salt & pepper (optional)

Cover with a lid. Cook on the stove over low heat for 20 minutes. Stir every 4 minutes to prevent the sauce from burning.

Remove from heat and serve over pasta.
Notes
Make this sauce vegetarian by leaving out the ground turkey and adding extra vegetables. 
Nutrition
Calories:
154
kcal
|
Carbohydrates:
18
g
|
Protein:
13
g
|
Fat:
5
g
|
Saturated Fat:
1
g
|
Trans Fat:
1
g
|
Cholesterol:
37
mg
|
Potassium:
730
mg
|
Fiber:
4
g
|
Sugar:
11
g
|
Vitamin A:
1747
IU
|
Vitamin C:
19
mg