This healthier philly cheesesteak skillet is a one-pan meal that's easy to make and tastes delicious! Packed with peppers, onions, mushrooms and steak, this dish is full of flavor! This keto philly cheesesteak skillet requires minimal ingredients and very little prep.
This low carb dish is the perfect balance of steak, veggies and cheese! It has all the components of a normal philly cheesesteak sandwich packed into a skillet, rather than on a bun.
This is considered a keto dish because it's low in carb and high in fat. Regardless of your dietary preferences, this dish tastes delicious! If you are looking for more one-pan skillet dinner, be sure to check out my reader's favorite ground turkey and sweet potato skillet!
Jump to:
Reasons to Love This
This is a healthier alternative to your normal philly cheesesteak. It's loaded with veggies for extra nutrients. Also, it's low carb and keto!
This recipe is versatile! You can make the skillet, yet still serve it in hoagie buns to family members who prefer an actual sandwich.
This is a one pan dinner! The only pan required is an oven-safe skillet.
This is gluten free and can be made dairy free by omitting the cheese or using a dairy free cheese.
Ingredients Needed
Ingredients Notes
Steak- ribeye steak is the most tender option. Flank steak or sirloin steak are good alternatives.
Bell Peppers- any color will work. Red, yellow or orange peppers are generally sweeter, while green has a more bitter flavor. I prefer a combination of green and red.
Mushrooms- use baby bella mushrooms or white mushrooms.
Onions- use a white onion.
Cheese- any flavor of cheese will work. I prefer provolone, however Mozzarella cheese can be substituted!
Spices: onion powder, garlic, salt and pepper- garlic can be either fresh or powder. Use ½ teaspoon of powder or 1 teaspoon minced garlic (about 1 clove).
Variations
Meat: a true philly cheesesteak is made with steak. You are welcome to use other types of meat however. This recipe would work with ground beef, ground turkey of chicken breast sliced into thin strips.
Veggies: you are welcome to omit any veggies you don't like. If you do leave out one type of vegetable, consider adding extra of a different type of vegetable.
Cheese: this recipe is made with provolone cheese, however you can also use mozzarella cheese or cheddar cheese.
Dairy Free: make this skillet dairy free by leaving off the cheese or by subbing a dairy-free cheese.
What is the Best Type of Meat to Use?
Philly cheesesteaks are most often made with ribeye steak. Look for a ribeye that has lots of marbling and is red in color. Ribeye is typically very tender when cooked.
Another alternative is to use flank steak or sirloin steak. Both of these options are slightly less tender, however they still turn out well. Make sure to cut the steak into small pieces and cut against the grain.
Equipment Needed
Cutting Board
Knife
Stove Top
Oven
Cast Iron Skillet (use a regular skillet and baking pan if you don't have a cast iron skillet!)
Step by Step Instructions
Slice the veggies. Wash all veggies to remove the dirt. Remove the tops and stems of the bell peppers. Slice them into thin strips that are about ⅛ inch thick.
Next, slice the onion in half, and then place it face down and continue to make small slices by cutting cross wise. Slice the mushrooms into thin slices.
Slice the steak. Place the steak in the freezer for 20-30 minutes prior to cutting. Using a sharp knife and fork, remove all fat. Cut into thin strips (about ¼ inch thick).
Cut the steak against the grain. To do this, look for the small fine lines in the meat, and cut in the opposite direction of these. Here's a helpful video on how to cut steak against the grain.
Cook the steak. Add 1 teaspoon of olive oil to a skillet and set to medium heat. Add the strips of steak, stir frequently and cook until done. The steak is done when it reaches 145F. There may still be some pink in the steak and this is ok as long as it reaches the correct temperature. You are welcome to cook it for longer or shorter time based on personal preference.
Remove the steak and set aside, leaving the juices in the bottom of the skillet.
Add the veggies to the same skillet. Cook over medium heat until tender. This will take about 10-12 minutes. Stir frequently.
Add the steak back into the skillet and mix with the vegetables. (If your skillet is not oven safe, transfer the food to a baking dish that can go in the oven).
Tear the cheese into small pieces and add to the top of the meat and stick in between some of the veggies.
Bake in the oven for 5 minutes or until cheese melts. Boil for 2 minutes. Serve warm.
Leftovers
Refrigerator: store the leftovers in an airtight container in the refrigerator. Eat within 3-4 days. For safe food storage, allow all the steam to release from the hot food, and then refrigerate immediately. More information on safe food storage here!
Freezer: store in an airtight bag or container. Freeze for up to 3 months. For easy reheating, consider freezing in small portions.
Philly Cheesesteak Meal Prep
This philly cheesteak skillet is the perfect lunch or dinner meal prep option. This recipe makes 4 servings and each serving is 1.25 cups. To meal prep this recipe, simply line up 4 Tupperware containers and divide the philly skillet evenly amongst the dishes.
Here's some of my favorite sides I like to add to meal prep containers:
Black beans (good protein and fiber source)
White or brown rice (this will add carbs)
Cauliflower rice (low carb and good fiber source)
Lettuce (turn it into a salad)
Sweet potatoes (healthy carb and good fiber source)
Make Ahead Information
To make this an extra easy meal, prep some of the meal ahead of time. Slice all vegetables and store in a zip lock bag. Slice the steak and store in a ziplock bag. Store the cut veggies and steak in the refrigerator for up to 24 hours. This is an easy way to prep some of the skillet the night before!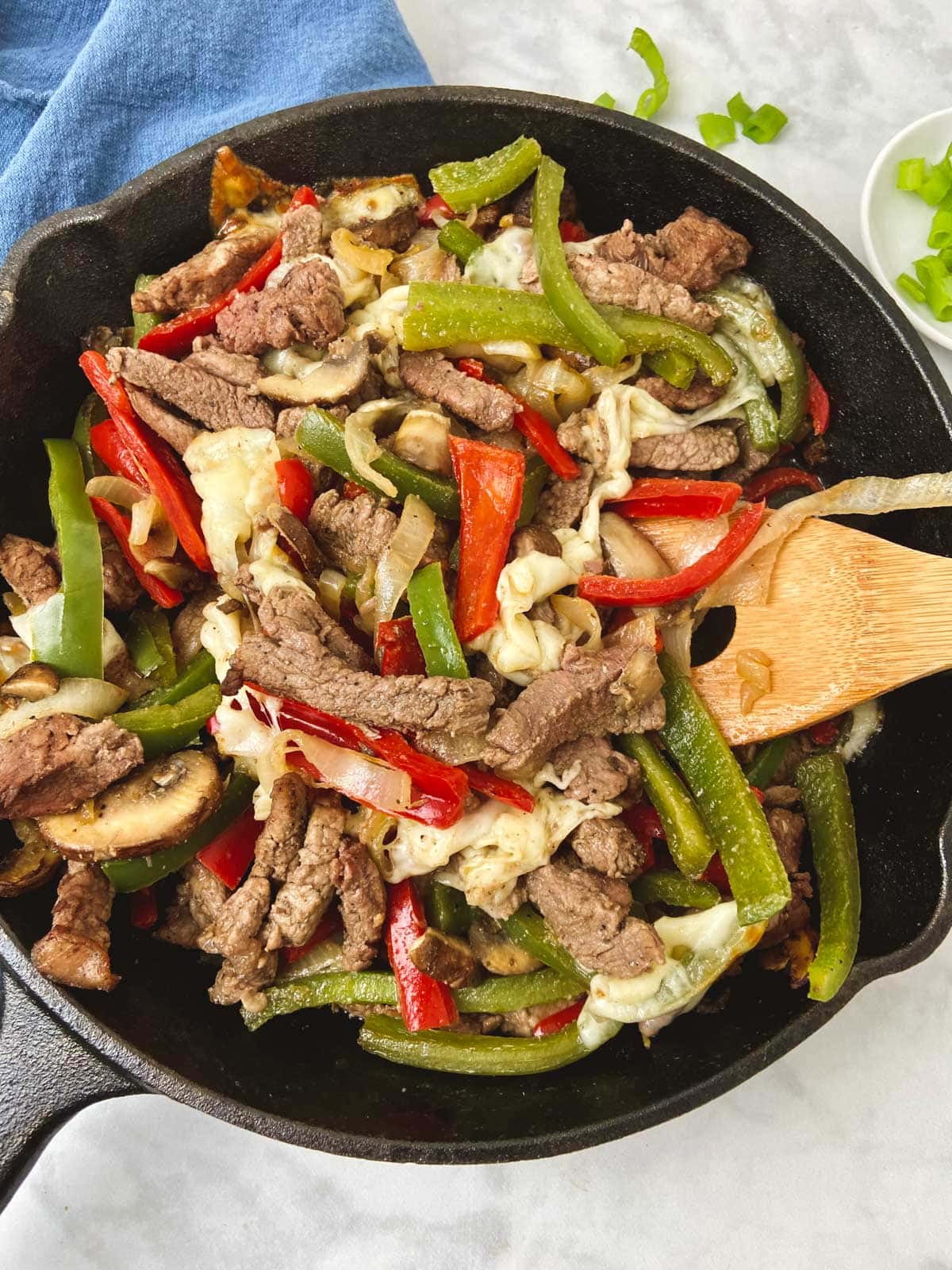 Serving Suggestions
Keep it low carb: serve over a bed of cauliflower rice or with a side salad
Add some carbs: serve with rice or serve on a hoagie bun
Add extra protein: serve with a side of scrambled eggs or black beans
Expert Tips
Cut the steak against the grain! This will make it much easier to cut and it cooks best this way.
Don't over cook the steak! Since this recipe will go in the oven after you cook the steak on the skillet, it's ok if there is some pink left in the steak.
Modify this recipe to your liking- add extra veggies, double the steak, add extra cheese. This recipe is versatile and is hard to mess up.
Frequently Asked Questions
Can this be made with ground beef?
Yes! You can substitute the steak for ground beef. The cooking time of the beef will take longer than the steak.
Is this Philly Cheesesteak Healthy?
This cheesesteak has several healthy components, which come from the vegetables. The peppers, onions and mushrooms are loaded with fiber and numerous vitamins and minerals! This skillet does contain a decent amount of fat, however everyone has different dietary needs and for some, this may not matter as much as it does for others!
How Do I Cut the Steak?
Cut the steak against the grain. Look closely at your meat and you will see small lines that run parallel to each other (these are muscle fibers). Do not cut in the same direction as these lines, instead cut perpendicular to them. Cut the steak about ⅛ to ¼ inch thickeness and about 1.5 inches long.
How to Make A Juicy and Tender Steak?
The cut of steak will affect how tender it is. Ribeye is typically the most tender, followed by flank and sirloin steak. Select a steak that has plenty of marbeling (fat) and cut against the grain.
More Low Carb Dinners
Healthy Philly Cheesesteak Skillet (Low Carb)
This healthy philly cheesesteak skillet is low in carbs and gluten free, making it perfect for everyone! It is loaded with steak, peppers, mushrooms and onions. This one pan meal is easy to make and impressive to all who eat it!
Ingredients
1.25

pounds

ribeye steak

cheaper options are sirloin or flank steak

2

medium

bell peppers

red and green

5

large

baby bella mushrooms

½

large

white onion

1

teaspoon

olive oil

extra virgin

4

slices

provolone cheese

1

teaspoon

garlic powder

1

tsp

onion powder

½

teaspoon

black pepper

¼

tsp

salt

add more based on taste preferences
Instructions
Before starting to make this recipe, place the steak in the freezer for 30 minutes. This will make it easier to cut.

Preheat the oven to 400F.

Remove the stem and insides of the bell peppers. Slice into thin strips about ¼ inch thick.

Slice the onion and mushrooms into thin pieces.

Trim all large pieces of fat from the steak. Slice the steak into very thin pieces (about ⅛ inch thick). Slice against the grain. Set aside.

Add 1 teaspoon of olive oil to a skillet and set to medium heat.

Add the steak, garlic powder, onion powder salt and pepper. Stir frequently. The steak is done when it reaches 145F as measured with a meat thermometer. This will take about 5 minutes.

Remove the steak from the skillet, leaving the juices in the pan. Using the same skillet, add the peppers, mushrooms and onions. Cook over medium heat until tender. This will take about 10 minutes.

Combine the veggies and the steak in an oven safe skillet (or use a baking dish if your skillet cannot go into the oven).

Break the provolone cheese into pieces and place it evenly on the top and in between pieces of the steak and veggies.

Cook in the oven for 5 minutes, or until cheese is melted. Set the oven to broil and cook for another 2 minutes.

Remove from the oven and serve warm.
Notes
This recipe makes 4 servings. 1 serving is consider 1.25 cups (202 grams) of philly cheesesteak skillet. 
Nutrition
Calories:
407
kcal
|
Carbohydrates:
7
g
|
Protein:
35
g
|
Fat:
26
g
|
Saturated Fat:
12
g
|
Polyunsaturated Fat:
1
g
|
Monounsaturated Fat:
12
g
|
Cholesterol:
100
mg
|
Sodium:
391
mg
|
Potassium:
688
mg
|
Fiber:
2
g
|
Sugar:
4
g
|
Vitamin A:
2053
IU
|
Vitamin C:
77
mg
|
Calcium:
170
mg
|
Iron:
3
mg