Healthy spinach artichoke dip is easy to make and tastes delicious! This healthy appetizer has been lightened up and made healthier with a few simple ingredient swaps. It still tastes just as good as the traditional spinach artichoke dip! It is creamy, cheesy, and a delicious appetizer that you will love!
This is a dip recipe that I make every winter for football playoff games and for the Superbowl! It's perfect for any occasion, though! Need a party appetizer? Bring a dip. Looking for a quick snack? Make some dip. It works well as side dishes, main entrees, or snacks!
If you're looking for more ideas, check out my healthy cowboy caviar, healthy apple dip, brownie batter hummus, or mini bell pepper nachos!
Jump to:
Reasons to Love This
Lower in fat: Traditional artichoke spinach dip contains mayonnaise and sour cream, both of which can be higher in fat and calories. This spinach artichoke dip has Greek yogurt, which replaces the mayo and sour cream, yet still adds creaminess to the dip.
Less Calories: This dip uses cottage cheese as another ingredient to add creaminess, yet save on calories. Some traditional dips use full-fat cream cheese instead.
Easy way to eat Veggies: This dip contains spinach (as all spinach artichoke dips do!) Spinach is an easy way to eat veggies, without really thinking about it.
Easy to make: Whip up this delicious dip in under 30 minutes!
Ingredients Needed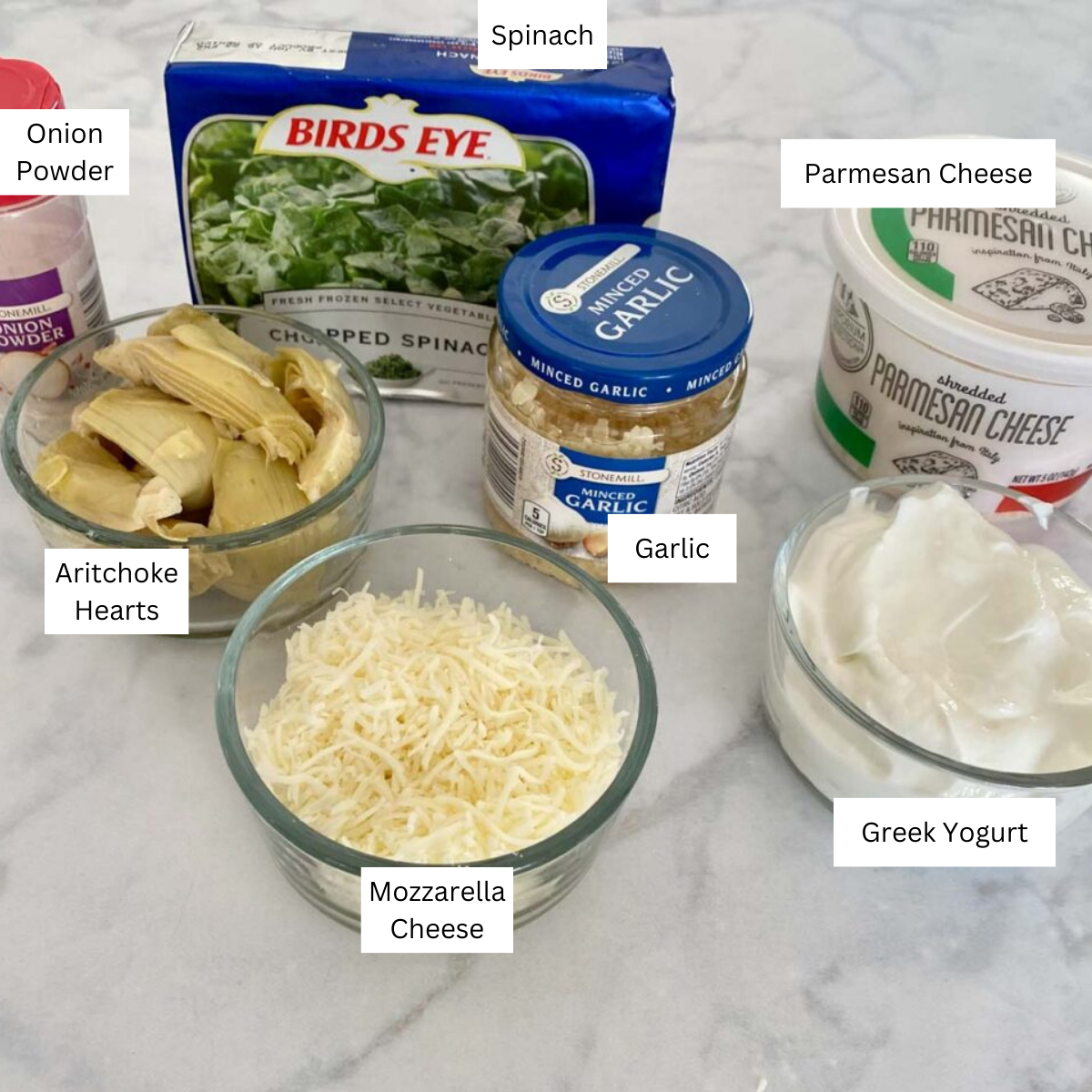 Spinach: Use frozen, chopped spinach. Make sure the spinach is completely drained and excess water is removed prior to using it, or it will make the dip watery. (See below for instructions).
Greek Yogurt: A plain, nonfat Greek yogurt works best.
Cottage Cheese: Look for 1% milk-fat cottage cheese. I promise you can't even taste the cottage cheese! An alternative to cottage cheese is to replace it with 4 ounces of reduced-fat cream cheese.
Artichoke Hearts: choose canned, quartered artichoke hearts in water. Chop into small pieces prior to adding to the dip.
Garlic: I used minced garlic in water that I purchased from the store. You can also mince a garlic clove or use garlic powder.
Onion Powder: adds extra flavor.
Mozzarella Cheese: choose reduced fat mozzarella cheese to save on calories and fat. I would avoid fat-free mozzarella cheese, as it alters the texture of the dip.
Parmesan Cheese: use shredded Parmesan cheese (not the canned version!)
See recipe card for full information on ingredients and quantities.
Variations
Fresh Spinach: Fresh spinach can also be used in place of frozen spinach. The spinach will need to be cooked first. Either steam the spinach or sauté it over medium heat in a saucepan until the spinach is wilted and soft. Once cooked, chop the spinach into small pieces and then pat dry with a paper towel to remove any excess liquid.
Add Meat: chopped or shredded chicken would taste great in the dip
Add buffalo-flavored chicken: I tried a dip at a local restaurant that had combined spinach dip and buffalo chicken. It was good. Mouthwatering good. Coat some shredded chicken with buffalo sauce and throw it in the spinach dip.
Add spice: chop up a couple jalapenos or throw in a can of diced green chilis.
Veggies: make it extra healthy by adding some sautéed mushrooms, zucchini or chopped bell peppers.
How to Make the Dip
Step 1: Defrost the spinach by placing it in a microwave-safe bowl and microwaving on high for 1-2 minutes or until no frozen sections remain. You may have to stir a couple of times to help completely defrost it. Drain the spinach in a small strainer, and then pat the spinach completely dry by using paper towels
Step 2: Combine all ingredients except for the Parmesan cheese.
Step 3: Spread evenly into a small, greased casserole dish and top with the Parmesan cheese. Bake at 350 F for 20 minutes.
Step 4: Broil for an extra 2 minutes to give the cheese a bubbly, brown appearance.
Crock Pot Spinach Artichoke Dip
This dip can easily be made in the crock pot. Spray the bottom of your crock pot with nonstick spray to make for easy cleanup.
Once the crock pot is prepped, add all ingredients and mix well. Cook on low for 1-2 hours or until warm and bubbly.
Note: There are links on this site that are "affiliate links". This means that I may receive a small commission if you subscribe or purchase something through the links provided.
Option: Use these Crockpot Liners
: they are a lifesaver and make clean up a breeze!
Serving Suggestions
The spinach artichoke dip is very versatile and almost any type of food can be dipped into it. Here are some ideas of foods that can be eaten with the dip:
Tortilla Chips
Carrots
Celery
Bell Peppers
Pretzels
Any type of cracker
Rye Crackers
Fritos
Expert Tips
Storage: Spinach artichoke dip will keep in the refrigerator for several days. Cover with foil or place in an air-tight container. Do not freeze the dip, as the texture will not be the same once thawed.
Reheating: Reheat either by microwaving in 30 seconds intervals until warm. Stir as needed. This can also be heated in the oven at 350 for 20 minutes or until hot.
The frozen spinach must be drained and dried before adding it to the dip. Defrost the spinach and then place between 3-4 paper towels. Squeeze dry using hands, switch out the paper towels and repeat.
Frequently Asked Questions
Should I serve this dip hot or cold?
The dip can be eaten hot or cold. I personally think it tastes better hot, because all of the cheese melts together to make it creamy and delicious!
Is spinach dip high in carbs?
This spinach dip contains 5 grams of carb per serving. This makes it a low carb dip. Be sure to serve it with a low carb option, such as carrots or celery.
What is a good substitute for artichokes in dip?
Good substitutes for artichokes in dip are mushrooms, bell peppers, hearts of palm, asparagus, broccoli sprouts, squash or olives.
Is Spinach Artichoke dip high in calories?
2 tablespoon of spinach artichoke dip contains between 80-100 calories. This would be considered low in calories, however if you consume a larger portion, the calories will increase, potentially making it a high calorie food.
More Healthy Appetizers
Healthy Spinach Artichoke Dip
This is a recipe for spinach artichoke dip that has been lightened up and made healthier with a few ingredient swaps. This dip is creamy, cheesy and a delicious appetizer!
Ingredients
10

oz

frozen spinach

thawed and drained

1

cup

plain Greek yogurt

nonfat

½

cup

cottage cheese

1% milkfat

1

14 oz can

artichoke hearts

drained and chopped

1

teaspoon

garlic

minced

1

teaspoon

onion powder

1

cup

mozzarella cheese

½

cup

Parmesean cheese

shredded

½

teaspoon

salt

optional

½

teaspoon

pepper

optional
Instructions
Preheat oven to 350 F. Spray an 8x8 inch baking dish or casserole dish with pan release spray.

Place the frozen spinach in a medium, microwave safe bowl. Defrost until warm and drain all water. Pat dry with a paper towel to remove excess liquid.

Combine the drained spinach, Greek yogurt, cottage cheese, minced garlic, onion powder and mozzarella cheese in a medium bowl. Mix until combined.

Chop artichoke hearts into small ¼ inch pieces. Add to the Greek yogurt mixture and mix well.

Spread mixture evenly in prepared pan. Top with the Parmesean cheese.

Bake for 20 minutes. Serve warm.
Notes
To make a crockpot version of the dip:
Spray crock pot with pan release spray. Combine all ingredients and place in the crock pot. Cook over low heat for 1-2 hours, stirring every 30 minutes to prevent the dip from burning. This works best in a small sized crockpot. 
Tips:
Be sure to drain the spinach after defrosting it. This will prevent the dip from having too much liquid. 
Alternative version: Replace the cottage cheese with 4 ounces of reduced-fat cream cheese. 
Prep this dip the night before, refrigerate, and cook it right before serving. 
Nutrition
Calories:
100
kcal
|
Carbohydrates:
4
g
|
Protein:
11
g
|
Fat:
5
g
|
Saturated Fat:
3
g
|
Polyunsaturated Fat:
0.2
g
|
Monounsaturated Fat:
1
g
|
Trans Fat:
0.001
g
|
Cholesterol:
17
mg
|
Sodium:
264
mg
|
Potassium:
193
mg
|
Fiber:
1
g
|
Sugar:
2
g