Creamy salsa dip is quickly becoming a favorite in our household. I spent my weekend making and re-making this recipe so that it had the perfect ratio of flavors and spices. (Yep, 4 different times to be exact). This dip has been perfected to just the right amount of spice and flavor.
This Mexican inspired dip has two words to describe it: easy and healthy! If you are looking for a healthy dip that goes with veggies, chips, or over a salad, check this out!
Why creamy salsa dip?
Creamy salsa dip was inspired by the combination of a million things: I needed a good game day snack, I just like to snack in general, oh...and I need to try and eat more veggies. Recently I have been looking for ways to add more flavor to my veggies. Dips are always a good way to add flavor to veggies, however I have a hard time finding healthy store bought dips that actually taste good. Most dips in the grocery store are either unhealthy, or have a lot of extra additives, which isn't what I wanted.
This dip contains 4 ingredients, and most people have some of the required ingredients on hand. It takes less than 5 minutes to make and it holds up well if serving the second or even third day after making.
What Can I Eat Creamy Salsa Dip With?
This creamy salsa dip makes a perfect dip for snacks or as a salad dressing for salads or bowls. Here's some ideas of how you can eat it:
Dip for carrots, cucumbers or celery
Cut up peppers and eat with the dip
Dip tortilla chips in it
Use it as a salad dressing
Make a taco salad- use seasoned meat, lettuce and this dressing
Create a taco quinoa bowl filled with quinoa, season meat and drizzled with creamy salsa
Is This Dip Healthy?
This recipe was intentionally made healthy (aka "skinny"). Often the term "creamy" can make people think unhealthy. A lot of cream based dips contain either sour cream or cream cheese. This dip however, contains greek yogurt, which is a healthier substitute. Swapping the greek yogurt for sour cream saves 160 calories and 23 grams of fat per every half cup serving!
Using Greek yogurt in the dip also packs in extra protein. A ½ cup serving of dip with greek yogurt has 12 grams of protein. This is the same amount of protein as 2 hard boiled eggs.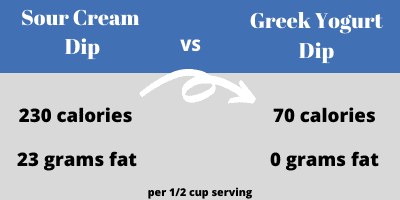 Let's Make Some Creamy Salsa Dip!
First: Combine salsa, greek yogurt, cilantro and taco seasoning in a medium mixing bowl.
Second: Mix ingredients well until combined.
Third: Serve cold! Leftovers can be used for up to 3 days after making. If using leftovers, be sure to mix well before serving, as liquid will tend to separate.
Creamy Salsa Dip
This Mexican inspired creamy salsa dip has just the right amount of spice. It goes well with veggies, chips or as a salad dressing!
Ingredients
1

cup

plain greek yogurt

nonfat

1

cup

salsa

¼

cup

cilantro

chopped

1

tablespoon

taco seasoning

low sodium
Instructions
Combine all ingredients in a mixing bowl. Mix well until combined.
Notes
Gluten free version: use a taco seasoning that is gluten free or does not contain wheat products. 
Salsa: I used chunky salsa for added texture. Feel free to puree all ingredients if a smooth texture is desired. 
Nutrition
Check out these other healthy snacks!