No bake cheesecake parfaits are a healthy and easy alternative to your normal cheesecake! They have a crumbly oatmeal crust, layered with a sweet and rich cream cheese filling, and topped with sweet and juicy blueberries.
I have made this recipe so many times for friends and family, and it's one they talk about for months to come. This recipe leaves a lasting impression on those who try it. If you are a cheesecake fanatic, this recipe will surely be added to your list of favorites.
And, if you need another good dessert recipe while you're at it, check out my recipe Brownie Batter Dessert Hummus.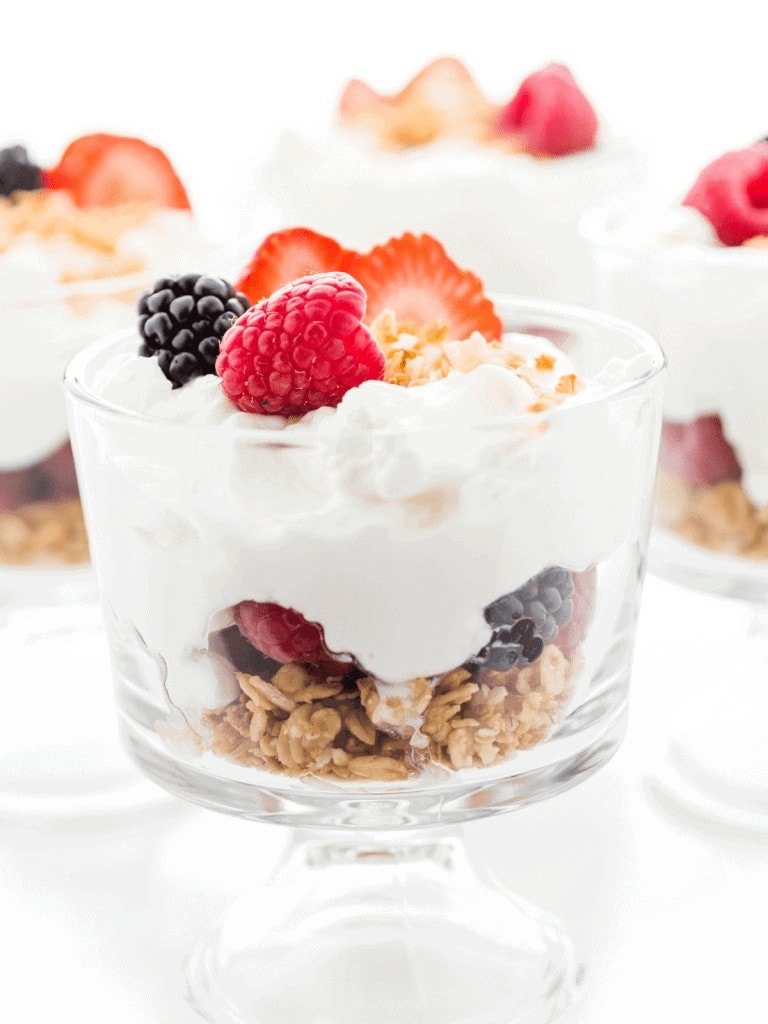 The best part about this recipe is that there is no cooking required! While most cheesecakes take a while to bake and set, this can be made very quickly. Simply blend a few ingredients, layer in glasses and they are ready to eat!
The crust is a combination of oatmeal blended with butter and sugar. This creates the perfect balance of a buttery, yet sweet oatmeal flavor. It is slightly crunchy, which helps balance out the cheesecake filling.
The cheesecake filling has a creamy, yet sweet and rich taste to it. It is perfectly smooth and almost melts in your mouth as you eat it. The parfaits are topped with blueberries (or fruit of your choice), which packs in just a little more flavor.
Reasons You'll Love This
It's much healthier than your normal cheesecake. The recipe uses Greek yogurt which adds extra creaminess, but is lower in fat and calories.
It's easy to make; no baking involved! These parfaits can easily be made in less than 10 minutes and don't require an oven. It's a perfect last minute dessert idea!
These are the perfect dessert for parties. The parfaits can be placed in individual disposable cups, which makes the easy to grab & eat.
Ingredients to Make the Best Parfaits
Cream cheese- look for low fat or ⅓ less fat cream cheese to save on calories and fat. Fat free cream cheese is also an option, however I prefer to avoid it, as it will alter the flavor and texture.
Greek yogurt- use plain, nonfat Greek yogurt. This recipe has not been tested with flavored yogurt, however feel free to try it and let me know what you think! The Oiko's brand of Greek yogurt has a high protein content if desired.
Sweetener- Powdered sugar was used in this recipe, however honey is another alternative! Use the same amount of honey as powdered sugar.
Fruit- fresh or frozen works perfectly! Fruit options include blueberries, strawberries, raspberries, kiwi, cherries or your other favorite fruit.
Oatmeal - either old fashioned rolled oats or quick cooking oats will work. If making this recipe gluten free, purchase gluten free oatmeal.
Butter- this helps to hold the oatmeal crust together.
Brown sugar- optional, however adds sweetness and flavor to the crust.
Cinnamon - helps add a rich flavor to the oatmeal crust!
Let's Make Some No-Bake Blueberry Cheesecake Parfaits!
Make The Crust
Place the oatmeal in food processor. Pulse until the oatmeal is finely ground. It should resemble a flour-like texture.
Once the oatmeal is ground, transfer it to a medium mixing bowl. Add the brown sugar and cinnamon. Mix until combined. Stir in the melted butter. Set aside.
Make The Cheesecake Filling
In a medium mixing bowl, combine the cream cheese (must be softened), vanilla and Greek yogurt. Mix on medium speed until no lumps remain. Add in the powdered sugar. Mix until completely smooth.
Assemble the Parfaits
Set out your parfait cups. (use disposable plastic cups or stemless wineglasses). Divide the cream cheese mixture evenly amongst the 4 cups. (about ½ cup of mixture per glass)
Divide the oatmeal mixture into quarters and layer it evenly over the cheesecake mixtures.
Divide the blueberries and layer over the top of the oatmeal. Refrigerate and serve cold.
Note: You can assemble in any order!
Leftovers
This recipe holds well in the refrigerator. Store in an air tight container and refrigerate for up to 3 days. It is not recommended to freeze the cheesecake parfaits, as this will affect the texture of the cheesecake part.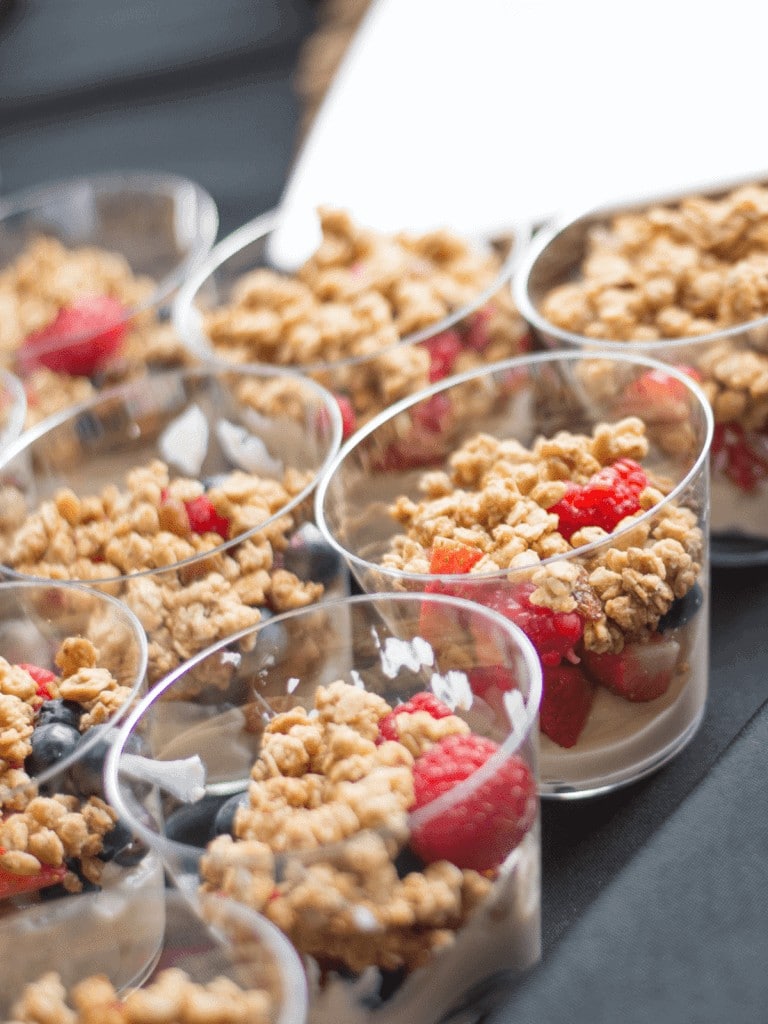 Nutrition Information
This recipes makes 6 mini cheesecake parfaits. There are 300 calories and 16 grams of fat per serving. Greek yogurt is used in place of extra cream cheese to help reduce the calorie and fat content. The amount of protein in each parfait is 10 grams.
Cheesecake Parfait Variations
These Greek yogurt cheesecake parfaits are easy to make and have a variety of different substitutions and alternatives that can be made to meet your dietary preferences.
Sweetener Options
This recipe calls for powdered sugar, however honey can be substituted if looking for an alternative sweetener. The honey leave a slight flavor in the parfaits that resembles honey, so this is perfect for anyone that loves honey. Substitute the same amount of honey as you would use for the powdered sugar.
How to Make This Gluten Free
This recipe can be made gluten free by using oatmeal that is 100% certified gluten free oatmeal. Bob's Red Mill is a brand that makes great gluten free oatmeal, however any brand will work.
Types of Fruit To Use
Any type of fruit can be used in these cheesecake parfaits! Dice the fruit into small ¼ inch pieces. Either fresh or frozen fruit will work. Here are some favorite fruit options:
Diced strawberries
Blackberries
Raspberries
Kiwi
Cherries
Mandarin Oranges
Diced Peaches
Optional Toppings
The main topping of the Greek yogurt cheesecake consists of fruit, however feel free to add any additional toppings. Here's some ideas:
Granola
Chocolate Chips
White Chocolate Chips
Chopped nuts (walnuts, pecans, peanuts)
More Delicious Desserts
No Bake Cheesecake Parfaits
No Bake cheesecake parfaits have a combination of a buttery oatmeal layer, creamy cheesecake filling and fresh blueberries. These are a light and easy alternative to cheesecake.
Ingredients
8

ounces

Low fat cream cheese

softened

1.5

cups

Greek Yogurt

plain, non fat

1

teaspoon

Vanilla

½

cup

Powdered Sugar

1

cup

blueberries
Oatmeal Crust
1

cup

Steel Cut Oatmeal

4

tablespoon

Butter

2

teaspoon

Cinnamon

2

tablespoon

Brown Sugar
Instructions
In a medium mixing bowl, combine softened cream cheese, Greek yogurt and vanilla.

Mix with an electric mixer until smooth.

Add powdered sugar. Mix until smooth, set aside.
Oatmeal Mixture
Add oats to a food processor. Blend until the oatmeal is ground and resembles a flour like mixture.

Place the ground oats in a medium bowl. Add melted butter, brown sugar and cinnamon. Mix until combined.
Cheesecake Parfaits
Begin to create the parfait. Place ½ cup of the Greek yogurt mixture in the bottom of a glass.

Top with ¼ of the oatmeal mixture.

Top with ¼ cup of blueberries.

Refrigerate 1 hour. Serve cold.
Nutrition
Calories:
521
kcal
|
Carbohydrates:
61
g
|
Protein:
19
g
|
Fat:
23
g
|
Saturated Fat:
13
g