These chocolate bliss balls are filled with only 3 ingredients! They are loaded with a deep chocolate flavor are healthy, easy to make and a delicious snack!
Note: There are links on this site that are "affiliate links". This means that I may receive a small commission if you subscribe or purchase something through the links provided. Please see my full disclosure policy for details.
These healthy bliss balls are an easy way to fulfill a chocolate craving! They are packed with nutritious ingredients, like almonds and dates, yet still have that rich chocolatey flavor that makes you feel like you're eating a decadent dessert!
As a Registered Dietitian, I'm always recommending foods that are nutrient dense. These chocolate energy balls are just that! They are high in nutrients, and do not contain any processed items. The bliss balls are sugar free, as they are naturally sweetened from the dates.
Take these delicious bliss balls to your next party or gathering! They pair perfectly with any of these GF party treats! If you're looking for more healthy energy balls, be sure to check out these GF Gingerbread Balls or these delicious chocolate chip cookie dough balls!
Jump to:
Reasons to Love These
There is no added sugar! These healthy bliss balls are sweetened naturally by using dates. Dates are a naturally sweet fruit, which means no extra sugar is needed!
Bliss balls are an easy meal prep snack! I love prepping a double batch of these and freezing some for later. They are easy to grab and eat on the go.
They are loaded with nutritional benefits. Bliss balls contain nuts, coconut and dates which all have good sources of vitamins and minerals.
What are Bliss Balls?
Bliss balls are a rich chocolatey ball that are similar to energy balls. They are typically made from a base of nuts or seeds and are sweetened with dates. There are limited added sugars. The nuts and dates make them a very nutrient dense food option.
Ingredients Needed
Medjool Dates (pitted): the dates must be pitted. I recommend medjool dates because they are soft and chewy, and have a rich flavor. This adds sweetness to the bliss balls without having to add extra sugar.
Cocoa Powder: this adds rich chocolate flavor to the dates.
Almonds: use either whole almonds or sliced almonds. Almonds must be unsalted.
Cacao Nibs: (optional) add an extra nutritional boost to the bliss balls.
Step by Step Instructions
Step 1: Soak your dates in hot water for 10 minutes to allow them to soften.
Step 2: Drain the water completely from the dates. Add dates, cocoa powder and almonds to a food processor. Pulse until smooth. 
Expert Tip: you will need to scrape down the edge multiple times and then continue to blend until a sticky dough forms. This may take 2-3 minutes. Add 1 teaspoon of water at a time if mixture is crumbly and does not hold together.
Step 3: Form into balls using a cookie dough skip. Roll in desired garnishes, such as sugar, powdered sugar, cinnamon or cocoa powder. Refridgerate.
Storage
Refrigerator: store the bliss ball in an airtight container in the refrigerator. I like to put them on a paper plate and place the plate inside a zip lock bag. You can also use Tupperware. Eat within 3-4 days.
Freezer: the hold up great in the freezer! They can hold for up to 3 months. Store in an airtight container, such as Tupperware or zip lock bag.
Recommended Coatings
The bliss balls can be rolled in an extra topping after they are prepared. This adds a little extra flavor and it also makes them look more appetizing. Here are some of my favorite toppings:
Cocoa powder
Shredded Coconut
Chopped Almonds
Cinnamon
Powdered Sugar
Coconut Sugar
Expert Tips
Use medjol dates for best results. This is a soft date which adds more moisture to the balls and makes them easier to blend.
These take a few minutes to blend- be patient! You will have to scrape down the sides of the blender multiple times while blending.
If the cocoa balls are dry and crumbly, add water 1 teaspoon at a time. Blend for at least 20 seconds before adding more water.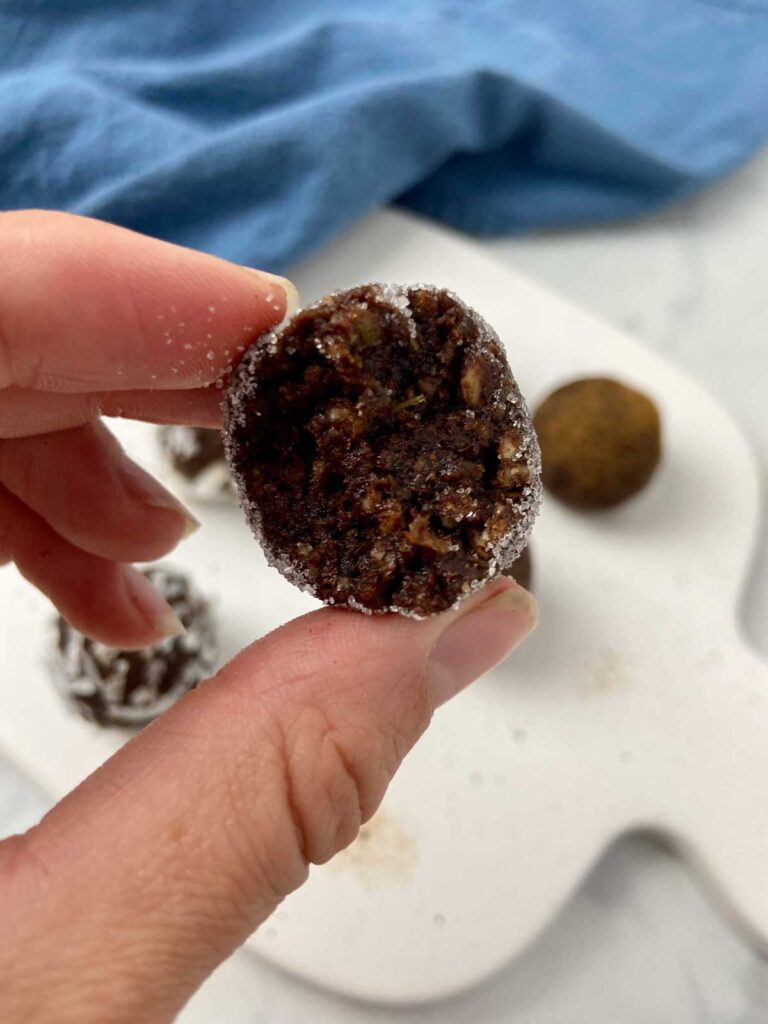 Frequently Asked Questions
Do I have to use a food processor?
Yes! A food processor is important and here's one I recommend. A food processor is necessary to grind all ingredients up and to create a smooth texture. I've found this works best with a small food processor, because you are blending a small amount of ingredients and they don't stick to the edge as easy.
Why Soak the Dates?
Soaking the dates softens them. This is especially important if dates are hard. Make sure to drain all water after soaking the dates.
How to Make a Perfectly Shaped Bliss Ball?
I recommend using a cookie dough scoop and then rolling the dough in the palms of your hands. The dough forms a ball easier when chilled, so consider freezing them for 10 minutes and then rolling into a ball.
Why Add the Optional Cacao Nibs?
Cacao nibs are a great source of healthy fat! They contain antioxidants which may help improve health benefits. Here's more information on the benefits of cacao nibs.
Variations
Protein: you can add a scoop of protein powder to these bliss balls. The powder will affect the consistency of the mixture, so I'd add extra water by the tablespoon until you have the perfect consistency!
Almonds: the almonds can be substituted with unsalted cashews.
Add Ins: feel free to add extras, such as cacao nibs, coconut or chia seeds
More Healthy Snacks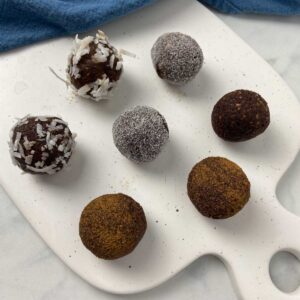 Chocolate Bliss Balls
These chocolate bliss balls are filled with only 3 ingredients! They are loaded with a deep chocolate flavor, are healthy and easy to make!
Ingredients
½

cup

date

pitted

¼

cup

almonds

whole

2

tablespoon

cocoa powder

½

teaspoon

cacao nibs

optional
Instructions
Fill a bowl with hot water. Add dates and soak for about 10 minutes.

Drain all water from the dates. Add the dates, almonds, cocoa powder and cacao nibs (optional) to a food processor.

Blend until a sticky dough forms. Note: you will have to open the lid and scrape down the edges several times.

If the dough is not sticky, add 1 teaspoon of water and blend again.

Roll into balls. Serve cold.
Notes
Additional Toppings: 
Feel free to roll the bliss ball in an extra topping once you are done making them. Here are some of my favorite toppings:
Cocoa powder
Shredded Coconut
Chopped Almonds
Cinnamon
Powdered Sugar
Coconut Sugar
Nutrition
Calories:
73
kcal
|
Carbohydrates:
11
g
|
Protein:
2
g
|
Fat:
3
g
|
Saturated Fat:
0.4
g
|
Polyunsaturated Fat:
1
g
|
Monounsaturated Fat:
2
g
|
Trans Fat:
0.002
g
|
Sodium:
1
mg
|
Potassium:
149
mg
|
Fiber:
2
g
|
Sugar:
8
g