These gingerbread balls are sure to put you in a festive spirit! They are packed with flavor and easy to make! This soft and chewy energy bite is hard to put down!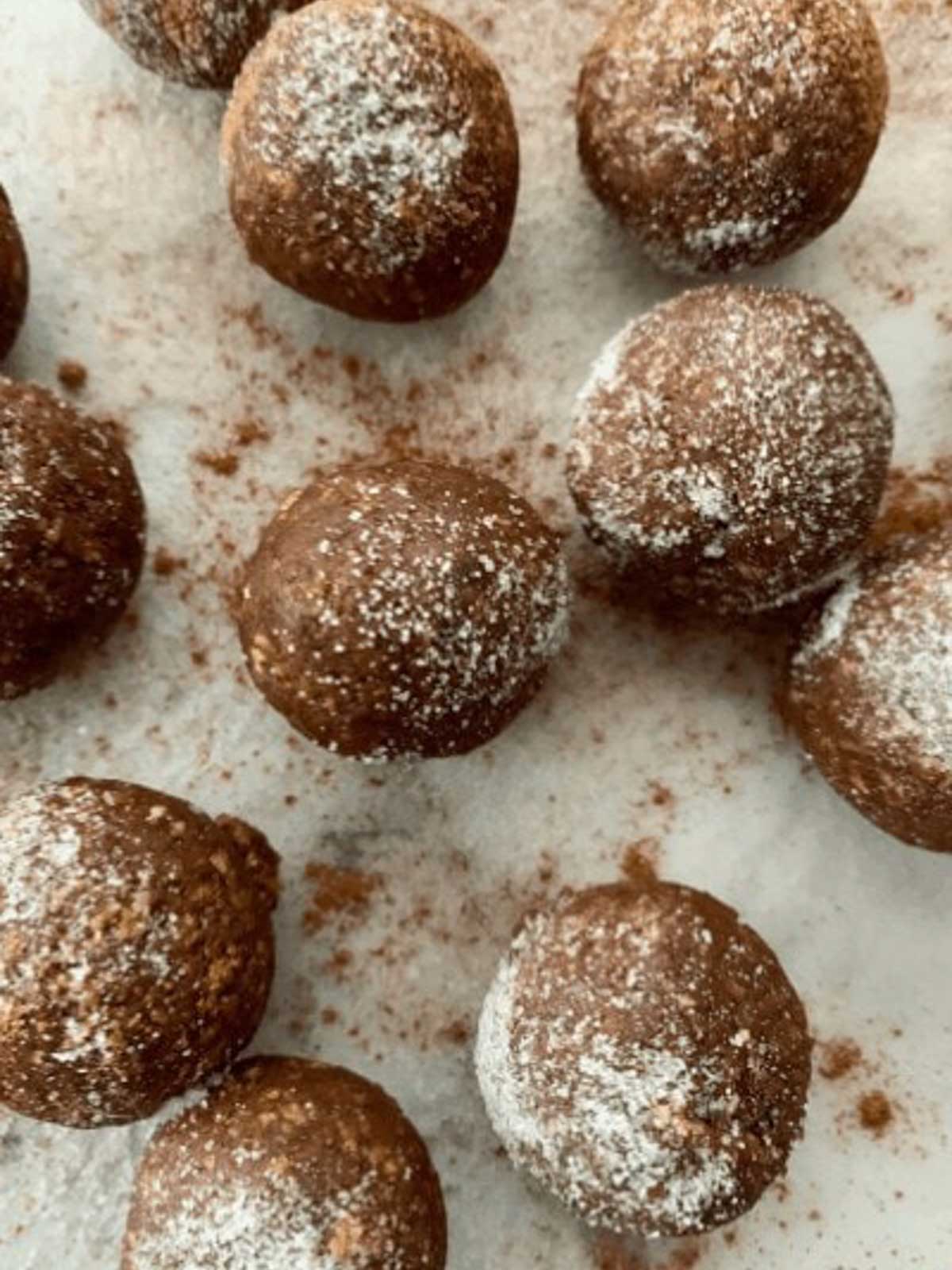 This original recipe was prompted by a craving for gingerbread cookies. However, I was just getting home from vacation and decided to take the healthier route- so gingerbread energy balls to the rescue!
These gingerbread energy bites are the perfect way to satisfy a sweet tooth craving, without adding a lot of extra sugar. Also, they are a great on-the-go snack! Pair them with a skinny peppermint latte for the perfect holiday treat!
After you make these, be sure to check out my other energy balls! These 3 ingredient oatmeal balls, chocolate chip peanut butter balls and homemade perfect bars are all delicious options!
Jump to:
Reasons this Recipe Works
This energy ball recipe contains dates, which are a naturally sweet fruit and provide most of the sweet flavor in the recipe.
The recipe is high in fiber, which will keep you full for a longer period of time.
These energy bites are easy to make! Prep them in under 30 minutes.
Ingredients Notes
Dates: I recommend using whole dates that are already pitted. Medjool dates will produce a nice, soft energy ball. Be sure to use your leftover dates in this delicious recipe for peanut butter stuffed dates!
Oatmeal: I use old fashioned oatmeal, however you can also use quick cooking oats. Be sure to use gluten free oatmeal if wheat is an allergy concern.
Walnuts: the walnuts add extra flavor and texture to the energy balls. You can substitute with pecans as well.
Molasses: light molasses is the sweetest, while medium/dark molasses will have a richer flavor. Either will work!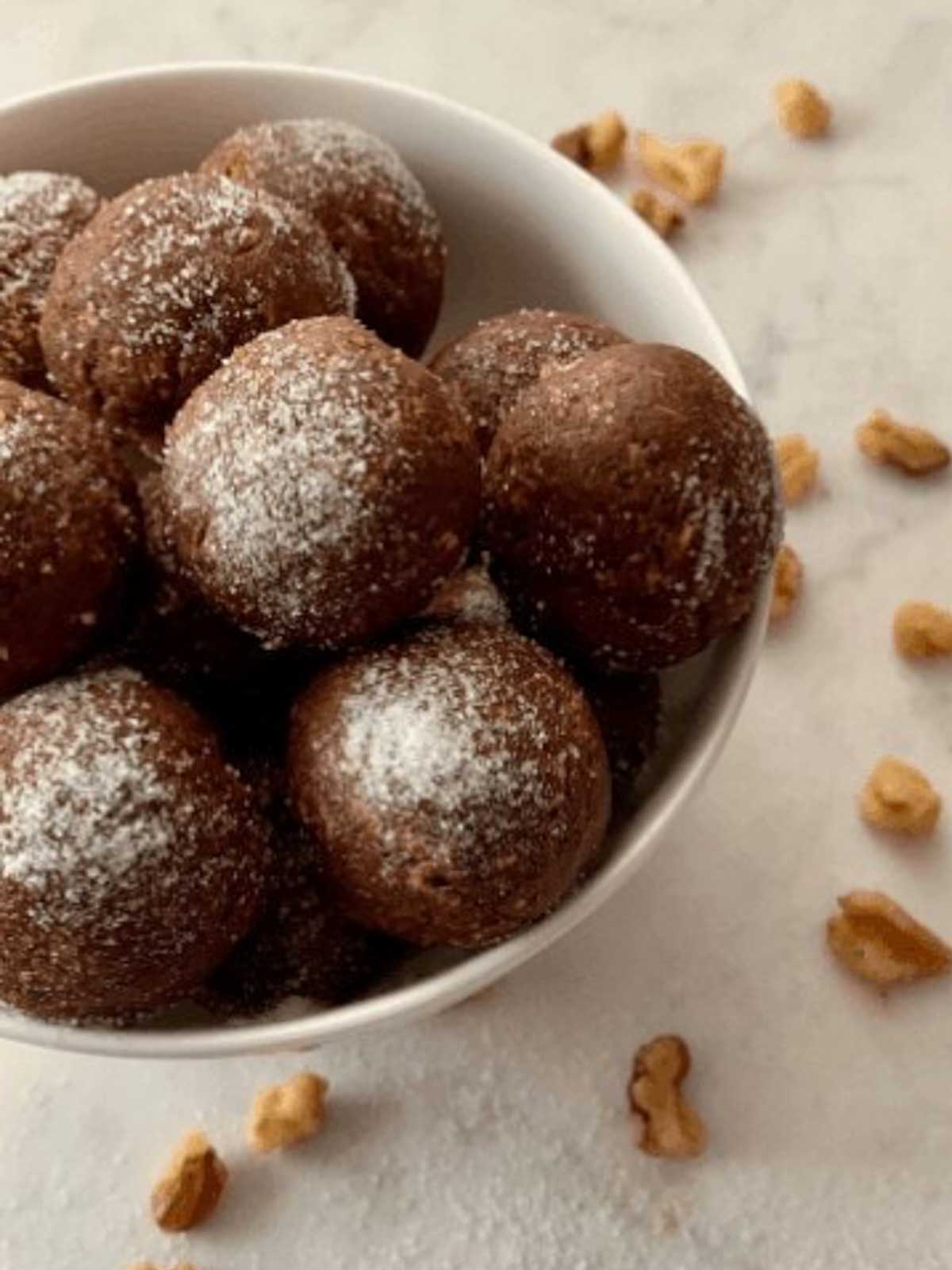 Step by Step instructions
Fill a large measuring cup with 2 cups of water. Heat in the microwave for 3 minutes, or until just boiling. Add dates and soak for 10 minutes. While waiting for the dates to soak, move on to the next step.
Combine dry ingredients in a food processor. (Here's my favorite Food Processor!) It's inexpensive, durable (I've had it for 2 years now!), and easy to store since it's so small.
Combine oatmeal, cinnamon, ginger, nutmeg, salt, and chopped walnuts. Puree until resembles a fine powder. Remove from food processor and set aside.
Drain dates from the water they are soaking in. Add dates, molasses, and syrup to the food processor. Puree until smooth. If you find the dates are not pureeing well, remove lid, scrape down the edges with a rubber spatula and puree again. Repeat as needed. Use the pulse button intermittently with the puree button to get a better mixture.
Add the dry mixture back into the food processor with the dates. Puree until well mixed.
Scoop mixture into individual balls using a cookie scoop or rounded tablespoon. Roll into balls. Freeze for 10 minutes, and
How to Soak the Dates
Microwave method: Place water in a microwavable container. Use twice amount of water as to dates being used. Heat water until barely boiling. Place dates in the water, and soak for 10 minutes.
Stovetop Method: Heat water in a saucepan and bring to boil. Remove from heat and add dates. Once the dates have soaked in water for 10 minutes, drain the water via a strainer.
How to roll into the perfect ball
If I'm giving these energy balls to friends or family, I like to spend a little bit more time working on the presentations of these treats. There are 2 secrets to rolling the perfect ball every time:
Tip#1: Use a cookie scoop. The cookie scoop is essential for making perfectly symmetrical balls. Fill the cookie scoop, scrape on the edge of the bowl to level and the end result is the same size energy balls. This is the cookie dough scoop that I love to use!
Tip#2: Roll the treats into a ball shape using hands, freeze for 10 minutes and roll them again into a nicer ball. Freezing the balls for 10 minutes will help them hold their shape better. When you go to roll them again, you are able to form a nicer, more even shape.
Are these energy bites healthy?
There are a couple of health benefits to these gingerbread balls:
The sugar comes from more natural sources, including molasses and dates. This means they are not loaded with extra sugar, unlike a lot of "energy-bars".
These treats contain oatmeal, which is a good source of fiber. Fiber has a positive effect on your overall digestive tract.
Molasses is an antioxidant. This means that is healthy for your body and has a lot of good health benefits.
They won't give you a sugar high and crash, which is often true of soda, candy or other high-sugar items. The fiber in these energy bites helps create sustainable energy and makes you feel full for longer.
Expert Tips
The key to a soft energy ball is soaking the dates! It may sound like extra work, but if you let them soak while preparing the rest of the recipe, they will be ready in no time!
Short on time and don't want to roll every piece? Make them into bars! Evenly spread the dough into a greased 8x8 inch baking pan. Refrigerate for an hour, cut into squares and serve!
Frequently Asked Questions
Do I need to soak dates before making the energy balls?
Soaking dates is really important because it helps to soften the dates so that they are easier to puree. There are two types of dates available for purchase – hard or soft. The hard dates can take up to an hour to soak, whereas the soft dates only take 10 minutes.
Can I freeze the energy balls?
These gingerbread energy balls hold up well in the freezer. Wrap in a freezer bag and freeze for up to 2 months. They also taste good if eaten from frozen- I usually take them out of the freezer, let them sit for about 10 minutes, and then devour!
More Healthy Snacks
Print Recipe
Gingerbread balls
If you like the flavor of gingerbread, you will love these gingerbread balls! These gingerbread energy bites are easy to make. They taste great and are healthy because they are low in sugar!
Ingredients
1

cup

dried dates

whole and pitted

1

cup

old fashioned oatmeal

(alternative: gluten free oatmeal)

2.5

tablespoon

cinnamon

2

teaspoon

nutmeg

¼

teaspoon

ginger

¼

teaspoon

salt

1

cup

walnut pieces

1

tablespoon

molasses

1

tablespoon

syrup
Instructions
Heat 2 cups of water until boiling. Add dates, remove from heat. Soak for 15 minutes.

While dates are soaking, combine all dry ingredients in the food processor (oatmeal, cinnamon, ginger, nutmeg, salt and walnuts).

Pulse until the mixture resembles a powder. Remove from food processor and set aside.

Once dates are finished soaking, drain excess water. Add dates, molasses and syrup to food processor.

Puree until blended evenly, scraping down sides of bowl as needed.

Scoop onto tray using a cooking scoop or tablespoon.

Roll into balls, refrigerate 1 hour prior to serving. Enjoy!
Nutrition
Calories:
123
kcal
|
Carbohydrates:
17
g
|
Protein:
3
g
|
Fat:
6
g
|
Saturated Fat:
1
g
|
Polyunsaturated Fat:
3
g
|
Monounsaturated Fat:
1
g
|
Sodium:
37
mg
|
Potassium:
124
mg
|
Fiber:
3
g
|
Sugar:
8
g