Peanut butter stuffed dates are an easy and healthy snack idea! This recipe only requires two ingredients and there is no cooking involved. It is the perfect option for a healthy dessert or to calm your sweet tooth.
Dates with peanut butter- is there a better combination? As a Registered Dietitian, I'm frequently asked for healthy (but tasty) snack ideas. This is a recipe that I frequently recommend. I also love these 3 ingredient banana oatmeal cookies and almond flour peanut butter cookies.
These PB stuffed dates were created as a healthier alternative to candy or desserts. I like to call it a "natural version" of Reese's Pieces; the dates provide the sweetness and the peanut butter adds a creamy, rich flavor.
This delicious treat is a popular pregnancy snack because of the dates, but it works perfect for anyone looking for a healthy summer snack. They would be a perfect addition to any of these healthy charcuterie boards.
If you are looking for more recipes with dates, be sure to check out these 3 ingredient chocolate bliss balls or these easy gingerbread balls!
Jump to:
Reasons to Love These
They are naturally gluten free and dairy free; a great snack for people with allergens
There is no added sugar; any sugar in this treat comes from the date.
The peanut butter-stuffed dates are easy to make!
There are many variations: you can make these chocolate-covered peanut butter dates, or you can add in other toppings like sea salt, nuts, or cocoa powder.
Dates provide a natural sugar, so you don't get a sugar crash after eating them. (Here's more info on foods that fight fatigue)
Ingredients Needed
I wasn't kidding when I said this snack was easy to make! It only requires two ingredients: peanut butter and dates!
Peanut Butter: I personally prefer creamy peanut butter because I enjoy the smooth texture. Crunchy peanut butter can also be used to add some extra texture. Feel free to substitute with another form of nut butter, such as almond butter or sunflower butter.
Dates: The dates must be whole dates. One option is to use dried, pitted dates that do not have the pit in the middle. These are typically found in the dried fruit aisle of the grocery store. Another option is to use a fresh, whole date, however, you will need to remove the pit from the center.
Step-by-Step Instructions
Make a small cut into the date in a lengthwise manner. It's important not to cut them entirely in half, since you will be stuffing the dates with peanut butter. Once you have cut the date, use your fingers to open the cut wide enough to fill it with peanut butter.
Tip: If using fresh dates, be sure to remove the pit!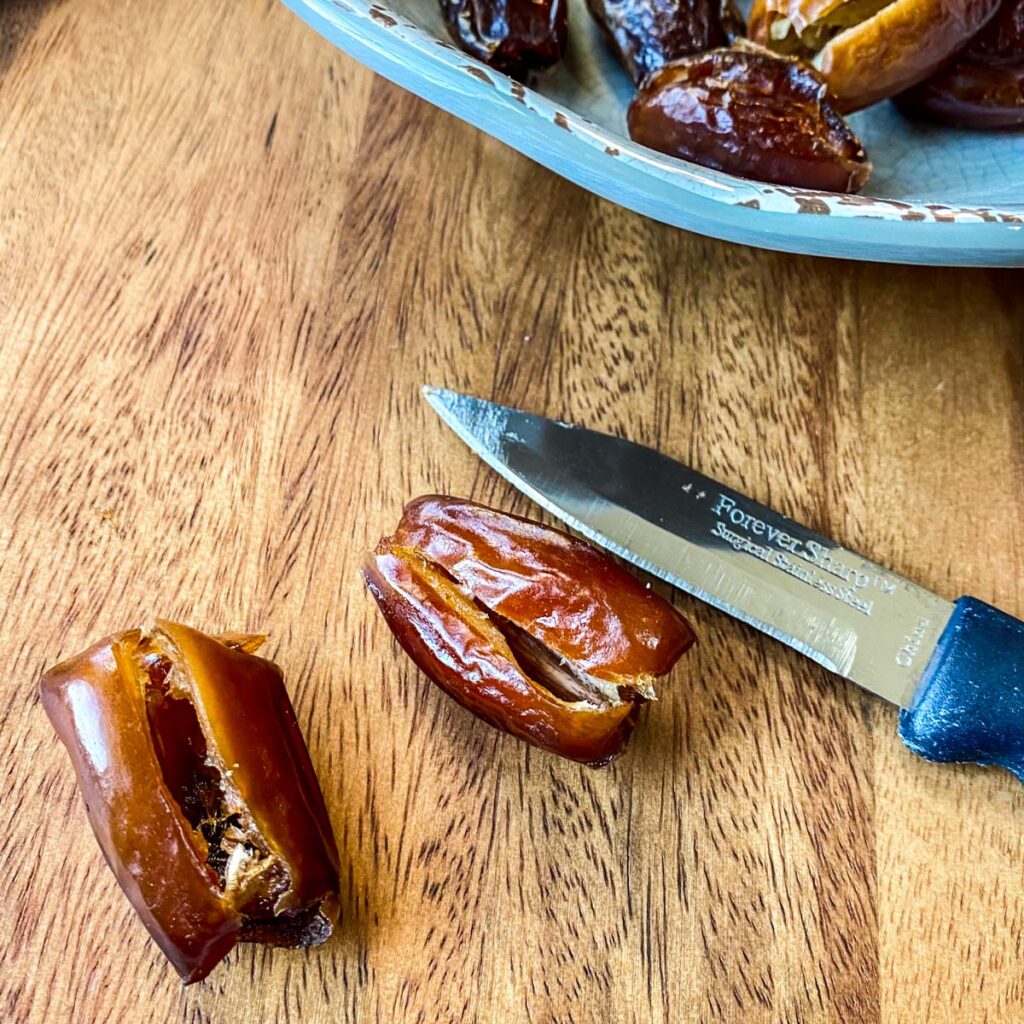 Once the dates have been cut open, fill them with 1 teaspoon of peanut butter. You may have to use your fingers to get the peanut butter in the dates.
After the dates are stuffed with peanut butter, top them off however you'd like. I personally like them plain, however, you could top them with crushed peanuts, crushed walnuts, chocolate pieces or cinnamon.
Variations and Additions
Use a different type of filling: any type of nut butter will work: crunchy peanut butter, almond butter, sunflower butter or pumpkin butter.
Toppings: 100% optional. Topping ideas include cocoa powder, cinnamon, crushed chocolate, chopped peanuts, chopped walnuts or sea salt.
Freeze the dates and then thaw for about 5 minutes before eating!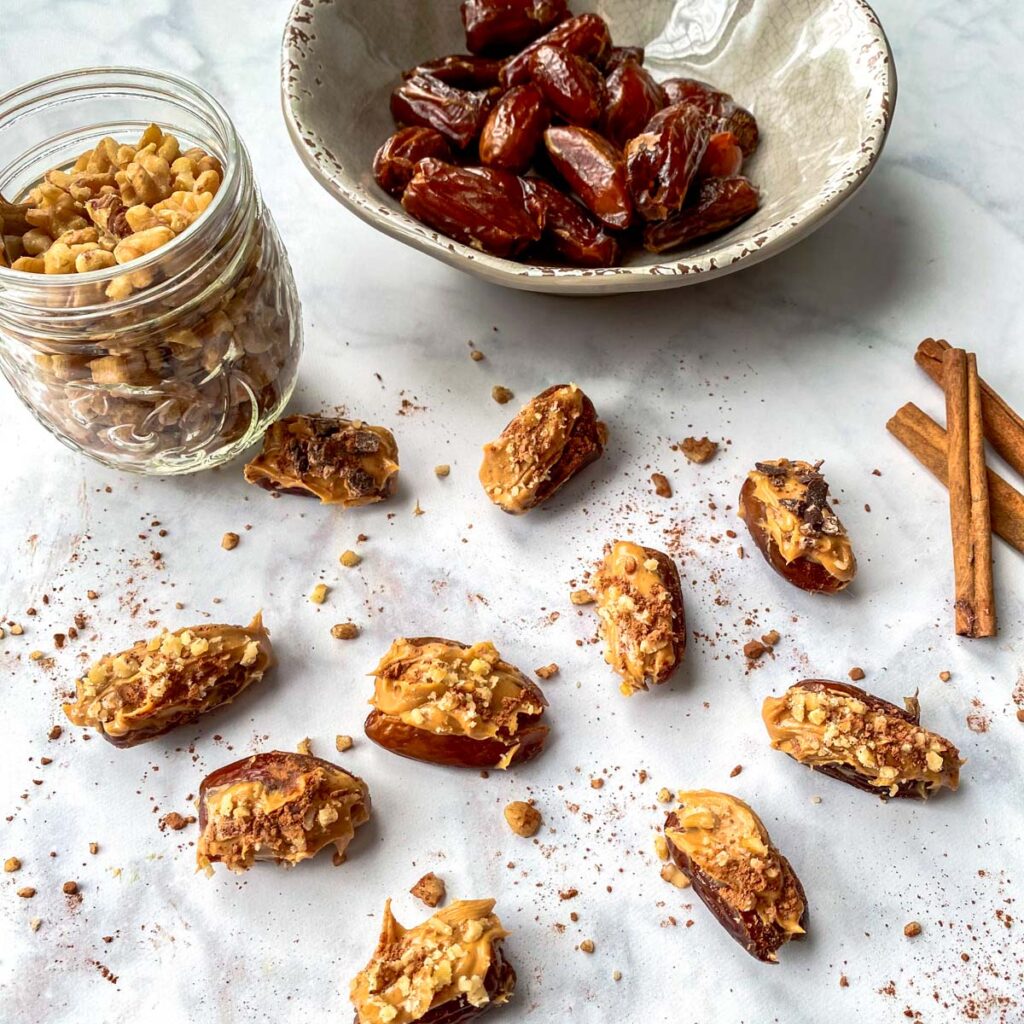 How To Store Peanut Butter Stuffed Dates
Refrigerator: Store the dates in an airtight container in the refrigerator for up to 1 week.
Freezer Method: These peanut butter-stuffed dates also freeze well. I actually love eating them straight out of the freezer. Place the stuffed dates on a small cookie sheet so that they are spaced out and not touching. Freeze for 2 hours or until frozen solid. Once they are frozen, place them in a ziplock bag or airtight container. They should last for 2-3 months in the freezer.
Are Dates Good For You?
There are many different types of dates: dried chopped dates, dates coated in sugar, fresh dates and Deglet Noor Dates (dried & pitted).
Dried whole dates are considered a fruit, however they are considered a fruit that has a higher calorie and sugar content per serving size.
Although they have a high sugar content, there are still health benefits the can be found in dates. Dates are an excellent source of fiber, which can aide in digestion.
Also, dates are known to be high in polyphenols. This is a type of antioxidant that is known to help reduce inflammation (more information here).
So while dates do have a higher sugar content, they can provide some overall good nutritional benefits if eaten in moderation. The many vitamins and minerals also make them a great alternative to sugar in baking or in recipes.
Frequently Asked Questions
What Do You Use Dates For?
Dates are a fruit that are naturally sweet. They are an excellent way to replace sugar in many recipes. Dates are also known for having a texture that is "sticky", which makes them popular in many energy ball recipes and granola bar recipes.
Does this recipe have any added sugar?
There is no added sugar in this recipe. The dates are an excellent replacement to sugar. Dates do contain a natural sugar, however, they also contain many vitamins and minerals, including Fiber.
What can I do with leftover dates?
Use them in energy balls or energy bars. Check out this energy ball recipe ! Another option is to make a trail mix: combine dates, pecans, walnuts, craisins and chocolate chips for a healthy snack. You can also eat them plain: the recommended serving size of dates is ¼ cup.
Do Dates Need To Be Refrigerated?
Dates are best when stored in the refrigerator to help preserve the quality. They can also be kept in the freezer for extended periods of time.
More Healthy Snacks
Peanut Butter Stuffed Dates
Peanut butter stuffed dates are a sweet treat that are easy to make! They only require 2 ingredients and no cooking is needed.
Ingredients
10

dates

dried and pitted

10

teaspoon

peanut butter

creamy
Instructions
Make a small slice into the date in a lengthwise manner. Remove the pit if needed.

Using your fingers, continue to separate the date, being careful not to split the date in half. Repeat with all dates.

Fill each date with 1 teaspoon of peanut butter.

Top with any additional toppings if desired.

Store in the refrigerator. Enjoy!
Notes
Serving size is 1 stuffed date. 
Types of dates to use: 
Dried, pitted whole dates (found in the dried fruit aisle)
Fresh dates that still have the pits (found in the produce aisle)
Optional toppings: 
Crushed peanuts
Cinnamon
Cocoa powder
Sea Salt 
Crushed Dark chocolate
Nutrition
Calories:
68
kcal
|
Carbohydrates:
7
g
|
Protein:
2
g
|
Fat:
4
g
|
Saturated Fat:
1
g
|
Polyunsaturated Fat:
1
g
|
Monounsaturated Fat:
2
g
|
Sodium:
34
mg
|
Potassium:
91
mg
|
Fiber:
1
g
|
Sugar:
5
g
|
Vitamin A:
1
IU
|
Vitamin C:
0.03
mg
|
Calcium:
7
mg
|
Iron:
0.2
mg