This chocolate protein mousse is a delicious and healthy dessert option that will satisfy your sweet tooth! This mousse is incredibly rich and chocolatey and is also packed with protein, making it the perfect post-workout treat.
I love chocolate mousse, however it can often be high in calories. This recipe was developed to add extra protein into the dessert and to make it a bit healthier. The protein mousse is a great post-work out treat! It can also be eaten for breakfast or as a snack.
If you're looking for more high protein recipes, be sure to check out this chocolate chia protein pudding or these protein overnight oats!
Jump to:
Reasons to Love This Recipe
The mousse is high protein. It's a great dessert option that's still somewhat healthy.
The recipe is easy to make. There are just a couple steps and only 3 ingredients required. Make it in under 5minutes!
This recipe is filling; it's very satisfying because it's so rich and chocolatey.
The recipe size is easy to adjust. You can scale the recipe based on number of servings needed.
Ingredients
Chocolate Chips- use semi-sweet chocolate chips for best results. These are not as sweet as milk chocolate chips, but still have a good, intense chocolate flavor. You can also use dark chocolate for a more rich flavor.
Cocoa Powder- this adds a chocolate flavor to the mousse.
Greek Yogurt- I prefer plain Greek yogurt. Use 2% fat for a richer mousse. Select a brand that does not have a strong yogurt flavor, such as Oikos or Chobani.
See recipe card for quantities.
Instructions
Add the chocolate chips to a microwave safe bowl. Heat for 20 seconds, stir and repeat until melted. Set aside and let cool.
In a medium bowl, combine the Greek yogurt and cocoa powder with an electric mixer. Add the melted chocolate chips once cooled and beat with an electric mixer for one minute. This adds air into the recipe and helps create a light and airy dish.
Portion into serving cups. Garnish with whipped cream or strawberries.
Helpful tip: be sure the chocolate is cooled before adding to the yogurt!
Toppings and Serving Suggestions
This chocolate protein mousse is delicious on its own, but it's also fun to experiment with different toppings and serving suggestions. Here are a few ideas to get you started:
Top with whipped cream, chocolate shavings, or fresh berries.
Serve in small jars or glasses for an elegant presentation.
Use as a dip for fruit or pretzels for a fun and healthier snack option.
Add some texture by mixing in chopped nuts or cacao nibs.
Top with cinnamon, cocoa powder or peanut butter powder
No matter how you serve it, this chocolate protein mousse is sure to be a hit with anyone who tries it. Enjoy!
Variations
Add some extra flavor my throwing in a handful of blueberries or strawberries.
Mix in a tablespoon of peanut butter powder for a chocolate peanut butter mousse.
If you're looking for a different flavor, you can swap out the vanilla yogurt with strawberry or banana flavored yogurt.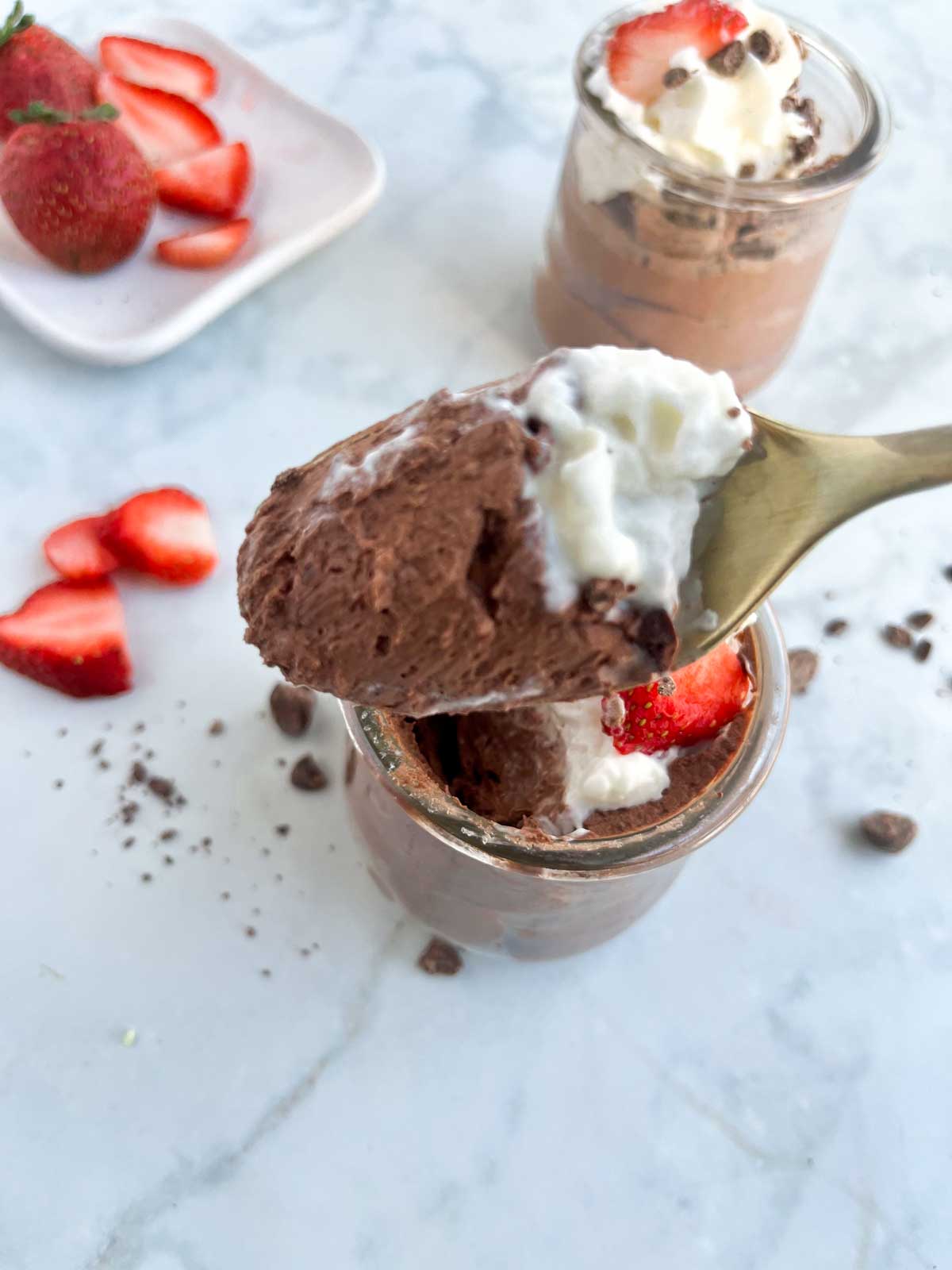 Storage
Store in an airtight container in the refrigerator for up to 3 days. Mix well before serving. Do not freeze, as the mousse will lose its texture.
Expert Tips
Don't overbend: Be careful not to overmix the mousse or it may become too thick and lose its creamy texture.
Adjust the sweetness: The amount of chocolate chips in this recipe is just a guideline, so feel free to adjust it to your desired level of sweetness. You can also use milk chocolate chips instead of semi-sweet chocolate chips for extra sweetness.
Chill it before serving: After blending, stick the mousse back in the fridge so it is cold.
Experiment with toppings: This chocolate protein mousse is delicious on its own, but it's also fun to experiment with different toppings like whipped cream, fresh berries, or chopped nuts.
FAQ
Can I use a blender or food processor to make this recipe?
Yes! Either will work fine to make this recipe if you do not have an electric mixer. Just be sure to scrape down the sides of the container a few times while blending to make sure everything is fully combined.
Can I make this mousse in advance?
This can be made up to 24 hours in advance. Keep it refrigerated until you're ready to serve. Mix well before serving.
What are the benefits of protein mousse?
Protein mousse contains protein! It is a filling dessert option that is high in volume yet low in calories. Eating protein mousse can satisfy your cravings in a much healthier way than some other desserts.
Video
Related Recipes
Protein Mousse
This protein mousse is easy to make and has a rich, chocolate flavor. It is creamy, healthy and packed with protein!
Ingredients
¾

cup

Greek Yogurt

plain

2

tablespoon

cocoa powder

½

cup

semi sweet chocolate chips
Instructions
Place the chocolate chips in a microwave safe dish and heat in the microwave until melted. Stir every 20 seconds to prevent burning. Set aside to cool.

In a small bowl, combine the cocoa powder and Greek yogurt. Mix well.

Add the melted chocolate chips once they have cooled. Combine with the Greek yogurt. Beat with an electric mixer for 2 minutes to add air an increase the fluff.

Serve chilled. Garnish with whipped cream, strawberries or chocolate chips.
Notes
Topping Suggestions: 
whipped cream
chocolate shavings
strawberries, blueberries or raspberries
chocolate syrup
cocoa powder
peanut butter powder
Nutrition
Calories:
200
kcal
|
Carbohydrates:
18
g
|
Protein:
6
g
|
Fat:
12
g
|
Saturated Fat:
7
g
|
Polyunsaturated Fat:
0.4
g
|
Monounsaturated Fat:
4
g
|
Trans Fat:
0.02
g
|
Cholesterol:
4
mg
|
Sodium:
17
mg
|
Potassium:
259
mg
|
Fiber:
3
g
|
Sugar:
12
g
|
Vitamin A:
16
IU
|
Calcium:
63
mg
|
Iron:
2
mg