Spinach, strawberry and walnut salad is a light and flavorful salad option. It combines a hint of sweetness from the strawberries and onions with a rich, salty flavor from the feta cheese. This perfect combination creates an delicious salad!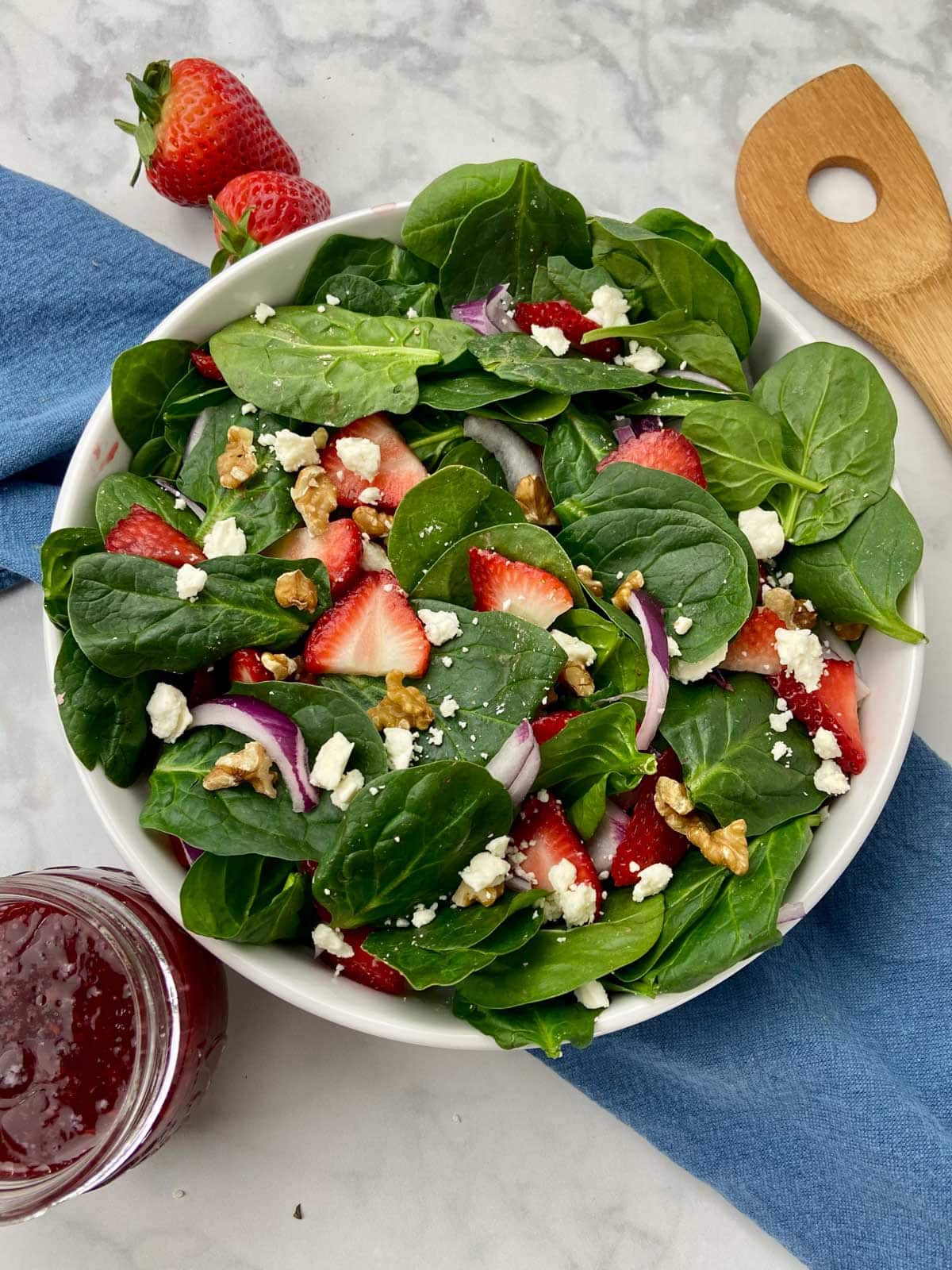 I've been making this spinach strawberry and walnut salad for as long as I can remember! It's a an easy summer salad that tastes great and is impressive!
This salad is a lighter option which makes it great as a side dish, however you can also add a protein (such as chicken) to make it a main entrée. Or, serve it with as a side to a main entree, such as BBQ crockpot chicken or air fryer buffalo chicken tenders!
Jump to:
Reasons to Love This Salad
It's so easy to make! The only prep work required is slicing the onions and strawberries.
This is the prefect salad for a party! There have been times I've needed a salad for party, picked up all ingredients at the store, and then made the actual salad at the party! Simply mix and you are done!
It's healthy! This is an easy way to load up on vitamins and minerals!
This spinach walnut salad is perfect for any event. Serve it at backyard BBQ's, pot lucks or with a normal dinner.
Ingredients Needed
Spinach: Use fresh spinach leaves- the pre-bagged spinach that is sold at the store works great! Cut off any long stems on the spinach if desired. Do not cut the spinach leaves, however. This will allow the salad to last longer.
Strawberries: This salad works best with strawberries that are slightly ripe, however not overly soft and mushy. Remove stems from strawberries and slice length wise.
Purple Onion: Use a purple onion, as it is sweeter in flavor than other colors of onions.
Feta Cheese: Feta cheese provides a rich and slightly salty flavor. Use low fat or fat free feta cheese if wishing to make this salad a little bit lower in calories or fat.
Chopped Walnuts: Walnuts can be purchased already chopped, or you can purchase whole walnuts and chop yourself by using a knife. Pecans can also be substituted in place of walnuts.
How to Make the Salad
Place spinach in a large mixing bowl. Cut off the long stems of the spinach leaves using scissors. Do not cut the spinach leaves, however. This will allow the salad to last longer.
Slice strawberries length wise. Chop onion into thin strips which are about ½ inch long by ⅛ inch thick.
Assemble the salad. Add the strawberry slices, onion slices, chopped walnuts and feta cheese to the spinach. Combine using two forks. Allow the salad to sit for about 15 minutes before serving. This allows the onions and strawberries to start marinating the spinach leaves.
Top with the Raspberry Vinaigrette Dressing right before serving. If you plan to serve this salad at another meal, consider serving the dressing on the side.
Raspberry Vinaigrette Dressing
This salad uses calls for Raspberry Vinaigrette Dressing. Any type of vinaigrette dressing could be used, however in my opinion, the raspberry vinaigrette dressing nicely compliments the flavor of the salad.
While the homemade version tastes great, this dressing can also be purchased at the store if running short on time. I recommend the brand "Newman's Own Raspberry & Walnut Vinaigrette Dressing". This salad would also pair well with my honey lime vinaigrette!
Making the Raspberry Vinaigrette Dressing
Puree the raspberries until smooth in a blender. In a mixing bowl, combine the pureed raspberries, olive oil and red wine vinegar. Mix until combined. Note: the mixture will separate if it sits for a while. Simply stir well before serving.
How to Keep Spinach Fresh
I purchased the ingredients for this salad and held them in the refrigerator for about 5 days before making the salad. Here's a couple tips to keep spinach fresh in the refrigerator:
Wait to wash the spinach leaves until right before using. Only wash the amount of leaves that will be used.
Store spinach leaves in between 2 paper towels in an air tight container. The paper towels absorb moisture from the spinach and will prevent it from getting slimy.
Keep the spinach in the crisper section of the refrigerator.
Serving Suggestions
Strawberry Spinach and Walnut salad is a great option for a side dish at a party, to bring to a barbecue or simply for a tasty salad option at lunch or dinner.
Make this a main entrée by adding some sliced chicken breast or turkey to the i Ku top. This adds protein and creates a more balanced meal.
Serve this salad as a side dish to compliment any meal. Some meals it would go great with are tex mex casserole, avocado chicken pesto pasta, stuffed summer squash or oven baked chicken quarters.
Can I Eat Leftover Strawberry Spinach Salad?
Yes! This salad holds great for 2-3 days in the refrigerator. After the salad sits for a while, the strawberries and onions marinade the spinach leaves, creating an enhanced flavor. In my opinion, it almost tastes better leftover!
If planning to eat this salad at more than one meal, only add raspberry vinaigrette dressing to individual servings of the salad. Dressing the entire salad will cause it to get soggy faster.
Is This Salad Healthy?
Here's the breakdown on the nutritional profile of this salad:
Spinach is packed with vitamins and minerals- Vitamins A, C & K to name a few. Depending on your individual health needs, this may be beneficial.
Spinach also has calcium - great for bones!
The walnuts contain a healthy source of fat, which is great for your skin and hair. Also, the fat helps your body absorb some of the vitamins in the spinach.
Strawberries are packed with Vitamin C. Some studies show Vitamin C may protect the immune system and against our overall healthy.
Expert Tips
To make peeling the onion easier, soak the onion in luke-warm water for about 5 minutes. Remove from water and peel; the skin should come right off.
If taking this salad to a gathering or party, bring all ingredients and assemble at the party right before eating.
Swap out the strawberries with any fruit- blueberries, raspberries, mandarin oranges or chopped apples are great options.
More Healthy Side Dishes
Strawberry Spinach and Walnut Salad
Spinach, strawberry and walnut salad is a light and flavorful salad option. It combines a hint of sweetness from the strawberries and onions with a rich, salty flavor from the feta cheese.
Ingredients
5

cups

fresh spinach

16

oz

strawberries

½

purple onion

4

oz

feta cheese crumbles

½

cup

chopped walnuts
Raspberry Vinaigrette Dressing
6

oz

raspberries

¼

cup

extra virgin olive oil

1

tablespoon

red wine vinegar

salt and pepper to taste
Instructions
Slice strawberries lengthwise into about ¼ inch pieces.

Peel onion and slice into ½ inch strips.

In a medium mixing bowl, combine spinach, strawberry slices, onion slices and walnuts. Mix gently with two forks until combined.

Add in feta cheese, mix gently.

Refrigerate for 15 minutes prior to serving.

Drizzle with ½ cup of Raspberry Vinaigrette dressing just before serving. If desired, do not top the salad with dressing and instead serve salad with dressing on the side.
To Make The Raspberry Vinaigrette Dressing:
Puree the raspberries in a food processor until smooth.

Combine the pureed raspberries, olive oil and vinaigrette in a bowl. Mix until combined.

Serve over salad or on the side of the salad.
Notes
Nutrition facts include salad dressing added to salad. Nutrition facts may vary based on brand of ingredients used. 
Variations: 
Substitute the strawberries with raspberries, blueberries or mandarin oranges. 
Use store bought raspberry vinaigrette for a shortcut.
Nutrition
Calories:
244
kcal
|
Carbohydrates:
13
g
|
Protein:
6
g
|
Fat:
20
g
|
Saturated Fat:
5
g
|
Polyunsaturated Fat:
6
g
|
Monounsaturated Fat:
8
g
|
Cholesterol:
17
mg
|
Sodium:
233
mg
|
Potassium:
373
mg
|
Fiber:
5
g
|
Sugar:
7
g