Hawaiian Roasted Vegetables are an easy to make side dish that will compliment almost any meal. These roasted vegetables have a Hawaiian flare to them, which makes them unique from your normal roasted vegetables.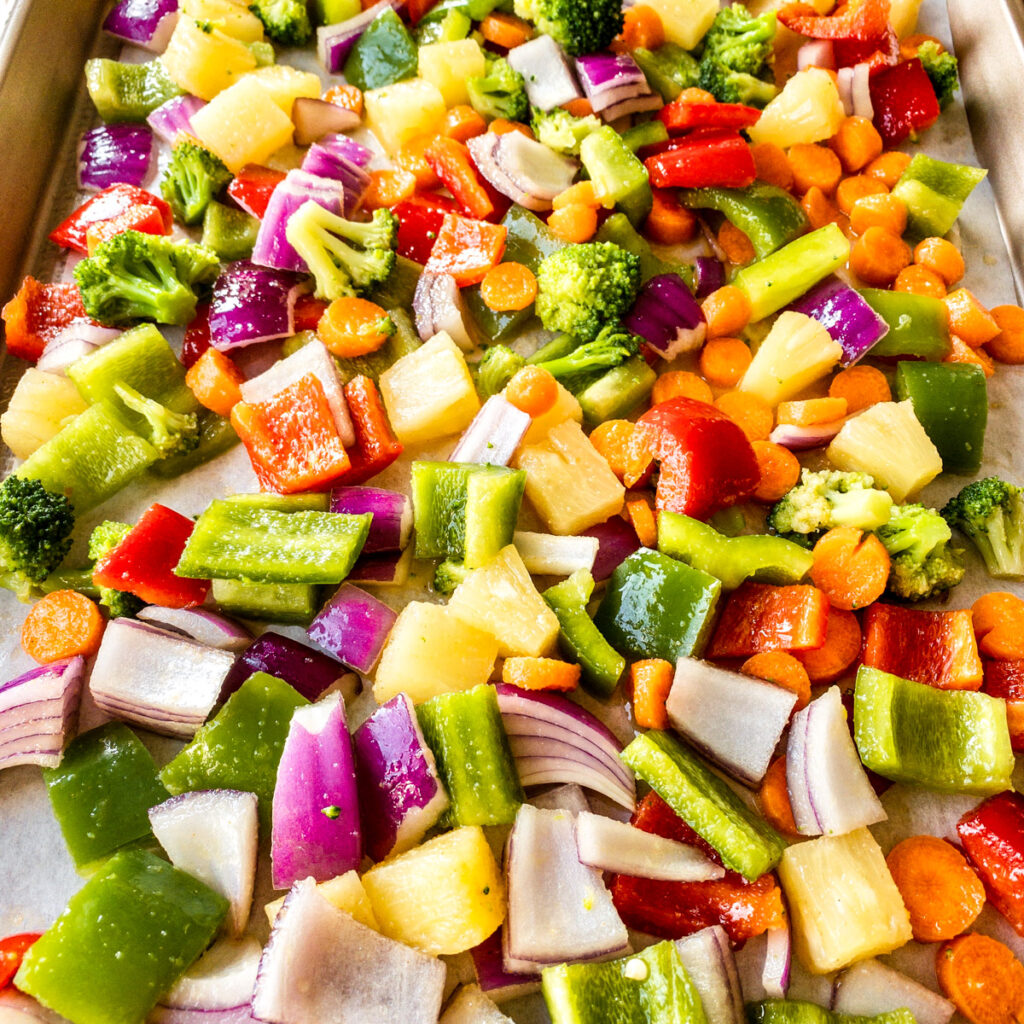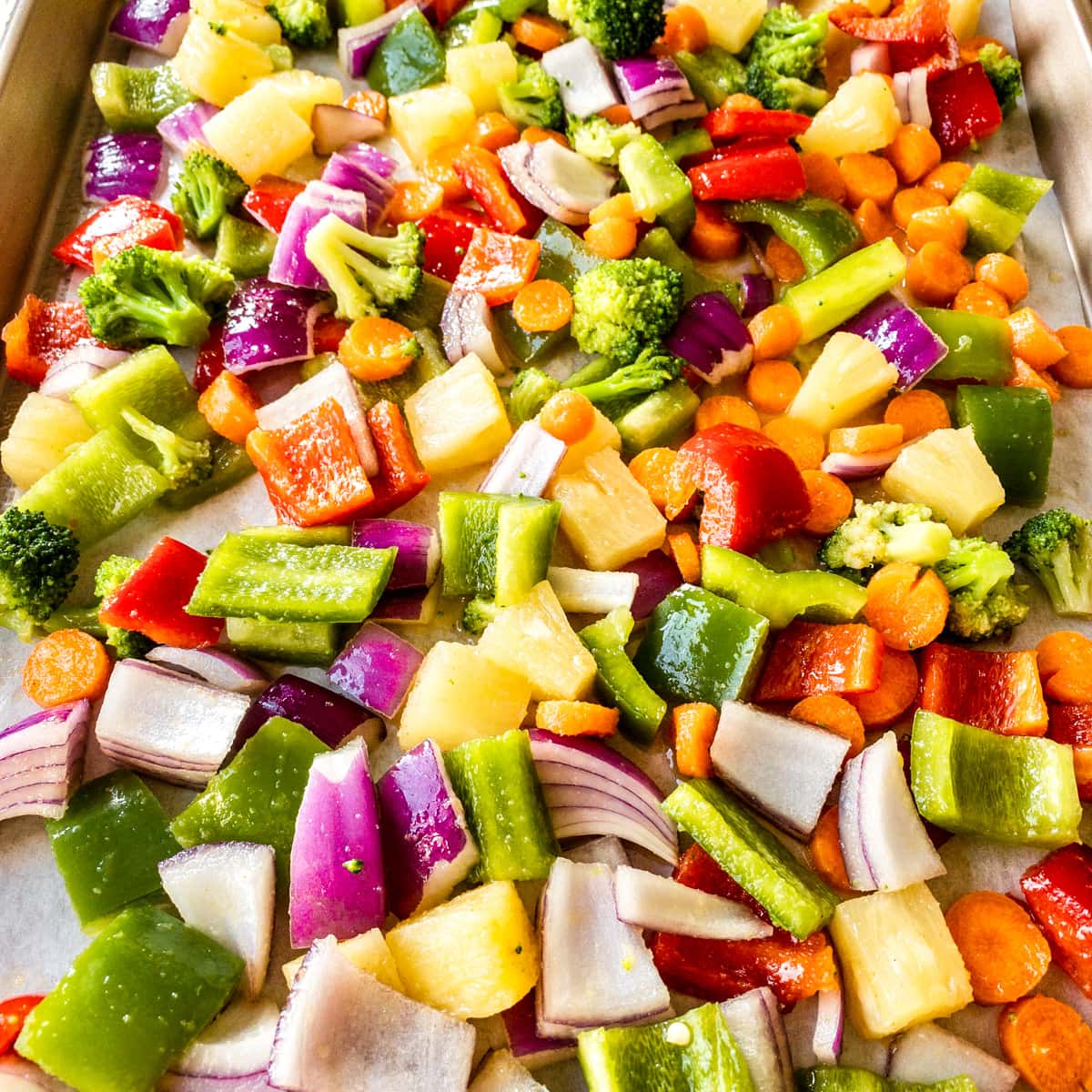 Anyone who has traveled to Hawaii knows that the state is known for it's culture and unique food options. After traveling there a couple of times, one of the things that I've loved the most is food options that I encountered.
During time spent in Hawaii, some of my favorite foods that I tried were Hawaiian chicken, meat from a pig roasted in front of me (sounds gross HA!) roasted veggies, and best of all, their vegetarian sushi. This recipe was developed as an easy way to use traditional vegetables and place a Hawaiian flare on them.
What Types of Vegetables Should Be Used for Hawaiian Veggies?
Almost any type of vegetable can be used for this recipe. The more vegetables used, the more colorful the dish looks and it also tends to have better flavor. I'd recommend choosing any combination of 5 different types of vegetables. Here's some popular options:
Red, Green, Yellow or Orange Bell Peppers
Purple Onion
Broccoli
Cauliflower
Carrots
Squash
Shredded Cabbage
Asparagus
Green Beans
What To Serve Hawaiian Vegetables With:
Hawaiian Oven Roasted Vegetables are a great side dish and compliment to almost any meal. Some favorite ways to pair them are as follows:
Serve on the side of grilled chicken
Prepare a batch of rice and serve Hawaiian Vegetables over the top
Use Hawaiian vegetables as a side dish to any crock pot meat item: pork chops, ribs, chicken thighs
Keep your meal vegetarian and serve the Hawaiian vegetables over some roasted quinoa
Are Hawaiian Roasted Vegetables Healthy?
Hawaiian vegetables contain an excellent source of vitamins and minerals. Vitamin C is particularly high in this recipe, thanks to the red bell peppers.
The recommended fat source that is used in this recipe is olive oil- this is considered a healthy fat, and is the preferred choice of oil (as compared to vegetable oil). There is no added salt in this recipe, all flavor comes from the ginger, garlic and pineapple.
Lastly, these Hawaiian roasted vegetables are low in calories. If you are looking for a side dish that is not loaded with calories, this is the perfect dish!
Can I use Frozen Vegetables?
Frozen vegetables can be used, however they must be thawed completely and patted dry before cooking. If they are cooked from frozen, the dish will have too much liquid.
Ingredients Needed for Hawaiian Vegetables
Vegetable Blend
Any type of vegetable will work! For this recipe, I used red bell peppers, green peppers, purple onion, broccoli and cauliflower. If substituting out different vegetables than those listed, to keep the measurements the same as listed in the recipe so that the sauce to vegetable ratio remains correct.
Pineapple Chunks
Either fresh or canned pineapple chunks will work. Typically, fresh pineapple will be a little bit more sweet than the canned pineapple.
Pineapple Juice
Pineapple juice can be used from the canned pineapple, or use the juice from a fresh pineapple. Depending on how you cut the fresh pineapple, you may have to put pineapple pieces in the blender and pulse it until smooth to make the juice.
Olive Oil
Olive oil works best for the sauce in this recipe, however Canola oil will work as well.
Chopped Ginger
Chopped ginger adds flavor depth to this recipe. While fresh ginger is recommended, ground ginger spice can also be used (in a lower quantity).
Minced Garlic
Mince garlic into small pieces to add flavor depth and aroma. If you do not have fresh garlic on hand, powdered garlic can also be used.
Brown Sugar
Brown sugar adds sweetness to the vegetables, and also help to create an overall sticky consistency to the vegetable sauce.
Let's Make Some Hawaiian Vegetables!
Cut vegetables (peppers, onions and broccoli) into even pieces, about ¾ inches wide. If using vegetables that take longer to cook, such as carrots, cut them into ¼ inch pieces.
Combine the cut vegetables in a bowl. In a seperate bowl, begin to make the sauce. Combine the olive oil, pineapple juice, ginger, garlic and brown sugar. Mix well and combine with chopped vegetables.
Spread the vegetables evenly on a cookie sheet. Vegetables should be evenly spaced out and not overlapping. Bake for 20 minutes, stir and bake another 5 minutes. Enjoy!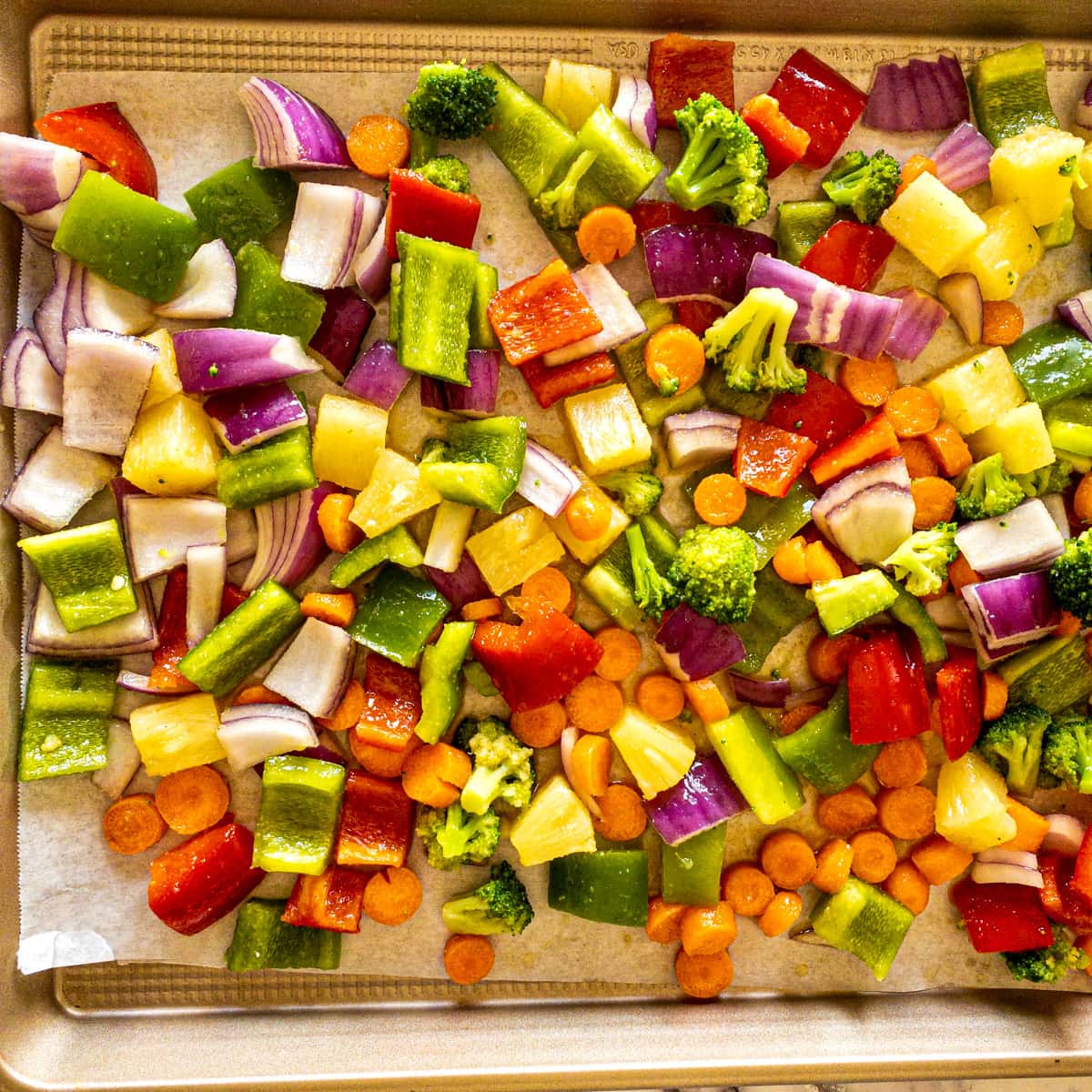 Other Easy Side Dishes
Recommended Products
Note: There are links on this site that are "affiliate links". This means that I may receive a small commission if you subscribe or purchase something through the links provided.
I love this pan for roasting vegetables! There is a small edge around the sides, which prevents veggies from spilling over the edge.
These cutting boards make chopping veggies easy! They are dish washer safe and have plastic grips to help with slipping.
Hawaiian Roasted Vegetables
A blend of vegetables that are coated with a sweet Hawaiian style sauce and baked in the oven. Easy to make and tastes delicious!
Ingredients
1

red bell pepper

2

green bell peppers

1

medium purple onion

1

cup

broccoli

cut into small pieces

½

cup

carrots

cut into small pieces

1

cup

pineapple chunks

fresh or canned (drain if canned)

2

tablespoon

juice from pineapple

1

tablespoon

olive oil

1

teaspoon

chopped ginger

½

teaspoon

minced garlic

1

tablespoon

brown sugar
Instructions
Preheat oven to 400F. Line a sheet pan with parchment paper.

Cut bell peppers, onions and broccoli into ¾ inch pieces.

Cut carrots into ¼ inch pieces.

Combine peppers, onions, broccoli, carrots, and pineapple in a large mixing bowl.

In a separate small bowl, combine the olive oil, pineapple juice, ginger, garlic and brown sugar. Mix well.

Add the olive oil mixture to the vegetable mixture. Combine until coated evenly.

Spread vegetables evenly on prepared sheet pan.

Bake in preheated oven for 20 minutes. Stir. Bake for another 5 minutes.
Notes
Any type of vegetable can be used in this recipe. Either fresh or canned pineapple can be used. 
Nutrition