Using marinade when cooking meat is a perfect way to make it flavorful and tender! Below I will share some important steps to making the best homemade marinade and my favorite recipe that works with chicken, pork, steak, or beef!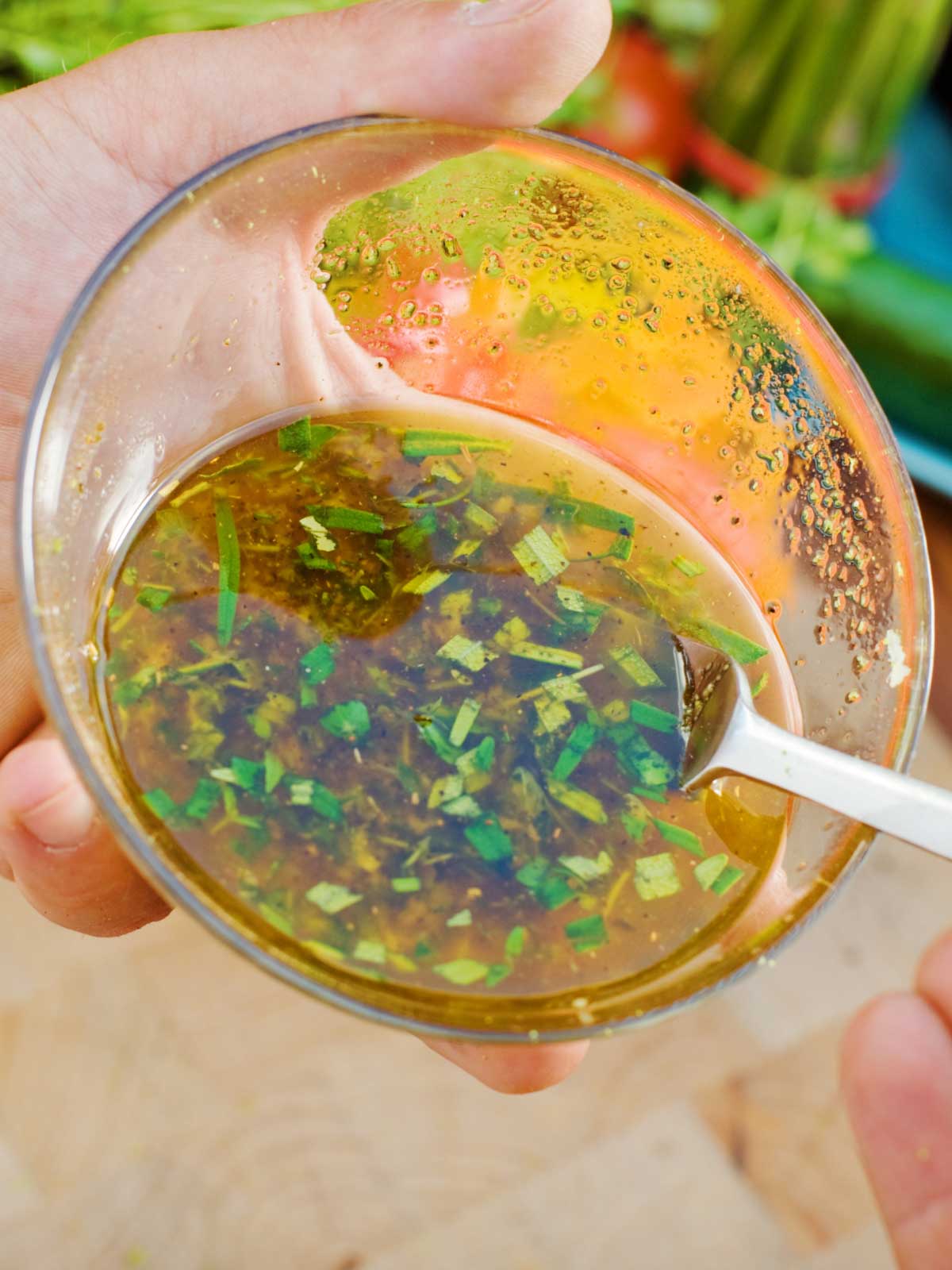 I've been making homemade marinades for years. I prefer them to store-bought marinade because I can control the flavor and ingredients that are used. Also, it's a lot cheaper than buying a premade option.
In order to teach you how to make a good homemade marinade, I've created a three-step formula, which I will share below. If you follow this formula, you can create virtually any flavor combination in your marinade!
If you're looking for more marinade ideas, check out this Greek Yogurt Chicken Marinade or the Mexican Chicken Marinade!
Jump to:
Reasons to use a Homemade Marinade
The marinade helps break down the chewy muscle fibers in the meat and create a tender and juicy cut of meat instead!
Making a homemade marinade is easy and versatile. You can add almost any flavor or spice desired!
There are no added preservatives or artificial flavors! You can also limit additives based on dietary needs, such as soy, high fructose corn syrup or added sugars.
What is a Marinade?
A marinade is a mixture of oil, acid, and spices. Marinading meat refers to the process of soaking meat in this mixture of ingredients to allow it to tenderize and add flavor.
The acid will help to weaken to the muscle tissue of the meat, resulting in a more tender product when cooked. Marinading meat can drastically change the flavor of your meat, depending on the spices added.
How to Make a Homemade Marinade
There is a special combination of ingredients that must be used when making a homemade marinade:
3 parts oil + 1 part acid + spices
It is important that this ratio of oil, acid and spices be used. Here's the role that each component plays in marinating meat:
Acid: The acid breaks down the muscle fibers of the meat, which helps to tenderize it
Oil: the adds fat, which helps transfer flavor into the meat and can prevent it from drying out.
Spices: the spices add flavor and depth to the meat.
Recommended Ingredients
The only ingredients needed are oil, acid, and spices! Listed below are examples for each category of ingredient.
Oil: any type of liquid oil such as olive oil, canola oil, coconut oil, or soybean oil.
Acid: use a liquid that has an acidic base such as apple cider vinegar, coke, beer, yogurt or citrus juice (orange juice, lemon juice, lime juice).
Spices: Anything dried or fresh spice that you desire! Some favorite options are garlic, onion powder, Italian seasoning, cumin, or cilantro!
How To Marinade The Meat
Make your marinade using the recipe below, or a combination of any 3 ingredients. Next, cover your meat with marinade in a large bowl or a ziplock bag. Refrigerate for 15 minutes and up to 24 hours. Remove from refrigerator and cook immediately.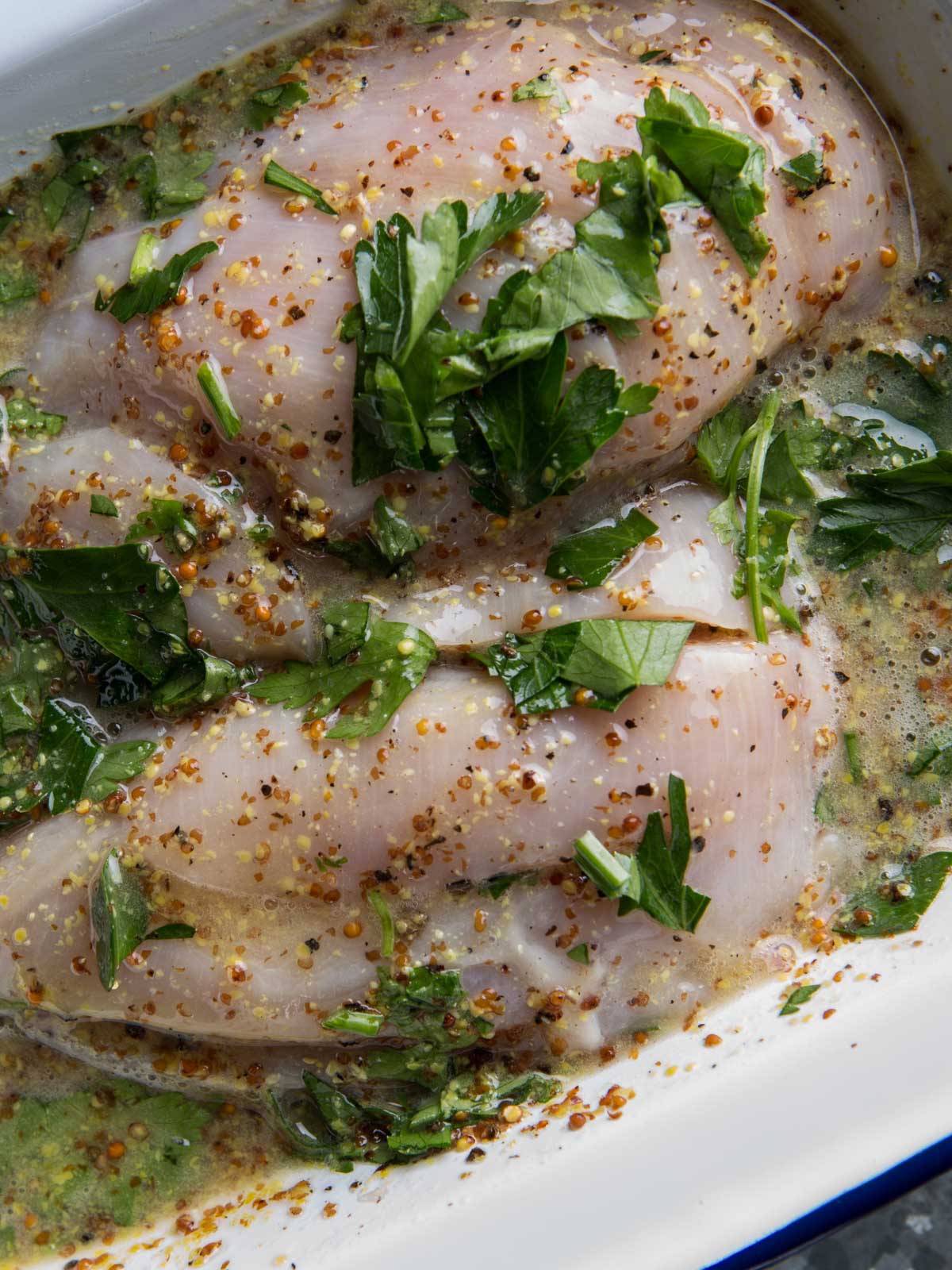 How To Freeze Meat with Marinade
For best results, pound the meat with a meat tenderizer to an even thickness. Tip: cut into small pieces to help make defrosting the meat easier.
Place 3 -4 small-sized pieces of meat into a gallon-freezer zip lock bag (it's important not to overpack the bag, as this will increase the time it takes to defrost). Fill the bag with marinade. Squeeze out all air and Ziplock shut.
Place inside another ziplock bag to prevent any freezer burn. Store for up to 3 months. Defrost by placing it in the refrigerator for 24-48 hours
Types of Foods To Marinade
Chicken: chicken will take on almost any flavor it is combined with. Marinade any cut of chicken- the breast, legs, thighs, or a whole chicken will work. Be sure to remove the skin of the chicken so the marinade is absorbed better.
The recommended time to marinade the chicken for best results is 1 hour, however, you can let it soak in the marinade for up to 24 hours. This marinade would pair perfectly with these grilled chicken kabobs! If you are wanting to make chicken wings, be sure to use this brine for chicken wings recipe.
Beef: Use a marinade for tough and chewy cuts of meat, such as the flank, sirloin, or round. Many people prefer to not marinate high-quality cuts of meat, such as a ribeye, as it is already tender.
Pork: Marinade works perfectly for pork loin or pork chops. A dry rub is recommended for pork ribs and pork shoulder/butt.
Seafood: Salmon and shrimp can be marinated well. I recommend a lemon-flavored marinade. Only allow them to soak for 30 minutes to avoid them getting mushy.
Vegetables: Vegetables can be marinated to add extra flavor. It only takes about 15 minutes to marinate veggies, as they are water-based and do not need much tenderizing. Examples of good vegetables to marinate are peppers, mushrooms or asparagus.
Frequently Asked Questions
How Long do I Let Meat Sit in the Marinade?
Meat can sit anywhere from 15 minutes to 24 hours. Do not marinade longer than 24 hours in the refrigerator, as the muscle fibers will start to break down, resulting in mushy meat.
Can you freeze the marinade?
This marinade can be frozen. Store it in a freezer-safe ziplock bag and freeze it for up to 3 months.
Related Recipes
Homemade Marinade
This homemade marinade contains fresh herbs and spices. It pairs perfectly with any cut of chicken, beef, pork or seafood!
Ingredients
¼

cup

white wine vinegar

¼

cup

olive oil

extra virgin

1

tsp

salt

1

teaspoon

black pepper

4

garlic cloves

minced

1

cup

parsley

chopped

½

cup

cilantro

chopped

¼

cup

chives

chopped
Instructions
Combine all ingredients into a large mixing bowl. Mix until combined.

Add 1.5 pounds of meat, cover and place in the refriderator.

Marinate for up to 24 hours before cooking.
Notes
This marinate will cover 1.5 of the meat. Double the recipe if using a larger quantity of meat.
Nutrition
Calories:
90
kcal
|
Carbohydrates:
2
g
|
Protein:
1
g
|
Fat:
9
g
|
Saturated Fat:
1
g
|
Polyunsaturated Fat:
1
g
|
Monounsaturated Fat:
7
g
|
Sodium:
395
mg
|
Potassium:
83
mg
|
Fiber:
1
g
|
Sugar:
0.1
g