Quinoa (pronounced KEEN-WAH) has been around for over 5000 years. However, recently, it is making headlines in the news as an excellent food option. Here is more information on how to prepare quinoa, health benefits of quinoa and FAQ's related to quinoa.
Quinoa - cooking and preparation
If you've never tried quinoa, you may be wondering "what is quinoa?!" Before quinoa is cooked, it resembles the shape of a very small seed. Once cooked, quinoa triples in size and becomes a fluffy grain. Some may say quinoa has the same texture as rice, while some might describe it as chewier. The texture of quinoa can very based on how long you cook it for and how much water it is cooked in.
How to cook quinoa
Quinoa can be cooked in less than 20 minutes!
Rinse Quinoa before cooking. Quinoa contains a naturally bitter coating called saponin (most packages of quinoa have already been rinsed, however some are not rinsed—always check the instructions!) Use a sieve to rinse the quinoa.
Once quinoa is rinsed, heat 1 cup of quinoa in 2 cups of water to boiling.
When the mixture boils, cover and simmer over low heat for 15 minutes. Fluff with a fork prior to serving.
To make a fluffier, softer quinoa product, add an additional ¼ cup or more of liquid. To make a more firm product, use less liquid.
Quinoa is a great option for a last minute meal or weeknight dinner, as it can be prepared in such little time. In order to add a little bit more flavor, try substituting the water used in cooking the quinoa with a chicken or beef broth.
What types of dishes should I use quinoa for?
A benefit of quinoa is that it has a very basic flavor, meaning that it will easily pick up the flavors of other foods and can be combined with many ingredients to make a great dish. For instance, quinoa goes great with savory items, yet it can also be made in dishes that are sweeter flavored. Below is a list of some ideas on how to use quinoa.
10 ways to use quinoa
Make a salad dish out of the quinoa, such as this Southwest Quinoa Salad!
Add quinoa into soups or chili for extra substance
Make quinoa part of your healthy breakfast: Prepare 1 cup of quinoa (or use leftover quinoa), topped with yogurt and berries
Make quinoa a sweet treat: add 1 teaspoon olive oil, 1 teaspoon cinnamon, ½ teaspoon brown sugar and 1 tablespoon chopped walnuts to 1 cup of quinoa. Mix well and serve warm.
Add more flavor to quinoa by substituting a low fat chicken broth for water when cooking
Create a Chipotle style bowl: layer quinoa, meat, veggies and salsa in a bowl. Enjoy!
Combine quinoa with a pinch of feta cheese, Parmesan cheese, Italian seasoning, garlic and onion powder for a flavorful side dish
Substitute your white rice for quinoa the next time you make stir-fry
Sprinkle over salads for an added nutritional bonus
Use quinoa in stuffed pepper recipes to replace the rice
Quinoa Health Benefits
Quinoa has a lot of health benefits that make it a good component of a healthy, balanced diet. While quinoa does have quite a few health benefits, it's important to remember the rules of moderation. The serving size of quinoa is 1 cup of the cooked product.
Quinoa is a protein source
A health benefit of quinoa is that it's a good protein source. Quinoa contains 8 grams of protein per 1 cup of cooked protein. In comparison, 1 cup of cooked brown rice contains 5 g protein and 1 whole egg contains 6 grams of protein. Quinoa is a plant protein source. Plant proteins can either be considered "complete" or "incomplete". Quinoa is considered a complete protein, which means it provides all 9 essential amino acids which can't be made by the body. Most plant proteins are not a complete protein source. Since it is a complete protein source, it is a great low fat, low cholesterol protein options for vegans and vegetarians.
Quinoa is high in fiber
1 cup of cooked quinoa contains 5 grams of fiber. This is slightly more fiber than brown rice, which contains 3.5 grabs per cooked cup.

Quinoa is a complex carbohydrate
Quinoa is classified as a whole grain or complex carbohydrate. There are two types of grains: complex and refined. Some examples of complex carbohydrates include 100% whole wheat bread, brown rice, oatmeal and barley. Complex carbohydrates digest slowly, and can aid with creating a feeling of fullness. This also provides for great endurance to athletes. Refined grains include white bread, white rice, processed crackers digest slowly, creating rapid surges in blood sugar.

Quinoa is high in vitamins, minerals and antioxidants
Another health benefit of quinoa is that is contains multiple vitamins and minerals: manganese, magnesium, phosphorus, folate, copper, iron, thiamin, zinc, riboflavin, vitamin b-5, potassium, selenium and vitamin E. Quinoa also contains antioxidants. Antioxidants may play a role in fighting against free radicals, which can be damaging to your cells. The NIH has an in depth article on antioxidants if interested in learning more.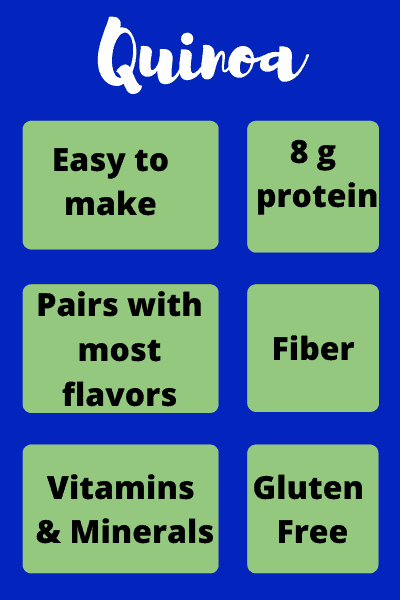 Quinoa Frequently Asked Questions
Quinoa health benefits vs rice benefits
The health benefits of quinoa versus rice are based on the type of rice: brown or white rice. When quinoa is compared to white rice, the differences are that quinoa has double the protein. Additionally, white rice has less than 1 gram of fiber, while quinoa has up to 6 grams fiber. White rice will digest faster than quinoa, since it is rapidly absorbed by the body.
Quinoa vs brown rice: Quinoa again has slightly more fiber and protein than brown rice. Brown rice, however does contain a higher amount of B-vitamins. Both are great options.
How many calories are in quinoa?
1 cup of cooked quinoa contains 222 calories.
Can quinoa be cooked in a rice cooker?
Quinoa can be cooked in a rice cooker or pressure cooker. Use the ratio 1 part quinoa to 2 parts liquid. Adjust cooking times based on your rice cooker's settings.
Can quinoa be used in place of rice?
Quinoa can easily take the place of rice, since both foods have a similar consistency! Try subbing quinoa in place of rice in stuffed peppers, pairing quinoa with stir fry or adding quinoa to a soup in place of rice!
What is the difference between red quinoa vs white quinoa?
Red quinoa has a slightly richer/nuttier taste than white quinoa. Red quinoa does hold it's shape longer- this means it's better for dishes such as soups, or products you plan to reheat.
If you like quinoa, check out these recipes:
Southwest Quinoa Salad is a light and easy salad that can be enjoyed warm or cold. It consists of a spicy tex-mix flavor with lots of healthy veggies added in!
Honey Asian Crockpot Chicken is an easy, flavor filled recipe. It would go great over quinoa!
Tex Mex Quinoa Bake
Tex Mex Quiona bake is a mexican inspired dish that combines spices, black beans, chicken and quiona. It is easy to make and reheats well!
Ingredients
2

cups

quinoa

cooked

1

package

taco seasoning

1

teaspoon

cumin

½

teaspoon

garlic powder

1

15 oz can

black beans

drained, no added salt if desired

1

15 oz can

corn

drained

1

10 oz can

rotel

1

medium

bell pepper

diced

½

cup

onion

diced

1

cup

chicken breast

diced

1

cup

shredded mexican cheese
Instructions
In medium bowl, combine the cooked quinoa, taco seasoning, cumin and garlic powder. Mix well.

Add the black beans, corn, rotel, diced pepper, onion and chicken. Combine until all ingredients are mixed.

Spread mixture evenly into a greased 9×9 inch pan.

Bake for 25 minutes. Add cheese to top, bake an additional 5 minutes.

Serve warm! Garnish with avocado slices, salsa or desired toppings!
Nutrition