This is one of those "throw in your crock pot and forget about it recipes". I made this recipe a couple years ago and have been so excited to make it again. I'm not sure if it was the flavor of the chicken, or the incredibly satisfying aroma that this meal created, which left me craving this recipe.
For everyone that is looking for an easy meal, honey garlic chicken is the perfect recipe. This meal is very versatile and would work for any occasion: a weeknight dinner, family dinner, holiday meal, a freezer prep meal, work luncheon, meal-train for a new baby--did I give you enough ideas??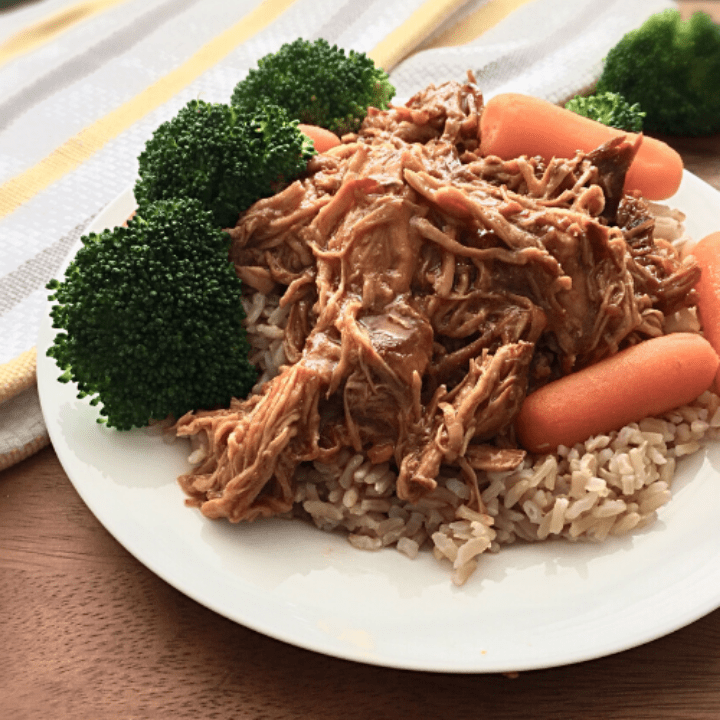 Who doesn't love having dinner ready right when they get home? We would all be living in fantasy-land if this was the case. Often it can be tempting to leave work and order take-out from your favorite restaurant after a long day. Although take-out or eating out can be convenient, it doesn't always cater to the needs of the health conscious.
This crockpot recipe was created with convenience in mind. It takes about 10 minutes to prepare and place in the crock pot. Once it's in the crockpot, you can forget about it and go on with your day. The best part about it is that this recipe is a lot healthier than eating out!
Reasons To skip the take-out
If I haven't already convinced you to try this recipe instead of eating out, here's 4 reasons as to why you should skip the take out:
Cooking at home is cheaper
The recipe below costs about $1.66 per serving, including the rice and vegetables. This is significantly cheaper than your average Chinese takeout, which usually ranges from $9 - $11 per entree. (Chicken was on sale for $1.77 at Hy-Vee this week). I would suggest purchasing chicken at Aldi's - they frequently have sales where you can purchase chicken breast in bulk for less than $2.00 per pound .
Leftovers, leftovers, leftovers!
Most recipes make at least 4-6 servings. Depending on the size of your family, it's easy to double recipes to make twice the batch. This makes for great leftovers on a busy weeknight.

You can control what goes into the recipe
This is especially true for those who are health conscious. This recipe was made healthier by using the chicken breast. There is no added sodium or excess fat in the recipes. The vegetables were steamed, without adding any extra fat, since they take on the flavor of the chicken very easily. You will find many restaurants douse their vegetables in butter and cover with extra seasoning salt

Portion control!
Studies show that we have a tendency to eat larger portions if we are served more food in a serving. That being said, cooking at home allows one to measure out how much they are going to eat, and even place it on a smaller plate to deceive your mind into thinking you are eating a lot.
What ingredients are needed for Crockpot honey asian chicken?
Chicken Breast: I recommend using boneless, skinless chicken breast for this recipe. You could use chicken thighs if desired, however the chicken breasts are lower in fat and calories.
Ketchup: The ketchup adds flavor, however this can also be substituted with a tomato paste if looking for an ingredient with a lower sugar content.
Low Sodium Soy Sauce or Tamari: Tamari is the gluten free version of soy sauce for anyone that has allergies or sensitivities. If gluten is not of concern, look for a soy sauce that is low sodium. Most soy sauce that is "low sodium" still has a large amount of sodium. If this is a concern, consider looking into the brand "Best of Thailand" lite soy sauce. It is available on Amazon and has 230 mg sodium per tablespoon.
Honey: The honey creates the sticky, honey flavor to this recipe. I recommend using the full amount of honey.
Garlic Powder: This recipe uses the powdered version of garlic for the sake of convenience. Do not use garlic salt, or the recipe will be too salty due to the high sodium content of the soy sauce. If wishing to use fresh garlic, use 1.5 cloves of minced fresh garlic in place of powder.
Onion Powder: Onion powder is used for the purpose of convienince. If wishing to substituted with real onion, use ⅓ cup of chopped fresh onion.
Corn Starch: The corn starch is used in the end of the recipe, once the chicken has cooked. Corn starch thickens the juice and liquid of the chicken to create a nice thick broth. The corn starch takes a few minutes to work, I would follow the recipe and only use 1tbsp corn starch to prevent from over thickening.
Honey Crockpot Asian Chicken
Total Time:
6 hours
15 minutes
Tender and perfectly flavored crock pot chicken.
Ingredients
3 pounds boneless, skinless chicken breast
¼ cup ketchup
½ cup low sodium soy sauce (or Tamari if gluten free)
½ cup hot water
¼ cup honey
1 teaspoon onion powder
¾ teaspoon garlic powder
1 tablespoon corn starch
Instructions
Spray crock pot with cooking spray. Place chicken breasts in bottom of crock pot.
In a medium bowl, combine ketchup, soy sauce, hot water, honey, garlic powder and onion powder. Mix until dissolved.
Pour mixture evenly over chicken breasts.
Cook on low heat for 5-6 hours.
Once chicken is cooked, remove from crockpot and cool for 10 minutes. Shred with two forks.
Drain liquid from crock pot into separate bowl. Add 1 tablespoon or corn starch to the remaining liquid in the crock pot and mix well. Let sit until thickens, about 5 minutes.
Pour thickened liquid over the shredded chicken.
Serve warm over rice. Top with steamed broccoli and carrots if desired.
Nutrition Information
Yield

8
Serving Size

1
Amount Per Serving
Calories

335
Total Fat

6g
Saturated Fat

2g
Trans Fat

0g
Unsaturated Fat

3g
Cholesterol

145mg
Sodium

769mg
Carbohydrates

13g
Fiber

0g
Sugar

10g
Protein

54g
check out these other easy recipe ideas: