This healthy white chicken chili in the crockpot is so warm and delicious! Packed with chicken, white beans and green chilis, this creamy soup is perfect for a cold fall day or snowy winter weekend. This soup is low in carbs, low calorie and gluten free! This chili can be made in the crockpot or on the stove top.
Healthy chicken and white bean chili is such an easy recipe! The chili is made creamy by pureeing the beans and by adding in a small amount of Greek yogurt. There is no heavy cream added, which is what makes it a healthy version of white bean chili. This white chili recipe is made without corn, however you are welcome to add this in if desired!
Reasons to Love This
This healthy white chili recipe is so simple! Add all ingredients to the crock pot and let it cook all day- very little maintenance is required!
This delicious chili is perfect is healthy! It contains beans which are high in fiber. This chili is gluten free, low in carb and low calorie. It can be made low sodium and dairy free (see below for more details).
This is an easy meal prep recipe! This recipe serves 7, however you can double to freeze or to eat for lunches throughout the week.
This white chicken chili is the perfect low calorie comfort food!
What Makes This Chili Healthy?
While many white chili recipes contain heavy cream, this recipe contains Greek Yogurt instead. The Greek yogurt helps to make the chili creamy, yet does not add a lot of extra calories or fat.
This chili is also healthy because it is loaded with beans, which are packed with fiber and protein. The chicken breast adds a healthy source of protein that is low in fat.
Ingredients Needed
Ingredients Notes
Chicken Breast- use a boneless, skinless chicken breast. You can also substitute with boneless, skinless chicken thighs or ground turkey.
White Beans- this recipe calls for cannellini beans (white kidney beans) and great northern beans. You can replace one for the other if desired.
Green Chilis-this adds spice to the chili. Add extra green chili's for a more spicy version.
Greek Yogurt- the Greek yogurt helps make the chili creamy, without adding a lot of extra calories or fat.
White Chicken Chili Crockpot Instructions
Combine in the crockpot: combine all ingredients except for the yogurt and cheese in a large slow cooker. Mix everything together until the spices are combined. Place the lid on the crock pot and cook on high for 3-4 hours or low for 5-6 hours.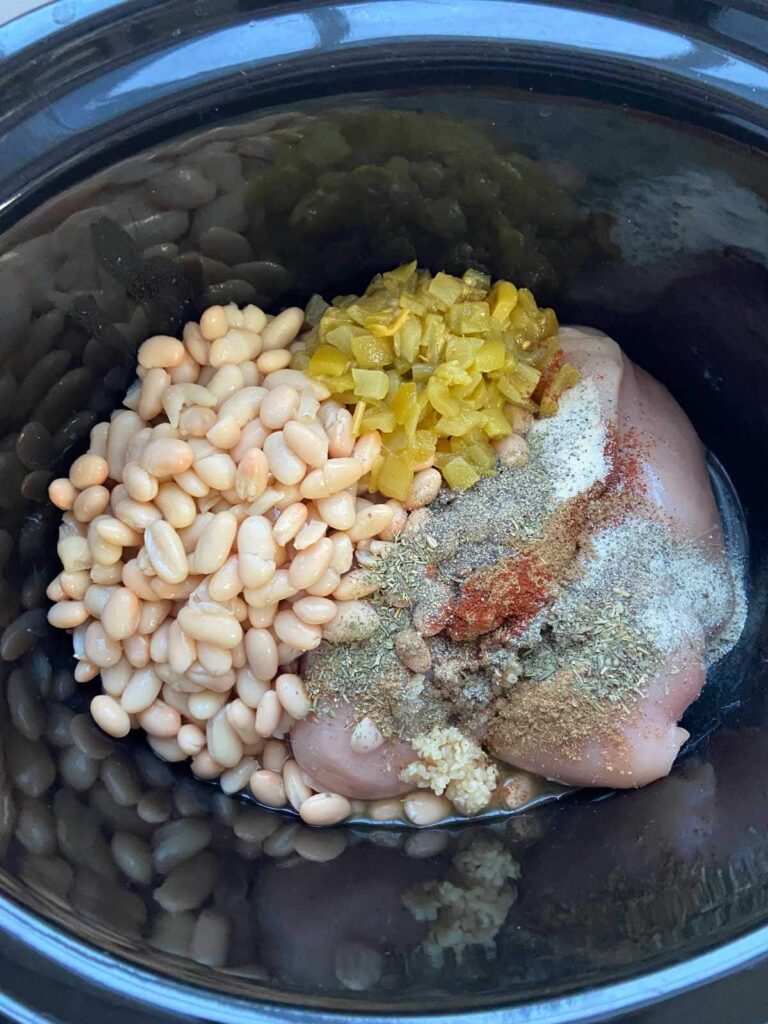 Shred the chicken breast: Once the chili is cooked, remove the chicken breast and shred or cut into small pieces. You can do this by using a knife and cutting into cubes. You can also shred it by using two forks and then cut the shreds into small pieces.
Puree some of the soup: remove 1.5 cups of beans and broth mixture from the crockpot and place in a blender or food processor. Blend until smooth.
Final Steps: Add the chicken and pureed beans back into the crock pot. Mix well. Add the yogurt and cheese. Cook for another 10 minutes until warm.
White Chili Stovetop Instructions
This chili can also be made on the stove if you do not own a slow cooker. I would recommend using a precooked chicken, such as canned or rotisserie chicken for this version, however you can also boil the chicken on the stove if you need. Here's the steps to make the chili on the stove:
Cook the chicken breast: add the chicken breast to a pan of boiling water. Cook for about 10 minutes, or until the temperature reaches 165 F. Cut into small cubes. Here's a more detailed article on how to boil chicken on the stove.
Combine in a large stock pot: combine all ingredients except for the cheese and yogurt in a large stock pot. Cook over medium heat for 25 minutes. Stir frequently to prevent the chili for burning to the bottom or boiling over.
Puree the beans/broth: remove 1.5 cups of beans/broth (try not to get any chicken). Use a blender or food processor to puree the beans. Add back to the soup.
Add the yogurt and cheese: cook for another 5 minutes. Garnish and serve warm.
How to Puree the Beans and Broth
The beans and broth can be pureed in either a food processor or a blender. Simply add the mixture to the blender, place the lid on, and puree for about 30 seconds or until smooth. An immersion blender can also be used.
No blender? No problem! Use a fork and mash the beans really well until they are smooth and creamy. Make sure the beans are fully cooked before mashing them, as the heat from cooking makes it much easier for them to break down.
Leftovers
Refrigerator: Store in the refrigerator for up to 4 days. It's important to safely cool the chili to prevent harmful bacteria growth. To do this, separate the chili into small, shallow containers after it cooks and place it in the refrigerator promptly. Here's more information on safe food storage.
Freezer: Separate into small freezer safe storage containers or bags. Seal shut and freeze for up to 3 months. TIP: store the chili in sandwich size bags for easy reheating.
Reheating: this chili reheats well and holds the same quality for multiple days. Reheat this by placing in a microwave safe bowl and stirring frequently until steaming hot (165F). You can also reheat larger batches in a pan on the stove.
White Bean Chili Variations
Meat: alternate types of meat include boneless, skinless chicken breast, a rotisserie chicken that has skin and bones removed, canned chicken or ground turkey. If substituting with ground turkey, cook it before adding everything to the crock pot. If adding cooked meat, this soup only needs to cook for 1 hour.
Bean Type: this recipe calls for two types of beans: great northern and cannellini. You can substitute one for the other. Dried beans can also be used, however follow the cooking instructions on the package, and cook them before adding to the crock pot.
Spicy Version: this chili is not very spicy in my opinion. I was comfortable serving it to my toddler. If you prefer more spice, add an extra can of chili's and double the amount of chili powder and cumin. You can also add hot sauce to the chili when it's finished cooking.
Low Sodium Version: to make this low sodium, use beans that are labeled "no salt added". Dried beans are also low in sodium, however you must cook them before adding to the crockpot.
Dairy Free: to make this soup dairy free, leave out the yogurt and cheese. You can use a dairy free cheese and yogurt if desired.
Chili Topping Ideas
Diced Avocado
Tortilla Chips
Parmesan Cheese
Shredded Cheese
Hot Sauce
Saltines/Ritz Crackers
Serving Suggestions
Serve the chili as main entrée with a side of salad and a slice of cornbread. I love serving this with spinach feta strawberry salad.
Serve this chili with sweet potato fries and some fresh sliced fruit.
Bake some potatoes or sweet potatoes in the oven, cut open and top with chili.
Make Ahead of Time Instructions
This healthy soup can be prepared the night before so that you can stick it in the crockpot and leave for a few hours. Please note, I would not recommend leaving it in the crock pot longer than 5-6 hours on low.
To make this chili ahead of time, simply combine all ingredients except for the yogurt and cheese in a bowl and refrigerate. If your crockpot has a bowl that is removable, throw everything in that bowl and stick in the fridge.
Pull the mixture out of the refrigerator the next day and cook as instructions indicate in the crock pot.
Frequently Asked Questions
What is the difference between white chili and red chili?
White chili typically uses a white bean and a light meat, such as chicken breast or ground turkey. Red chili is commonly made with kidney, pinto or chili beans and contains beef. Red chili has more of a tomato base to the soup, while many white chili recipes tend to be creamy.
How do you thicken white chili?
If the chili is too runny, you can mix together 1 tablespoon of corn starch and ½ cup of water and add it to the mixture. Cook for 3-4 minutes and allow it to thicken. This chili recipe is not very runny because the bean mixture is pureed, which helps to thicken the chili.
How many calories are in white chicken chili?
1 bowl of chili (1 cup) contains 247 calories. The calories will increase if you add any additional garnishes.
More Delicious Recipes
Healthy White Chicken Chili
This healthy white chicken chili takes less than 10 minutes to prep! Place everything in the crockpot, cook for a few hours and dinner is ready!
Ingredients
1

pound

chicken breast

boneless, skinless

2

cans

cannellini beans

drained

1

can

great northern beans

drained

2

cans

diced chilis

2

teaspoon

minced garlic

1

teaspoon

cumin

½

teaspoon

chili powder

½

teaspoon

black pepper

1

teaspoon

onion powder

½

teaspoon

oregano

24

ounces

chicken broth

(no added salt)

⅓

cup

Greek yogurt

plain, non fat

⅓

cup

mozzarella cheese

shredded
Instructions
Add the chicken breast, beans, chili's, garlic, cumin, onion powder, chili powder, black pepper, oregano and chicken broth to the bottom of a large crock pot. (Wait to add the Greek yogurt and cheese until the end).

Mix everything together with a spoon until the spices are combined.

Cook on high for 3-4 hours or low for 5-6 hours.

Once cooked, remove the chicken breast and cut into small pieces. It's ok if the chicken starts shredding, however I would cut the shreds into very small pieces.

Remove 1.5 cup of broth/beans from the crock pot. Place in a food processor and blend until smooth.

Add the pureed soup mixture and the chicken back into the crock pot.

Add the Greek yogurt and cheese. Mix well.

Cook for another 10 minutes, until warm.

Serve with cheese, avocado or tortilla chips on top.
Notes
This recipe makes a total of 7 cups. 1 serving = 1 cup or 260 grams.
If you prefer chili with less beans, leave out the 1 can of great northern beans. 
If you prefer chili that has more broth, add an extra 8-16 ounce of chicken breast. 
Add extra salt to taste (I thought it was plenty salty without any extra salt)
Nutrition
Calories:
247
kcal
|
Carbohydrates:
31
g
|
Protein:
27
g
|
Fat:
3
g
|
Saturated Fat:
1
g
|
Polyunsaturated Fat:
1
g
|
Monounsaturated Fat:
1
g
|
Trans Fat:
1
g
|
Cholesterol:
45
mg
|
Sodium:
646
mg
|
Potassium:
548
mg
|
Fiber:
10
g
|
Sugar:
1
g