Healthy taco soup is packed with ground turkey, beans, and corn. It is rich and hearty, yet is still a healthy dinner option. This easy recipe requires only one pot and is ready in less than 35 minutes!
Taco Tuesday has officially been replaced this winter with taco soup Tuesday! If you know me, you know I love tacos. And as much as I love this taco, this soup is something I can confidently say that I like just as much as tacos.
If you've never had taco soup before, I encourage you to try this! It has similar ingredients to chili, however, has the flavor of tacos. My husband and I actually prefer to eat this over chili, because the flavor is so good!
After you make this soup, be sure to check out my delicious and healthy chicken tortilla soup or this healthy white chicken chili!
Jump to:
Reasons To Love This Soup
It is rich in protein with lots of meat in it (if you are a person that prefers more beans and less meat in your soup, simply add in an extra can of beans).
This soup is incredibly simple to make: it involves cooking ground meat, opening the canned items, and combining them with packets of seasoning.
It's healthy: this soup is low calorie and very filling for the amount in one serving size.
This cozy soup recipe is perfect for any occasion: a cold snowy day, a Sunday spent watching football, or just an easy weeknight dinner.
Ingredients Needed
Ground Turkey: for a healthy/low-calorie option, use 93% lean ground turkey or 97% lean ground turkey. You could also substitute ground beef.
Black Beans: use canned black beans that have been drained. Kidney beans can be substituted.
Canned Corn: drain the corn before adding to the soup
Rotel: (also known as diced tomatoes with green chilis). These add a hint of spice to the soup.
Diced Tomatoes: Any brand will work!
Chicken Broth: Adds liquid to the soup. Increase the amount of broth added if you prefer a more liquid-based soup.
Taco Seasoning: adds flavor to the soup. Here's a recipe for some homemade mild taco seasoning.
Dry Ranch Seasoning Mix: adds flavor to the soup.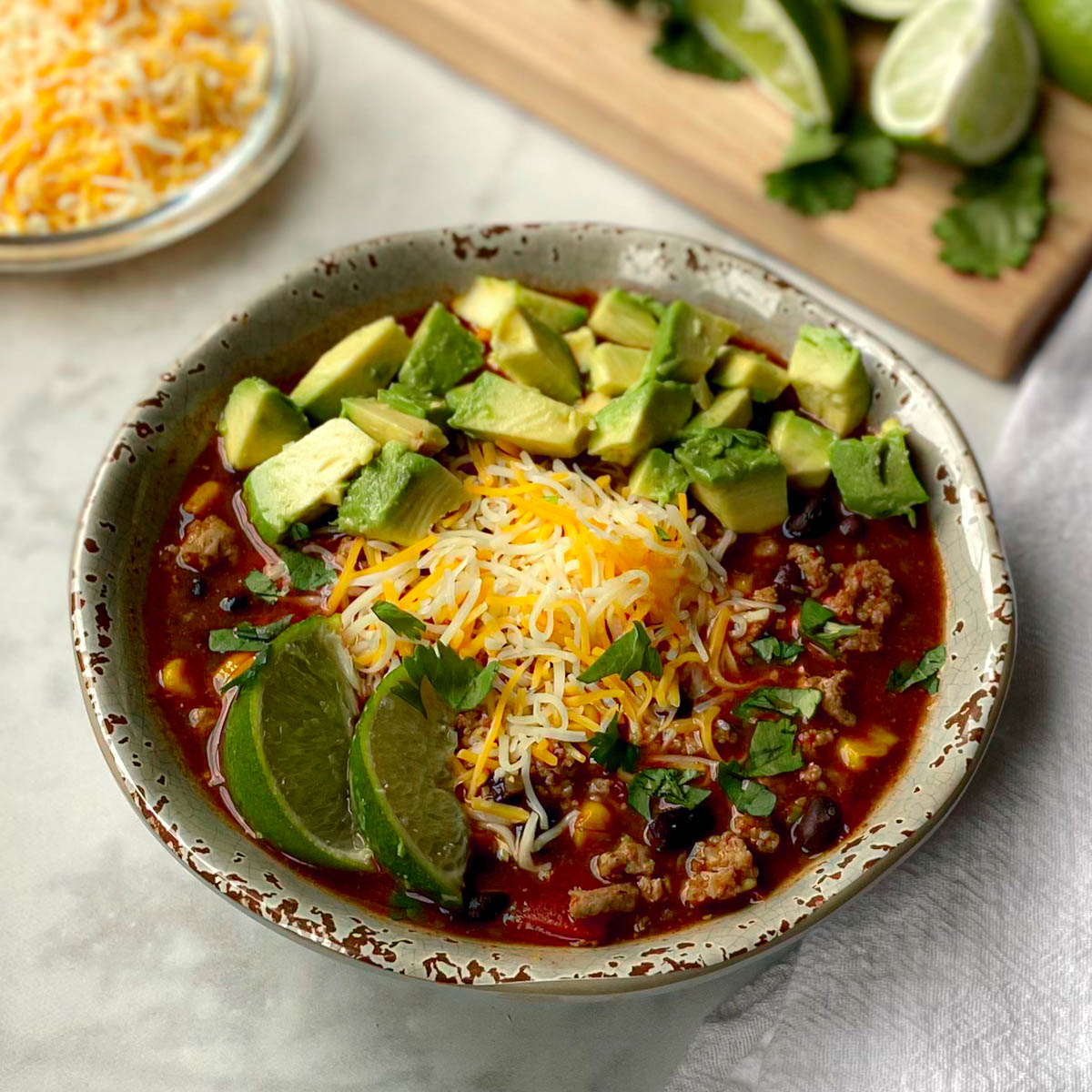 Step By Step Instructions
The recipe for this soup is really easy: simply brown your meat, add all ingredients, mix well and cook! Listed below are several different cooking methods that can be used to prepare this soup.
Cooking Method
Stove Top: Cook the ground turkey in a skillet over medium heat. Drain grease once cooked. Combine all ingredients in a large stock pot. Cook over low heat for 20 minutes. Stir frequently to prevent the soup in the bottom of the pan from burning.
Crock Pot: Cook the turkey in a skillet over medium heat and drain grease once cooked. Grease a large crockpot with non-stick spray. Add all ingredients to the crockpot and mix well. Cook over low heat for 4 hours. Stir the soup every hour to prevent it from burning.
Instant Pot: Set the Instant Pot on Sautee mode. Coat the Instant Pot with olive oil. Add in the ground turkey. Stir the turkey as it cooks to break it into crumbles. Cook until brown and reaches 165F. Drain the grease from the ground turkey and add back into the instant pot.
Once the turkey is cooked, add all ingredients into the Instant Pot. Mix until combined. Place lid on the Instant Pot, lock and cook on high pressure for 10 minutes. Release the pressure using the quick release. Serve!
Variations
One component of a good soup is having the right ratio of broth to beans to meat. I personally like my soups to have an equal ratio of everything. Listed below are some variations of how to soup can be adjusted.
To make a soup with a high bean-to-meat ratio: add 1-2 extra cans of beans. Decrease the ground turkey by ½ pound.
Soup with more meat-to-bean ratio: Add an extra ½ pound of meat.
Soup that has more broth: Add an extra 16-32 ounces of chicken broth or add an extra two cups of water.
Make It Spicy
Looking to add some extra spice? There are a couple of ways that you can do it.
Add 1 to 2 cans of diced green chilies
Dice a fresh jalapeño or two and add it to the soup. Add the seeds to make it extra spicy
Add hot sauce on top of the soup when it's finished
Taco Soup Toppings
Shredded Mexican or cheddar cheese
Avocado
Sour Cream or plain Greek yogurt
Tortilla Chips
Hot Sauce
Leftovers
Cool the soup and small shallow pans to help it cool quickly. Store in an airtight container in the refrigerator for 3 to 4 days.
The soup also freezes great. Store small servings in individual bags to make defrosting easy. It can be kept in the freezer for up to two months.
Tips for Success
Drain the beans and corn before adding them to the soup.
Drain the grease from the ground turkey meat. To remove excess grease, place the meat in a colander and rinse under warm water.
Stir the soup frequently when cooking to prevent it from burning on the bottom of the pan.
What Goes Well With Taco Soup?
Nutrition Information
One serving of this soup contains 240 calories. There are 22 grams of carbohydrate and 22 grams of protein per serving.
While everyone's definition of healthy is different, I consider this soup healthy for several reasons. First, it uses a lean type of meat that does not contain a lot of excess fat (93% lean ground turkey).
Another healthy component of this soup is the fiber content. The taco soup has 5 g of fiber per serving. The fiber comes from the black beans. Eating fiber is a great way to keep your digestive tract healthy.
Another health benefit of this soup is it contains tomatoes. These are a great source of Vitamin C and potassium.
Low Sodium Option
This soup does contain multiple ingredients that are high in sodium. There are several ingredient substitutions that can be made to make the soup low sodium.
Substitute regular beans black beans with canned beans that say no added salt on the label.
You could also cook dried beans and add them to the soup.
Look for a taco seasoning that is either sodium free or 33% less sodium.
Utilize a chicken broth that is unsalted or is low in sodium.
Allergy Information
This soup can easily be made gluten free. The soup does contain several ingredients that sometimes contain gluten depending on the brand purchased. This is the chicken broth, taco seasoning, and dry ranch mix.
Simply purchase a gluten free version of the chicken broth, taco seasoning and dry ranch mix. The package label will clearly state gluten free. All other ingredients should be gluten-free, however always double-check the labels.
More Healthy Dinner Recipes
Healthy Taco Soup
Healthy taco soup is packed with ground turkey, beans and corn. This easy dish is healthy and loaded with flavor!
Ingredients
2

pounds

ground turkey 93% lean

2

cans (15oz)

black beans

drained

1

can (15 oz)

corn

drained

1

can (10 oz)

Rotel

1

can (14.5 oz)

diced tomatoes

32

ounces

chicken broth

2

packets

taco seasoning

1

packet

dry ranch mix
Instructions
Heat skillet over medium heat. Grease with non-stick spray. Add ground turkey to skillet. Break up meat with a spatula, so that turkey becomes crumbly. Cook until browned and done. (Reaches 165F).

Drain any excess grease from the turkey and set aside.

In a large stock pot, combine the drained black beans, drained corn, diced tomatoes, Rotel, chicken broth and ground turkey. Stir until combined.

Stir in the taco seasoning and ranch seasoning.

Cook over low heat for 20 minutes, stirring periodically.

Garnish with cheese, avocado, chips or sour cream. Enjoy!
Nutrition