Instant pot chicken fajitas are spicy, flavorful and easy to make! Tender chicken breast is combined with peppers and onions plus a perfect amount of Mexican seasoning for an easy and delicious meal. This meal takes less than 30 minutes to make!
These instant pot chicken fajitas are the perfect easy dinner recipe! It's one of those meals that is perfect for when you want to eat a home cooked meal but don't feel like cooking. All you have to do is put the ingredients in the instant pot, push start and let it cook!
The fajitas pair perfectly with a side of this spinach caprese salad or these delicious sweet potato fries! I also like to make a big batch of homemade salsa or mango corn salsa to serve on top of the fajitas.
Jump to:
What Makes These The Best Instant Pot Chicken Fajitas? 
These IP (Instant Pot) Chicken Fajitas are a bit different than most instant pot fajita recipes. One of the biggest differences is that the chicken is seasoned and cooked in the instant pot first, and then the peppers and onions are added to the instant pot for the last two minutes.
Adding the peppers and onions after the chicken cooks prevents them from becoming soggy and overly mushy, while still allowing the juices of the onions to saturate the chicken and create a delicious flavor profile . If you think about your typical fajitas served at Mexican Restaurant, most times the peppers and onions are tender, but still have a bit of a crunch to them. This recipe mimics that style of cooking.
Additionally, these are the best instant pot chicken fajitas due to the rich and bold flavor profile that is created with such minimal seasoning. The only seasoning needed is a packet of taco seasoning. This seasoning covers the raw chicken, and when cooked, creates the perfect flavor.
Ingredients Needed
Chicken breast: boneless, skinless chicken breasts are needed, as you will be slicing these into strips that are about ¾ inch wide by 2 inch long. This can be subbed with chicken tenders or chicken thighs.
Taco seasoning: use the standard taco seasoning from grocery stores. Choose a reduced sodium option if watching salt intake. Here's a homemade taco seasoning recipe if preferred!
Olive oil: used to mix with the taco seasoning. Choose a light version as it has a mild flavor. Sub canola oil if desired. 
Peppers: red, yellow or orange peppers work best because they have a sweeter flavor. Green peppers tend to be more bitter, but they will also work. Use either 3-4 bell peppers or a small bag of mini peppers! 
Onion: white onion is recommended as this adds the best flavor. If prefered to use a purple onion, note this will result in a slightly sweeter product.
Step by Step Instructions
Slice peppers into small strips (slices should be about ¼ inch wide by 1.5-inch long). Repeat with the onion. Set aside.
Slice chicken into strips that are about ¾ inch wide by 2 in long. In a small bowl, combine olive oil and taco seasoning. Mix with a fork until combined. 
Expert Tip: It is easier to slice chicken that is just slightly frozen. Stick it in the freezer for about 30 minutes before cutting. Be sure to cut against the grain or muscle fibers.
Place the metal insert into the bottom of the instant pot (this is an important step to keep the fajitas from sticking to the bottom). Layer the sliced chicken over the top of the metal insert (layer in the opposite direction of the insert so they don't fall through). 
Spread the oil and taco seasoning mixture evenly over chicken. Move chicken around so that all pieces are evenly coated. Add the water.
Close valve on instant pot and set to cook for 10 minutes. Once done cooking, do a quick release and add peppers/onions. Do this very quickly so IP remains hot and chicken doesn't overcook. 
Set the IP to cook for another 3 minutes once peppers and onions are added. Once the timer goes off, do a quick release. 
Remove from IP immediately. Use a slotted spoon to scoop out chicken and peppers if there is a lot of liquid in the bottom. Serve with corn tortillas or white tortillas .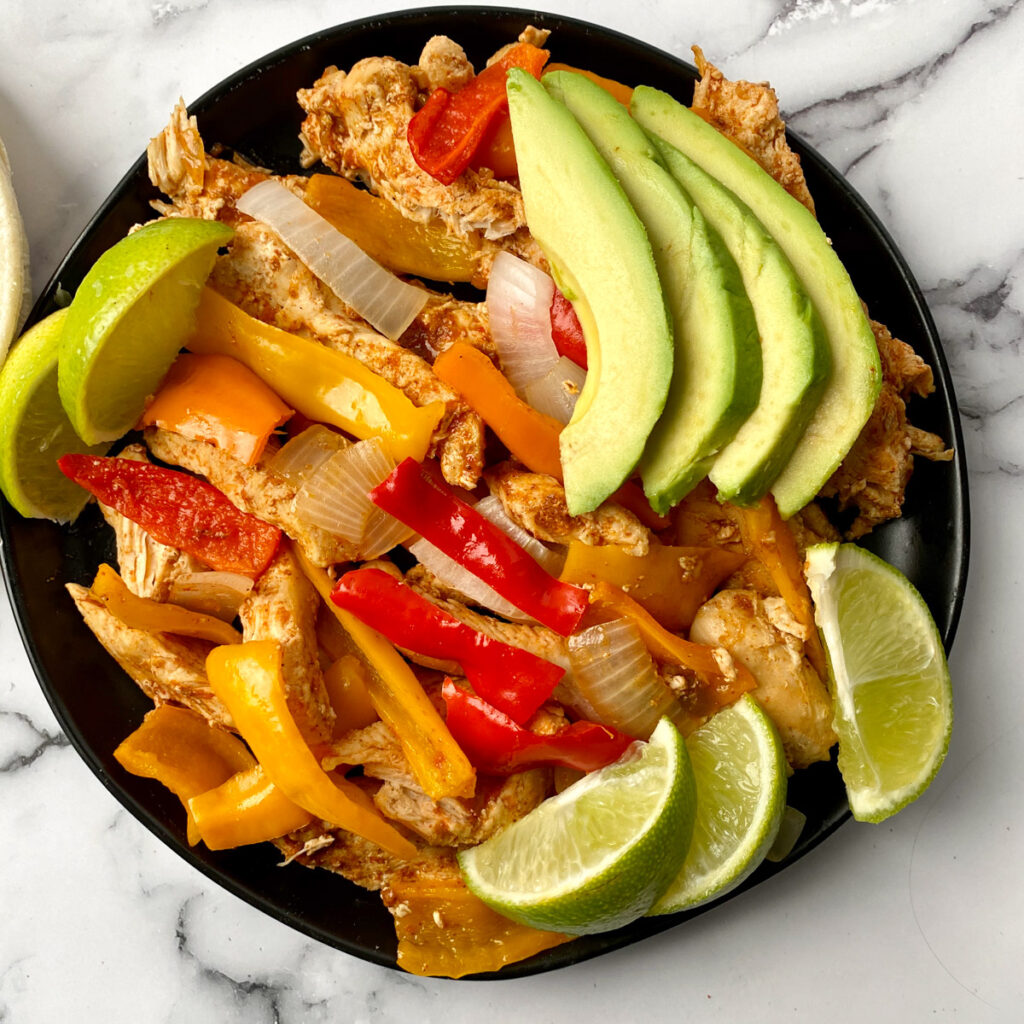 Serving Suggestions
Instant pot fajitas can be eaten plain, or served in a variety of different ways:  
Serve them wrapped in warm corn or flour tortillas. This is the most classic way to serve fajitas.
Create a rice bowl. Serve the fajitas on top of the rice and drizzle with avocado crema.

Serve as a salad. The fajitas are the perfect topping for a salad. You can use mixed greens or romaine lettuce as a base and then top with the fajitas and your favorite salad toppings.

Nachos: For a fun twist, you can use the fajitas as a topping for nachos. Just layer tortilla chips with cheese, black beans, jalapenos, and the fajita mixture, then heat until the cheese is melted.
Best Toppings for Instant Pot Fajitas
Avocado Slices or Avocado Crema
Sour Cream
Pico de Galo
Jalapeños
Cilantro
Expert Tips
Mix the taco seasoning with the olive oil. If you don't, the taco seasoning will clump together on the chicken.
Use the metal rack or spray the bottom of the instant pot to avoid extreme sticking
Don't cook the peppers, onions and chicken all at once. Wait to add the peppers and onions for best quality!
Make sure you put the plastic seal on the IP prior to cooking
Frequently Asked Questions
Should I use Fresh or Frozen Chicken?
Chicken can be cooked from the thawed or frozen state. The directions for this recipe are based on cooking chicken that has been entirely defrosted. If using frozen chicken, the cooking time of the instant pot will increase by a few minutes.    
How should chicken be cut for fajitas?
Slice the chicken into strips that are about ¾ inch wide by 2 inches long. It's ok if not all strips are perfect or the same size! 
Can I use frozen vegetables?
These chicken fajitas can easily be made with frozen sliced peppers and onions. Be sure to heat the frozen vegetables in the microwave and drain excess water first. Once the chicken is finished cooking, add the veggies to the chicken mixture and let sit for 10 minutes to absorb all flavors.
Should I cut the chicken before cooking it?
Yes! This helps the flavors disperse more intensely throughout the chicken!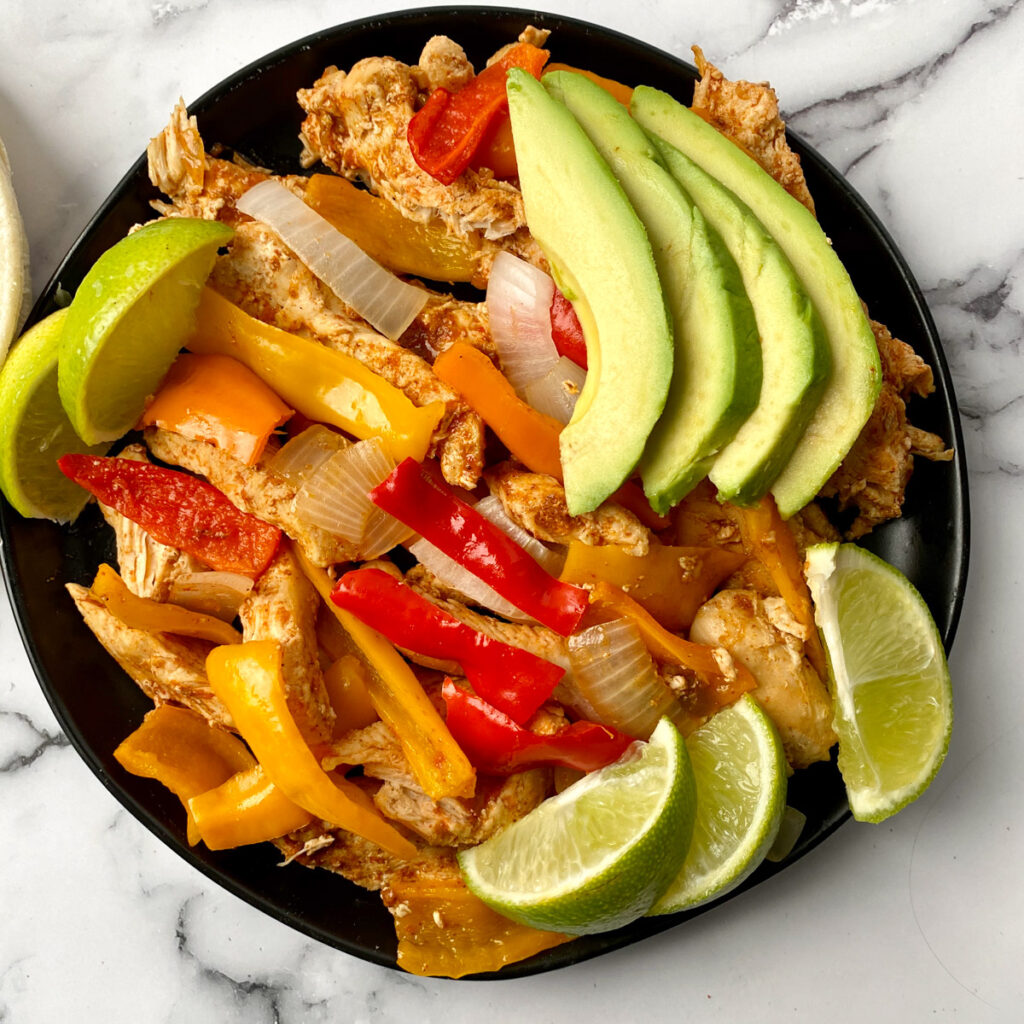 Leftovers
Store the leftover fajitas in an air tight container in the refrigerator for up to 4 days.
To freeze fajitas after cooking: Place fajitas in a freezer-safe bag and freeze for up to 3 months. Defrost in the refrigerator for a day before serving. Consider placing it in smaller sized bags if you are only wanting to defrost enough product for 1-2 days.
Are These Fajitas Healthy?
These fajitas are a great source of protein. One serving (which is about ⅙th of the total finished recipe) contains 17 grams of protein. The protein source is a lean protein, which doesn't add a lot of extra fat. 
Chicken fajitas made in the instant pot are healthier than if made by frying over a stove with oil.
Instant Pot fajitas are also a good source of veggies, which come from the peppers and onions. 
The taco seasoning does add extra sodium - use a low sodium and salt free version of taco seasoning if concerned about salt intake
Overall, this is a healthy meal option! To make this a balanced meal, consider adding some brown rice to the side or serving with a whole wheat tortilla. You may also serve with fresh fruit on the side.
More Easy Dinner Recipes
Instant Pot Chicken Fajitas
Instant Pot chicken fajitas can be made in less than 30 minutes! This easy, weeknight meal is perfect for the whole family.
Ingredients
5

medium

raw chicken breasts

(about 4 pounds raw)

3

tablespoon

olive oil

¼

cup

water

1

package

taco seasoning

4

medium

bell peppers

any color

1

medium

white onion
Instructions
Slice peppers and onions into thin strips (about ¼ inch wide by 1 inch long). Set aside.

Slice chicken breast into thin strips (about ¾ inch wide by 2 inches long).

Place metal rack in bottom of instant pot. Layer chicken on top of metal rack.

In a small bowl, mix together the olive oil, water and taco seasoning. Pour over the chicken breast.

Place lid on instant pot, set valve to sealing position and set as manual cook time to 7 minutes.

Once 7 minutes is up, do a quick release and open lid.

Add the sliced peppers and onions, close lid, set valve to sealing position and reset manual cook time to 3 minutes.

Once 3 minutes is complete, do a quick release and open lid.

Remove meat and veggies from Instant Pot using a slotted spoon. Serve on tortillas or over rice.
Notes
Tip: freeze the chicken for 30 minutes before cutting. It is easier to cut slightly frozen chicken. 
Nutrition
Calories:
316
kcal
|
Carbohydrates:
10
g
|
Protein:
41
g
|
Fat:
12
g
|
Saturated Fat:
2
g
|
Polyunsaturated Fat:
2
g
|
Monounsaturated Fat:
7
g
|
Trans Fat:
0.02
g
|
Cholesterol:
121
mg
|
Sodium:
694
mg
|
Potassium:
891
mg
|
Fiber:
3
g
|
Sugar:
5
g