Peach habanero salsa is a fresh and light salsa with a kick of spice! This salsa is a great way to use up extra peaches. The habanero pepper adds a hint of spice and can be adjusted based on your preferences. This sweet and spicy summer salsa is perfect for gatherings or parties!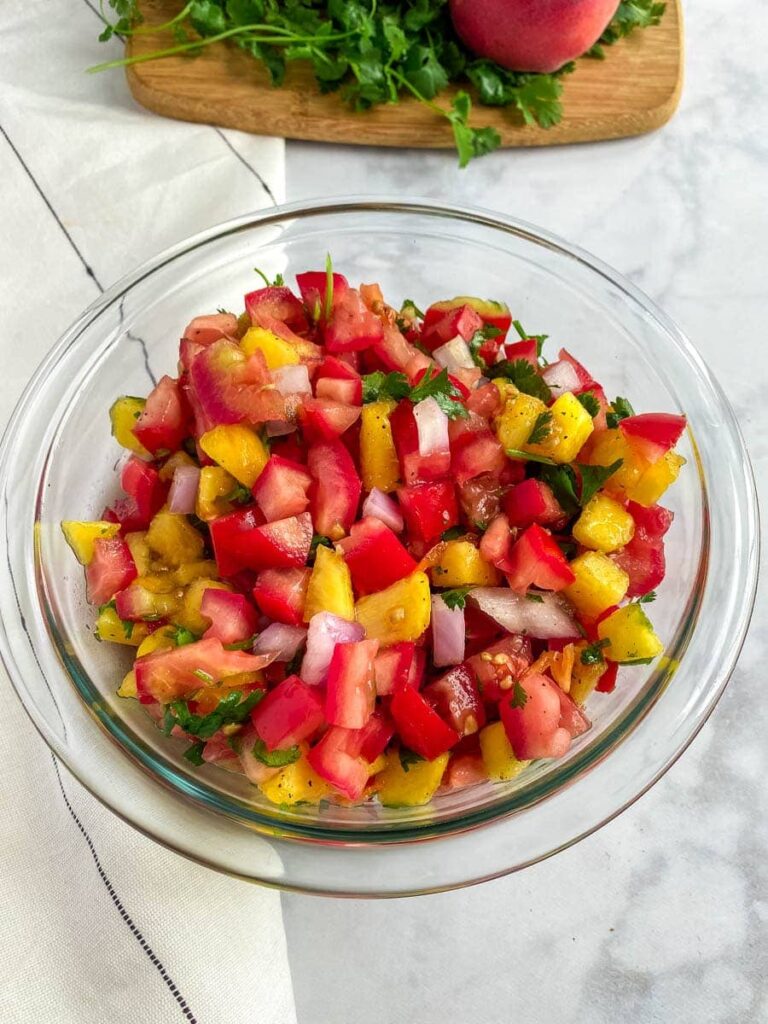 This peach habanero salsa is really hard to put down! I made it at 10 am on a Saturday morning and it was gone by 7 PM that evening. Between me and my husband, we used on with everything we made that day.
It can be eaten as a dip with chips or goes well on top of meats, such as salmon or chicken. I paired it with my airfryer salmon recipe and it exceeded my expectations in every way possible!
Even if you're not a huge peach fan, I encourage you to give this salsa a try. The peaches pair together with the onions, cilantro and tomatoes to create a perfect flavor balance. The extra sweetness from the peaches helps to balance out the acidic flavor that tomatoes sometimes provide.
The habanero adds some extra spice, and can easily be adjusted to increase the spiciness or decrease the spiciness based on your flavor preferences!
If you're looking for more salsa recipes, check out my homemade salsa recipe, mango corn salsa or healthy pineapple salsa!
What You'll Need
Ingredients Notes
Peaches: use fresh, slightly ripe peaches. The best type peach for this recipe if to use one that is still slightly firm. When chopping the peaches into small pieces, you want them to be able to retain their square shape. If the peach is overly ripe, it will not be able to hold the shape. If it is not ripe enough, it will be hard and tart. Aim for a peach that is ripe, but still slightly hard.
Tomatoes: use roma tomatoes. The tomatoes should be still slightly firm (but not hard!) to retain their shape.
Habanero Peppers: choose a medium sized habanero pepper that does not have any bruises or brown spots.
Cilantro: remove stems and wash before adding to the salsa.
Onions: use a red onion for best flavor.
Lime juice: fresh or bottled lime juice will work fine
Salt and pepper: the amount listed are suggestions; adjust based on your taste preferences.
Step By Step Instructions
Peel the peaches and remove the seed. Dice them into small pieces about ½ inch wide by ½ inch wide. I've found the easiest way to prep the peaches is to peel all skin off with a knife. Cut the side of the peaches off around the seed. Then dice them into small pieces. (about 1cm by 1 cm in size
Dice the tomatoes and onions. (I try for pieces that are about 1cm by 1 cm in size).
Remove the stem from the cilantro and chop into small pieces.
Mince the habanero peppers into small pieces. This should be tiny pieces that are about the size of a grain of uncooked rice. (Wearing gloves is highly recommended!)
Add all chopped veggies into a bowl. Top with lemon juice, salt and pepper. Mix well and serve.
Safe Storage Instructions
Store in an airtight container in the refrigerator for up to 3 days. The salsa must be refrigerated, since it contains cut tomatoes, which are at risk for growing bacteria. The salsa will not be safe to eat if it sits out all day long at a party or picnic. Do not let it sit out more than 2 hours. (More info on save leftover instructions here).
Serving Suggestions
How to Make The Best Peach Salsa
Use gloves when cutting the habanero peppers. The oils from the seeds can burn and be very difficult to wash off the skin.
Let the salsa sit in the refrigerator for 2 hours before serving. This allows the flavors to absorb and I think it actually tastes better.
Use peaches and tomatoes that are ripe, but not overly ripe. Using overly ripe will add extra liquid to the salsa (which is totally fine!)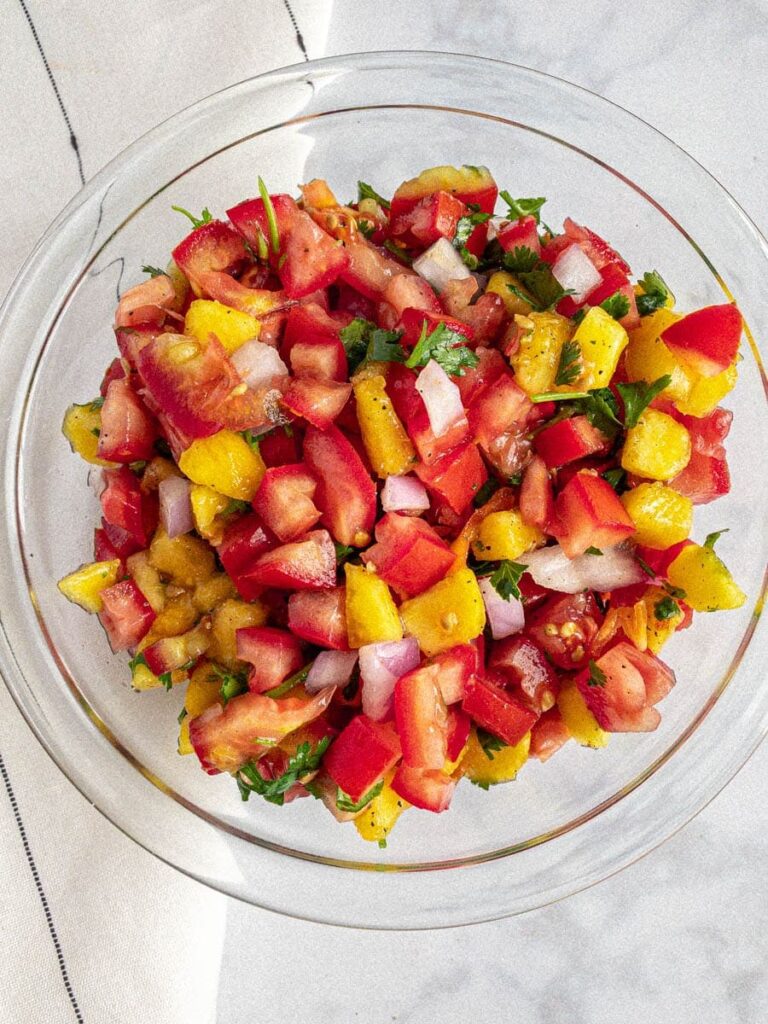 Frequently Asked Questions
Is this spicy?
This salsa is spicier than your normal Pico De Gallo and has a kick to it? however it is not overly spicy (in my opinion!) You can easily adjust the ingredients to make it as spicy as you like!
To add spice: add an extra ½ to whole habanero pepper.
To make less spicy: Add ½ of a habanero pepper or remove the seeds before adding it. You can always start with a small amount, taste test the salsa and add more as needed.
Do you peel the peaches before adding to the salsa?
The salsa can be made with peaches that are peeled or that still have the skin on. Leaving the skin on will add a little extra texture and fiber to the salsa!
How To Purchase Good Peaches
Color: the peach should not have any green color on it. This indicates it is too ripe.
Skin: the skin should be smooth and not wrinkled. There should not be any large bruises or dark spots.
Smell: the fruit should smell sweet. There should not be a rotting odor.
Touch: a ripe peach will be slightly soft, but not overly mushy or soft. A peach that is hard when touched will need more time to ripen.
Nutrition Information
1 serving of salsa is considered ⅙ of the recipe. There are 65 calories and 14 g carb per serving. The recipe is high in vitamin C, compliments of the peaches and tomatoes.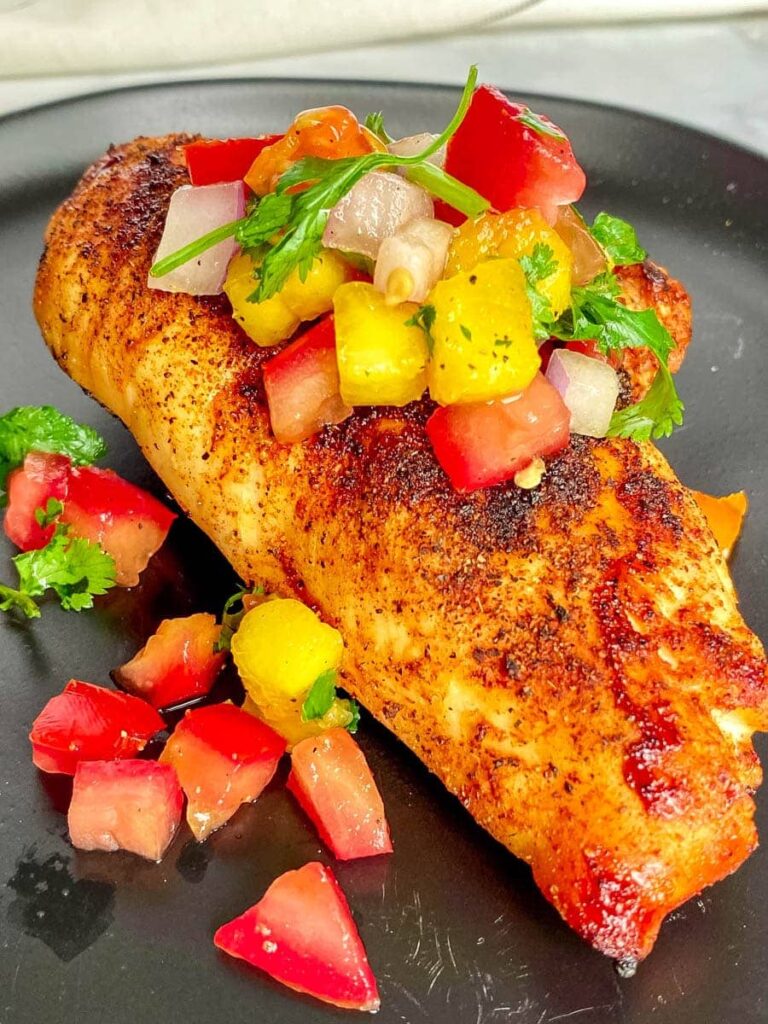 Reasons You'll Love This
This salsa is vegan, gluten free, dairy free and Paleo. It's perfect for everyone!
The mix of sweet peaches with onions, cilantro and tomatoes creates the perfectly balanced salsa. It tastes like a slightly sweeter and spicier version of pico de gallo.
This peach salsa is so easy to make! I had it done in less than 15 minutes.
The peach salsa is a great way to dress up grilled meats. It pairs well on grilled chicken, and would also be a great addition to your burgers, steaks or deli sandwiches.
More Delicious Dips
Peach Habanero Salsa
Peach habanero salsa is a fresh and easy dish with a slight kick to it! Adjust the spice level based on your taste buds!
Ingredients
3

medium

peaches

about 1 pound

5

medium

roma tomatoes

about 1 pound

½

cup

chopped cilantro

¼

medium

red onion

1

medium

habanero pepper

1

teaspoon

lime juice

1

teaspoon

salt

½

teaspoon

black pepper
Instructions
Peel the peaches and remove the pit. Dice into small pieces. Set aside.

Cut the tomato into small pieces (about ¼ inch cubes) Set aside.

Cut the onion into small pieces (about ¼ inch cubes). Set aside.

Dice the habanero pepper into very small pieces (about the size of a grain of rice). Use gloves for this step or wash hands immediately afterwards.

In a small bowl, combine the chopped tomato, onion, habanero pepper and cilantro. Add the lime juice, salt and pepper.

Refrigerate any leftovers. Note: this tastes best when refrigerated for a few hours before serving.
Notes
To increase spice level: add an extra habanero pepper. 
To make less spicy: add ½ of the habanero pepper or remove the seeds of the habanero pepper. 
If you want the salsa to be less liquidy, remove all seeds from the tomato. 
Nutrition
Calories:
42
kcal
|
Carbohydrates:
10
g
|
Protein:
1
g
|
Fat:
1
g
|
Saturated Fat:
1
g
|
Sodium:
391
mg
|
Potassium:
287
mg
|
Fiber:
2
g
|
Sugar:
8
g