This homemade garden fresh salsa recipe takes less than 10 minutes to make! Enjoy with your favorite chips or with your favorite Mexican dish. This salsa is fresh and flavorful!
Calling all my salsa lovers! There's two types of salsa fans out there: people that like salsa, and then the people that LOVE salsa. You know, the people that go out to Mexican Restaurants and fill up on chips & salsa before the meal even comes. The people that look forward to Taco Tuesday, because of the salsa. Or the ones who pick out the Mexican Restaurant based on their salsa.
I would consider myself the latter: a true lover of salsa. And since I've tried so many different salsa's, I would say this is a good salsa recipe!
Ingredients
Roma Tomatoes: Use tomatoes that are ripe. The tomato should be bright red with no signs of wrinkling. Too hard of tomato will not have as good of a flavor. An overly soft tomato will have more juice in it, which just means that your salsa will have more liquid.
Canned Diced Tomatoes: This is the secret to making a great salsa! The canned tomatoes add excellent tomato flavor. They also break down easily in the food processor to create a saucy consistency to the salsa.
Yellow Onion: Choose a yellow onion so that it doesn't add too much sweetness.
Jalapeno: Seeds are 100% optional, but they definitely add a little kick to the salsa. I chose to leave in about half of the seeds in the salsa, and think the salsa turned out comparable to a "medium" style salsa. Leaving in all seeds would make a pretty spicy salsa (in my opinion!)
Garlic clove: You only need 2 cloves, adds great flavor to the salsa
Cilantro: Remove the large obvious stems, however it's OK if some stems remain. They will get chopped up in the food processor anyways.
Salt: optional; adjust based on your personal preference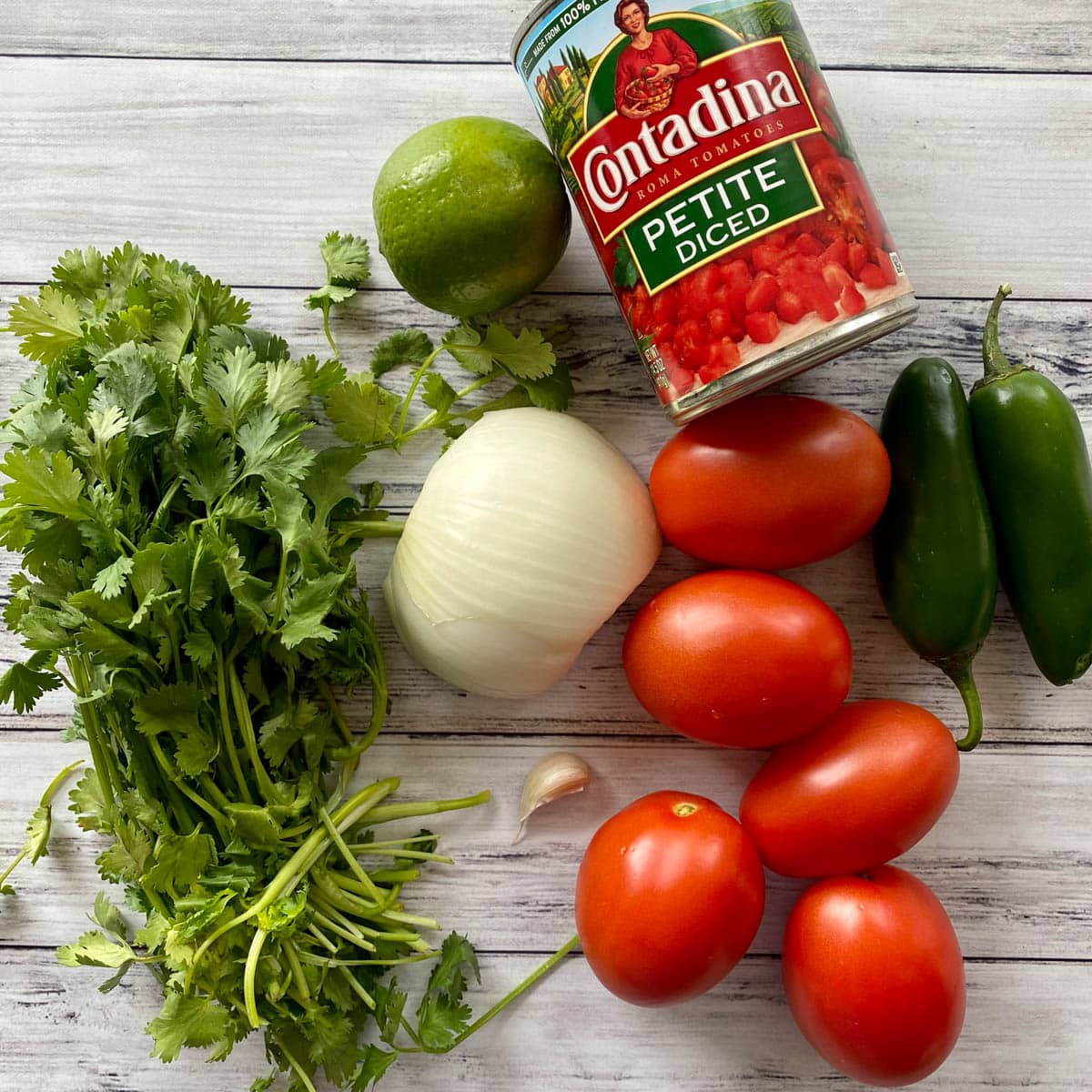 Is Fresh Salsa Healthy?
Homemade fresh salsa is a great source of produce. The tomatoes, onion and jalapeno lots of antioxidants (aka the healthy, disease fighting compounds).
Salsa makes a great side dish or condiment because it is very low in calories. 1 serving of salsa has about 42 calories per serving. Also, salsa is considered a low fat food. So overall, salsa alone has some excellent nutritional benefits.
Some healthy ways to eat the salsa are to use it as a dressing on your salads, make a large bowl and top it with salsa (if you haven't tried my Copycat Chipotle Bowl with fresh salsa, you are missing out!!). Salsa can also be eaten as a dip for carrots/celery, or on top of your burgers or chicken. Whole grain crackers are another dip option.
Make It Spicy
Adjust the amount of Jalapeno seeds to make a mild salsa or to make a spicy salsa. Always sample the salsa before removing it from the food processor or blender so that you can add more ingredients if needed.
Mild Salsa: Start with ~ ¼ of the jalapeno seeds. Save some extra seeds just in case- you can always test the salsa and add extra seeds if it's not spicy enough. I have a low spice tolerance, and thought this was tolerable.
Spicy Salsa: Use all of the Jalapeno seeds. If you like extreme spice, throw in an extra jalapeno.
Chill It For Flavor
Salsa tends to get spicier after it's been refrigerated for a few hours. This is because the seeds continue to release capsaicin over time. (The compound that makes them spicy). Salsa also has a better flavor after sitting for a few hours, because the garlic and cilantro are able to absorb into the tomatoes.
Leftovers
Fresh salsa is best eaten within a few days of making. It will last about 4-5 days in the refrigerator. Store in an airtight container to help preserve the freshness. Since the salsa does not have preservatives like some store bought salsa, it tends to not last as long in the refrigerator. It is not recommended to freeze the salsa.
There are links on this site are "affiliate links". This means that I may receive a small commission if you subscribe or purchase something through the links provided.
Do I Have To Use A Food Processor?
This salsa recipe works best by using either a food processor or a blender. I would recommend using a high powered blender that has a large base attachment. This blender is one of my absolute favorite blenders- it has a very high power motor and works great for the salsa, and also other items such as smoothies, protein shakes, slushies and more!
If you are looking for a food processor, there's a couple of different options:
This food processor is one of the best you can get. It holds up to 14 cups of food and has a very powerful motor.
A middle of the line option is this food processor. It has great reviews, holds a lot of food and still has a decent sized motor.
Concerned about space? Here's another option that is a lot smaller than your standard food processor, but is easy to store and clean!
Let's Make Some Homemade Garden Fresh Salsa!
Chop the roma tomatoes, yellow onion & jalapeno into quarter inch pieces. Chop the cilantro into small pieces. This can be a rough chop- it doesn't have to be exact.
Combine all ingredients in the food processor.
Hold the pulse button for about 5 seconds, release and repeat about 10 times.
Salsa should not have any large pieces of vegetable remaining. Chill & enjoy!
More Delicious Mexican Recipes
Homemade Fresh Garden Salsa
Homemade garden fresh salsa tastes great with chips or over your favorite Mexican dish. This healthy salsa takes less than ten minutes to make!
Ingredients
5

roma tomatoes

about 1 pound

¼

medium

yellow onion

1

medium

jalapeno pepper

seeds optional (leave ½ of the seeds in for a medium salsa)

2

medium

garlic cloves

chopped

⅓

cup

cilantro

chopped

1

(14.5 oz)

can petite diced tomatoes

1

tablespoon

lime juice

(about ½ of a lime)

½

teaspoon

salt
Instructions
Chop roma tomatoes into quarters. Chop yellow onion and jalapeno into quarters. Chop cilantro into ½ inch pieces.

In a food processor, add the roma tomatoes, yellow onion, jalapenos, canned tomatoes, cilantro, garlic clove, lime juice and salt.

Hold the pulse button for 5 seconds, release and continue to repeat about 10 times or until mixture is ground up and no large pieces remain (note: if you want a completely smooth salsa, place on high speed and let the food processor run for a minute).

Allow to sit in the refrigerator for a couple of hours to improve the flavor.
Notes
Note: For a salsa that is medium spice level, only add about ½ the seeds from the jalapeno and remove the rest. 
Nutrition