This copycat Chipotle chicken burrito bowl is packed with all of your favorite burrito options- rice, lettuce, beans, avocados, chicken, cheese and Pico de Gallo! This burrito bowl is easy to customize so that it includes only your favorite ingredients!
The Copycat Chipotle bowl was created because I have been craving Chipotle a lot recently, and realized that I could recreate the recipe at home in a cost effective way and put my own spin on it. Some variations have been made to the ingredients so that they are easier to prepare.
This Chipotle burrito bowl takes only 30 minutes to make! It may seem like there are a lot of different ingredients and prep work required, but I'll teach you how to strategically make all items so it doesn't take your whole day to cook.
Looking for a fun twist on the chipotle burrito bowl? Check out these incredibly satisfying and flavor packed healthy chicken burritos!
Chipotle Burrito Bowl Calories
Here's the calorie and protein content of each food item that goes into the burrito bowl. Add or subtract these numbers based on what exactly you decide to include.
Using the serving sizes listed above makes a pretty decent size bowl. I usually make a bowl and split it into two so I can have leftovers ready to go. The total calories & protein of the Chipotle bowl (if using all ingredients listed above) is 640 calories & 65 grams of protein.
How To Make a Chipotle Bowl in Less Than 30 Minutes
Here's the order to prepare everything so that it takes less than 30 minutes.
Marinade the chicken the night before.
Start the rice first. It takes the longest to make and requires the least attention.
Once the rice is on the stove, begin cooking the marinated chicken. This will require a little bit of attention, however you can do other things while the chicken cooks.
Pound the chicken first, then place on the grill pan. By this time, most water should have boiled out of the rice and it will be ready to simmer over low heat for 20 minutes. Set the timer and move on.
Check the chicken every few minutes. Meanwhile, gather up the rest of your ingredients (avocado, Greek yogurt, Pico, cilantro, beans, corn).
Prep the avocado- cut in half, then cut into pieces or slices.
Check the chicken, then prepare the beans-open the can and cook however you prefer ( I pop them in the microwave for 2 minutes).
Rinse and chop your cilantro.
By this time, chicken will almost be done. Finish preparing the rice, add cilantro to the rice. Finish up the chicken.
All ingredients are ready, begin the assembly process!
Chipotle Chicken Bowl Variations
These healthy Chipotle chicken bowls can be easily customized to your preference. Listed below are several variations that can be made to the bowls.
Meat Substitutions
A variety of different types of meat can be used to make these copycat Chipotle bowls.
Skinless chicken thighs- this option will be higher in fat and calories, however it will yield a more tender and moist meat. Chop up some honey chipotle chicken or some buffalo chicken thighs for a fun twist.
Steak: any type of steak will work. If you want a more tender steak, choose a better quality cut such as a tenderloin.
Ground Beef /Turkey: although this is not traditionally found at Chipotle, it's an option as a substitute!
Use leftover cooked pulled pork or brisket: season lightly with taco seasoning if desired and reheat.
Rice Alternatives
The Chipotle bowl uses a cilantro lime rice recipe, which has only been tested with white rice. There are several substitutes that can be used, however. Cook according to package directions, and add in cilantro and lime once cooked.
Brown rice
Quinoa
Riced Cauliflower
Add More Favorite Ingredients
Add as many or as little additional toppings to the bowl as desired.
Corn
Salsa
Hot sauce
Sauteed peppers
Sauteed onions
Corn Salsa
Make your own homemade taco seasoning instead of using store bought!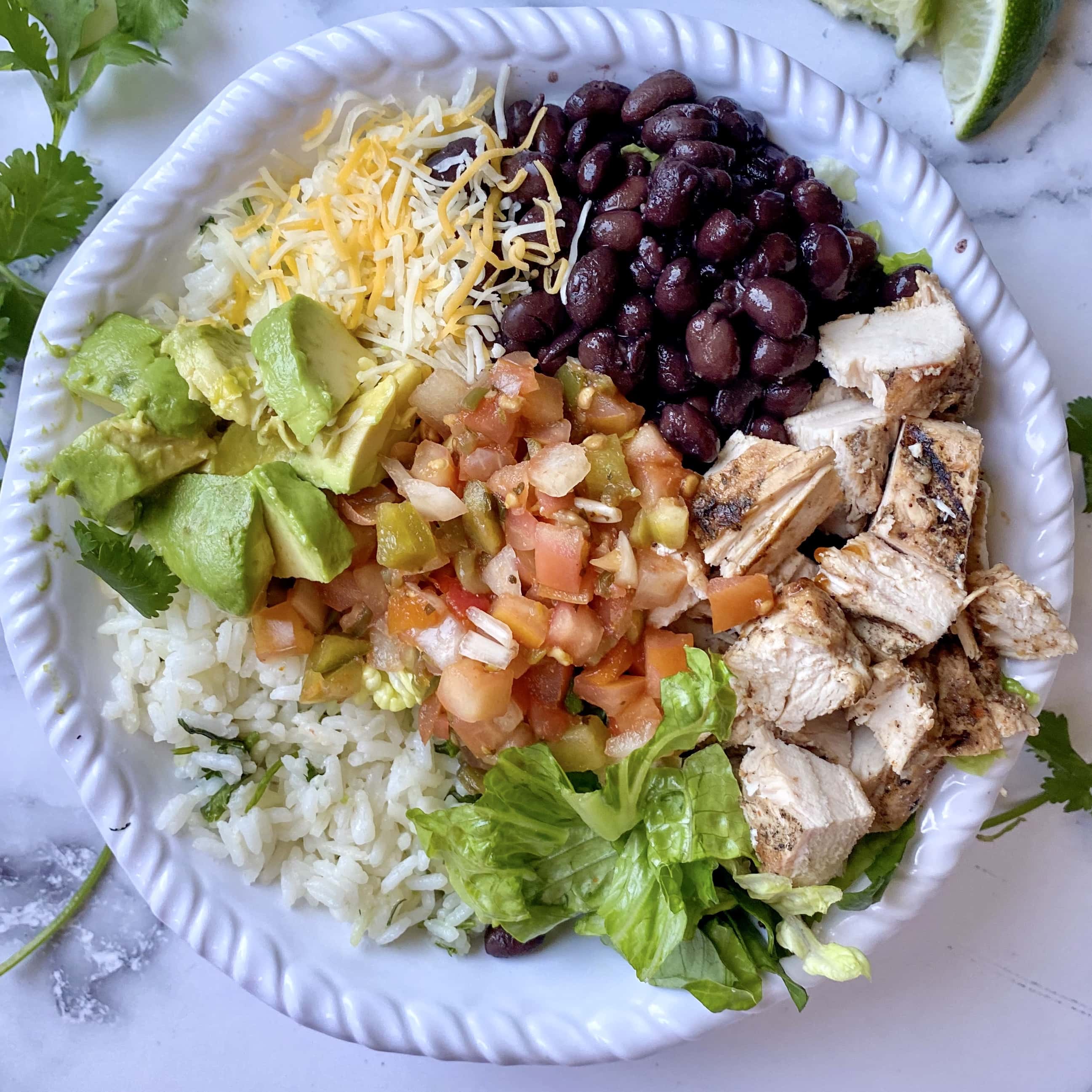 Make it Healthier
Here are some tips to make the burrito bowls a little bit healthier, depending on your nutritional goals.
Use the Greek yogurt in place of sour cream
Sub the white rice with brown rice. To reduce calories, use only ½ cup rice when building your bowl.
Use chicken breast, not thighs to reduce calories/fat.
Use cheese made with 2% milk or skim milk and use only half the amount to slash calories and fat.
Leftovers
Chipotle bowls can be stored in the refrigerator for up to four days. The ingredients store very well and taste just as good on day 4, as they did on day one. I like to store all ingredients separate unless I'm making this as a meal prep.
When reheating the Chipotle bowls, place rice, beans and meat in the bowl and heat in the microwave for up to two minutes or until hot. After heated, add Pico, lettuce, Greek yogurt and cheese.
Chipotle Bowl Meal Prep
Looking to make a batch that lasts all week? Double or triple the recipe depending on how many mouths you are cooking for. This recipe serves 4, so multiply based on that amount.
When meal prepping, place the chicken, rice and beans in an airtight container. Add the lettuce, cheese and pico to a second container so that you don't have to reheat everything together. I typically leave off the avocado and Greek yogurt, however the choice is yours!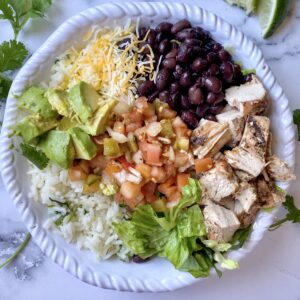 Copycat Chipotle Chicken Bowl
This copycat chipotle chicken bowl is loaded with rice, chicken, beans and more. This is the perfect recipe to meal prep for the week.
Ingredients
Cilantro Lime Rice
1.5

cups

rice

basmati or extra long grain

3

cups

water

2

teaspoon

salt

2

tbsp

butter

½

cup

chopped fresh cilantro

¼

cup

lime juice
Chipotle Chicken
2

medium

chicken breast

skinless & boneless

½

package

taco seasoning

¼

cup

lime juice

¼

cup

olive oil

1

teaspoon

white vinegar
Chipotle Bowl Ingredients (in addition to the rice & chicken)
1

can

black beans

drained & rinsed

4

cups

shredded lettuce

1

cup

shredded cheese

Mexican

1

avocado

¼

cup

Greek Yogurt
Instructions
Cilantro Lime Rice
Combine rice, water and salt in a medium saucepan. Boil over medium-high heat until most water evaporates (takes about 5 minutes).

Turn to low, cover and cook for 20 minutes.

Remove from heat, add butter, cilantro and lime juice. Mix until combined.
Chipotle Chicken
Combine taco seasoning, olive oil, lime juice and vinegar. Add to chicken and marinade overnight.

To cook chicken: heat a grill pan or regular pan over medium high heat.

Pound chicken with meat pounder to about ½ inch thickness.

Once grill pan is hot, place chicken on it and cook for about 7 minutes on each side. Chicken is done when it reaches 165F via thermometer.

Remove from grill and slice into bite sized pieces.
Chipotle Chicken Bowl Assembly
Place 1 cup of Chipotle Lime rice in bottom of dish.

Add 2 oz of chicken and ½ cup black beans.

Top with 1 cup lettuce, ½ cup Pico de Gallo, ¼ cup cheese, 1 tablespoon Greek Yogurt and ¼ avocado. Enjoy!
Nutrition
More Recipes You Will Love