Ground chicken stuffed peppers are an easy dinner meal! They are an excellent way to sneak in some extra veggies as well. These peppers are filled with cheese ground chicken, Italian seasoning and rice. They are bursting with flavor and may quickly become your family's new favorite meal!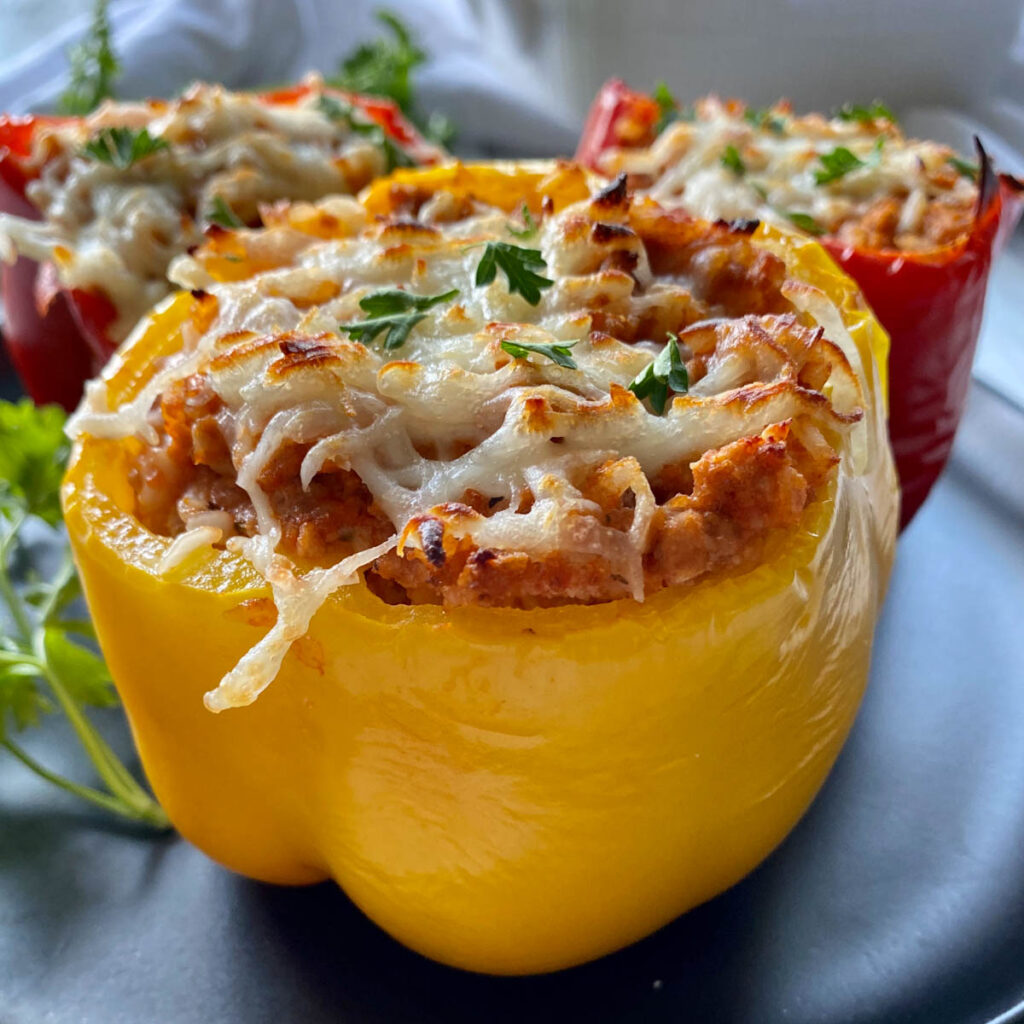 For the longest time, I always avoided making stuffed peppers because it looked too time consuming. And then one day, I made them. It turns out, they were actually really easy to make! This dish took less than an hour to make.
Even if you don't love peppers, try these! The filling is a mixture of meat, rice, cheese and spices. Kind of like a big cheesy casserole, stuffed inside a pepper.
These stuffed peppers are different than most because they contain ground chicken. Several years ago, I started making my stuffed peppers with ground chicken to add a little bit of variety into our life. It has the exact same texture as ground beef or ground turkey and tastes just as good!
If you make these, let me know how they turned out! I'd love to hear from you or see your pictures!
Ingredients
Bell Peppers: Red, orange, yellow or green. Any color is fine! Red, yellow or orange peppers will be a little bit more sweetness than a green pepper. Peppers that are more round in shape(versus long) will stand upright in the pan much easier once stuffed. This isn't a requirement, however, and no matter what the shape, they will taste just as good.
Ground Chicken: Ground chicken that is made with 93% lean meat is going to have a lower fat content. Any type of ground meat will work in this recipe. Other meat options are ground turkey or ground beef.
Rice: Choose either brown rice or white rice. Brown rice provides more nutrients and fiber.
Parmesan Cheese: I used the canned grated Parmesean cheese and they tasted great! An alternative is fresh shredded Parmesean cheese.
Garlic Cloves & Onion: Cook with the meat to add extra flavor.
Mozzarella Cheese: adds flavor and good texture to the pepper mixture.
Seasonings-Italian, garlic powder, onion powder, salt (optional) and pepper: all provide good flavor!
Stuffed Peppers Nutrition
These ground chicken stuffed peppers contain 340 calories per pepper and 27 grams of protein per pepper. They have 26 grams of carbohydrate and 14 grams of fat per pepper.
Bell peppers have a lot of health benefits: they are loaded with vitamins and minerals, including Vitamin C! Fun fact: Vitamin C helps your body better absorb iron!
Stuffed peppers provide carbs from the rice, protein from the meat and a veggie source from the pepper and tomato. This is a great way to sneak in some extra vegetables for those who don't enjoy eating them plain.
Leftovers
These peppers will keep in the refrigerator for 2-3 days after cooking. Store in an airtight container. Do not freeze; the pepper will become soggy.
Meal Prep
Ground chicken stuffed peppers are a great item to meal prep for an easy dinner. Simply make the meat/rice mixture the night before, and store in an airtight container in the refrigerator. When ready to cook, boil the peppers, stuff them with the meat mixture and pop them in the oven. Dinner will be ready in no time!
Variations
Meat:
Any type of ground meat can be used. I used ground chicken in this recipe, however other ideas are ground turkey, ground beef or ground sausage
Low Calorie Version:
Use a lean ground meat that is 93% fat free or 97% fat free. This will decrease the fat and calorie content.
Decrease the amount of cheese used to reduce the fat and calories.
Sneak in Veggies:
Add in extra veggies to the rice/meat mixture. Chop up carrots into small fine pieces, or add small pieces of green peppers or diced tomatoes.
Let's make some stuffed peppers!
Cutting the Peppers
Slice the top off the pepper by using a knife and cutting around the pepper in a circular motion. I like to slightly twist the top of the pepper once cut, which helps all the seeds stay connected and makes it really easy to remove them. Remove any extra seeds inside.
You can also remove the fleshy, lighter color rib that's sticks out in the middle of the peppers. It's easiest to do this with your fingers. This helps so you can add more stuffing to the insides! Keep the rest of the pepper intact, as this will hold in the stuffing.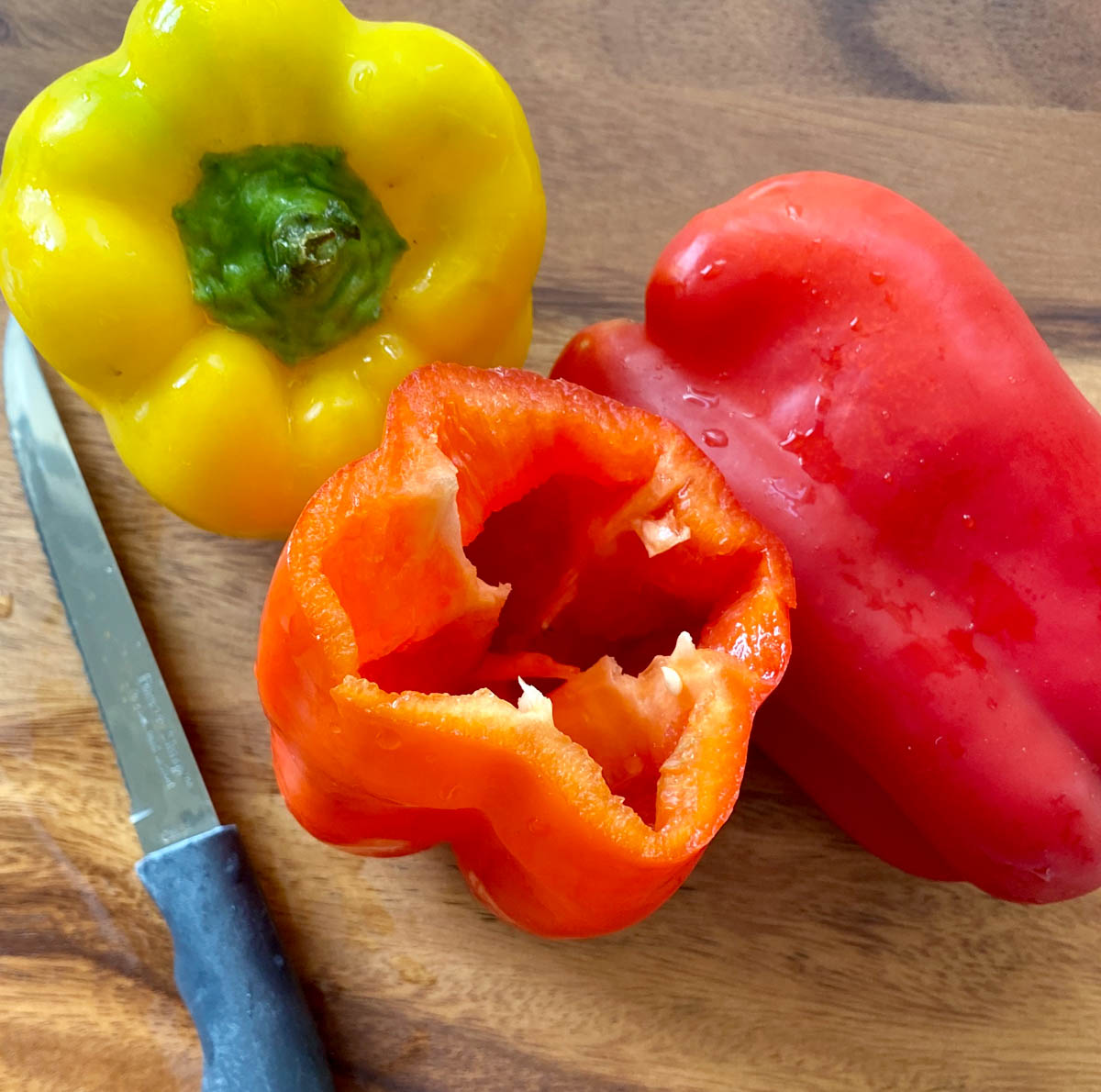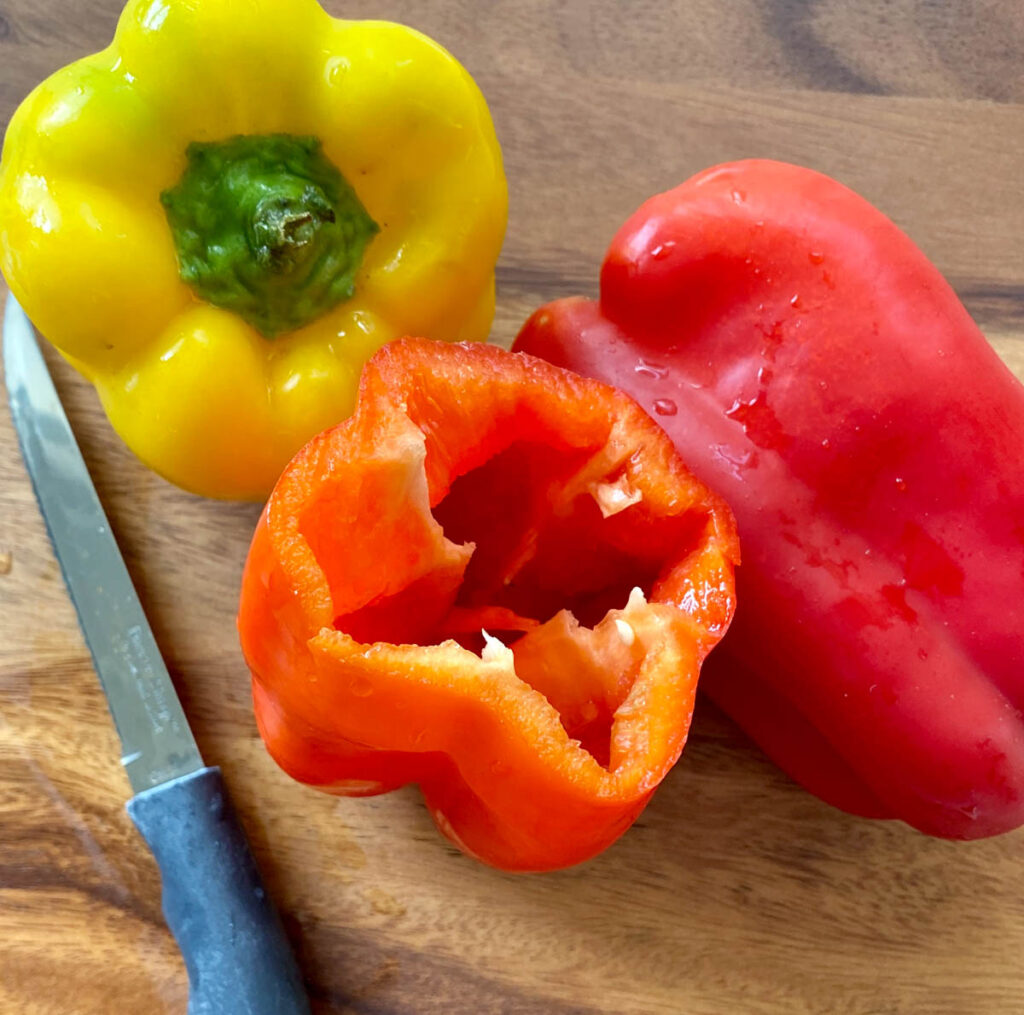 Precooking the Peppers
The peppers must be slightly precooked before stuffing them to ensure they are tender when eaten. Sometimes if the pepper is just cooked in the oven without precooking it, it does not get tender enough. Boiling helps to soften the peppers so that they can cut easily with a fork when eaten. To precook the peppers, submerge them completely in boiling water for 5 minutes. Don't overcook however, or they will turn mushy!
Make your mixture
While the peppers are boiling, mix up your ingredients that will be used to stuff the peppers. Combine the cooked meat, rice, cheeses, spices and tomato sauce and mix until well blended.
How to Stuff the Peppers
Using a spoon, add the rice and meat mixture to the inside of the pepper. Fill the pepper entirely to the top. You may have to use a spoon to maneuver the mixture into all outer spaces of the pepper.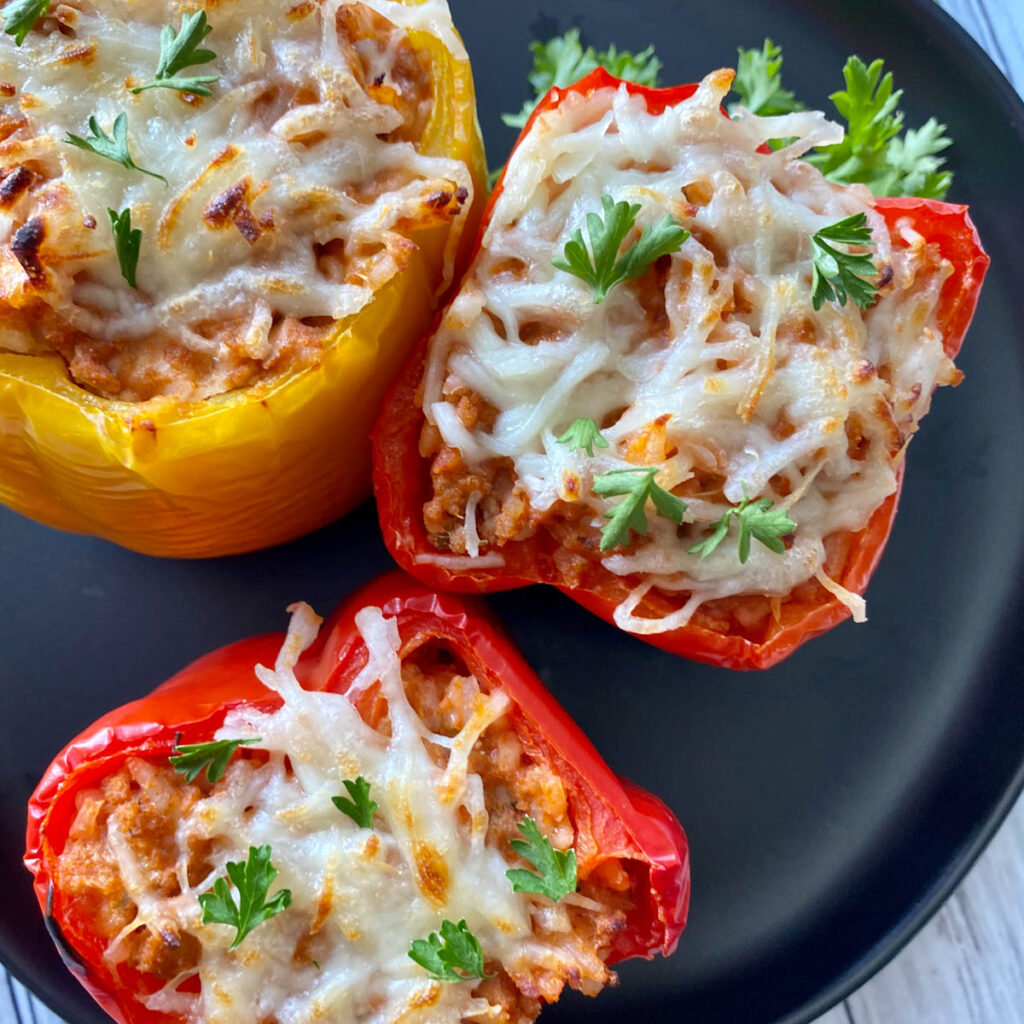 Cooking the Peppers
The stuffed peppers will cook in the oven for about 20 minutes. After the peppers have cooked for 20 minutes, turn the oven to Broil and cook for 2 minutes. This will give the cheese a slightly brown color.
Frequently Asked Questions
What type of ground chicken should I use?
I've had great results with Tyson brand, Smart Chicken brand and Perdue brand. You can be the roll or the package of ground chicken. If that fat content is listed on the label, choose 96% fat or 93% fat for a lower fat option.
Can I use Mini Peppers?
You could definitely stuff mini peppers! Make sure the remove all seeds first. The cooking time may be slightly shorter with mini bell peppers.
Other Favorite Recipes
Ground Chicken Stuffed Peppers
Ground chicken stuffed peppers are filled with rice, ground chicken, spices and cheese. This is an easy and healthy weeknight dinner option!
Ingredients
6

bell peppers

any color

1

pound

ground chicken

93% lean

1

clove

garlic

chopped

¼

onion

chopped

1.5

cup

brown rice

cooked

1

tablespoon

Italian seasoning

2

teaspoon

onion powder

1

teaspoon

garlic powder

16

ounces

tomato sauce

½

cup

Parmesan

canned or fresh

1.5

cup

Mozzarella cheese

shredded (divided)
Instructions
Preheat oven to 350 F. Spray a 9x9 inch baking dish with pan release spray and set aside.

Wash peppers and cut the tops off, removing all steeds and inner membranes.

Fill a large saucepan with water and bring to a boil. (Add enough water to the sauce pan so that peppers will be completely covered when placed inside).

Add peppers into the boiling water and push down so that they are completely submerged. Boil for 5 minutes, remove from heat and drain.
Stuffed Pepper Filling
Combine the ground chicken, chopped onion and minced garlic in a medium sauce pan. Cook over medium heat until chicken is cooked (it should be 165F).

Drain any excess liquid or fat from the chicken. Set aside.

In a large bowl, combine the cooked chicken, cooked brown rice, Italian seasoning, onion powder, garlic powder, tomato sauce and Parmesean cheese. Mix until combined.

Stir in 1 cup of the shredded Mozzarella cheese and mix until combined.
Stuffing the Peppers
Set the par-boiled peppers upright in your prepared baking dish. (Sometimes it helps to lean them up against one another so they stand upright).

Take the prepared stuffing mixture and fill each pepper to the very top. (Use your spoon to make sure the stuffing fills all areas inside the pepper).

Top peppers with the remaining mozzarella cheese.

Bake in preheated oven for 20 minutes.

After 20 minutes, turn oven up to Broil setting, and bake for 2 more minutes.

Remove from oven and serve warm.
Nutrition