Baked boneless chicken wings are a healthier alternative to normal wings, however taste just as great! This recipe has two options for flavoring - they can be flavored from either a zesty buffalo flavor, or sweet and sticky BBQ sauce.
I'm always looking for ways to make my recipes taste healthier without compromising the flavor. This specific recipe was created because my family was craving some wings, yet I couldn't find anywhere that sold gluten free wings. Making them at home was an option, but I had no desire to fry them in my house. So, hello BAKED Chicken wings!
These baked wings are tender, healthy and addicting! They have a crispy coating on the outside with the perfect amount of breading. I hope you love these as much as I do!
How to Make Boneless Baked Chicken Wings
Cut chicken breasts into 1 inch cubes. Prepare your dipping stations: mix the flour and spices in one bowl and mix the egg with milk in another bowl. Tip: Place a piece of waxed paper underneath the bowls to make for easy cleanup. Place the bowls close together to prevent excess mess.
Begin the dipping process. Dip a piece of chicken in the egg mixture and then dip the chicken into the flour mixture. The chicken should be evenly coated with flour.
Place the coated chicken on a greased cookie sheet about ¼ in apart. Bake in the oven for 10 minutes, then turn on the broil and bake for another 2 minutes.
Choose your sauce of choice: BBQ or Wing sauce. Mix with butter and water, then pour over wings. Enjoy!!
Are Baked Chicken Wings Healthy?
Baked chicken wings are healthier than fried because they do not get fried in oil. This cuts down on the fat and calorie content of the wings.
Boneless wings are an excellent lean protein source because they are made from chicken breast. The Buffalo flavor contains 260 calories/serving and the BBQ flavor has 280 calories/serving.
How to Make Gluten Free Boneless Wings
Flour is the main ingredient substitution that must be made for these wings to be considered Gluten Free. Simply replace the all purpose flour with a gluten free 1:1 measure for measure flour. I used the brand "King Arthur's Gluten Free Flour" and it worked perfectly!
Gluten Free Wings- Alternatives to Flour
While the boneless wings require some form of breading to make them taste the best, there are other alternatives to use in place of flour.
Place 1 cup of gluten free oatmeal in the food processor or blender, and blend until smooth and no large chunks remain. Another alternative is to use rice chex cereal that has been pureed in a blender. The end texture should be very fine, similar to flour. Please note that using these alternatives may affect the texture and create a slightly crunchier chicken wing.
Tips for Success
Create an assembly line when dipping the chicken. Set up your cube chicken, egg and flour mixtures so that they are all right next to each other.
Short on time? Place 6-7 wings in the egg mixture at once, and then dip into the flour mixture until evenly coated.
Use a pair of small tongs when dipping to prevent hands from getting too messy.
Don't skip the broil step! This helps make sure that the wings have a crispy outer edge.
Wings taste great dipped in low fat ranch or blue cheese dressing.
Foods That Go Well With Baked Chicken Wings
Wings are great as appetizers, or they can be served as a main entree. Here's a couple ideas of side dishes that go well with boneless wings:
Side Salad
Baked Beans
Fresh carrots and celery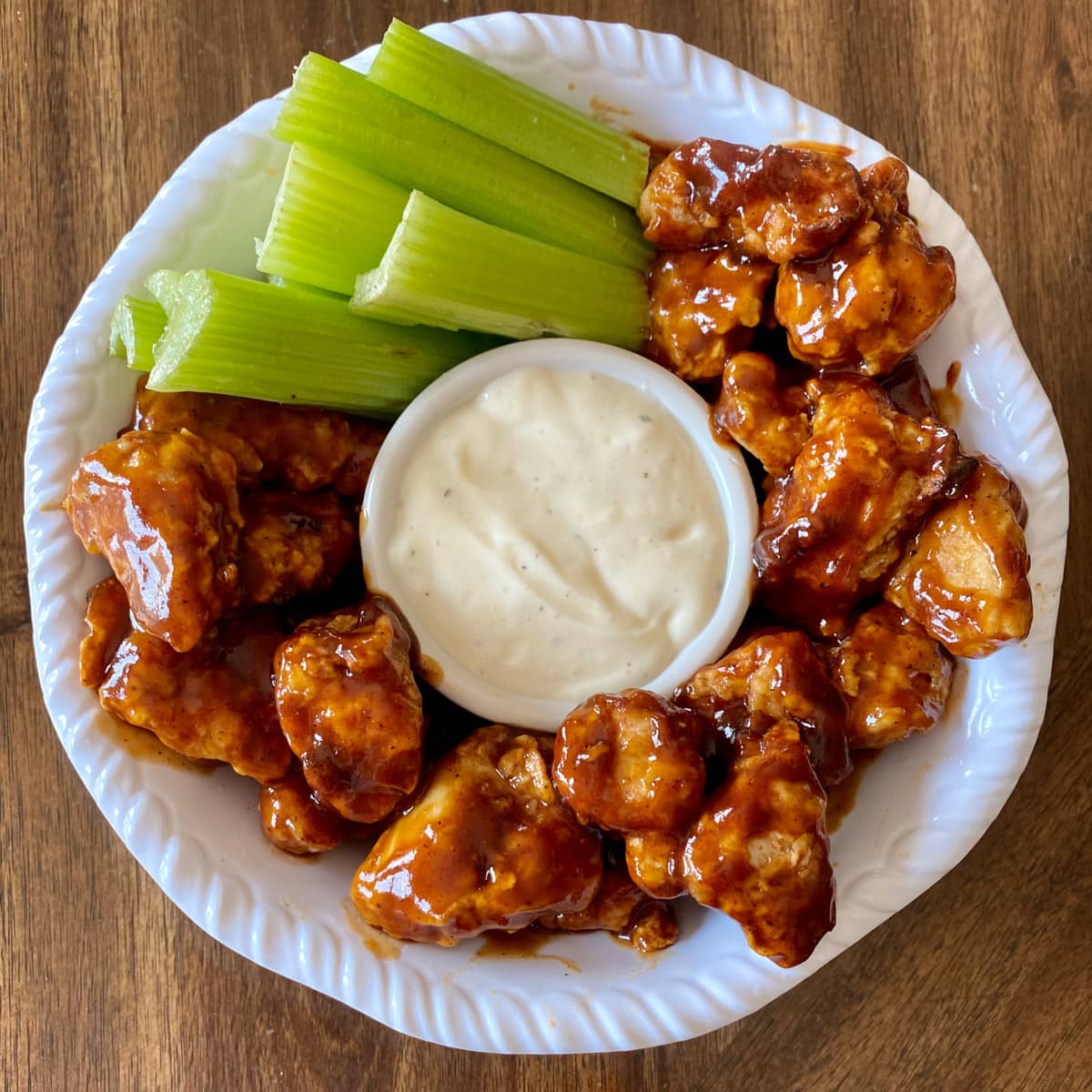 Leftover Wings
These wings will still taste great if they are eaten as leftovers. The wings reheat well and maintain their crispy, texture. Store the leftover wings in an airtight container and keep in the refrigerator for 3-4 days. It is not recommended to freeze boneless wings.
Reheating wings
Reheat the wings for 2 minutes in a microwave prior to serving. To make these taste extra fresh, prepare the boneless wings as indicated in the recipe, and then wait to add the sauce until right before eating. This helps keep a crispy outer texture on the wings.
More Chicken Recipes
Baked Boneless Chicken Wings (Buffalo or BBQ)
Baked boneless chicken wings have chicken that's covered in a seasoned breading and baked to perfection. Make them buffalo flavor or BBQ flavor.
Ingredients
4

medium boneless chicken breasts, raw

about 2 pounds

1

egg

½

cup

milk

1%

1.25

cup

all purpose flour

(ok to sub with gluten free flour that is 1:1 measure to measure ratio)

1

teaspoon

garlic powder

1

teaspoon

onion powder

½

teaspoon

paprika

½

teaspoon

black pepper

½

teaspoon

chipotle seasoning

optional

½

teaspoon

salt

optional
To Make BBQ Wings
¾

cup

Sweet Baby Ray's BBQ Sauce

2

tablespoon

butter

1

tablespoon

water
To Make Buffalo Wings
2

tablespoon

butter

melted

¾

cup

Sweet Baby Ray's Wing Sauce

2

tablespoon

water
Instructions
Line a cookie sheet with parchment paper. Spray with non-stick pan release spray.

Cut chicken breast into ½ inch cube pieces, discarding any excess fat that is on chicken. Set aside.

Combine the egg and milk. Mix well using a fork until combined. Set aside.

Combine the flour, garlic powder, onion power, paprika, black pepper, salt and chipotle powder. Set aside.

Prepare to assemble the chicken wings. Dip each piece of chicken breast in the egg mixture, remove and immediately dip in the flour mixture. Roll chicken in flour until it is evenly coated, place on the prepared cookie sheet.

Repeat the dipping process until all chicken has been coated with egg and flour mixture.

Place cookie sheet in the oven and bake for 10 minutes.

Once timer goes off, set oven to broil and cook for another 2 minutes. (No need to remove the chicken from the oven prior to broiling.

Remove from oven and prepare dipping sauce. Baked wings should reach a temperature of 165F with your meat thermometer.
To Make Buffalo Chicken Wings
Combine the Sweet Baby Ray's buffalo sauce, melted butter and water in a large mixing bowl.

Add chicken wings and toss until evenly coated. Serve immediately.
To Make the BBQ Wings
Combine the Sweet Baby Ray's BBQ Sauce, melted butter and water in a large mixing bowl.

Add chicken wings and toss until evenly coated. Serve immediately.
Notes
Buffalo Wings: 230 calories/serving
BBQ Wings: 280 calories/serving
Nutrition
Calories:
297
kcal
|
Carbohydrates:
22
g
|
Protein:
29
g
|
Fat:
9
g
|
Saturated Fat:
4
g