When it comes to cooking chicken, using the crockpot is my favorite method! I have been making crockpot chicken for years- it's so easy to prepare and clean up is very minimal. Many weekends you will find me using the crockpot to cook large batches of chicken on Sunday and eating the leftovers throughout the week. This bbq chicken recipe is a staple that every person needs to have in their back pocket!
The BBQ chicken in this recipe is tender, moist and packed full of flavor. What I love most about this recipe is that the chicken shreds so easily. Have you ever tried to shred chicken and it just won't shred? Not in this case!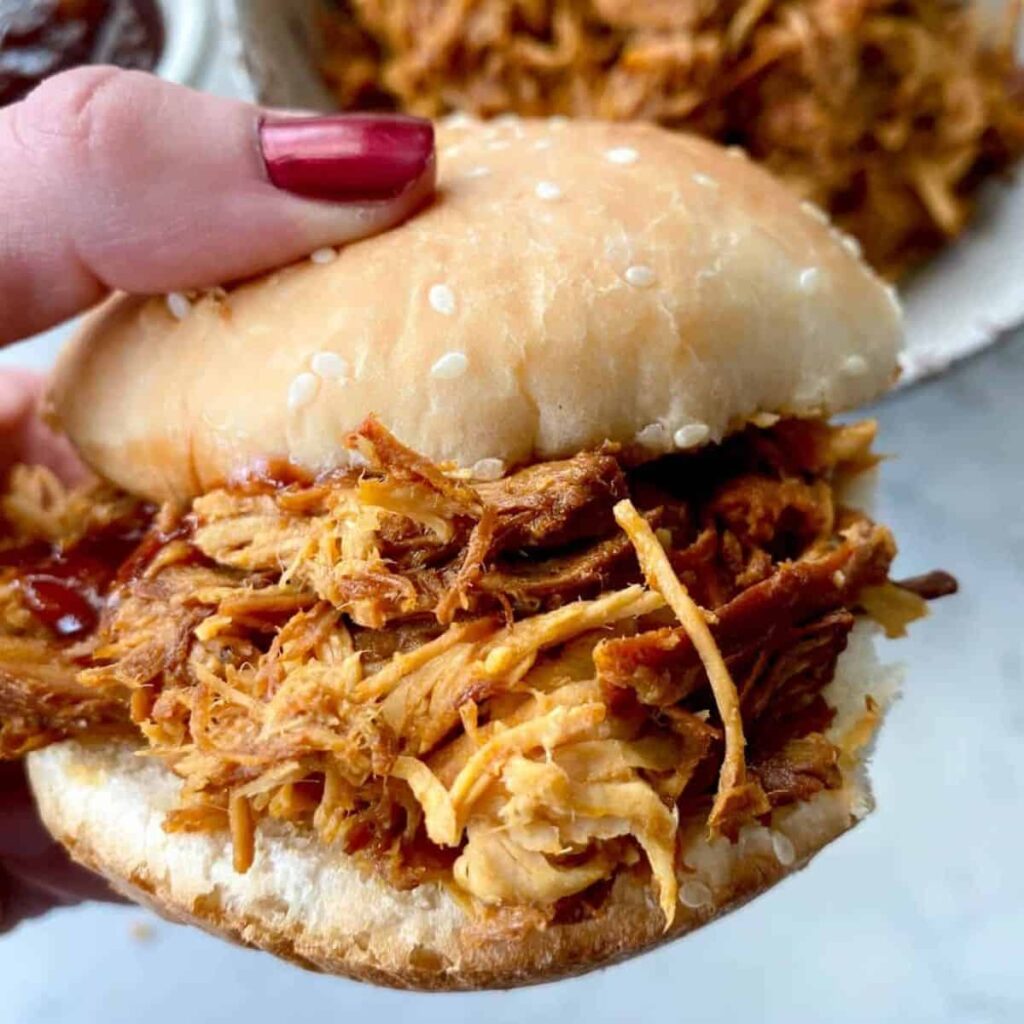 My husband and I had some friends over for a gathering the other day and were debating what to make. It was way too cold out to grill, and I didn't want to make something too time consuming. I chose to make this no-fail shredded BBQ chicken because it was a pretty neutral option, and it was easy to make in large quantities. I actually cooked all the chicken the night before, and then reheated it the next day for the party (shhhhhh…don't tell!). I couldn't tell the difference!
Looking for more chicken recipes? Check out my seriously addicting baked boneless chicken wings! Or if you're in the mood for spicy, my healthy buffalo chicken dip is a reader favorite! This healthy chicken enchilada bake is also a favorite!
How should I serve the Crockpot BBQ chicken?
What's great about this recipe is that there are a variety of ways to serve the Crockpot BBQ chicken: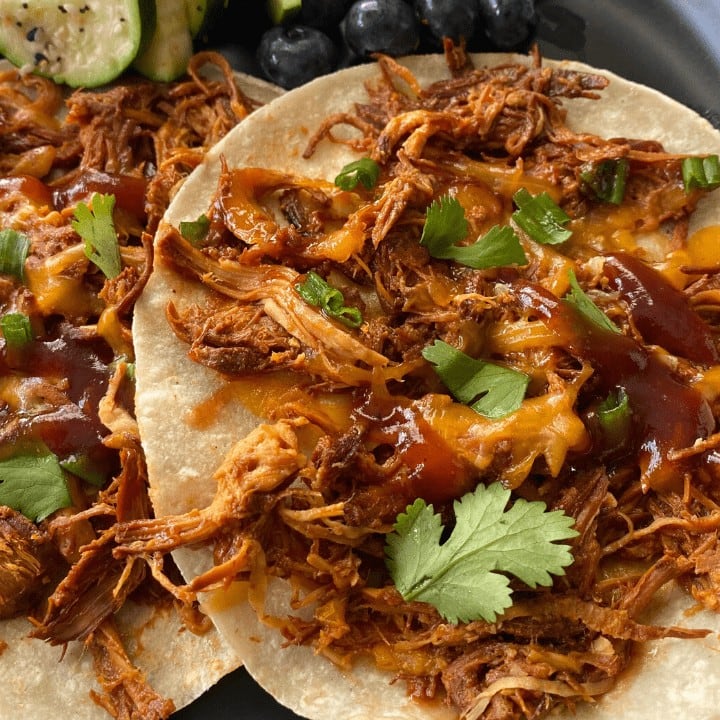 What should I do with leftovers?
Refrigerate leftovers and eat within three days
The cooked chicken can be frozen for up to 4 months according to the USDA freezer guide chart. Add more BBQ sauce when reheating for extra flavor.
Continue to eat the leftovers in a different form (See above for ideas)
Cooking chicken in the crockpot 101
How much chicken can I place in the crockpot?
The amount of chicken that can fit in a crockpot varies by size of crockpot. A 6-quart crock pot can hold up to 6 pounds of meat. The official crock-pot website recommends using 1 pound of meat per quart size of crock pot.
Can I put frozen chicken in the crockpot?
I always cook my chicken from thawed. If you have frozen chicken, check out this article on how to safely defrost your chicken. Some sources do say that you can place frozen chicken in the crockpot. If cooking chicken from frozen, the cook time will be affected. Always verify the center of the chicken is fully cooked before removing from the crock pot.
How long does it take to cook chicken in the crockpot
The length of time it takes chicken to cook in the crock pot depends on the amount of chicken, liquid and whether frozen or thawed. If cooking 5 pounds of thawed chicken, it takes about 3 hours on high or 4-5 hours on the low temp. Always test your chicken with a meat thermometer to make sure it is done. Chicken should hit 165F to be determined done. Sometimes chicken may look done, but this doesn't always mean it is fully cooked.
Let's make some Crockpot BBQ chicken
How to shred chicken
Chicken shreds easiest when it's still warm. Cook chicken as desired. I recommend cooking in the crock pot over low heat if you are planning to shred it. Remove the chicken from the crockpot, let it sit for about 10 minutes to cool. Once chicken is slightly cooled, shred using 2 forks. One fork can be used to hold the chicken breast, while the other fork scrapes away at the chicken until shredded. There are also utensils made for shredding meat, however I have never personally tried them.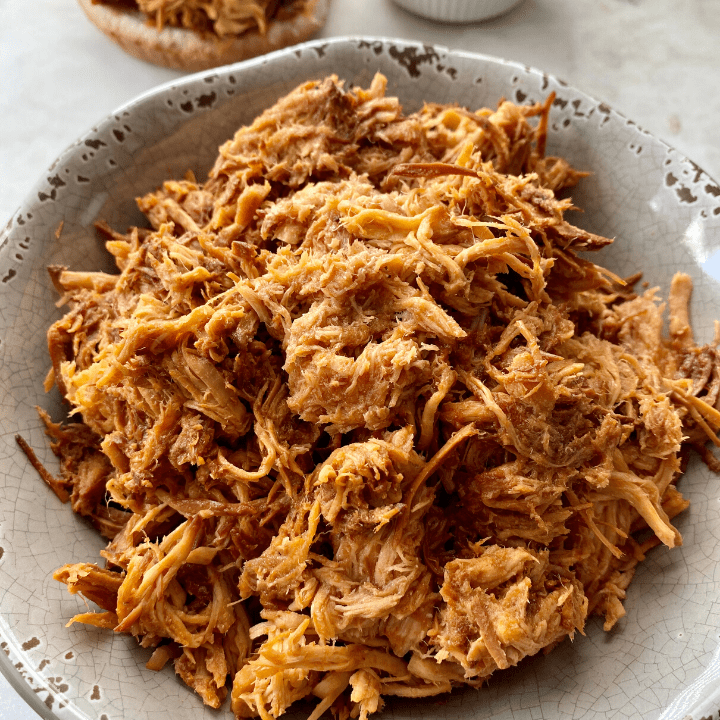 How to make the BBQ chicken
STEP 1: Mix all ingredients except chicken in a small bowl.
STEP 2: Place thawed chicken in the crock pot, pour liquid over it. Try to cover the chicken evenly with liquid, so that all pieces are covered.
STEP 3: Cover, cook on high for 30 min, and then on low for 8 hours. I always cook on high for the first 30 minutes just to get the crock pot warmed up and ready to go! iv. Remove chicken from crockpot, shred and enjoy!!
Similar recipes you may enjoy
Shredded BBQ Crockpot Chicken
Tender, juicy chicken breast flavored with bar-b-que sauce and other seasonings to create the perfect flavor. Easy and healthy crock pot recipe.
Ingredients
3

pounds

chicken breast

boneless and skinless

1.75

cups

Sweet Baby Ray's BBQ Sauce

2

tablespoon

Apple Cider Vinegar

½

teaspoon

ground black pepper

½

teaspoon

crushed red pepper

1

teaspoon

garlic powder

1

teaspoon

onion powder

½

teaspoon

smoked paprika
Instructions
Spray bottom of crock pot with quick release pan spray.

Layer chicken breasts evenly in crockpot.

In a small mixing bowl, combine BBQ sauce, apple cider vinegar, black pepper, red pepper, garlic powder, onion powder and paprika. Mix until combined.

Pour BBQ sauce mixture over the chicken.

Place crockpot on low heat, and cook until chicken is done (about 4 hours).

Remove chicken from crockpot, let sit for 10 minutes to cool.

Using 2 forks, shred chicken while still warm.

Serve hot. Enjoy!
Notes
Any brand of BBQ Sauce can be used. I chose Sweet Baby Ray's because I enjoy the sweet honey flavor that it provides. 
Nutrition