This scalloped potato recipe is easy to make!
The other night I had a totally random craving for some cheesy potatoes. I ran to the store and searched for a scalloped potato box mix without flour (I can't have gluten!) Of course, the only boxed scalloped potato brand without gluten was double the price than all the others, but I paid it. I went home, made the potatoes, and they honestly did not taste very good at all. In my opinion, they were too soupy and tasted rather artificial. So, that's why I decided to develop this recipe for scalloped potatoes. If you're looking for a scalloped potato recipe that's easy, healthy and gluten free -- you've come to the right place!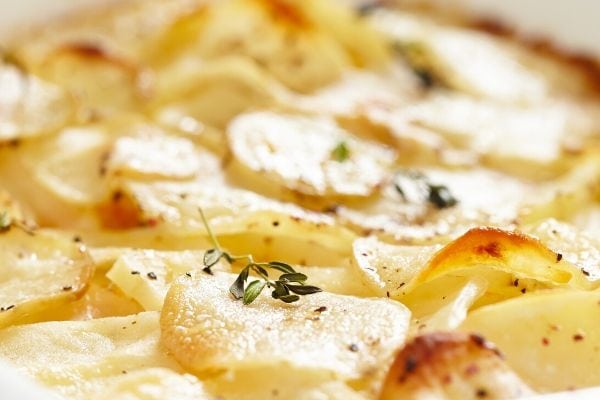 Tips to Make the Best Scalloped Potatoes
How to slice potatoes when making scalloped potatoes
Potatoes must be sliced very thinly and all slices should be relatively the same size. Have you ever wondered why your scalloped potatoes take forever to cook in the oven? Or perhaps the cheese on the scalloped potatoes is burning, but the potato is not cooked. The problem is that you've sliced your potatoes too thick! They key to this recipe is making sure that potatoes are sliced no larger than ⅛th inch thick and that all slices are roughly around the same size.
TIP: To determine if your potato slices are ⅛th inch thick, stack 2 quarters on top of each other and line up next to the potato. If your potato slice is any thicker than this, keep cutting!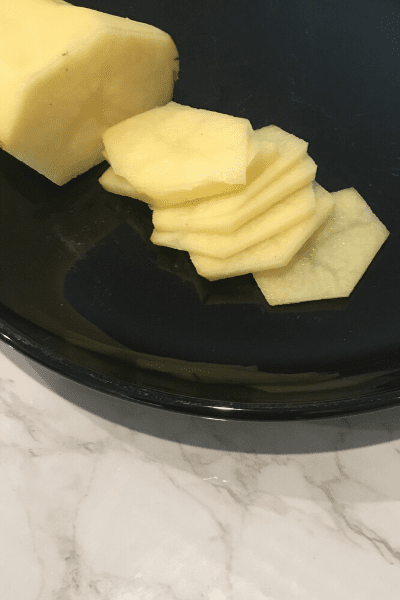 How to Keep Sliced Potatoes From Turning Brown
Often potatoes will turn brown after they are sliced if left out in the open air. To prevent sliced potatoes from turning brown, place them in a bowl of water. You can refrigerate the potatoes in the bowl for up to 24 hours.
Prior to slicing the potatoes, wash & scrub all potatoes with a scrub brush to loosen any dirt. Begin the slicing process after all potatoes are washed.
Can you make scalloped potatoes ahead of time and reheat?
This scalloped potato casserole can be prepped ahead of time and reheated prior to serving. Make the casserole up to 1 day before planning to serve. Leave off the top layer of cheese, and cook the casserole as other wise instructed. Once cooked, store in the refrigerator. The next day (or whenever serving), add the remaining layer of cheese and cover with foil. Reheat in the oven at 350 degrees for 15-20 minutes.
Adding the top layer of cheese prior to reheating will prevent it from burning.
Scalloped Potatoes FAQ
Are scalloped potatoes and Au Gratin potatoes the same?
Much to many people's surprise, no! Au gratin potatoes and scalloped potatoes are no the same. The potato in a scalloped potato is sliced slightly thicker than the au gratin potato.
Au Gratin Potatoes typically have cheese sprinkled throughout the potato layers. They also have bread crumbs on top.
Scalloped potatoes typically have a more creamy sauce and do not have the breadcrumb topping. Scalloped potatoes sometimes contain cheese, however not always.
Taste of Home has a great article on the difference between the two!
Can you freeze scalloped potatoes?
If scalloped potatoes are already cooked, you could place them into freezer zip-lock bags to prevent frost accumulation and freeze for 4-6 weeks. Add extra cheese on top prior to reheating. The texture and quality will not be the same as when they were first cooked.
What Makes these Scalloped Potatoes Healthy?
These are lower calorie than the normal version of cheesy potatoes because they use 2% milk rather than cream. This saves a decent amount of fat and calories.
The cheese used is a sharp cheddar flavor. It has a stronger flavor than most cheese, and therefor the recipe does no call for as much cheese.
The amount of butter has been reduced to 2 Tbsp.
Extra flavor is added through lost of spices
How to Make the Best Healthy Scalloped Potatoes
Prep the potatoes
Rinse potatoes under warm water. Scrub the potatoes with a scrub brush to loosen any dirt. Wash all potatoes at once prior to cutting them.
Cut a slice off the top and bottom of the potatoes to remove the ends. Peel the potatoes. If you don't have a peeler, use a knive and simply cut the skin off.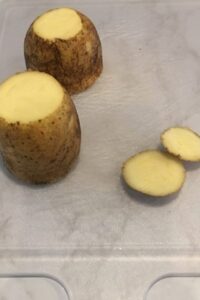 Cut one edge of the potato so that it is flat- this will make the potato more stable and prevent it from rolling when you are slicing.
Cut the potatoes into ⅛ inch slices as shown below. If you don't know how thick ⅛ inch is, stack 2 quarters on top of each other and use their width as a guide.
Combine Ingredients
Congrats! If you've sliced the potatoes, the hardest part is done!
Combine the melted butter, spices and potatoes. Toss in large bowl until potatoes are well coated.
Boil the Milk
The boiled milk is what gives the potatoes their "creamy" consistency.
This step is difficult, since milk must be watched carefully, or it will either burn or overflow.
Place milk on burner of medium heat.
Stir constantly. Don't walk away!
Once you see a few bubbles, continue to stir until boiling.
Remove from heat immediately once it start boiling. I learned the hard way and had milk overflowing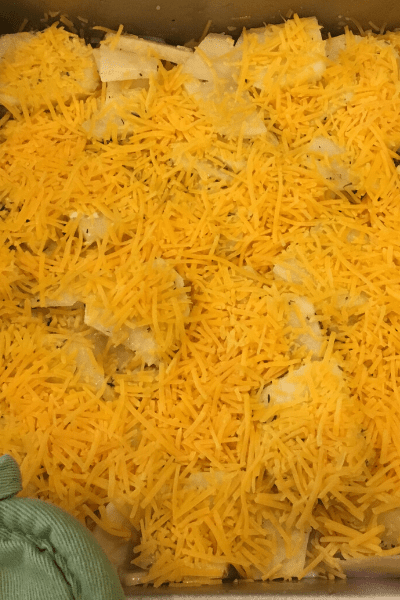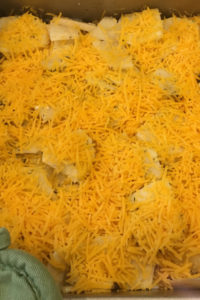 Prep the Casserole
Layer ½ of potato mixture in an 8x8 greased baking pan.
Pour boiled milk evenly over potatoes.
Top with remaining potatoes, bake for 25 minutes, add cheese and bake for a remaining 20 minutes.
It's really important to wait to add the cheese on top until half way cooked, so that it does not burn.
ENJOY!!!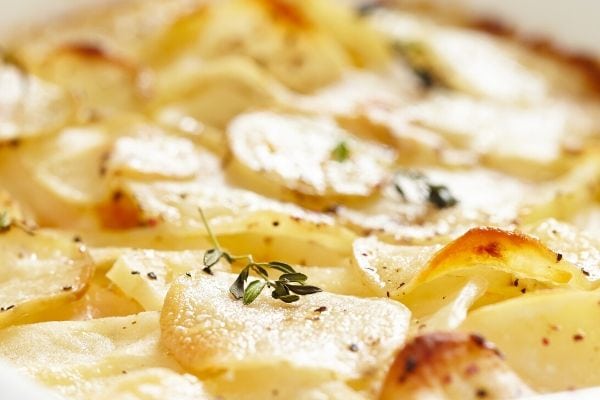 Easy Gluten Free Scalloped Potatoes
This family favorite recipe for Gluten Free Scalloped potatoes is healthy, easy to make and will make your taste buds happy!
Ingredients
2

pounds

potatoes

peeled

2

tablespoon

butter

melted

½

teaspoon

garlic powder

½

teaspoon

onion powder

1

teaspoon

thyme

1

cup

milk

2%

1.5

cup

sharp cheddar cheese
Instructions
Peel potatoes. Slice into ⅛ inch thick slices.

Combine melted butter, garlic powder, onion powder and thyme in bowl.

Add potatoes to the butter mixture. Mix until potatoes are coated.

Mix in ½ cup of cheddar cheese.

Spread ½ of the potato mixture evenly amongst an 8x8 inch greased baking dish.

Heat milk in sauce pan over medium heat. Bring to a boil, string constantly. 

Remove from heat, pour evenly over potatoes. 

Top with remaining potatoes. 

Bake in preheated oven for 45 minutes total. Set timer for 25 minutes, add the remaining cheese to top of potatoes. Set time for remaining 20 minutes and cook until potatoes are tender and cheese is melted.
Nutrition
Related Healthy Gluten Free Recipes
Final Thoughts on Healthy Gluten Free Scalloped Potatoes
Easy to make? Check.
Kid Friendly and Family approved? Yup.
Healthier? Oh Yeah.
Overall, I'd say these were a hit! They are a great recipe for the holidays, however they can also be served anytime of year. Let me know how yours turn out!