Cheesy, creamy, and slightly spicy -- a new dinner time favorite! Jalapeno popper chicken casserole has all ingredients of a jalapeno popper combined into a casserole and mixed with chicken and cheese. This is a flavorful, cheesy and somewhat spicy dinner option.
This recipe is a family favorite and we make it all the time! I make it using healthy ingredient substitutions, which are listed below!
Whenever I hear Jalapeno poppers, I think of football games. Jalapeno poppers instantly resonate as a popular tailgate food. Since I love jalapeno poppers but don't love spending the time making them, this casserole is a quick and easy alternative!
For anyone who has never had a jalapeno popper, it is typically a jalapeno that is cut in half, filled with cream cheese and wrapped in bacon. Jalapeno poppers can be baked or grilled. This recipe for jalapeno popper chicken casserole combines all of the standard jalapeno popper ingredients, and adds chicken and some extra spices to make it a casserole dish.
It's much easier than making individual poppers because you don't have to worry about stuffing individual peppers with a cream cheese mixture! If you like Jalapeno poppers, you will LOVE this recipe!
Ingredients Needed For Jalapeno Popper Casserole
Chicken breast - used cooked & shredded chicken breast. Rotisserie chicken or crock pot chicken would work great. The recipe calls for 16 oz of chicken - this is the weight of the chicken breast after it has been cooked (about 1.5 pounds raw chicken breast).
Bacon: cook your own bacon and chop into pieces or use bacon bits as an easy alternative (a 2.5 oz package of bacon bits will work). Sub with turkey bacon to make it healthier.
Garlic powder: sub with minced, fresh garlic if desired
Onion powder: sub with minced, fresh onion if desired
Fresh jalapeno peppers: remove all or most seeds. Chop into ½ inch pieces
Salt and pepper (optional)
Cream cheese: any brand will work, use low-fat cream cheese as a healthy option.
Cheese: Use sharp cheddar for a stronger flavor. Sub with 2% fat shredded cheese as a healthy option.
How To Make This Dish Healthier
There are several ingredient modifications that can be made to make this jalapeno popper casserole healthier. Pair this dish with some fruit and veggies on the side to make it even healthier! Here are some healthy substitution ideas:
Cream Cheese: use a low fat version of cream cheese to save on calories and fat. Look for "⅓ less fat" or "low fat" on the label. I do not recommend using fat free cream cheese, because the texture is more gritty and does not hold up as well. Also, the flavor is not as good.
Turkey Bacon: Substitute the regular bacon with turkey bacon- it is slightly lower in fat and calories than regular bacon. If you're concerned about sodium intake, use less turkey bacon than called for.
Chicken Breast: boneless, skinless chicken breast is a low fat and healthy protein source and is already used in the recipe.
Cheese: use cheese that is low fat or made with 2% milk fat.
Serving Size: in addition to making the recommended ingredient substitutions, limit the serving size to 1 serving (about ⅛th of the casserole) to keep calories and fat down.
Nutritional Analysis of Chicken Jalapeno Popper Casserole
The nutritional facts for jalapeno popper casserole are based on a serving size that is a piece ⅛th of the casserole.
Regular Version: Jalapeno popper casserole that is made with ingredients that are not low calorie / low fat consists of 375 calories, 30 grams of fat and 4 grams of carb. This version of jalapeno popper casserole is considered keto, because it is high in fat and low in carbs.
Modified Healthy Version: If all the healthy substitutions that are listed above are made, the casserole contains 300 calories and 20 grams of fat per serving.
Is Jalapeno Popper Casserole Spicy?
This dish can be made as mild or as spicy as you like!
To make the dish mild: remove all seeds from the jalapenos when chopping them.
To make the dish spicier: Leave in some of the jalapeno seeds. While it is definitely not advised to leave all seeds in, leave in about 4-5 seeds per jalapeno. When I made this dish, I left a few seeds in each pepper and the dish had a medium level of spice.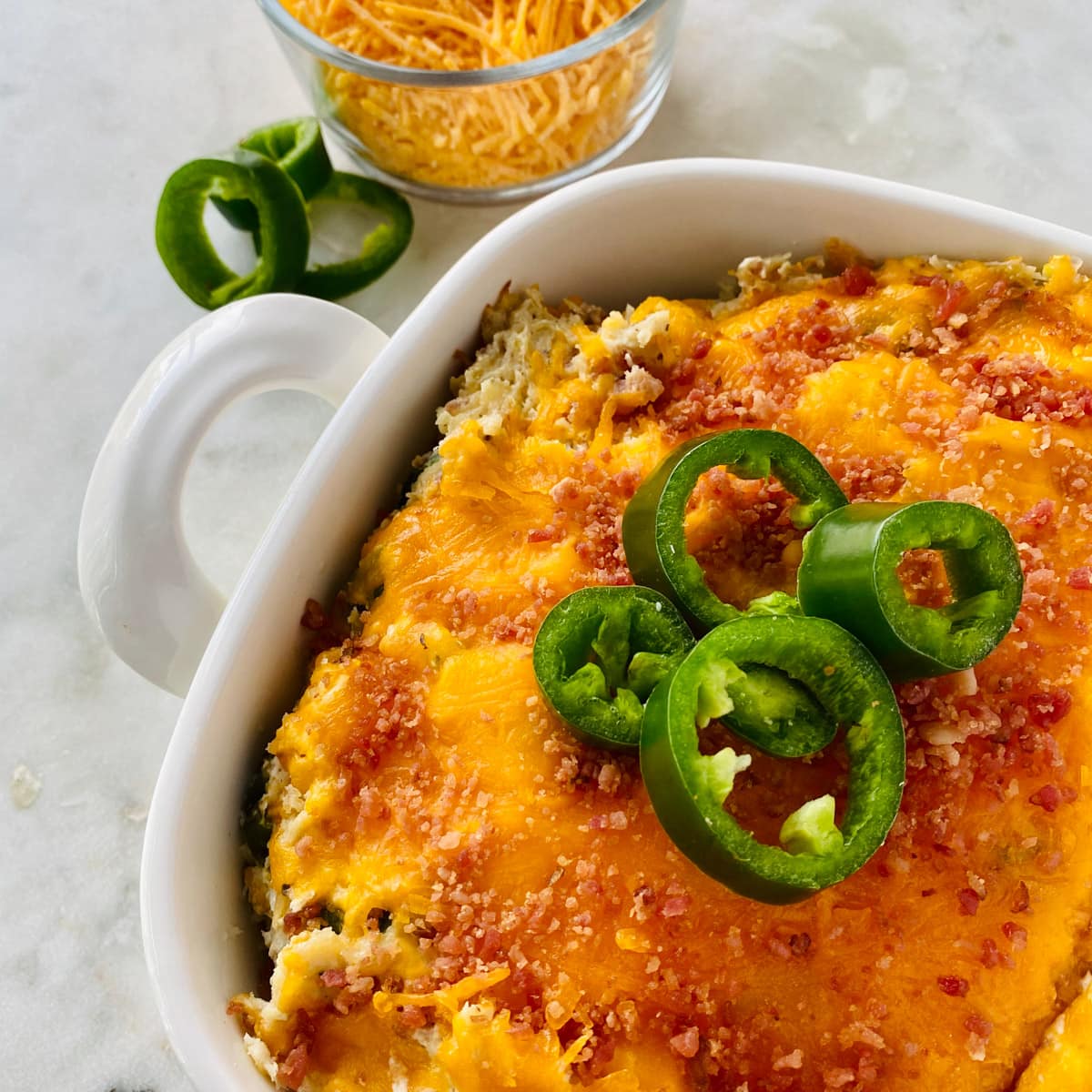 How To Serve Jalapeno Popper Chicken Casserole
Jalapeno Popper Casserole can be eaten anyway you desire! While this was created so that it was substantial enough to be eaten alone as the main dish, it can also be eaten as a dip. The dish also pairs great with almost anything. Here some suggestions:
Serve jalapeno popper casserole as the main entree, pair with a side salad and some fruit
Make it a wrap: take a tortilla and spread about ½ cup of casserole evenly in the tortilla. Roll up and serve hot or cold.
Serve as a jalapeno popper dip - use carrot sticks, celery sticks, crackers or chips. Serve along side some other dips, such as this healthy spinach artichoke dip or healthy buffalo chicken dip.
Make it a sandwich: place the casserole between 2 slices of bread or crackers. Serve warm or cold.
Serve with a side of one of these gluten free veggie recipes or keep it spicy and serve with a side of air fryer cauliflower bites.
If you are looking for more casseroles, be sure to check out this list of casseroles made with ground turkey!
What To Make With Leftover Jalapenos Peppers
The inspiration from this dish came because I was trying to figure out what to do with fresh jalapenos that I purchased from the store on a whim. Since most people don't just eat Jalapeno peppers plain, they go best in a casserole or some type of dish that neutralizes the spice factor.
Here's a few dishes that you can make with fresh jalapenos or use your leftover jalapenos in:
Jalapeno Popper Chicken Casserole
Grilled Jalapeno Poppers
Dice the Jalapenos and add to chili
Add chopped jalapenos to taco meat for an extra kick
Add them to your favorite homemade salsa recipe!
If you're feeling really crazy, challenge your kids to a jalapeno eating contest (just kidding!)
More Dinner Recipes
Jalapeno Popper Chicken Casserole
Jalapeno chicken casserole has cream cheese, chicken, jalapenos and bacon layered into a casserole dish to make a quick and easy dinner option!
Ingredients
16

oz

shredded chicken breast, cooked

12

pieces

bacon, cooked & chopped

1

teaspoon

garlic powder

½

teaspoon

onion powder

6

medium

fresh jalapeno peppers, chopped

(remove all or most seeds)

salt and pepper (optional)

16

oz

cream cheese, softened

(optional: use low-fat cream cheese)

1

cup

shredded sharp cheddar cheese

(optional: use sharp cheddar cheese with 2% milk fat)
Instructions
Preheat oven to 350 F. Grease a 2.5 quart baking dish.

Combine the cooked & shredded chicken, chopped bacon, garlic powder, salt and pepper in a medium mixing bowl. Mix until combined

Chop jalapenos into ¼ inch pieces (see notes section regarding the seeds). Add to the chicken mixture and mix well.

Add softened cream cheese. Mix well.

Spread evenly into prepared baking dish.

Remove from oven, top with shredded cheese.

Bake for an additional 10 minutes. Serve warm.
Notes
To make this casserole less spicy: remove the seeds from all jalapenos.
To make this spicier: leave about 4-5 seeds in each jalapeno. 
Calories if healthy modifications are made: 300 calories/serving
Nutrition
Calories:
458
kcal
|
Carbohydrates:
4
g
|
Protein:
23
g
|
Fat:
39
g
|
Saturated Fat:
19
g
|
Polyunsaturated Fat:
3
g
|
Monounsaturated Fat:
12
g
|
Trans Fat:
1
g
|
Cholesterol:
135
mg
|
Sodium:
555
mg
|
Potassium:
399
mg
|
Fiber:
1
g
|
Sugar:
2
g
|
Vitamin A:
1045
IU
|
Vitamin C:
13
mg
|
Calcium:
164
mg
|
Iron:
1
mg
More Delicious Recipes