If you're looking for ground turkey casserole recipes, you've come to the right place! These delicious casseroles use ground turkey as the main protein source. You will find recipes for Mexican-flavored casseroles, tater-tot casseroles, and more!
These are the best casserole recipes made with ground turkey! Whether you need a casserole for a weeknight dinner, a gift to a friend, or for a potluck, you will love these! Check them out and let me know your favorites!
All of these casserole recipes pair well with any of my side dishes. The casseroles go great with my instant pot asparagus or scalloped potatoes!
Jump to:
Why Use Ground Turkey in Casseroles?
There are many reasons to use ground turkey in casseroles. When ground turkey is combined with other ingredients, it takes on the flavor of the other items.
Ground turkey is rich in protein. One serving (3 ounces) contains 23 grams of protein!
Ground turkey contains Vitamin B6 and potassium. One 4 oz serving contains 25% vitamin B6 and 241 mg of potassium.
It is low in carbohydrates. There are no carbs in ground turkey.
Try Mexican Stuffed Shells for a delicious twist to the Italian classic! This is an easy meal that the whole family will love!
This spaghetti squash pesto turkey casserole is a spin on the viral baked feta dish. So simple and delicious!
This Mexican Quinoa Casserole Recipe is an easy and delicious one-pan dinner perfect for busy weeknights! Filled with ground turkey, bell peppers, and pantry staples like canned black beans, corn, and tomatoes, the whole family will love this cheesy quinoa casserole.
This healthy casserole contains ground turkey meat, whole wheat pasta, kale, and a light sprinkling of bubbly melty cheese. An easy restaurant-quality dinner made with kitchen staples!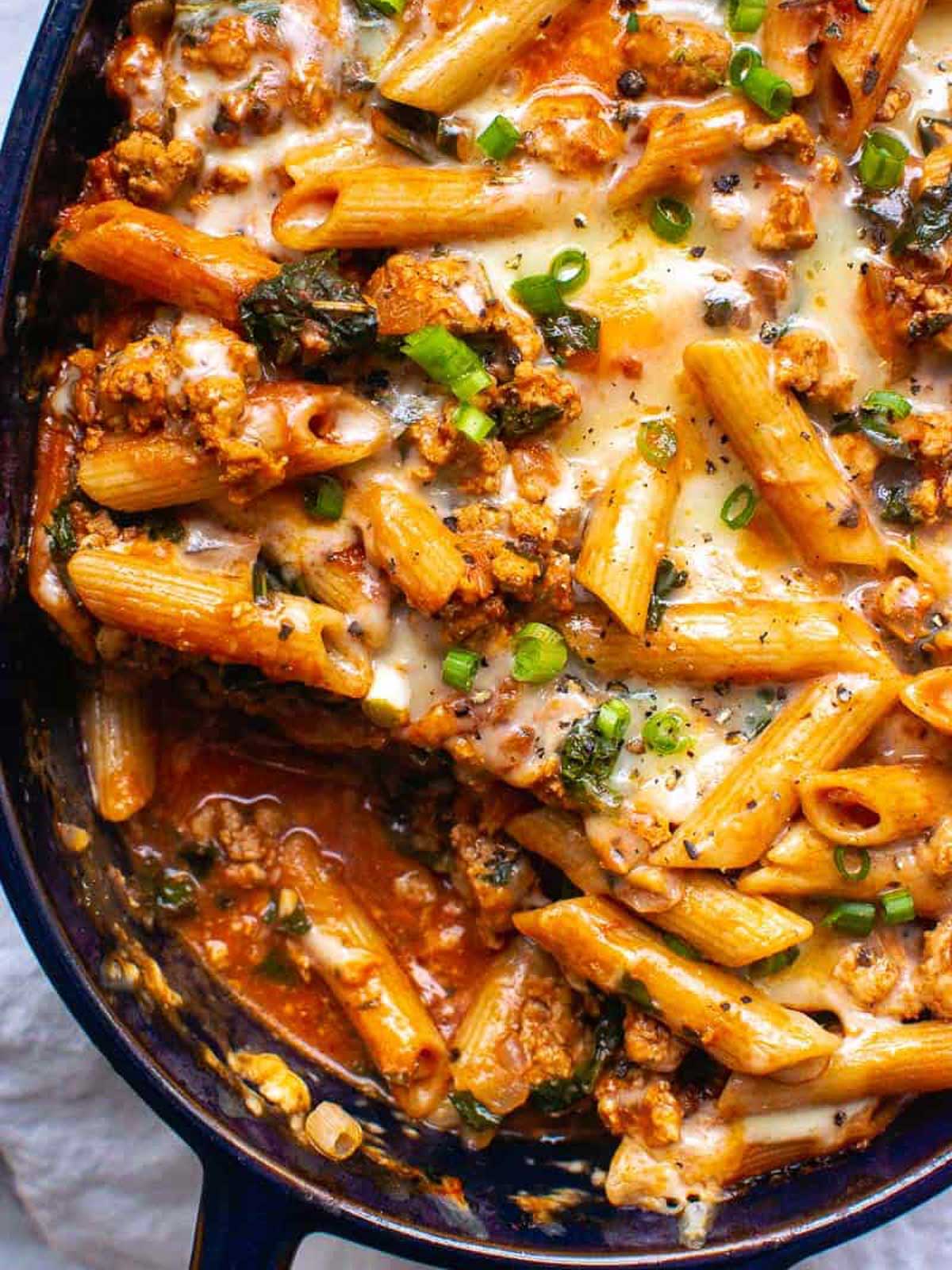 This Ground Turkey Quinoa Casserole is a budget-friendly crowd-pleaser. Perfect for using up leftover quinoa, freezing, or making ahead.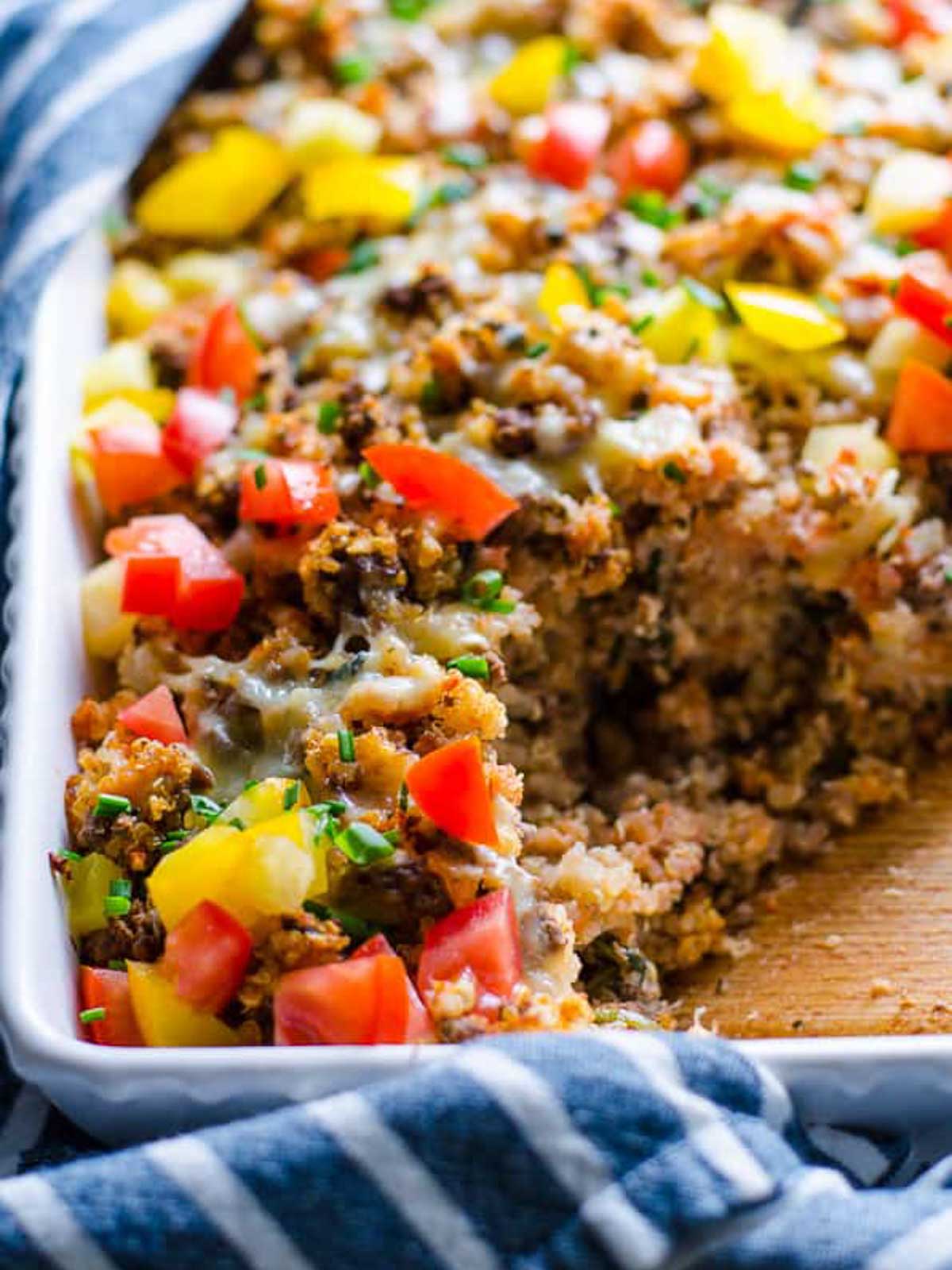 This Tater Tot Turkey Casserole is a family favorite. It is loaded with tater tots, ground turkey, and veggies in one dish or skillet for an easy weeknight dinner recipe.
Just five ingredients and about 45 minutes until you have a delicious taco casserole on the dinner table! Only five minutes of hands-on time as well!
These Healthy Turkey Enchiladas are full of veggies, baked in red enchilada sauce, and topped with cheese for the perfect family meal. They are easy to make, full of flavor, and a recipe everyone will enjoy.
This Turkey Stuffed Shells Casserole recipe is a hearty pasta dish perfect to serve with a lovely green salad and a loaf of crusty bread. It's a family favorite and an excellent option for a potluck dinner.
These Frying Pan Turkey Tacos are delicious and nutritious! Prep and cook this healthy dish in under 20 minutes!
This turkey chili is flavorful and nutritious! A family-friendly dinner that's ready to eat in less than 1 hour
Try this easy and delicious ground turkey casserole recipe, with a buttery biscuit crust and savory BBQ flavor. The family will ask for this biscuit casserole again and again!
Layers of alfredo sauce, tender ground turkey, spinach, and cheese make the perfect white lasagna.
This delicious casserole has Doritos, ranch seasoning, corn, jalapenos, and more! An easy casserole that's sure to be a family favorite!
Is there anything more comforting than Turkey Shepherd's Pie? This has been made healthy by using ground turkey and veggies.
This Ground Turkey Casserole is comforting, filling, and super delicious. A great weeknight dinner that is really easy to throw together!
This delicious casserole is the perfect weeknight meal. It's loaded with pasta, cheese, spinach, tomatoes, and more!
This cheesy Mexican potato casserole is the ultimate comfort food while bringing a twist to your favorite Taco Tuesday menu! Swap out the ground beef for ground turkey!
All of your favorite taco flavors in a low-fat casserole! This dish has spaghetti, ground turkey, cheese, and more!
This ground turkey sweet potato casserole is healthy, delicious, and easy to make! This a fun twist on your normal sweet potato dish that the whole family will love!
This delicious ground turkey enchilada casserole makes a perfect, filling dinner meal for a family. It's tasty with a bit of Mexican flair!
Final Tips on Ground Turkey Casseroles
Ground turkey is a versatile meat that can be used in almost any dish. It takes on the flavor of most items it is paired with. Any casserole that is made with ground beef can be substituted with ground turkey.
Expert tip: Make a large batch of ground turkey. Freeze it in a freezer-safe zip lock bag in one-pound batches. Freeze several pounds at once so that you always have extra on hand.
Cooked ground turkey defrosts very quickly. This makes it easy to pull out of the freezer, thaw, and add to your next casserole!
If you're looking for more healthy and easy dinner recipes, check out all of my dinner recipes!
More Main Entrees