Rotel Chicken Casserole is a creamy, cheesy, and slightly spicy dish that's easy to make. This easy casserole requires only 6 ingredients and can be made in under 45 minutes!
This dish is a popular entree in my family! It's a recipe that requires minimal ingredients and effort, yet still tastes great! The Rotel chicken casserole has layers of chips, chicken, Rotel, chili's, and cheese.
If you enjoy casseroles, check out this mouth-watering Jalapeno popper casserole or this super easy tex mex casserole!
Jump to:
Reasons to Love This
This is perfect for weeknight dinners or as an easy dish to bring to pot lucks!
The casserole is extra cheesy, thanks to the cream of cheese-soup.
This rotel casserole is very versatile and many modifications can be made to your desire. You can add extra green chilli's or salsa to make it spicier, or add extra shredded cheese if preferred.
Ingredients Needed For Rotel Chicken
Shredded Chicken: Chicken should be cooked and finely shredded into small pieces.
Rotel Tomatoes: Use any brand of diced tomatoes with green chili's
Green Chili's: Any brand will work! Adds spice to the dish.
Cream of Cheese soup: Adds cheesiness and creaminess. Look for a low sodium version as a healthier option, or sub with cream of chicken soup if desired.
Step By Step Instructions
Mix the shredded, cooked chicken, Rotel, green chili's and cream of cheese soup in a medium mixing bowl. Once mixed, microwave for 90 seconds. This will make the mixture easier to spread.
Start the layering process. Grease a 3 qt casserole dish and layer 2.5 cups of crushed chips on the bottom.
Top with ½ of the chicken mixture. Then, layer with ½ of the shredded cheese.
Add another 2.5 cups of crushed chips, then add the remaining rotel mixture.
Top with any remaining chips (it will not be a full layer).
Bake in the oven, however, wait to add cheese until the last 5 minutes to prevent the burning of the cheese. Enjoy!!
Types of Chicken That Can Be Used
The Rotel chicken casserole recipe works best with shredded chicken breast. This is because the shredded chicken easily absorbs the flavors and liquid of the ingredients it is mixed with. It is also possible to use cubed chicken if desired.
More Ways to prepare the cooked chicken:
Cubed Chicken: Dice chicken breast into small cubes, about ½ inch wide pieces. Add the chicken to a frying pan with a teaspoon of olive oil. Cook over medium heat for about 20 minutes, or until chicken is cooked.
Crock Pot Chicken: Cook chicken breasts and a cup of water in the crock pot for about 4 hours on high. Remove from crock pot, discard fat and shred.
Instant Pot Chicken: Place in instant pot with 1 cup of water. Cook for 10 minutes and then allow natural steam release for 12 minutes. Shred warm chicken immediately.
Rotisserie Chicken: Remove the skin and bones from a rotisserie chicken. Shred the meat using two forks.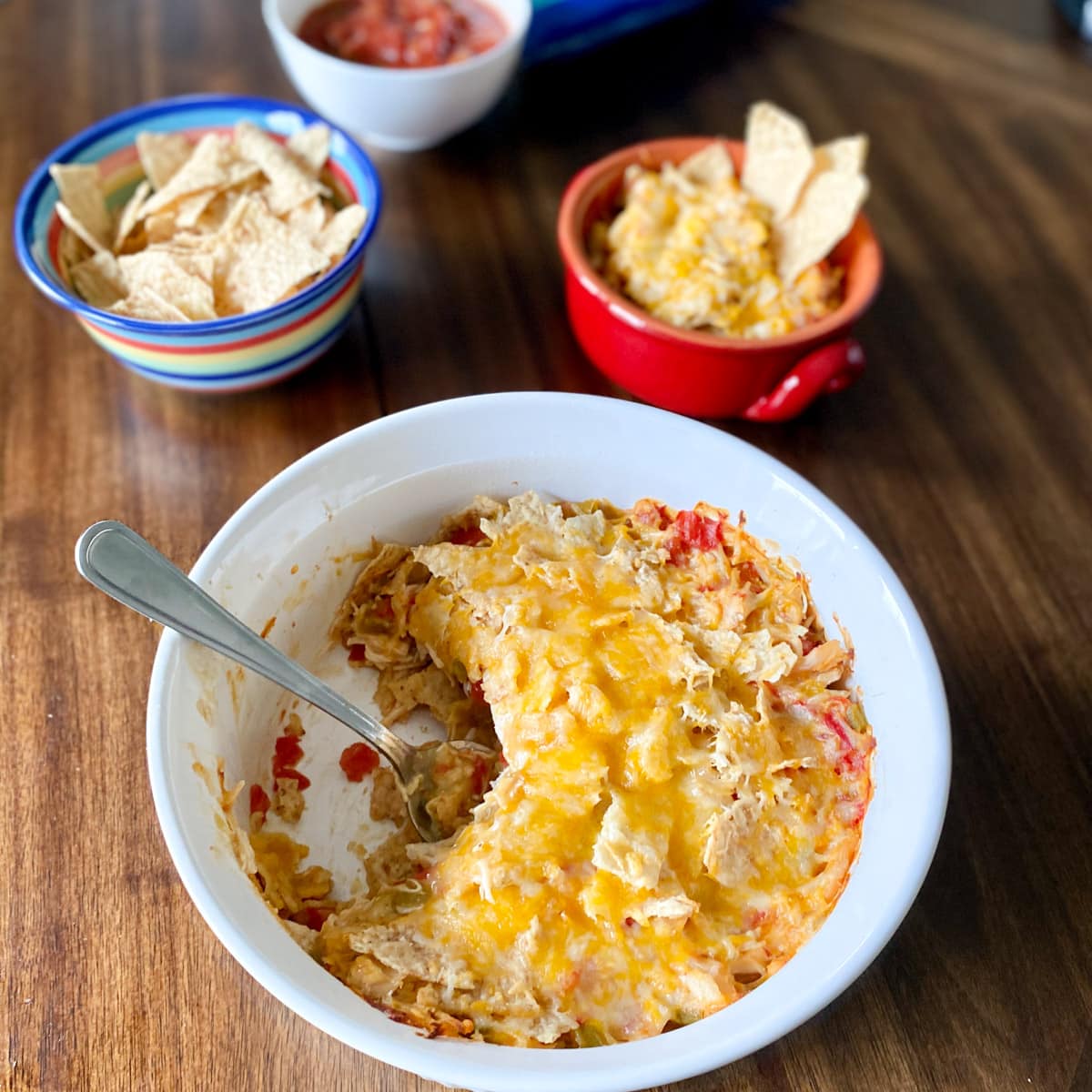 Variations and Substitutions
Make it healthier: decrease the fat and calories by leaving out half the cheese, using only half the chips or by serving over a salad.
Increase the Spice level: This casserole does not have much spice to it, and it is perfect for someone who prefers the mild option. To make it spicier, an extra can of green chili's, top it with some salsa or add some hot sauce to the rotel chicken.
Add some veggies! Chop veggies into quarter inch pieces and add them into the chicken and rotel mixture. Any type of veggie will work -- carrots, bell peppers, zucchini, squash, tomatoes.
Swap out the meat: sub the chicken with ground turkey, ground beef or sausage.
Serving Suggestions
Here are some creative ways to eat this Rotel chicken casserole. I usually like to eat it as my main entree the first night, and then switch it up when I eat leftovers so that I don't get tired of it.
Serve the Rotel chicken with rice and a side of veggies
Eat it as a dip - use chips, veggies or crackers to dip into it
Make it into a salad- top it on a bed of lettuce or spinach
Serve the Rotel chicken with spaghetti
Make it into a wrap- add the Rotel chicken in a tortilla and roll up
Recommended Toppings
The flavor and texture of this can be easily altered based on the toppings. Looking for some extra crunch? Add chips to the top. Want more spice? Top it with salsa or hot sauce.
Here is a full list of casserole topping ideas:
Salsa (mild or medium based on spice preference)
Hot Sauce
Jalapenos
Hot Sauce
Sour Cream
Extra Cheese
Frequently Asked Questions
Can I use Raw Chicken?
The recipe and cooking times were made based on using cooked chicken breast. If using raw chicken, cut the chicken into small cubes and prepare as normal. It is likely that the cooking time will increase if using raw chicken. Test the chicken with a meat thermometer and verify that it hits 165F before removing from the oven.
Is this Gluten Free?
This is gluten-free if you use cream of cheese soup and tortilla chips that are gluten-free. Always check the labels!
Can I Prep This Ahead of Time?
Yes! Prepare the casserole and cover tightly with foil. Store in the refrigerator for up to 2 days or in the freezer for up to 2 months!
More Delicious Dinner Ideas
Rotel Chicken Casserole
The rotel chicken casserole is the perfect comfort meal to satisfy all! It's easy to make and only requires 6 ingredients!
Ingredients
3

cups

cooked, shredded chicken

1

10 oz can

Rotel tomatoes

1

10.5 oz can

cream of cheese soup

1

4 oz can

green chili's

6

cups

crushed tortilla chips

divided

1.5

cups

shredded Mexican style cheese

divided
Instructions
Preheat oven to 350F. Spray a 3 qt casserole dish with pan spray and set aside.

In a medium mixing bowl, combine the cooked shredded chicken, Rotel tomatoes, green chilis and cream of cheese soup. Mix well until combined.

Heat the chicken and rotel mixture in the microwave for 90 seconds. Mix well once removed.

Begin assembling the casserole. Place 2.5 cups of crushed chips evenly in the bottom of the prepared casserole dish.

Layer ½ of the chicken and rotel mixture over the top of the chips.

Add ½ of the cheese on top of the rotel mixture.

Add a second layer of chips by evenly spreading 2.5 cups of crushed chips to the top layer.

Add remaining rotel/chicken mixture. Top with remaining crushed chips.

Bake in oven for 25 minutes. Remove, sprinkle with remaining cheese and cook for another 5 minutes or until cheese if bubbly. Enjoy!!
Nutrition
Calories:
554
kcal
|
Carbohydrates:
59
g
|
Protein:
24
g
|
Fat:
25
g
|
Saturated Fat:
6
g
|
Polyunsaturated Fat:
10
g
|
Monounsaturated Fat:
7
g
|
Trans Fat:
0.1
g
|
Cholesterol:
52
mg
|
Sodium:
487
mg
|
Potassium:
297
mg
|
Fiber:
5
g
|
Sugar:
1
g