Homemade dill aioli is a quick and easy recipe! It can be served as a spread on meat, burgers, and sandwiches, or it makes a great dip or salad dressing. The dill puts a twist on your normal aioli sauce by adding an extra fresh, herb flavor.
Aioli is a classic Mediterranean sauce made with garlic, olive oil, and egg yolks. It's often used as a dip for vegetables or a spread for sandwiches. Adding dill takes this sauce to the next level and gives it a fresh herb flavor.
This dill aioli recipe is made without egg yolks, so you don't have to worry about consuming raw eggs! Instead, the recipe uses mayo as a creamy base.
Dill aioli is versatile and can be served with many types of entrees. It pairs perfectly with these chicken kabobs! It would also be delicious on these turkey burgers!
Many people prefer to serve the sauce on fish, such as with cod, crab cakes or fish sticks. It would be perfect for this air fryer frozen salmon and it also goes well with many Mediteranean dishes!
Jump to:
Reasons to Love This
It's easy to make. This sauce requires only a few simple ingredients. No cooking is involved!
This recipe is versatile! It can be used in many different ways, including as a dip, spread, topping, or sauce for various dishes.
Dill aioli can add a unique and delicious flavor to dishes that may otherwise be bland.
Ingredients
Garlic: Use fresh garlic cloves for the best flavor. You can also use roasted garlic for a milder, sweeter flavor.
Dill: Use fresh dill for the best flavor. Dill is sold in a small container in the produce section of the store.
Mayo: use a good quality mayo. I prefer the product that is made with olive oil, because it's a little bit healthier!
Lemon juice: adds a little bit of zesty flavor!
Full ingredients at bottom of recipe card.
Substitutions and Variations
Lemon juice: You can substitute the lemon juice with another acidic option such as lime juice, white wine vinegar or apple cider vinegar.
Dill: Sub the dill with other fresh herbs, such as parsley, basil, or cilantro.
Mustard: Add a teaspoon of Dijon mustard to the aioli for extra flavor and creaminess.
Instructions
Chop the dill into small pieces. Add all ingredients to a medium mixing bowl.
Mix well until combined. Serve chilled. Use as a topping to burgers and sandwiches, or serve as a dip for crackers or veggies.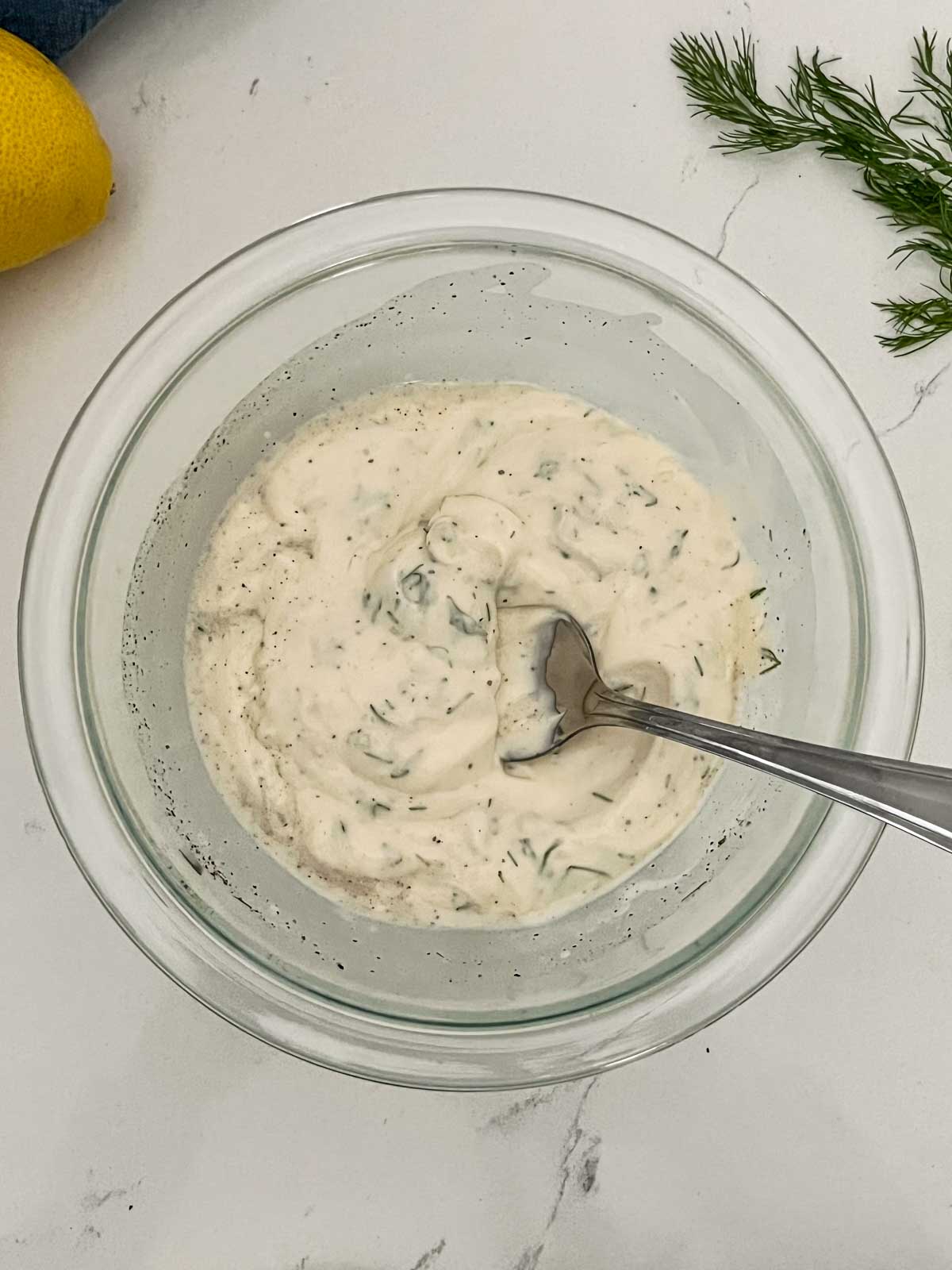 Expert Tips
Use a food processor or immersion blender for a smoother and creamier texture.
Season the aioli with salt and pepper to taste, but don't add too much salt as the flavor of the garlic and dill can be overpowering.
Serving Suggestions
Dill aioli can be served in many ways! Here are some suggestions:
Serve dill aioli as a dip for vegetables, such as carrot sticks, celery, cucumber, or cherry tomatoes.
Use dill aioli as a spread on sandwiches, burgers or on meats such as grilled chicken, turkey, or roasted vegetables.
Dill aioli pairs well with salmon, cod, and other white fish.
Use dill aioli as a sauce for grilled meats, such as lamb chops or beef skewers.
Salad dressing: Thin out the dill aioli with a little water or lemon juice and use it as a salad dressing. It would go great with this hawaiian salad!
The possibilities are endless with dill aioli. Get creative and try it with your favorite dishes!
Storage and Leftovers
Store this sauce in the refrigerator in an air tight container for up to 5 days. Since it contains fresh herbs, it will go bad more quickly than your normal aioli sauce.
Be sure to refrigerate the aioli immediately after using. Leaving it out at room temperature longer than 2 hours causes risk for foodborne illness.
Frequently Asked Questions
Can I make dill aioli ahead of time?
Yes, this can be made ahead of time! Store it in the refrigerator for up to 3 days and mix well before serving.
Can I freeze this recipe?
No, it's not recommended to freeze this recipe as it can separate and lose its creamy texture.
What's the difference between mayonnaise and aioli?
Mayonnaise is a milder, neutral-flavored sauce typically made with vegetable oil, while aioli has a bolder taste due to the inclusion of garlic and is often made with olive oil, giving it a distinct Mediterranean flair.
Can I use dried dill?
Fresh dill is preferred for best flavor, however you can use dried dill. Use 1 teaspoon of dried dill, as it is stronger than fresh dill.
Is Aioli healthier than mayo?
Aioli made with olive oil can be considered slightly healthier than regular mayonnaise due to olive oil's beneficial monounsaturated fats, though both condiments are calorie-dense and should be consumed in moderation. The healthiness of either option depends on the specific ingredients used and portion sizes consumed.
Related Recipes
Video Tutorial
Dill Aioli
Dill aioli is a creamy and flavorful sauce made with a base of garlic, mayo, and olive oil. It's the perfect dip, spread or dressing!
Ingredients
1

cup

mayonaise

1

tablespoon

dill

chopped

2

teaspoon

lemon juice

2

teaspoon

garlic

minced

¼

teaspoon

black pepper

¼

teaspoon

sea salt
Instructions
Combine the mayonaise, lemon juice, dill, garlic, black pepper and sea salt in a bowl.

Mix in a bowl until all ingredients are combined.
Notes
Fresh dill is recommended, however you can sub with dried dill. Use 1 teaspoon dried dill. 
Serving Suggestions: 
Serve as a spread on burgers or sandwiches
Pair with salmon, white fish, cod, crab cakes or fish sticks
Serve as a dip for veggies
Pair with pita bread and olives
Serve with any type of meat
Nutrition
Calories:
154
kcal
|
Carbohydrates:
0.4
g
|
Protein:
0.3
g
|
Fat:
17
g
|
Saturated Fat:
3
g
|
Polyunsaturated Fat:
10
g
|
Monounsaturated Fat:
4
g
|
Trans Fat:
0.04
g
|
Cholesterol:
9
mg
|
Sodium:
201
mg
|
Potassium:
9
mg
|
Fiber:
0.03
g
|
Sugar:
0.2
g
|
Vitamin A:
18
IU
|
Vitamin C:
1
mg
|
Calcium:
3
mg
|
Iron:
0.1
mg