This avocado pesto is creamy, savory and packed with flavor. If you have extra basil that needs to be used up, or just want a fresh dip or summer food, this avocado pesto is the perfect recipe!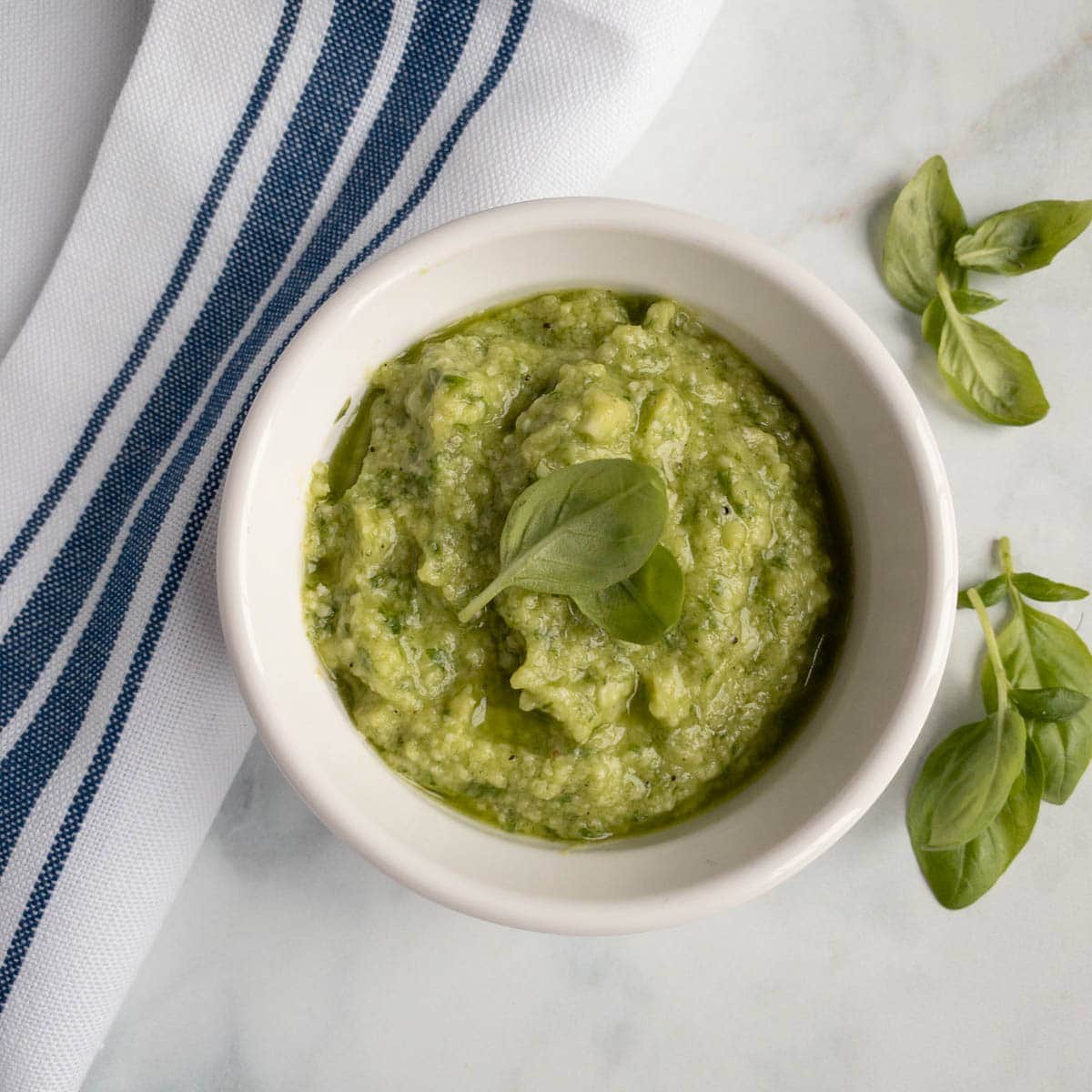 Homemade fresh pesto is one of my favorite foods to make in the spring and summer months. As a registered dietitian, I'm always looking for ways to boost my diet and eat as many nutrients and healthy foods as possible. One of the reasons I love this pesto is because it's an easy way to add in some healthy fats. The olive oil and avocado both contain monounsaturated and polyunsaturated fats.
This healthy avocado pesto is a great addition to meats and sandwiches. I love to spread the avocado pesto on a piece of baked chicken breast and serve with a side of veggies. The pesto can also be added to a sandwich in place of cheese.
Ingredients
Avocado: choose a medium sized avocado. Choose an avocado that is ripe (soft and brown). The avocado should not be overly mushy or have white mold spots on it.
Basil: Use fresh basil leaves that are green in color and do not have any wilting. This provides the flavor.
Olive Oil: Use extra virgin olive oil. I recommend using olive oil and not substituting any other type of oil, as this will change the flavor.
Parmesan cheese: Use the canned, grated parmesan cheese. Substitute with nutritional yeast to make this recipe dairy free.
Lemon juice: Helps the avocado maintain the green color for a longer period of time. Fresh or bottled lemon juice will work.
Garlic cloves: Use 2 medium cloves of garlic. Chop slightly before adding to the food processor. I strongly recommend using fresh garlic over garlic powder. A shortcut is you can purchase chopped garlic in water at the store and it will last a long time in the refrigerator.
Pepper & Salt: Adjust to taste.
Substitutions and Variations
Dairy free: This pesto can be made dairy free by substituting the parmesan cheese with nutritional yeast. Nutritional yeast is commonly used in recipes as a cheese substitute because it has a savory flavor.
Nut free: The pesto is also nut free, unlike many pesto recipes that call for pine nuts. Always double check your ingredient labels to verify they do not contain allergens of concern.
Garlic: use pre-minced garlic in place of chopping garlic cloves as a short cut.
Step by Step Instructions
Step 1: Measure the basil by placing the basil leaves loosely in a measuring cup. The basil should not be firmly compacted into the measuring cup. Make sure to measure whole leaves; don't chop the basil and then measure it.
Step 2: Give the garlic cloves a quick chop before adding to the food processor.

Step 3: Place all ingredients into the food processor and blend them until smooth. It usually takes me about 30 seconds to 1 minute of blending before the mixture is smooth.
To get the pesto smooth, you may have to stop the food processor, scrape down the sides and then start again to achieve a smooth mixture.
Serving Suggestions
Wondering how to eat this avocado pesto? The good news is that the serving suggestions are endless. Here's a few ideas:
Serve it as a dip: use chips, crackers or vegetables to dip into the pesto.
Cook some pasta and mix the pesto into the warm pasta.
Add the avocado pesto to your sandwiches. A great combination is bread, turkey, avocado pesto, sliced tomato and cheese.
Warm the pesto for about 15 seconds in the microwave and serve over cooked vegetables, such as zucchini, yellow squash or mushrooms.
Serve on top of chicken breast with a slice of mozzarella cheese.
Make a pesto pizza. Spread the avocado pesto evenly on a pre-baked pizza crust. Top with mozzarella cheese and pine nuts. Bake in the oven at 350F for 10 minutes.
Make pesto biscuits. Place refrigerated biscuit dough on a cookie sheet. Press the biscuits down until flat and then top with a tablespoon of pesto and a tablespoon of mozzarella cheese. Cook as instructed on the outside of the biscuit can.
Leftovers
Store the pesto in the refrigerator in an air tight container for up to 2 days. Stir before serving, as some of the olive oil tends to separate from the rest of the pesto when it sits for a while.
Avocado pesto will start to turn a light brown color after it sits out for a while. This is because it contains avocados, which turn brown when exposed to air.
The pesto is still safe to eat; it will just not be the same color as when it is first prepared. If you are making this for a party, I would recommend preparing the pesto right before it is ready to eat.
Nutrition Information
A serving size is about 1 tablespoon of pesto. Each serving contains:
108 calories per serving
10 grams of fat
2 grams of carb
2 grams of protein
The avocado pesto is an excellent source of healthy fat. Both the olive oil and avocado contain a type of fat called monounsaturated fat and polyunsaturated fat. These types of fat are known to have many benefits in heart health.
To make this a balanced meal, serve it with a complex carb and protein. An example would be a piece of chicken (protein) and some whole grain noodles (complex carb). This would provide a good balance of carb, protein and fat.
Tips & Tricks
The pesto is best when served fresh. If possible, prepare it right before serving.
Use fresh basil only; dried basil will not work the same.
For best flavor, I recommend using fresh garlic cloves (not powder!).
Choose an avocado that is ripe; the avocado should be slightly soft and have a brown skin.
Looking For Some Dip Recipes?
Avocado Pesto
This avocado pesto is creamy, savory and packed with flavor. This pesto is the perfect dip, pasta topping or addition to your sandwich or piece of baked meat.
Ingredients
1

medium

avocado

ripe

1

teaspoon

lemon juice

2

tablespoon

parmesan cheese

grated

2

cloves

garlic

¼

teaspoon

black pepper

⅛

teaspoon

salt

¼

cup

olive oil

extra virgin

¾

cup

fresh basil leaves
Instructions
Remove the skin and pit from the avocado. Set aside.

Chop the garlic into small pieces.

In a large food processor, combine the avocado, lemon juice, parmesan cheese, garlic, black pepper, salt, olive oil and fresh basil leaves.

Blend until combined and no large pieces remain. The pesto should be mostly pureed, but may still have small pieces in it.
Nutrition