These grilled chicken kabobs are a great dinner option! Whether you are grilling or cooking them in the oven, these kabobs will quickly become a family favorite. They are healthy and a great way to sneak in some extra veggies into your meals! Bonus: the veggies actually taste good too!
Grilled chicken kabobs are an easy lunch or dinner option. My husband calls them bbq chicken skewers, but regardless of what you call them, they are delicious!
Chicken breast is soaked in a homemade marinade and then threaded onto skewers with a variety of veggies. They are grilled to perfection and make some of the best kabobs!
I love to serve these with rice, quinoa, or mashed potatoes. They also pair perfectly with this creamy spaghetti squash or this air fryer butternut squash. These are a great way to add some variety to your normal chicken and veggie side dishes. And, if you're looking for more light and fresh recipes, check out this healthy stuffed sunmer squash!
Jump to:
Ingredients
The marinade is the key to making a juicy, flavorful chicken kabob. Don't skip this step! The vegetables can also be marinated in a separate container if desired (just double all the ingredients in the marinade.) Here is the list of ingredients used for the chicken kabob marinade:
Olive Oil: helps transfer fat soluble flavors into the meat. Tenderizes and helps prevent the meat from sticking to the grill.
Soy Sauce: The soy sauce adds flavor, and the high salt content helps make the meat more tender. Use Tamari sauce if making this gluten free.
Honey: adds a hint of sweetness to the meat. Use half the about of honey if concerned about sugar content.
Apple Cider Vinegar: the acid in the vinegar helps to tenderize the meat. It breaks down the outer surface and allows flavors to better penetrate into the meat. An optional substitute is white vinegar.
Garlic Powder: adds flavor to the marinade. Optional: use fresh, minced garlic pieces.
Curious about marinades? Here's more info on how to make the perfect marinade!
How Long To Marinade The Chicken
Chicken should rest in the marinade a minimum of 30 minutes. Place the chicken in a zip lock bag, add the marinade, mix around and seal shut. Place in the refrigerator while marinating.
Chicken can sit in the marinade for up to 4 hours. While some leave the chicken in the marinade overnight, it does run the risk of the meat becoming mushy.
Optional: double the marinade ingredients and marinade all of the vegetables for 30 minutes prior to cooking. Place them in a separate container from the chicken to marinade.
Cooking the Kabobs
Fire Up The Grill!
Grilled kabobs are an easy way to cook them that allows for almost no clean up (who here actually loves washing dirty baking sheets or pans..) The key to making a perfectly grilled kabob is to marinade it first, soak the skewers to prevent them from catching fire, and watch the kabobs closely so they don't burn.
How Long to Grill Chicken Kabobs
The grill should be pre-heated to medium-high heat prior to use. (About 375F). The kabobs take about 12 minutes to cook. Flip halfway through to evenly cook the chicken. This cooking time is based on using a propane grill.
Check to make sure the kabobs are fully cooked after 12 minutes. Use a meat thermometer and test the temperature of the chicken. It should be at 165F or higher.
Chicken Kabobs In The Oven
No grill? No problem! Oven-baked chicken kabobs taste great too! Prepare the recipe as listed, including using the marinade and threading the kabobs.
Preheat oven to 400F. Line a cookie sheet with foil. Place the kabobs on the sheet, allowing about ½ inch space between each kabob.
Cook for 25-35 minutes, or until the chicken reads 165F with a meat thermometer.
Kabob Skewers
There are two different types of skewers that can be used: metal or wooden. Wooden skewers can burn easily on a grill, so it's very important to soak them in cold water first.
Wooden Skewers: soak in a pan with cold water for 30 minutes to an hour. I found it easiest to place them in a 9x13 inch baking pan filled with cold water. Soaking the skewers helps prevent them from burning or catching fire when on the grill.
Metal Skewers: An advantage to using metal skewers is that they do not need to be soaked in water prior to cooking, as they are less likely to catch fire. Metal skewers can be used over and over again. They are a great option for those who frequently make kabobs.
Variations
There are many variations of vegetables and meat that can be used for these skewers! I love to mix it up each time!
Types of Vegetables
Any type of vegetable can be used! Be sure to cut them into large size pieces, about 1 inch in diameter. Use as many or as few types of veggies as desired.
The only type of vegetable to use caution with is a potato or sweet potato. This is because potatoes will take a long longer to cook than all other ingredients on the kabob.
Zucchini
Squash
Cherry Tomatoes
Mushrooms
Bell Peppers (red, green, yellow or orange)
Asparagus
Green Beans
Corn on the cob (cob sliced into 1 inch thickness)
Pineapple (not a veggie, but a fun addition!)
Meat Choices
While chicken is commonly used on kabobs, any type of meat can be used. Simply cut the meat in 1.5-inch pieces before threading it onto the skewer.
Steak (flat iron, strip steak, sirloin)
Shrimp
Pork Loin
Pork Butt
Lamb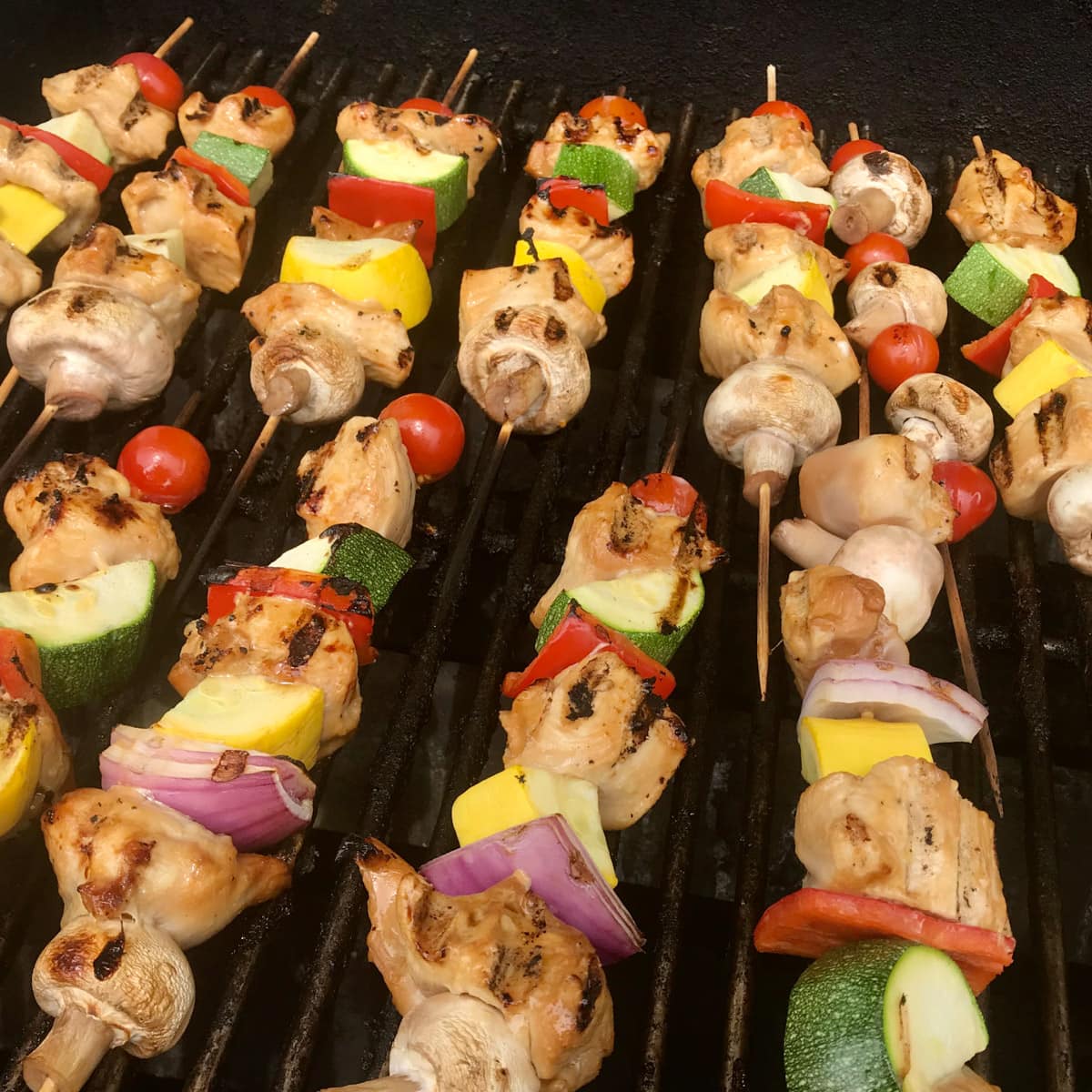 More Tips and Tricks
Thread the ingredients closely on the skewer, but not too close. Leave about a 1 cm gap between items. Packing them really tight means they will take longer to cook.
Make it your own! There is no right or wrong way to make these kabobs. Add extra chicken if desired. Or load up on the veggies and use as many as you want!
More Chicken Recipes
Grilled Chicken Kabobs
Grilled chicken kabobs have pieces of tender, marinated chicken and veggies alternating on a skewer. They are packed with flavor and full of healthy ingredients.
Ingredients
Chicken Marinade
1.5

pounds

chicken breast

skinless and boneless

¼

cup

olive oil

¼

cup

soy sauce

use tamari soy sauce for gluten free versino

¼

cup

honey

1

tablespoon

apple cider vinegar

1

teaspoon

garlic powder
Kabob Ingredients
1

medium

yellow summer squash

1

medium

zucchini

1

red bell pepper

½

purple onion

5

oz

cherry tomatoes

(½ package or 16 cherry tomatoes)

8

oz

fresh mushrooms

(1 package)

16

skewers

wooden or metal
Instructions
Chicken Marindade
Combine the olive oil, soy sauce (or tamari), honey, apple cider vinegar and garlic in a small bowl. Mix until combined.

Cut chicken into small cubes; about 1.5 inches wide.

Place chicken in a zip-lock bag, add marinade. Refrigerate for 30 minutes prior to grilling.
Kabobs
Place 16 kabob skewers in a pan. Cover with cold water and soak for 30 minutes.

Preheat grill to medium-high heat (about 375F).

Cut the squash, zucchini, and onions into even 1 inch pieces.

Begin to thread the kabobs, alternating veggies and chicken. The pictured kabobs were threaded in the following order: cherry tomato, chicken, zucchini, red pepper, chicken, yellow squash, onion, chicken, mushroom.

Place kabobs on the grill. Cook for about 12 minutes, flipping halfway through. Chicken is done when it reaches 165 F using a meat thermometer.

Remove from grill and let rest for 3 minutes before serving.

Optional: Sprinkle garlic powder and salt over the tops of the cooked kabobs to add extra flavor. Enjoy!
Nutrition
Calories:
109
kcal
|
Carbohydrates:
7
g
|
Protein:
10
g
|
Fat:
5
g
|
Saturated Fat:
1
g
|
Polyunsaturated Fat:
1
g
|
Monounsaturated Fat:
3
g
|
Trans Fat:
0.01
g
|
Cholesterol:
27
mg
|
Sodium:
257
mg
|
Potassium:
323
mg
|
Fiber:
1
g
|
Sugar:
6
g