Avocado crema is a creamy, healthy, and easy-to-make food. Often referred to as avocado cream sauce, this recipe is usually paired with Mexican Entrees. It can also be used as a dip, salad dressing, or sauce for pasta.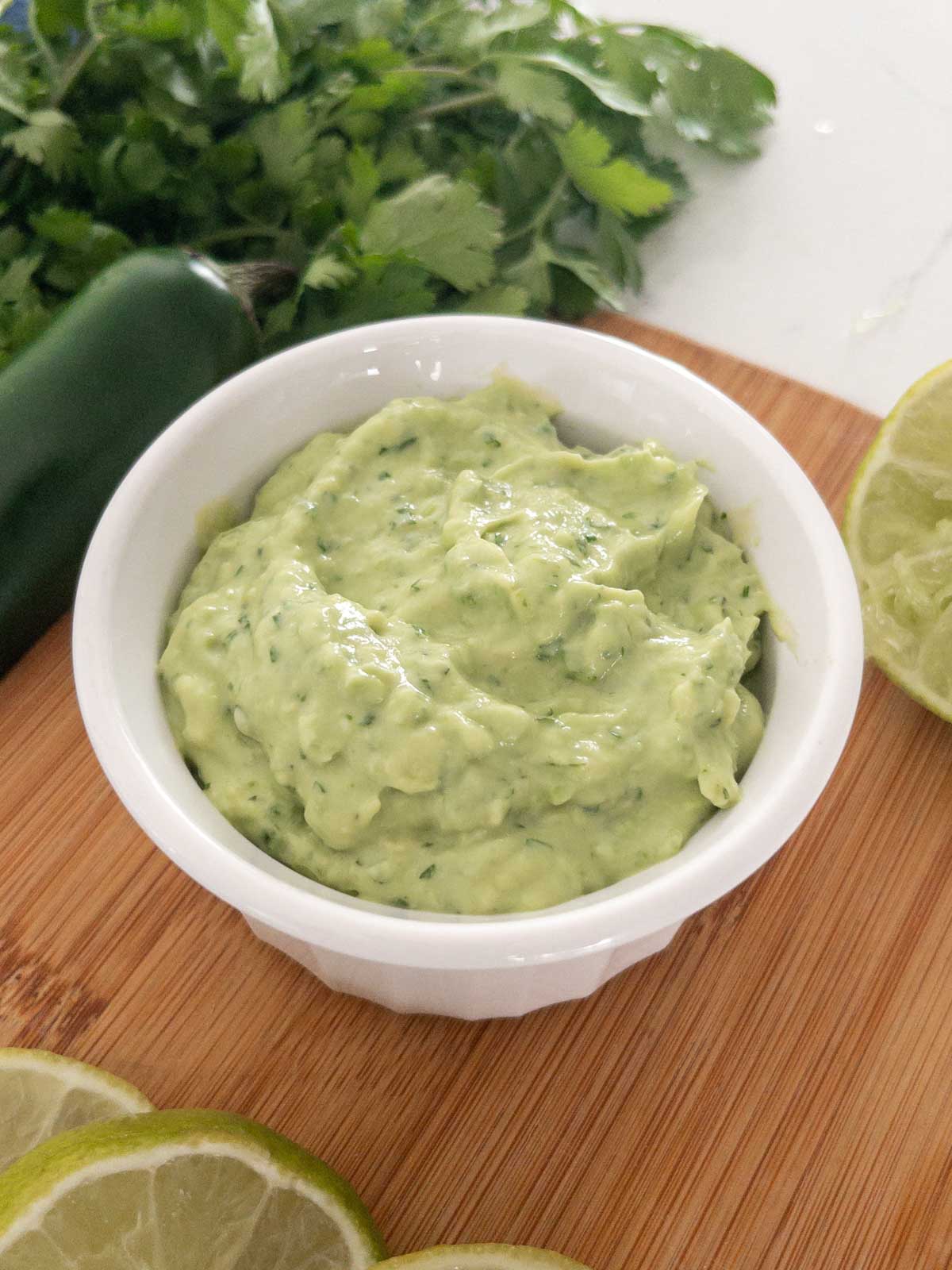 This delicious dip is the perfect balance of creamy and spicy! It can be made in less than 5 minutes!
Looking for more dip recipes? Check out this healthy apple dip, chipotle southwest sauce or this brownie batter hummus!
Jump to:
Reasons This Works
This avocado sauce is so versatile! It pairs well with almost any Mexican entree, or can be added to burgers or deli sandwiches. This sauce can also be used as a dip with crackers or veggies.
Avocado cream sauce can be used as a salad dressing. Add a couple tablespoons of water to thin it down, and pour it over your favorite salad.
This sauce takes less than 5 minutes to make. There is no cooking or baking involved.
Avocado crema is an easy way to use up leftover avocados or to use up avocados that are ripe and about to go bad!
Ingredients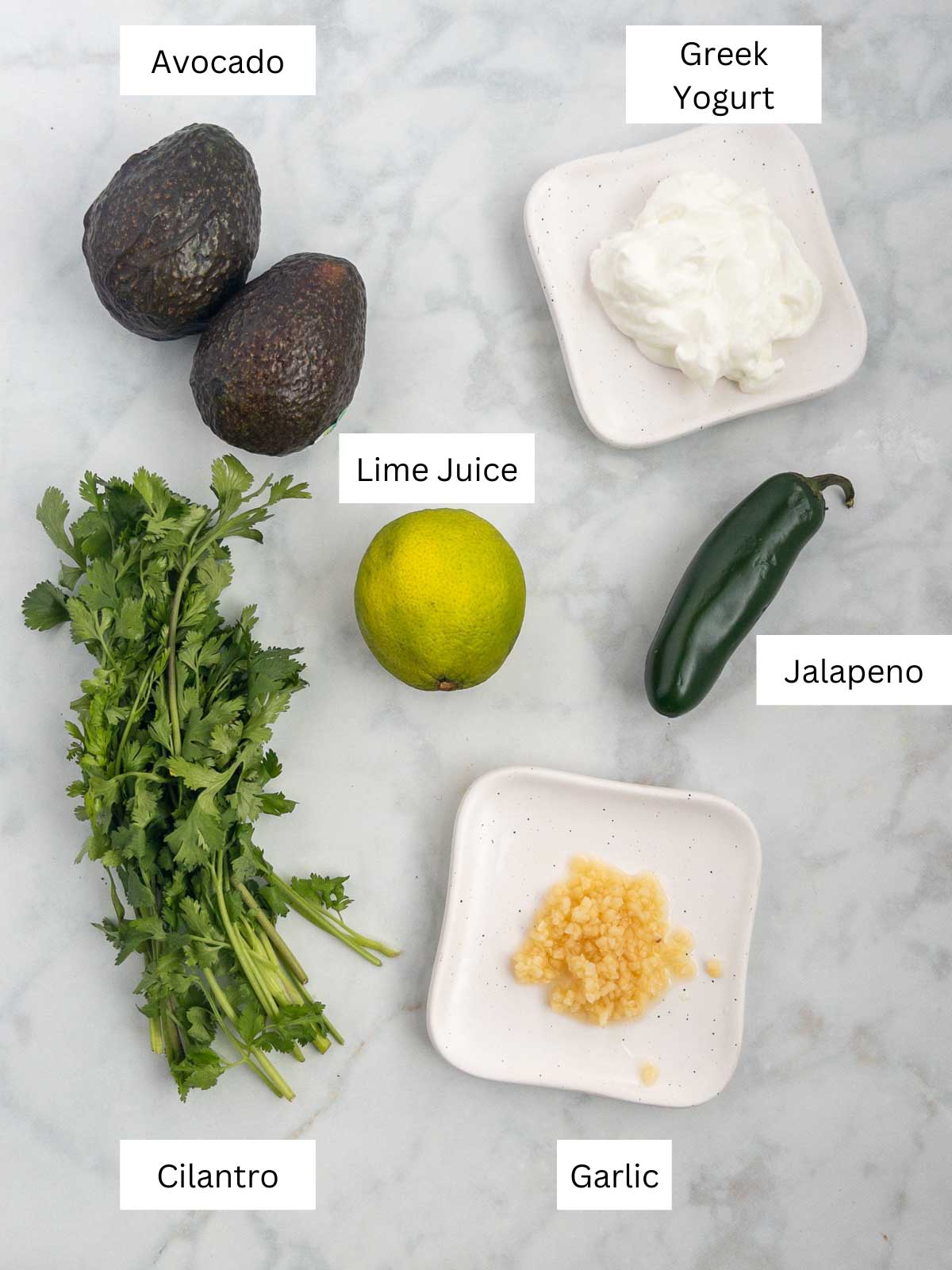 Avocados: the avocado must be ripe for this recipe to turn out well. Choose medium sized avocados.
Greek Yogurt: choose a plain Greek Yogurt. Any brand will work; however, I prefer Chobani brand because it does not have as strong of a yogurt flavor as some other brands do.
Lime Juice: use either freshly squeezed lime juice or bottled lime juice. The acid in the lime juice prevents the avocado from turning brown as quickly.
Garlic: chop the garlic cloves into small pieces or use pre-chopped garlic. This is typically sold in stores in a jar.
Salt: adds flavor. Adjust per taste preferences
Cilantro: adds flavor. Fresh cilantro works best
Jalapeño: leave the seeds to add some spice
Step By Step Instructions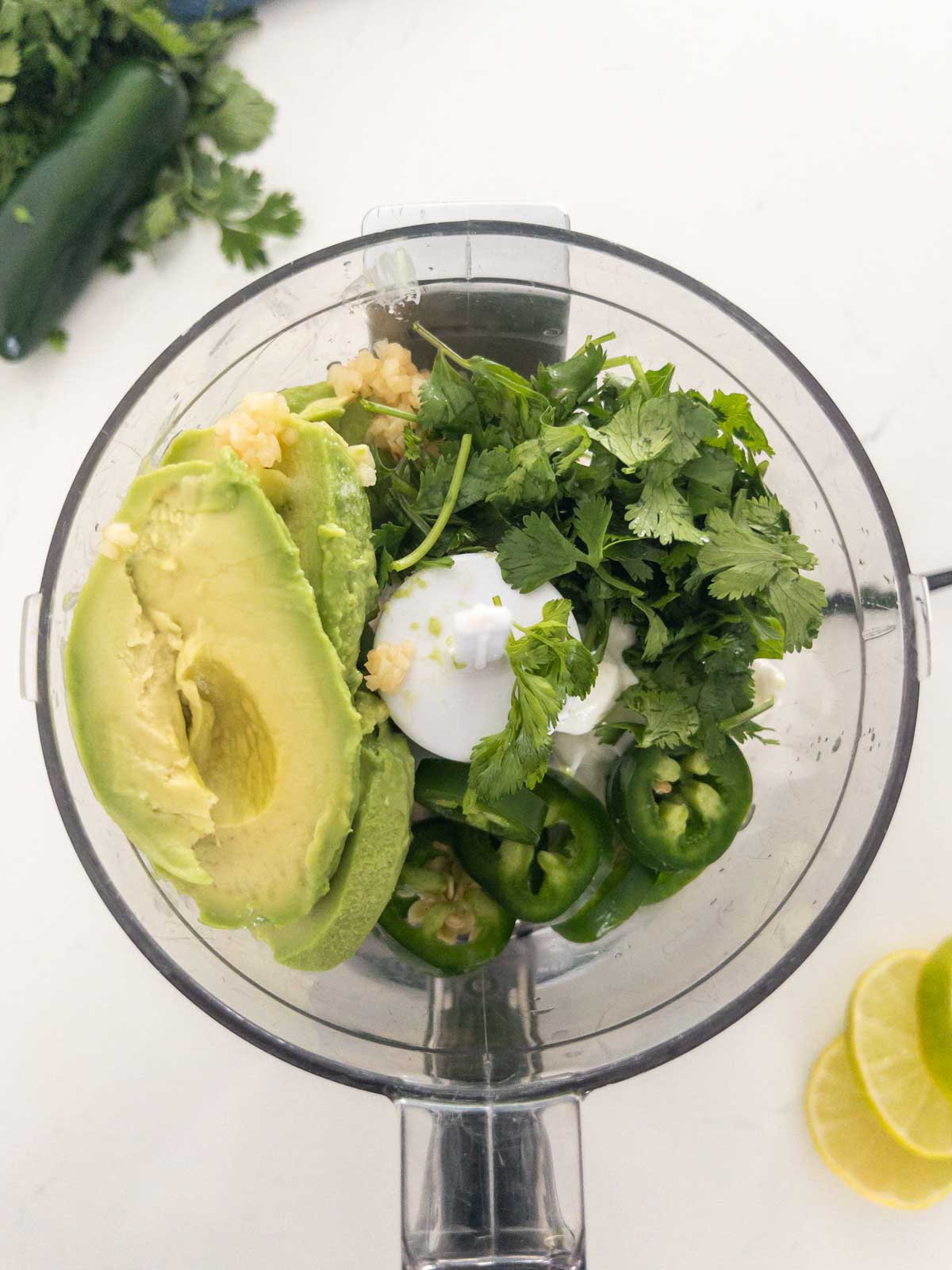 Slice the avocado in half. Using a spoon, scoop the avocado out from the skin. Remove the seed.
In a medium food processor, combine the avocado, Greek yogurt, lime juice, garlic, salt, cilantro and chopped jalapeno.
Puree until the dip is smooth and creamy.
Remove from the food processor and place in a serving bowl. Enjoy!
Expert Tips
Use ripe avocados for this recipe. The avocado should be slightly soft when pressure is applied, but not mushy. Don't always go off color, as some avocados may be ripe while still green colored.
The consistency of this recipe will vary based on how long you puree it for. Purée it for less time for a more chunky version.
How to Choose a Good Avocado
When picking out an avocado at the store, there's several factors to look at:
Smooth Skin: The avocado should not appear wrinkly or shriveled. Any wrinkles indicate the avocado is overripe, and often has mold or dark bruises on the inside.
Tenderness: Apply gentle pressure to the outside of the avocado. If the avocado Is hard, it's not ripe. Plan to give it a few days to a week to ripen. A ripe avocado will be soft. This means it's ready to use immediately. The avocado should not be mushy, as this is a sign of an overripe avocado.
Color: There should not be any white spots on the exterior. The white spots are a sign of mold. Ripe avocados are brown and have small amounts of green showing through. Purchase a ripe avocado if you plan to use it immediately. If purchasing a green avocado, it will typically take a few days to a week to ripen.
This recipe works best when the avocado that's used is ripe. To test for ripeness, apply pressure to the outside of the skin. The avocado is ripe when it's soft (but not mushy). Typically, a ripe avocado will have a dark brown skin.
Safe Storage Instructions
Store this dip in an airtight container in the refrigerator for up to 3 days. Mix before serving. The dip will change to a slightly brown color, however it is still ok to eat!
Serving Suggestions
Frequently Asked Questions
Can I serve the Avocado Sauce warm?
This sauce can be served warm. Pop it in the microwave and heat for amount 1 minute or until warm. Stir every 15 seconds.
Can I substitute something for Greek Yogurt?
Sour cream can be used in place of the Greek yogurt. Use the same amount of sour cream as Greek yogurt. Both versions taste great.
How do I ripen my avocados?
To ripen an avocado, leave it out on the counter (away from sunlight) for a few days. To speed the ripening process, place the avocado in a brown paper bag with an apple or banana and fold the top over. The apple/banana release ethylene gas, which assists in ripening.
Avocado Nutrition Information
While commonly referred to as a vegetable, avocado's are actually a fruit! Avocados are nutrient dense, meaning that they are loaded with healthy vitamins minerals and fat. One third of a medium avocado contains 80 calories.
Avocados are known for providing healthy fats. They are packed with monounsaturated fats, which are a type of fat that are good for heart health! A third of an avocado contains 5 grams of monounsaturated fat. Experts recommend replacing unhealthy fats with healthy fats for nutritional benefits.
Containing over 20 vitamins, avocados are particularly high in potassium, fiber, Vitamin K and folate. Avocados do not contain any cholesterol or sodium, and they are low in carbs.
Video
More Dip Recipes
Avocado Crema
Avocado crema is a Mexican inspired dip. This is slightly spicy, creamy and delicious.
Ingredients
¼

cup

nonfat greek yogurt

plain

2

teaspoon

minced garlic

2

medium

avocados

ripe

1

jalapeno

¼

cup

cilantro

chopped

1

teaspoon

lime juice

½

teaspoon

salt

to taste
Instructions
Add the Greek yogurt, avocados, garlic, jalapeno, cilantro, lime juice and salt to a food processor or blender.
Notes
Jalapeno: include all of the seeds for a slight kick! Remove the seeds if you do not want any spice.  To make this into a dressing: add 2 tablespoon water to the food processor.  Serving suggestions: dip with chips, carrots, celery or crackers. Serve over tacos, chipotle bowls or rice bowls. Add water and use as a salad dressing. 
Nutrition
Calories:
172
kcal
|
Carbohydrates:
10
g
|
Protein:
3
g
|
Fat:
15
g
|
Saturated Fat:
2
g
|
Polyunsaturated Fat:
2
g
|
Monounsaturated Fat:
10
g
|
Cholesterol:
1
mg
|
Sodium:
303
mg
|
Potassium:
526
mg
|
Fiber:
7
g
|
Sugar:
1
g