These chicken tenders are coated with a parmesan almond flour mixture and cooked to a crisp in the air fryer. This is a family favorite recipe that takes less than 30 minutes to make!
I've lost count on the number of times I have made these chicken tenders for my family. We make them as least twice a month.
Cooking them in the air fryer makes them so easy - it takes less than 20 minutes and there is no messy frying oil involved!
When making these chicken strips, I love to pick up a bulk pack of chicken breast at the store, cut up a couple breasts for the tenders, and then use the rest of the chicken in other recipes, such as this spicy southwest chicken salad or these gluten free chicken nuggets.
If you're looking for more chicken recipes, be sure to check out this chicken burrito skillet or these buffalo chicken rice bowls!
Jump to:
Reasons to Love These Chicken Tenders
You will love these because they are so easy to make! Prep and cooking takes less than 30 minutes to make!
These are made with almond flour so they are gluten free. They are also a low carb option.
The chicken strips are kid friendly, making them a perfect family dinner.
This recipe is a healthy version of fried chicken tenders. It is made in the air fryer, so no fat is required!
Ingredients Needed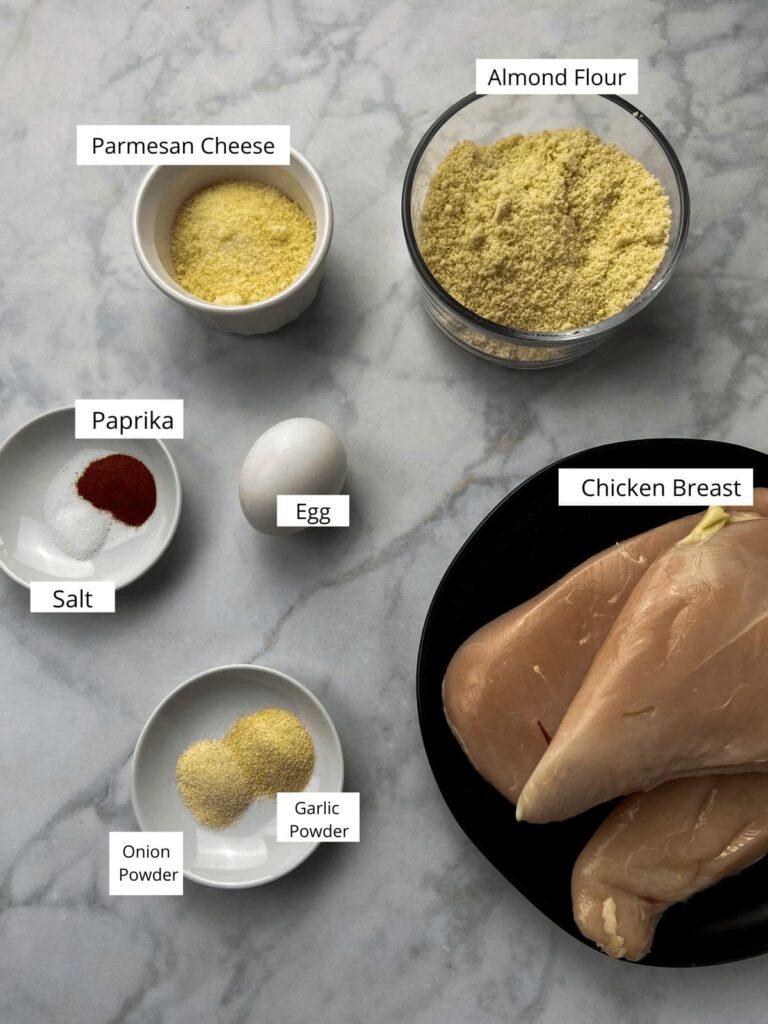 Ingredients Notes
Chicken Tender Ingredients
Chicken Breast- use a boneless, skinless chicken breast. Trim all excess fat. Chicken tenderloins can be substituted in place of chicken breast.
Almond Flour: Using almond flour creates a slightly nutty, deliciously crispy texture to the breading of the chicken.
Parmesan Cheese: use the canned, grated parmesan cheese.
Spices: Garlic powder, onion powder, salt and paprika: add flavor to the chicken tenders.
Spicy BBQ Sauce Ingredients
Bbq Sauce: this works best with a bbq that is slightly sweeter, such as Sweet Baby Ray's original BBQ Sauce
Buffalo Sauce: use buffalo sauce, wing sauce or hot sauce
Butter: can be substituted with margarine
How To Make Air Fryer Chicken Tenders
Prepare the chicken: Slice the chicken into strips that are you 1 inch wide. Try to slice all strips the same size, so that they cook evenly.
TIP: If the chicken breasts are over an inch thick, use a meat pounder and pound it to about 1 inch thickness.
Next, prep the dipping stations. Whisk an egg in a bowl and set aside. In a separate bowl, combine the almond flour, parmesan, paprika, garlic powder, onion powder and salt. Mix until combined.
Set up an assembly line to make for easy dipping. Place the chicken, egg and flour mix all right next to each other so that they are touching.
Using a pair of tongs, take a strip of chicken and dip it in the egg mixture. Flip the chicken over and move around until it is fully coated in egg.
Next, use the tongs to move the chicken to the flour mixture. Mix around until the chicken is evenly coated. Set aside on a plate.
Continue to repeat the process until all chicken is coated.
Preheat the air fryer to 390 F about halfway through coating the chicken. Once preheated, place the chicken evenly in the bottom of the air fryer. It is very important the the chicken is not stacked or overlapping. It can be touching slightly.
Cook in the air fryer for 14-16 minutes. The time will vary based on the thickness of the strips. It usually takes about 2 batches to get all chicken cooked.
Once the chicken is done cooking, remove from the air fryer. Serve warm and top with spicy bbq sauce if desired!
Short Cuts
Here are some short cuts to eliminate the mess that sometimes comes with breading the chicken.
Place the cut raw chicken in a gallon sized ziplock bag.
Whisk an egg until mixed, and then pour into the ziplock bag. Seal shut, then mix around the chicken and egg until combined.
In a small bowl, combine the flour, parmesan and spices. Mix and then pour into the ziplock bag. Seal shut and shake the bag until the chicken is evenly coated.
How Long to Cook the Chicken Tenders in the Air Fryer
These take 14-16 minutes to cook. A couple things may affect your cooking time:

Brand of air fryer
Number of chicken tenders in the air fryer basket
Size of chicken tender

I recommend cooking for 14 minutes, checking the temperature and then continue to cook in 2 minute intervals if they are not quite done.
The chicken is done when it reaches 165F as measured with a meat thermometer. Always stick the meat thermometer in the thickest part of the chicken, and avoid touching the tip of the thermometer to the bottom of the air fryer.
Safe Storage of Leftovers
Refrigerator: store in an airtight container in the refrigerator for up to 4 days. To make sure the leftovers stay safe to eat, allow them to release steam right after cooking and store in small amounts (3-4 strips/container). If you store a lot of strips in a container at once, they may not cool down quickly enough.
Freezer: These chicken tenders hold up great in the freezer! Store in an air tight ziplock bag, and remove all air before sealing shut. I've frozen these multiple times and cannot tell a difference when eating from frozen.
This also makes them great for freezer meal prep. You can also freeze the cooked chicken strips and then give to someone as a meal after surgery or a baby. This lets them eat when desired.
Variations
Low sodium: make this low sodium by eliminating all added salt. The parmesan cheese also adds sodium, so you can leave this out if desired.
Allergy friendly: these chicken strips are gluten free. They can be made dairy free by using Nutritional Yeast in place of the parmesan cheese. Also, leave the butter out of the spicy BBQ sauce.
Chicken nuggets: these can be made into chicken nuggets by cutting the chicken tenders into smaller pieces, about 1 inch wide by 1 inch wide. Cooking time may vary, so check them frequently. Here's a more detailed gluten free chicken nugget recipe if you choose to do this!
Expert Tips
Set up your breading mixture and egg mixture in bowls before cutting the chicken. Once you cut the chicken, your hands will be messy. This will allow you to go straight from cutting the chicken to dipping it, without having to rewash your hands!
Spray the bottom of your air fryer with a nonstick pan release spray. This will help with easy clean up.
Try to cut all of the chicken into similar sized strips. This will help so the strips cook evenly, and prevent some strips from getting cooked faster than others.
Chop up the leftovers and use them in a healthy chicken omelet or add them to the top of a spinach caprese salad.
Serve these chicken tenders with a side of sauteed frozen cauliflower and broccoli any of these gluten free vegetable recipes
Pair these with a fun dipping sauce, such as dill aioli or chipotle lime sauce.
Frequently Asked Questions
Can I use frozen chicken for making this recipe?
I would recommend using thawed chicken. The reason is that the frozen chicken will drip excess liquid as it defrosts in the air fryer, and may prevent the breading from crisping up. Also, the chicken will take longer to cook and may cause the breading to burn or get too crispy.
What are the best type of dipping sauce for these chicken strips?
Mustard, ranch, ketchup, bbq, dijon mustard, buffalo sauce or sweet chili sauce. My favorite is the spicy BBQ sauce which is included in the recipe.
Video
More Chicken Recipes
Air Fryer Almond Flour Chicken Tenders with Spicy BBQ Sauce
Chicken tenders coated in parmesan almond flour breading and cooked until perfectly crisp in the air fryer. Dip in spicy bbq sauce or sauce of your choice.
Ingredients
2

pounds

chicken breast

boneless and skinless (about 4 medium breasts)

1

cup

almond flour

¼

cup

parmesan cheese

canned

¾

teaspoon

garlic powder

¾

teaspoon

onion powder

¼

teaspoon

salt

½

teaspoon

paprika

1

egg

large
Spicy BBQ Sauce
¼

cup

Sweet Baby Ray's Original BBQ Sauce

¼

cup

buffalo sauce

¼

teaspoon

butter
Instructions
Cut each chicken breast lengthwise into strips that are about 1 inch wide by 1 inch thick. Set aside. (If using medium chicken breast, one breast will make 2-3 strips)

Crack the egg into a medium sized bowl. Whisk until combined and set aside.

In a large bowl, combine the almond flour, parmesan cheese, garlic powder, onion powder, paprika and salt. Mix until combined. Set aside.

Preheat the air fryer to 390 F.

Create an assembly line to dip the chicken tenders. Set the chicken tenders on a plate, set the bowl of egg next to the chicken and the almond flour next to the egg.

Using a pair of tongs, each chicken strip in the egg until evenly coated.

Remove from the egg mixture and dip evenly in the almond flour mixture until evenly coated. Set aside.

Once the air fryer has preheated, place the strips evenly in the bottom of the air fryer. The strips can be touching, but should not be overlapping or stacked. (Depending on the size of your air fryer, this will need to be cooked in 2 different batches).

Cook at 390 F for 14-16 minutes. The cook time will vary slightly depending on the thickness of the chicken. Test the temperature of the thickest piece of the chicken with a meat thermometer. Chicken is fully cooked when it reaches 165F.
Spicy BBQ Sauce
Melt the butter. Set aside.

Combine the bbq sauce and buffalo sauce in a microwave safe dish. Heat in the microwave for 20 seconds.

Stir in the butter. Mix until combined. Serve!
Notes
Nutrition facts are for ⅕ of the recipe (about 2-3 strips depending on the size of chicken strip). The spicy bbq sauce adds an additional 38 calories and 1 gram of protein. 
Nutrition
Calories:
395
kcal
|
Carbohydrates:
11
g
|
Protein:
46
g
|
Fat:
18
g
|
Saturated Fat:
3
g
|
Trans Fat:
1
g
|
Cholesterol:
153
mg
|
Sodium:
936
mg
|
Potassium:
731
mg
|
Fiber:
3
g
|
Sugar:
6
g
|
Vitamin A:
195
IU
|
Vitamin C:
3
mg
|
Calcium:
127
mg
|
Iron:
2
mg