These are the best gluten free chicken nuggets you will try! Tender on the inside and slightly crispy on the outside-you can't even tell these are gluten free!
These gluten-free chicken nuggets are so easy to make! With just a few ingredients, you can make this dish in under 30 minutes!
This easy dinner is approved by all ages-both kid and adult! As an added bonus, these are actually healthier than most chicken nuggets since they are baked in the oven! They are super easy to make and turn out perfectly crispy!
The GF nuggets pair perfectly with a side of sweet potato fries or creamy spaghetti squash. If you're looking for more gluten free recipes, check out this delicious gluten free sweet & sour chicken or this skinny gluten free chicken parm!
Jump to:
Ingredients Needed
Chicken Breast: choose boneless and skinless. This has not been tested with chicken thighs.
Gluten Free Panko bread crumbs: most local grocery stores carry them in the grocery aisle. I used the brand "good & gather" from Target.
Grated Parmesan cheese: use the canned cheese (not fresh!)
Butter: good old fashioned salted or unsalted stick butter works best. Use caution with spreads that have a water base to them, as they could affect how well the breading sticks to the nuggets.
Milk: skim milk is healthier, however any type will work (1%, 2% or whole)
Spices: garlic powder, onion powder, pepper, salt, paprika & Italian seasoning - the seasonings add great flavor to the nuggets.
Step by Step Instructions
Step one: Preheat oven. Assemble your cooling rack on top of the cookie sheet. (This is the trick to crispy nuggets!) Set aside.
Step two: Prep the chicken. Pound your chicken using a meat pounder so it is evenly thick in all areas. Avoid pounding too thin, as we want the nuggets to have some thickness to them. Cut chicken into about 1 inch cubes.
Step 3: Prep the dipping stations. Combine the gluten free bread crumbs, Parmesan cheese and all spices in a bowl. Mix well. Combine the butter and skim milk in a second bowl. Mix.
Set up your bowls very close to each other. Sometimes it helps to place a piece of waxed paper underneath for easier cleanup. Dip the chicken cube first in the butter mixture, and then in the breadcrumb mixture. Tap off extra breadcrumbs and place on the prepared cooling rack.
Bake, dip in your favorite sauce & enjoy!!
How to Make Chicken Nuggets Crispy in the Oven
The trick to making chicken nuggets crispy in the oven is based on the pan setup. Place a metal cooling rack on top of a cookie sheet. The holes in the cooling rack allow the hot air from the oven to cook all sides of the chicken nugget, including the bottom. This prevents the bottom from becoming too brown or soggy.
I tested this recipe by cooking the nuggets on both the cooling rack and on a plain cookie sheet. The nuggets made on the cookie sheet were brown on the bottom and didn't have as good texture. Cooking on a cooling rack made the best nuggets!
Expert Tip
Looking for a short cut? Place all cut chicken into a medium bowl. Pour the butter mixture over the chicken and mix well using a spoon. Next place the breadcrumb mixture into a large gallon zip-lock bag.
Using tongs, remove about half of the nuggets coated in butter, place in the zip-lock bag, seal and shake until evenly coated! Remove the chicken from the bag piece by piece, and place on the cooling rack. Repeat the process with your second half of the chicken.
Variations
Dairy free: replace the butter with an egg when breading the chicken nuggets.
Substitute with Italian flavored breadcrumbs for a fun variation.
Reasons to Bake the Chicken Nuggets
Traditional nuggets are placed in a fryer full of oil to cook. This adds a lot of extra fat. Not to mention, frying foods inside can sometimes lead to unwanted odors and messy cleanup.
The benefit of baked chicken nuggets is that it reduces the fat content. There are a couple techniques that can be performed to make sure the nuggets taste just as good as a fried nugget. First is to preserve the texture (crispy on the outside and tender on the inside) by cooking on a cooling rack as described above.
Secondly, dipping the nuggets in butter first helps the bread crumb coating stick and provides a small amount of savory flavor.
Leftovers and Reheating
These gluten free nuggets taste best fresh out of the oven, however, they hold up well for 2-3 days after cooking. Store in an airtight container in the refrigerator.
To prevent the leftover nuggets from getting soggy, wait about 20 minutes after cooking until they are cooled to store in a container. Do not stack; lay in a flat layer in the container.
To reheat the nuggets: Place on a plate and microwave for 30 seconds to 1 minute. Alternatively, place in the oven at 350 and bake for 10 minutes, or until hot inside. *Note: for food safety reasons, the USDA recommends reheating all food to an internal temperature of 165F.
Dipping Sauce
I absolutely LOVE dipping sauces! I strongly believe that make a good nugget taste great! Here are some delicious chicken nugget dipping sauce ideas, plus some unique combinations that your taste buds will love:
Ketchup or Mustard
BBQ
Buff-a-que (Mix half buffalo with half BBQ)
Buffalo Ranch (50% ranch, 50% Buffalo)
BBQ Mayo (50% BBQ, 50% Mayo)
Spicy Mustard or Honey Mustard
Ranch
More Gluten Free Recipes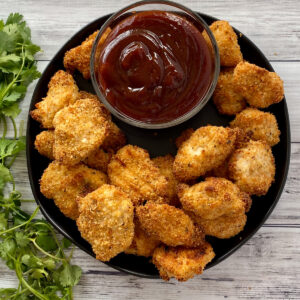 Gluten Free Chicken Nuggets
Gluten Free Chicken nuggets are tender on the inside and slightly crispy on the outside. Approved by kids and adults!
Ingredients
1

pound

chicken breast

boneless & skinless

1

cup

gluten free panko bread crumbs

½

cup

grated Parmesan cheese

use the canned/jar version; not fresh

1

teaspoon

garlic powder

1

teaspoon

onion powder

½

teaspoon

black pepper

½

teaspoon

salt

1

teaspoon

paprika

1

teaspoon

Italian seasoning

¼

cup

butter

melted

¼

cup

skim milk
Instructions
Place a metal cooling rack on top of a cookie sheet. The chicken nuggets will cook on the cooling rack. Set aside.

Pound the chicken breast to an even thickness. Cut into 1 inch to 1.5 inch cubes. Set aside.

In a small bowl, combine the bread crumbs, Parmesan cheese, garlic powder, onion powder, pepper, salt, paprika & Italian seasoning. Mix until combined.

In a separate small bowl, combine the melted butter and milk. NOTE: Cool butter for a couple minutes before adding the milk to prevent the butter from hardening.

Begin the breading process. Line up the cut chicken, butter mixture and bread crumb mixture next to each other.

Using a pair of tongs, dip each piece of chicken in the butter mixture and then dip into the breadcrumb mixture. Tap off extra butter prior to dipping in the breadcrumbs.

Place the breaded chicken on top of the cooling rack, leaving about ½ inch of space between each nugget to allow for thorough cooking.

Bake for 20 minutes, or until the internal temperature of the chicken nuggets reaches 165F when temped with a meat thermometer.
Notes
Alternative method to make breading the chicken nuggets easier: 
Place the chicken cubes in a medium bowl. 
Pour the butter/milk mixture over the chicken and mix well until all pieces of chicken are coated. 
Place the breadcrumb/spices mixture in a large gallon ziplock bag. 
Using a pair of tongs,  place about half of the chicken cubes in the ziplock bag. 
Close the bag and shake until all chicken is coated. Remove chicken and place on the cooling rack to cook. 
Repeat with the remaining chicken.  
Nutrition
Calories:
304
kcal
|
Carbohydrates:
23
g
|
Protein:
20
g
|
Fat:
14
g
|
Saturated Fat:
7
g
|
Polyunsaturated Fat:
1
g
|
Monounsaturated Fat:
3
g
|
Trans Fat:
0.3
g
|
Cholesterol:
85
mg
|
Sodium:
600
mg
|
Potassium:
332
mg
|
Fiber:
1
g
|
Sugar:
1
g