This chipotle lime sauce is sweet, sticky, and a little bit spicy! It's great for dipping or for drizzling over salad, chicken, or tacos.
I've been making this chipotle lime sauce for years; it's one of those recipes that I would always throw together last minute. After receiving a lot of compliments, I've taken the time to compile the recipe so I can share it with you all! 
The sauce is sweet and sticky; sometimes I refer to it as sweet chili sauce. Whatever you call it, it tastes great!
This honey chipotle sauce pairs perfectly with almost any type of meat. I use it with these honey chipotle tenders.. Use it as a dipping sauce for foods like these almond flour chicken tenders or serve it with this Greek yogurt marinated chicken.
The sauce can also be brushed on meats and cooked for a few minutes which creates a sticky glaze. I love using it on these honey chipotle chicken wings!
Jump to:
Reasons This Works
The sauce takes under 5 minutes to prepare! This is no cooking involved. Purchase the adobo peppers which are already pureed to skip an extra step!
The chipotle lime sauce is versatile and pairs with almost anything. It can be used as a dipping or sauce or spread on meat and cooked for a caramelized finished flavor. 
This sauce has the perfect balance of sweet and spicy. It's not overly hot, yet still gives a slight kick of spice. 
Ingredients
Chili peppers in adobo sauce: this can be purchased pureed or with pieces of chili peppers in them. If the pureed version is purchased, you do not need to use a food processor to blend the sauce. The can will usually state "whole" on the label and this means you will need to puree them.
Soy sauce: adds flavor. Use a gluten free soy sauce such as tamari sauce if concerned about allergens
Lime juice: adds flavor. Use either juice from fresh limes or bottled lime juice.
Honey: this adds a stick, sweet consistency. Use your favorite brand of honey.
Step-by-Step Instructions
Combine all ingredients in a large bowl or food processor. If your chili peppers are already pureed, there's no need to add them to a food processor. In my case, the chili peppers were pureed, so I mixed all ingredients in a bowl.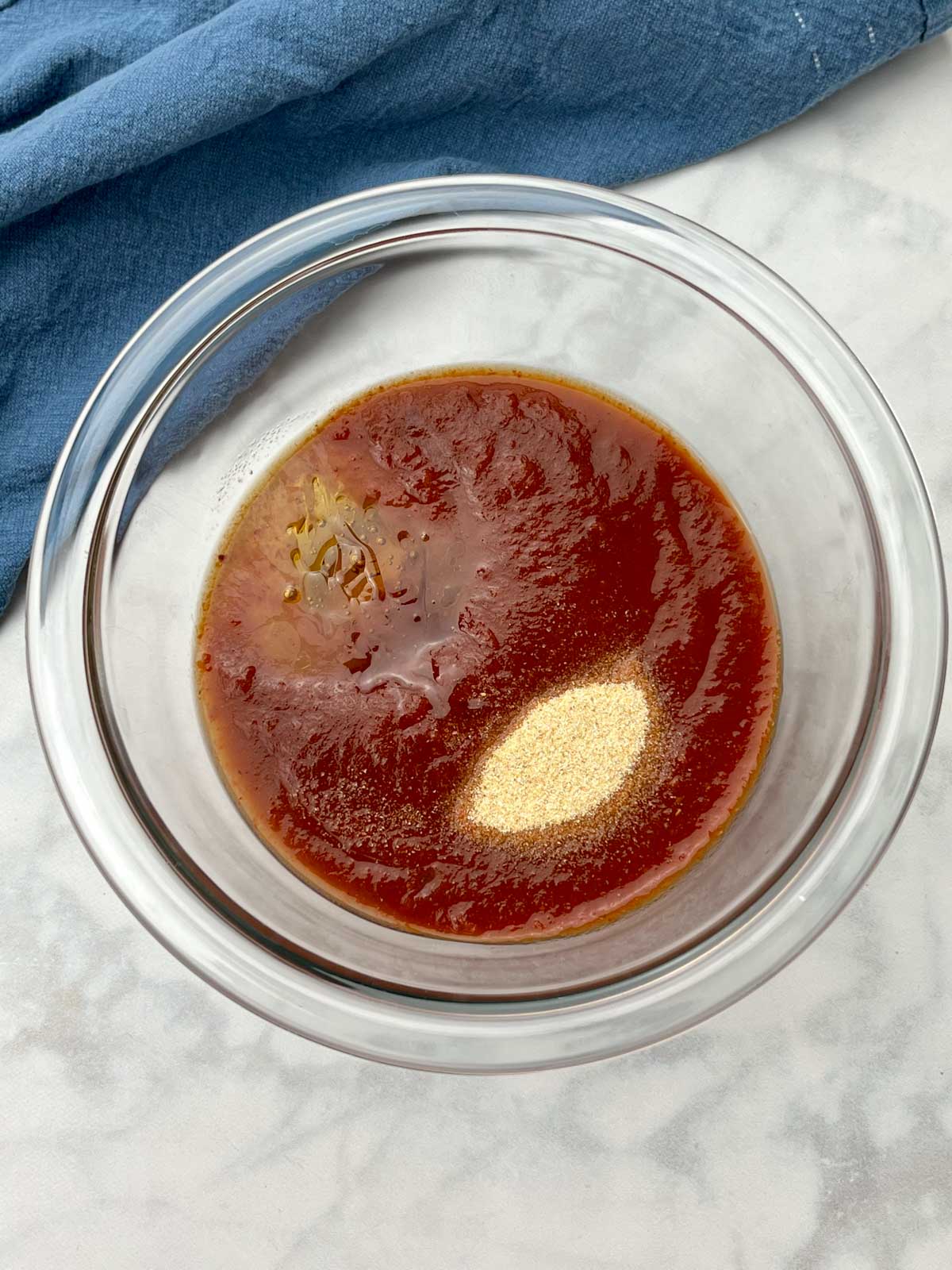 Mix well until all ingredients are combined! Serve immediately or refrigerate for later.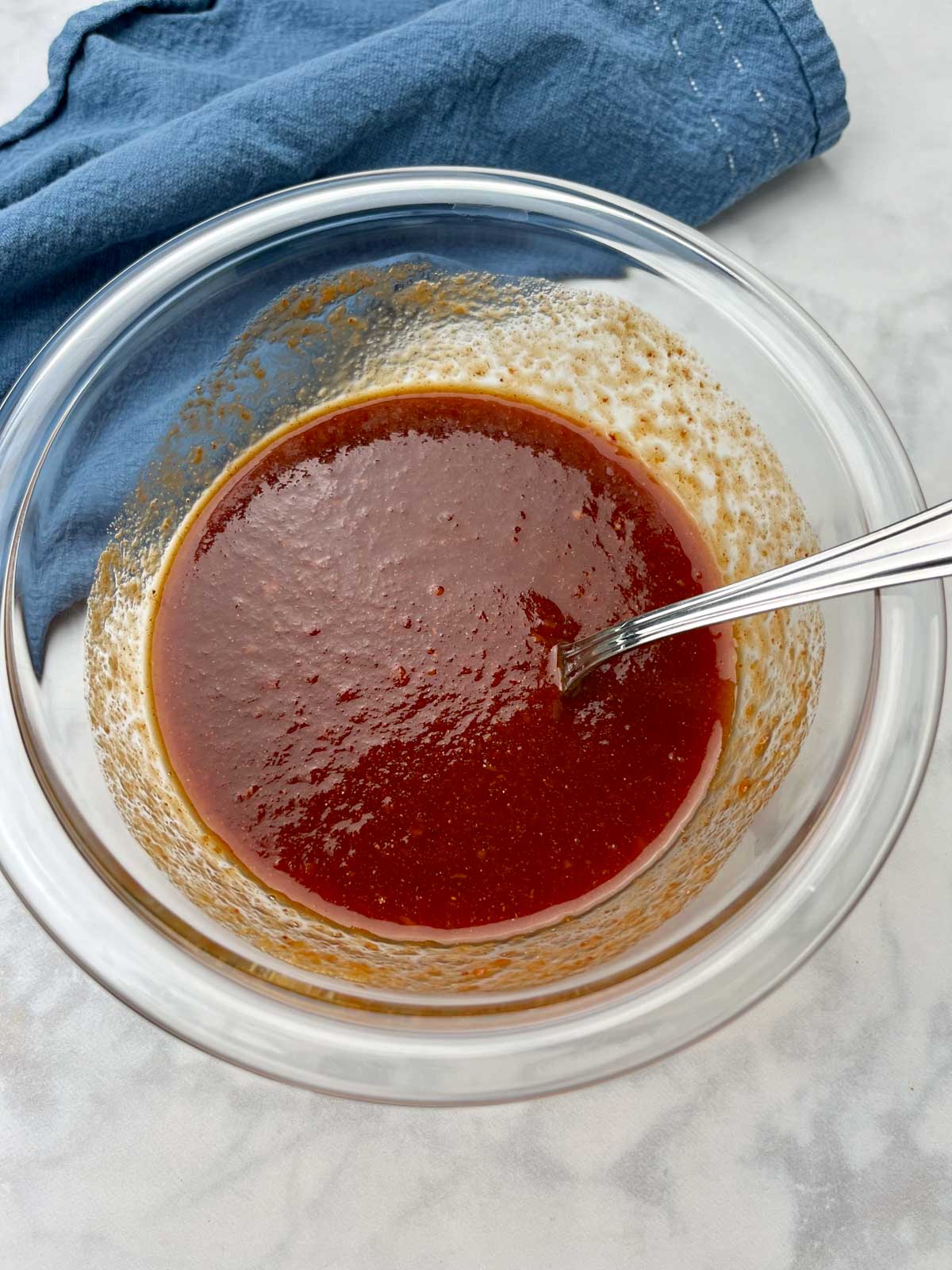 Recipe Variations
Increased spice: add a chipotle pepper (whole) to the sauce and puree everything together for a spicier, deeper-flavored sauce. Add an extra ¼ teaspoon cayenne pepper for a spicier sauce.
Sweeter Sauce: add an extra tablespoon or two of honey to make a sweeter sauce.
Thin sauce: to make this sauce thinner, add an extra tablespoon of water.
Expert Tips
The adobo chipotles can be purchased as pureed. If you buy the pureed version, there is no need to put everything in the food processor.
The sauce is very thick. If you prefer a thinner version (to drizzle on salads or tacos), add water 1 tablespoon at a time until the sauce meets the desired consistency.
Serving Suggestions
Use a pastry brush to brush on the top of grilled meat such as chicken breast, kabobs, or pork chops. Cook another 5 minutes to allow the sauce to get sticky and hold to the meat.
Serve as a dipping sauce. Heat in the microwave for a few minutes or over the stove until warm and bubbly. Use the sauce to dip with your chicken tenders, chicken nuggets, or other favorite food.
Use as a spread on a sandwich. Spread the sauce on two slices of sandwich bread. Top with deli meat, cheese, and lettuce.
Serve the sauce as a dipping sauce for a wrap or a turkey burger.
Drizzle over tacos, on top of a bowl such as this chipotle burrito bowl, or over your favorite salad!
Storage Tips
Store in the refrigerator for up to 5 days. Place in an airtight container with a lid.
This can be frozen for up to 2 months. Defrost in the refrigerator for 24 hours before serving.
Related Recipes
Chipotle Lime Sauce
This chipotle lime sauce is the perfect balance of sweet and spicy. It is easy to make and requires only 5 ingredients! Serve it as a dipping sauce for chicken tenders, wings, or drizzle over tacos, salad or wraps.
Ingredients
1

7.5 oz can

chili peppers in adobo sauce

1

teaspoon

lime juice

¼

cup

honey

1

teaspoon

garlic powder

1

tablespoon

soy sauce
Instructions
In a small food processor, combine the chipotle peppers in adobo, lime juice, soy sauce, honey and garlic powder. Puree until blended.

Serve with your favorite cut of meat or on top of wings.
Notes
Tip: spread on top of your favorite meat and bake in the oven for 2-3 minutes. This will turn the sauce into a sweet and sticky glaze. 
Serving Suggestions: 
Dipping sauce for Chicken tenders/chicken nuggets
Use as a glaze for wings
Spread on your favorite sandwich
Spread on a hamburger
Nutrition
Calories:
383
kcal
|
Carbohydrates:
12
g
|
Protein:
28
g
|
Fat:
24
g
|
Saturated Fat:
7
g
|
Polyunsaturated Fat:
5
g
|
Monounsaturated Fat:
10
g
|
Trans Fat:
0.3
g
|
Cholesterol:
116
mg
|
Sodium:
307
mg
|
Potassium:
257
mg
|
Fiber:
0.1
g
|
Sugar:
12
g