This easy Hawaiian salad is the perfect addition to any meal! This delicious salad is loaded with pineapple, craisins, cheese, and almonds for the perfect balance of sweetness and crunch!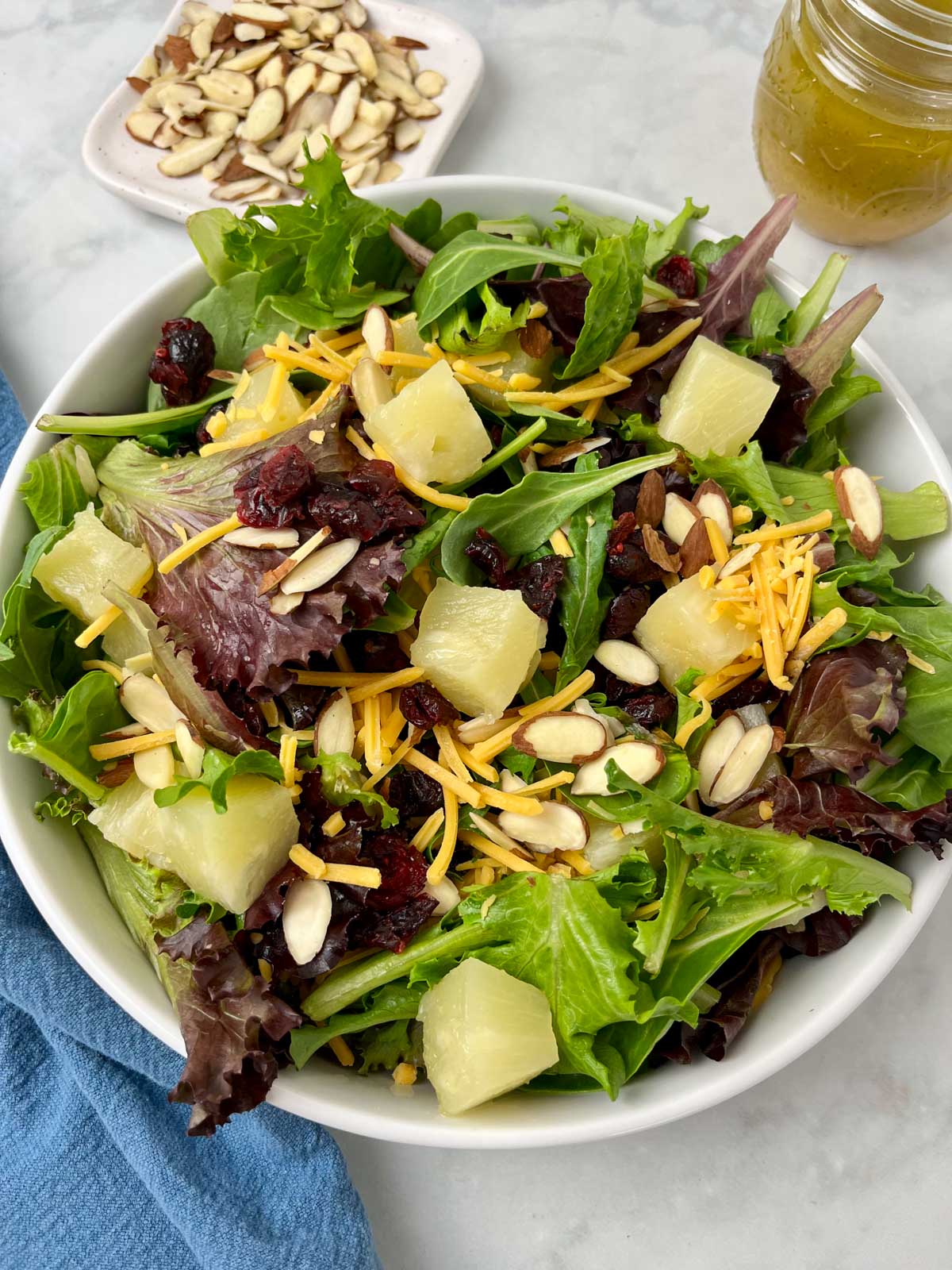 This Hawaiian salad is the perfect side dish for anyone trying to serve a Hawaiian cuisine. It pairs perfectly with many Hawaiian classics, such as veggie sushi rolls or kalua pork. This also pairs perfectly as a fresh summer side salad with almost any meat or entrée!
Hawaii is known for it's pineapple production. This salad incorporates that fresh pineapple into the recipe, making it a fresh Hawaiian side dish! The salad is topped with a honey lime vinaigrette, which provides the perfect balance of sweetness and tang. The almonds add extra crunch, making this the perfect salad.
Looking for more salads? Check out my delicious spinach, strawberry and feta salad or spinach caprese salad!
Jump to:
Reasons to Love This
This Hawaiian salad uses fresh pineapple, which makes it a light and fresh salad.
The salad is versatile: sub out ingredients or add in extras as desired.
The salad is easy to make! It can be prepped in under 30 minutes. It can also be made ahead of time (just add the dressing later)
The salad holds up well, making it perfect for leftovers! If you plan to serve the salad the next day, leave the dressing on the side.
The salad is nutritious- it's loaded with vitamins and minerals from the lettuce and pineapple.
Ingredients Needed
Spring Mix Lettuce: use a spring mix lettuce which contains leafy greens, such as spinach, baby lettuces and kale.
Pineapple Cubes: use fresh pineapple for best flavor. This can also be substituted with canned pineapple tidbits (drain first!)
Sliced Almonds: add an extra crunch to the dish. Select sliced almonds that are unsalted.
Craisins: adds the perfect balance of sweet/sour flavor
Shredded Cheddar Cheese: alternative options are shredded Mexican cheese or shredded mozzarella. Buy prepackaged or shred your own.
Salad Dressing Ingredients
Olive Oil: select a high quality extra virgin: olive oil for best flavor. A couple of recommended brands are California olive ranch extra virgin olive oil or Cobram Estate Extra virgin olive oil.
Honey: adds sweetness to the dressing
Lime Juice: adds a hint of tartness. Use juice from a freshly squeezed lime, or use bottled lime juice.
Dijon Mustard: adds flavor. This is optional; I have made with and without the mustard.
Spices: Kosher salt, black pepper, cumin, garlic powder: adds extra flavor to the dressing. It is important to use kosher salt and not table salt, as the kosher salt is a larger granual and using table salt will make it too salty.
See recipe card for full information on ingredients and quantities.
Variations and Substitutions
This Hawaiian salad has a delicious combination of mix-in, however you are welcome to get creative and add your own mix ins. Here are some additional ideas:
Replace the craisins with raisins or another dried fruit.
Swap out the cheddar cheese with another type of shredded cheese, such as mozzarella or Mexican. Or use feta or goat cheese for some extra flavor.
Replace the almonds with chopped pecans or walnuts.
Add avocado for an extra source of fat.
Top it with a protein such as shrimp, chicken kabobs or steak. This will make it a complete meal!
Add some grains, such as quinoa or brown rice.
Replace the lettuce with spinach, arugula or kale. Or this post about substitutes for arugula has a whole list of lettuce options that would work!
How to Make the Salad
Step 1: Place the lettuce to a large bowl. Remove any large stems from the spinach leaves. Add the shredded cheese, pineapple cubes, almonds and craisins. Mix until combined.
Tip: save back a sprinkle of each item and add it on top for a nice garnish.
Step 2: In a small bowl, combine the olive oil, honey, lime juice, Dijon mustard and spices. Mix well until combined. Pour evenly over the salad or serve on the side.
Serving Suggestions
This Hawaiian salad makes the perfect side salad. You can also top it with some grilled chicken, steak, salmon or shrimp to add protein and make it a more complete meal. Here are some delicious entrees to serve alongside the salad:
Expert Tips
If you are planning to save the salad, do not add the dressing right after making the salad. Instead, place the dressing in a separate container and only add to the amount of salad that you plan to eat.
Remove all excess pineapple juice/liquid; regardless if using canned or fresh pineapple. This prevents the salad from becoming soggy.
Experiment with your own substitutions and variations; the salad toppings are very versatile.
Use a fresh pineapple for the best results. Here are some tips on how to select a good pineapple!
Recipe FAQs
What is Hawaiian Salad made of?
Hawaiian salads can be either lettuce based or macaroni based. A lettuce based hawaiian salad typically features a base of lettuce leaves combined with various toppings such as vegetables, fruits, nuts, and dressings.
What are Hawaiian Ingredients?
Hawaiian cuisine often features ingredients like fresh seafood, tropical fruits such as pineapple and coconut, taro root (poi), and an array of indigenous plants.
What makes Hawaiian food different?
Hawaiian food is distinct for its blend of native ingredients, multicultural influences, and use of tropical elements like fresh seafood and tropical fruits. This fusion gives Hawaiian cuisine a unique taste that reflects the island's rich history and cultural diversity.
More Delicious Sides
Hawaiian Salad
This delicious Hawaiian salad is so easy to make! It is the perfect balance of sweetness and tang from the pineapple and honey lime dressing.
Ingredients
5

oz

lettuce spring mix

1

cup

pineapple cubes

½

cup

sliced almonds

¾

cup

craisins

¾

cup

shredded cheddar cheese
Honey Lime Vinaigreette
½

cup

olive oil

2

tablespoon

honey

¼

cup

lime juice

1

tsp

dijon mustard

½

teaspoon

kosher salt

¼

teaspoon

black pepper

¼

teaspoon

cumin

½

teaspoon

garlic powder
Instructions
In a large bowl, combine the spring mix lettuce, pineapple cubes, craisins, cheese and sliced almonds. Mix until combined.
Hawaiian Salad Dressing.
Heat honey in microwave for 10 seconds so it's easier to mix.

Combine the honey, olive oil, lime juice, mustard, kosher salt, black pepper garlic and cumin in a small bowl. Use a whisk or fork and mix until smooth.

Pour over salad, or serve on the side of the salad.
Notes
Nutrition facts are for ¼ of the salad.
Tips:
This makes a generous amount of dressing. Consider pouring half on the salad, and then add more as needed. 
Use a light olive oil for best results; this has a mild flavor and blends well with the honey and lime juice.   
If you plan to save the salad, do not add the dressing right after making the salad. Instead, place the dressing in a separate container and add to the amount of salad you plan to eat.
Remove all excess pineapple juice/liquid; regardless if using canned or fresh pineapple. This prevents the salad from becoming soggy.
Nutrition
Calories:
596
kcal
|
Carbohydrates:
46
g
|
Protein:
12
g
|
Fat:
44
g
|
Saturated Fat:
6
g
|
Polyunsaturated Fat:
7
g
|
Monounsaturated Fat:
30
g
|
Trans Fat:
0.01
g
|
Cholesterol:
4
mg
|
Sodium:
447
mg
|
Potassium:
410
mg
|
Fiber:
6
g
|
Sugar:
35
g
|
Vitamin A:
487
IU
|
Vitamin C:
18
mg
|
Calcium:
190
mg
|
Iron:
2
mg