This tex mex casserole is loaded with chips, taco meat, beans, corn and salsa. It's a mess-free way to eat tacos! This recipe is the perfect option for an easy-to-make weeknight dinner option! It is made healthy by using ground turkey as the meat!
This tex mex casserole recipe originates back to when I was a kid growing up – my mom used to make this all the time and I loved it. Call it taco casserole, tortilla chip casserole or whatever you want – it all tastes the same!
Using ground turkey makes this recipe extra healthy because it's low in fat and high in protein! Ground turkey is such an easy meat to cook with! If you're looking for more recipes that use ground turkey, check out these healthy turkey burgers or this sweet potato and ground turkey skillet!
I've compiled 20+ casserole recipes that use ground turkey!
Jump to:
Ingredients Needed
Ground Meat: I used 93% lean ground turkey to make it healthier. You can also use ground beef or shredded chicken.
Taco Seasoning: this will be mixed with the meat and adds the perfect amount of Mexican flavor.
Tortilla Chips: I like to save the crushed chips that come in the bottom of the bag and then make this casserole once I have enough. You can also crush chips by pouring them in a ziplock bag, sealing shut, and this crushing with your hands.
Salsa: use mild, medium or hot based on your flavor preferences
Cheese: Mexican cheese gives the best flavor!
Black Beans: drain before adding to the casserole.
Corn: drain before adding to the casserole. You can substitute with frozen corn as long as it is defrosted and drained before adding.
Green Chilis: Add an extra kick of spice to the casserole.
How To Make Tex Mex Casserole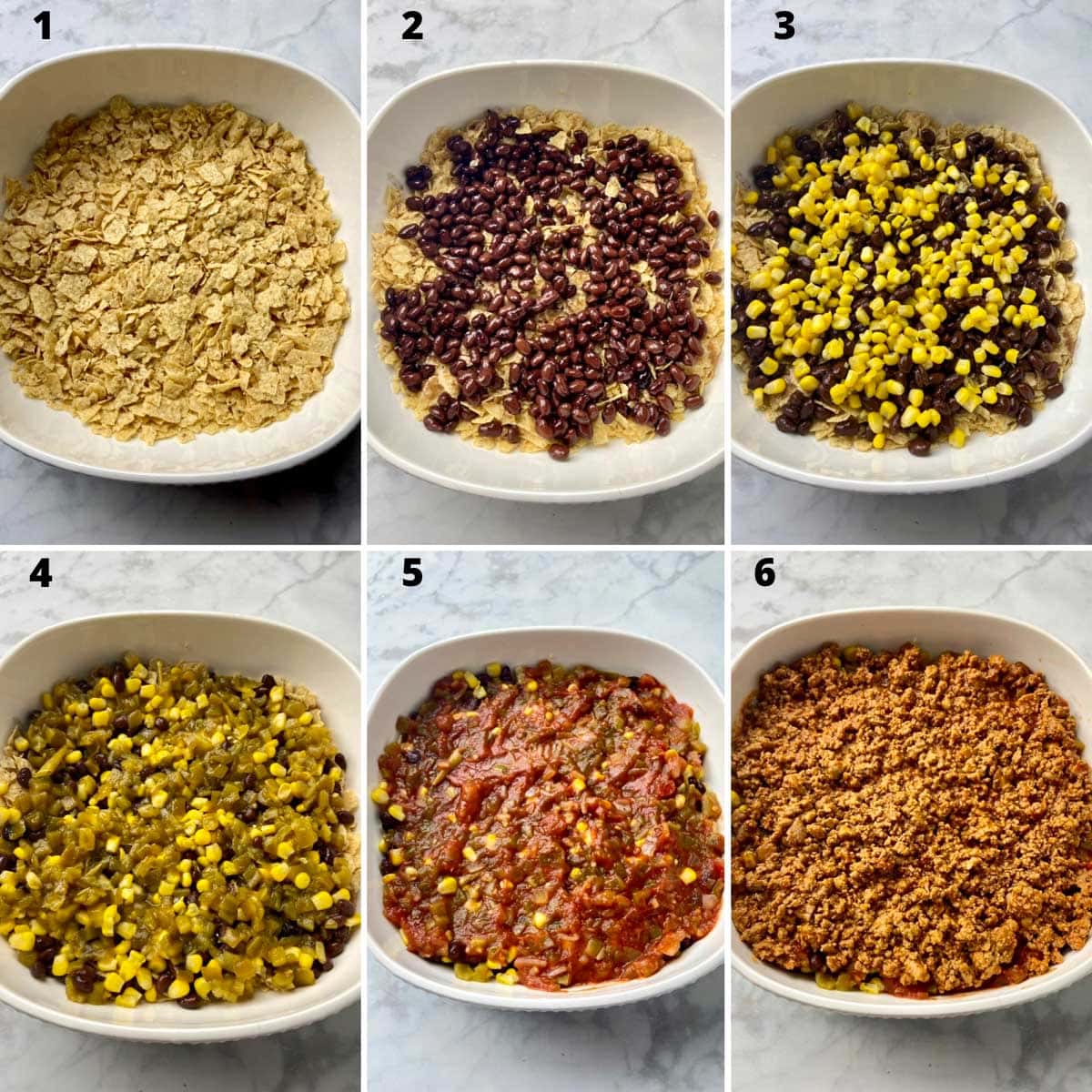 Full instructions which include cooking times and temperatures are listed at the bottom of the page.
1: Cook the ground turkey in a pan over medium heat until done. Add the taco seasoning. Follow the directions on the back of the taco seasoning packet (add the appropriate amount of water and boil for the specified length of time). Set aside.
Preheat the oven and grease your casserole dish. Crush your chips (you should have a total of 2 cups of crushed chips). Layer these evenly in the bottom of the casserole dish.
2: Layer the beans on top of the chips so they cover the entire casserole dish evenly.
3: Add an even layer of corn.
4: Add the green chilis over the top of the corn.
5: Spread the salsa evenly on the top.
6: Add the meat as the next layer and then top evenly with cheese.
Bake for 25 minutes or until the cheese is bubbly and the dish is hot. Serve warm!
Leftovers
Refrigerator: Store in the refrigerator for 3-4 days. Place it in an airtight container once it has cooled in the refrigerator- if you do this when it is still hot, it will trap the steam inside the container and make the chips mushy.
Freezer: store in an airtight container or freezer bag in the refrigerator for up to 3 months. This makes an excellent freezer meal, or is perfect to cook in a disposable pan, freeze and then gift to someone who just had a baby or needs a meal as a gift.
Reheating Instructions
I've found this casserole tastes best the second time if you add extra salsa and cheese to it. The salsa adds a little extra moisture, which can sometimes be lost when reheating.
Oven: Place the casserole in the oven at 350 F and cook for 10-15 minutes or until it hits 165F. (note: it may take longer if frozen.) I would recommend only reheating it once in the oven, as it the casserole will dry out.
Stove Top: This works best for reheating 1 or 2 pieces of casserole. Add a small amount of olive oil to a frying pan and set to medium heat. Place the tex mex casserole in the pan and cover with a lid. Cook for about 10-15 or until hot (165F).
Microwave: Place in a microwave safe dish and heat for 1-2 minutes or until steaming hot. You may add some extra cheese or salsa to the top to increase taste and how it looks after reheating.
Substitutions and Alternatives
Ground Turkey: the ground turkey can be with 93% lean meat, 99% lean or 85% lean meat. You can also use ground beef or shredded chicken.
The tortilla chips can be replaced with corn tortillas. Simply place one even layer of corn tortillas on the bottom of the casserole dish.
Spiciness: add extra spicy by using a medium or hot salsa. You can also add an extra can of green chilis or top with hot sauce when serving.
Beans: the black beans can be subbed with pinto beans or kidney beans .
Time Saving Tips
This casserole can be prepared the night before to make for an easy weeknight dinner. Simply make the casserole and store in the refrigerator. When you are ready to eat it, cook it in the oven as normal.
Another way to make this casserole ahead of time is to prep the ground turkey the night before, and then refrigerate and it to the casserole the next day.
No time to cook the ground turkey? Use a rotisserie chicken the has been shredded with the skin and bones removed.
What to Serve with This Dish
Recommended Toppings:
Hot sauce
Salsa
Sour Cream
Guacamole
Avocado
Cilantro
Recommended Side Dishes:
Refried beans
Chips & Salsa
Chips & Guacamole
Black Beans topped with Cheese
Healthy Substitutions
Low Sodium: Make this dish lower in salt by choosing canned beans and canned corn that are labeled "no added salt". Also, select a taco seasoning that is either low in salt or labeled "no added salt."
Low Fat: choose 93% lean or 99% lean ground turkey or ground hamburger. This will add less fat and less calories. Always drain and rinse the ground meat after cooking to remove any extra fat.
Low Calorie: add half the cheese to the dish to decrease the calories. You could also cut the amount of chips used in half.
Have a family that is split on their food preferences? Try making a 50/50 casserole- add cheese to only half of the casserole, or make one side with hot salsa and the other side with mild salsa. The casserole is very customizable!
More Easy Dinner Recipes
Tex Mex Casserole
This tex mex casserole is an easy weeknight dinner option! It's loaded with ground turkey, cheese, beans, corn and more!
Ingredients
2

cups

crushed tortilla chips

1

15 oz can

black beans

drained

1

cup

canned corn

drained

2

4.5 oz cans

green chili's

1

cup

salsa

chunky

1

pound

ground turkey

I use the 93% lean

1

package

taco seasoning

2

cups

shredded Mexican cheese
Instructions
Cook the meat on the stove top on medium heat until browned and the temperature reaches 165 F. Add the taco seasoning and follow the directions on the back of the taco seasoning (add the appropriate amount of water as instructed on the taco seasoning and boil for specified length of time).

Remove from heat and set aside.

Preheat oven to 350F. Grease a large 3 quart casserole dish.

Crush the tortilla chips into small pieces. Layer in the bottom of the casserole pan.

Top the chips evenly with the black bean (make sure to drain them!)

Next add the corn and spread out evenly over the beans. Then add the green chilis, and then salsa.

Add the cooked taco meat on top.

Add cheese evenly to the top.

Cook for 25 minutes or until warm and cheese is bubbly.

Remove from oven and serve warm. Add extra salsa is desired!
Notes
The nutrition facts are based on a piece that is 1/12th of the dish. Nutrition facts may vary based on brand of product used. 
Nutrition
Serving:
1
piece
|
Calories:
247
kcal
|
Carbohydrates:
20
g
|
Protein:
15
g
|
Fat:
12
g
|
Saturated Fat:
5
g
|
Polyunsaturated Fat:
1
g
|
Trans Fat:
1
g
|
Cholesterol:
46
mg
|
Sodium:
747
mg
|
Fiber:
4
g
|
Sugar:
2
g