Blueberry mango smoothie bowl is the perfect start to your day! Packed with blueberries, mango, yogurt and blended to perfection. This treat is easy to make, refreshing and healthy!
Have you ever tried a smoothie bowl before? If you haven't, think of it like a a smoothie that has a little bit thicker texture to it, so that it can be eaten with a spoon. Kind of like a softer version of ice cream! Now, take that and imagine all different kinds of fruit flavors and toppings. That's essentially what a smoothie bowl is!
The flavor options are endless for smoothie bowls. While the two main fruits used in this berry smoothie bowl are blueberries and mangos, any type of fruit will do. I like to either include mangos or bananas to help create a thicker texture.
This berry smoothie bowl will remind you of your favorite local smoothie joint, except better! Custom make this smoothie to whatever of ingredients are your favorite. This smoothie bowl is a great way to use extra frozen fruits!
If you're looking for more smoothie, some popular recipes are this green tea smoothie, this banana nut smoothie or this healthy pumpkin smoothie.
Topping Options For Smoothie Bowls
Toppings are hands down my favorite part of a smoothie bowl! After the actually "smoothie mixture" is created, it's poured into a bowl and topped with additional fruit, granola, nuts and more. This creates some added texture, which makes the bowl taste even better.
Here's some popular smoothie bowl toppings that go well with blueberry mango smoothie bowls:
Granola (check out this reader favorite homemade granola recipe)
Coconut
Mini Chocolate Chips
Fruit- banana slices, chopped strawberries, chopped mango blueberries
Chopped Walnuts or Pecans
Chia Seeds
Flax Seeds
Cinnamon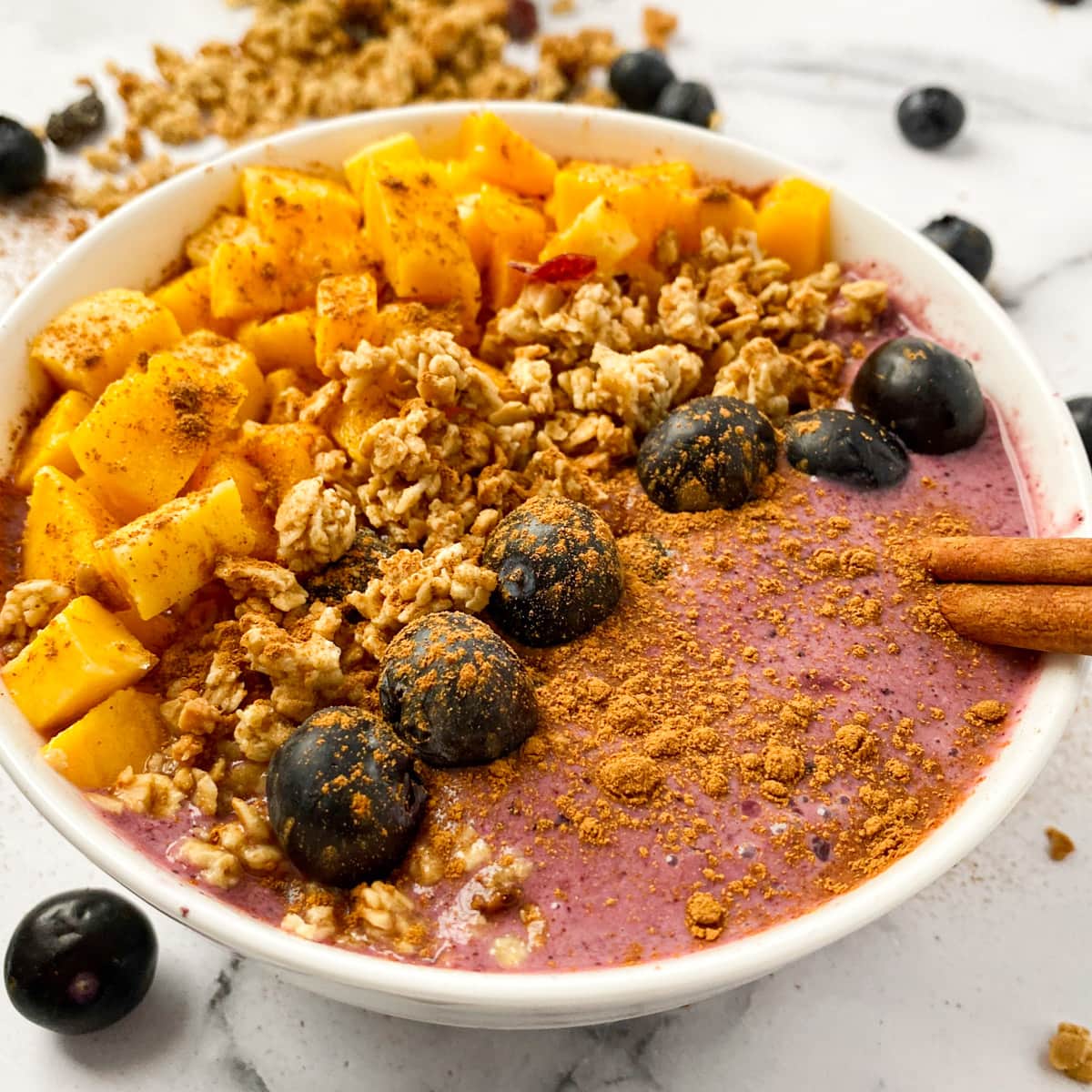 Blueberry Mango Smoothie Bowl Ingredients
This berry smoothie bowl requires only 4 ingredients! How easy is that? The best part is that ingredients can easily be substituted if you do not have all 4 ingredients on hand.
Frozen Blueberries: Use store bought frozen blueberries or use fresh blueberries and freeze them for an hour before making the smoothie bowl. Other alternatives are chopped strawberries, kiwi or peach.

Frozen Mango Chunks: Frozen mango helps create a thick texture for the smoothie bowl. Another alternative is banana, which also creates a thick texture.

Almond Milk: I prefer to use almond milk, however any type of fluid will work. Alternatives are skim or 1% milk, soy milk or coconut milk.

Vanilla Greek Yogurt: Other alternatives are blueberry, strawberry or mango flavored greek yogurt. Look for a yogurt that has over 15 grams of protein to make this a high protein smoothie bowl.
Expert Tips for Blueberry Mango Smoothie Bowls
Depending on the strength of blender, you may need to add some extra liquid. If smoothie does not blend very well, stop the blender, scrape down edges, add ¼ cup of almond milk and continue to blend.
Use frozen fruit for the best consistency of smoothie bowl. If wishing to use fresh fruit, simply pop it into the freezer for an hour or two before making the smoothie.
Serve cold. If eating it right away, use a spoon. If sits out too long, try using a straw to eat!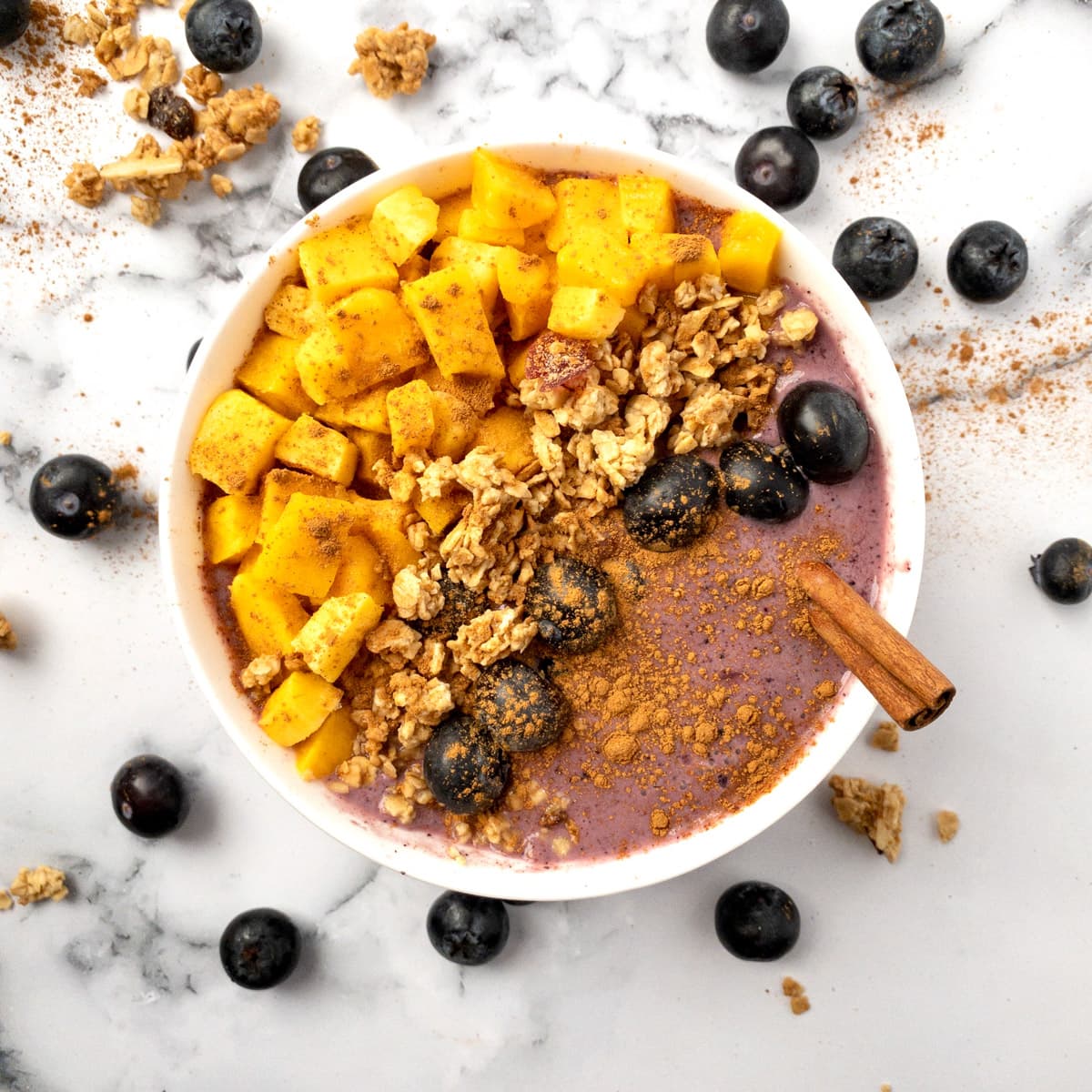 Are Smoothie Bowls Considered A Meal Replacement?
A question that's commonly asked is if smoothies or smoothie bowls can be considered a good meal replacement. The answer to this is a little bit complex and depends on the ingredients, since all smoothies are made differently.
If faced with the option of a smoothie bowl (especially if using the recipe below) versus eating a pop tart or something similar, go for the smoothie! Here's some tips to make it a good meal replacement option:
Make sure the smoothie bowl has protein - add this in through greek yogurt, cottage cheese or a protein powder.
Add extra blueberries or fruit on top of the smoothie- this adds fiber that your body has to work to digest because it is not already pre-blended.
Take note that not all smoothie bowls are created equally: sometimes they are made with honey, sugar or can be very high in calories (some local smoothie shops even use icecream!). This recipe is a little bit lower in added sugars, since the main sweetness come from fruit.
Consider eating veggies on the side (especially at lunch/dinner), such as carrots or celery sticks. Add in a serving of whole grain crackers also for a good source of whole grain.
Best Smoothie Recipes
Blueberry Mango Smoothie Bowl
Filled with blueberries, mangos, yogurt and almond milk. Top your smoothie bowl with unlimited options- granola, chia, cinnamon and more!
Ingredients
¾

cup

frozen blueberries

¾

cup

frozen mango cubes

¾

cup

vanilla greek yogurt

nonfat

¾

cup

vanilla almond milk

unsweetened
Toppings (optional)
1

teaspoon

cinnamon

1

tablespoon

chia seeds

2

tablespoon

granola

2

tablespoon

chopped fruit (blueberries, strawberries, bananas)
Instructions
Combine frozen blueberries, mango, greek yogurt and almond milk in a blender. Blend for 1 minute, or until smooth.

If smoothie does not fully blend, scrape down edges, add ¼ cup of almond milk and continue to blend.

Pour into a bowl. Top with any desired toppings. Eat immediately.
Nutrition