This green tea smoothie is a refreshing and healthy drink option! It is the perfect way to add a boost of natural energy to your smoothie and add in some extra greens. This requires only 5 ingredients and can be made in under 5 minutes.
The recipe for this green tea smoothie originated years ago when I was looking for a way to add extra caffeine to my morning smoothie. I started using green tea as a caffeine source due to its neutral flavor. It has a mild flavor which makes it easy to mix with other flavors or fruits or veggies.
Green tea is often viewed as a superfood due to its many nutritional properties. While some prefer to drink green tea plain, it's a great addition to your morning smoothie.
Pair this smoothie with a protein source for a healthy breakfast option! My favorite high protein breakfasts are this crustless quiche or this delicious air fryer turkey bacon.
Also, if you'd prefer to add some extra caffeine to your smoothie using coffee, check out this Mocha Protein Smoothie recipe!.
Jump to:
Reasons to Love This
This green tea smoothie contains caffeine for an extra boost of energy. A smoothie contains 2 tea bags worth of tea, which is about 54 mg of caffiene (equal to a small latte).
The smoothie is easy to make! It takes only 5 ingredients and can be prepped in under 5 minutes!
There are numerous health benefits to drinking green tea, which I will discuss more in the post!
Why Add Green Tea to Your Smoothie?
Green tea is well known for its health benefits. This zero calorie drink is a great alternative to drinking pop, because it provides caffeine with out the added sugars. Here's some more highlights:
Green tea is rich in polyphenols. Studies have found that the polyphenols in green tea may have an anti-inflammatory effect. (Source)
The polyphenols in green tea are also known for their antioxidant properties. Antioxidants protect your cells from something called 'free radicals'. This may play a role in preventing various diseases. (Source)
Green tea contains caffeine and l-theanine. The caffeine acts as a stimulant while the l-theanine is known for having a calming effect. (Source)
Ingredients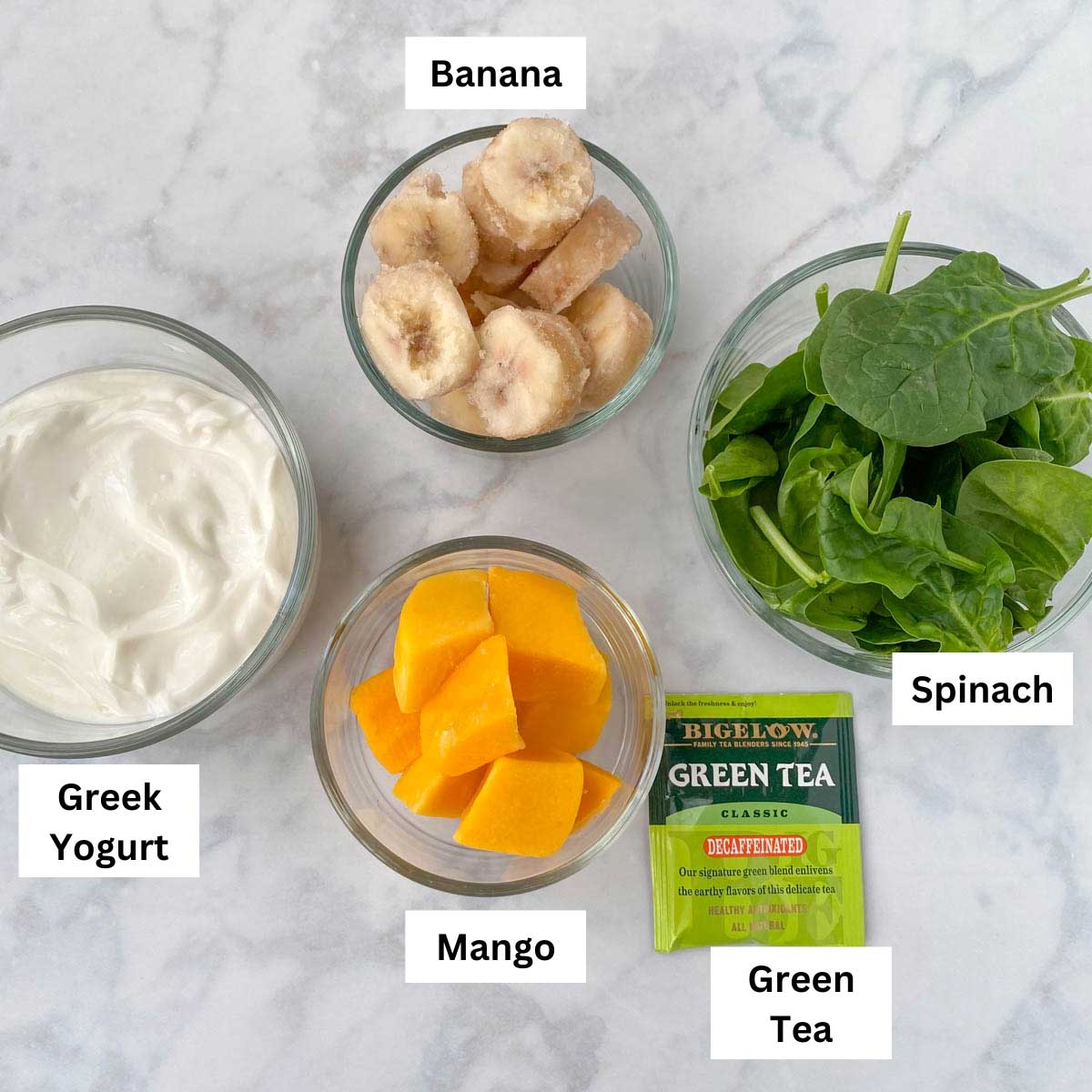 Green Tea: use a tea bag to make the green tea. Decaf or regular green tea will work.
Vanilla Greek Yogurt: vanilla Greek yogurt adds flavor and protein to the smoothie.
Spinach Leaves: adding spinach is an easy way to get in some extra greens. Kale can also be used in place of spinach.
Mango Cubes: I use the frozen, pre-packaged mango cubes. I love them because they require no prep work. They can be found in the freezer aisle of most grocery stores.
Banana: the banana should be frozen to help get the perfect smoothie consistency. Use a ripe banana (lots of brown spots!). The more ripe the banana, the sweeter the smoothie will be. Slice the banana into 1 inch slices to help it blend better.
Instructions
Make a cup of double brewed green tea. This can be done by heating one cup of water and placing two teabags in it. Let them sit for four minutes and then remove. Chill the tea overnight in the refrigerator so that it is cold.
Combine the cold green tea and spinach in a large blender. Blend on high for 20 seconds or until the liquid is smooth and no pieces of spinach remain.
Add in the Greek yogurt, mango and frozen banana slices. Blend on high until the smoothie is fully combined. Add an extra ¼ cup of liquid such as milk or water if the smoothie seems too thick.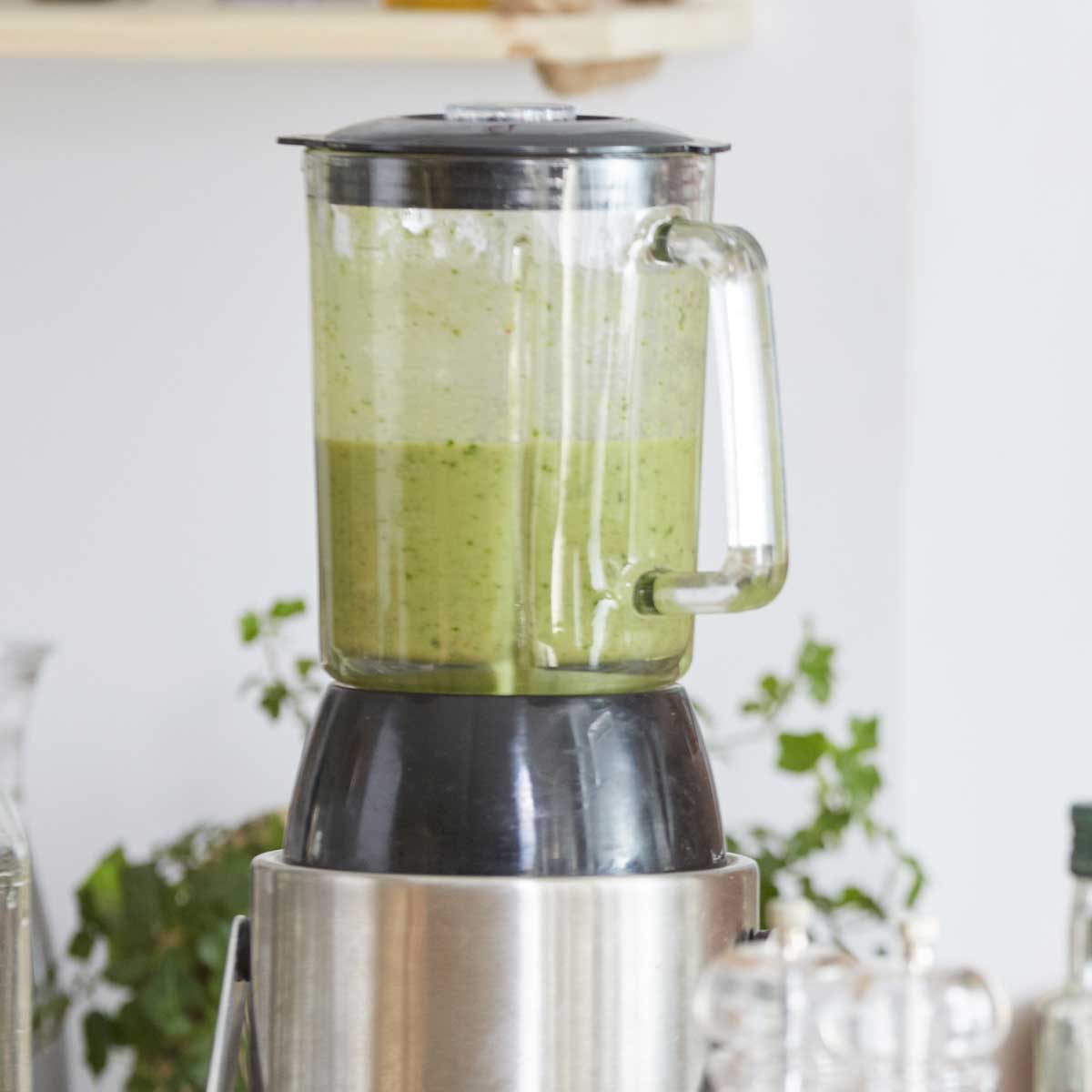 Top with desired toppings, such as cinnamon walnuts or flaxseed. Enjoy immediately!
Variations
Yogurt: The vanilla Greek yogurt can be replaced with regular nonfat vanilla yogurt. This will decrease the protein content of the smoothie.
Fruit: the mango can be replaced with any type of frozen fruit. Good options are blueberries, strawberries or blackberries. I love using bananas because they add a creamy sweetness to the smoothie, but these can also be replaced with any type of fruit as well.
Green Tea: use either caffeinated or decaf green tea.
Expert Tips
Blend the green tea and spinach together first before adding any other ingredients. This will help make sure that the spinach is fully blended and there are not any large pieces that remain.
Slice the banana into 1 inch pieces before blending it. This will help especially if you do not have a very powerful blender.
If the smoothie seems too thick, feel free to add an extra ¼ cup of liquid, such as water or almond milk
Frequently Asked Questions
Can I use store bought green tea from the bottle?
Yes, however the green tea will not be as strong. Check the nutrition facts to see if the bottled green tea contains added sugar, as this will affect the flavor and nutrition on the smoothie.
Will this help with weight loss?
There are many factors that affect weight loss, so I cannot claim that this smoothie will assist with weight loss. This smoothie would be a great addition to a healthy eating meal plan, however!
What is the caffiene content?
One tea bag contains 28 grams of caffiene. Since there are 2 tea bags used, the smoothie has around 54 grams of caffiene.
Nutrition Information
The Greek yogurt provides an excellent source of protein. (16 grams / serving). The protein is beneficial because it will keep you full for a longer period of time. Additionally, the protein in the Greek yogurt prevents a surge in blood sugar that happens when eating carbohydrates.
Unlike many smoothies that contain high amounts of carbohydrate from using both fruit and fruit juice, this smoothie uses green tea as the liquid, which is a healthy alternative to juice.
The green tea smoothie is a great source of vitamins and minerals. In particular, the spinach provides a lot of Vitamin A. (295% of your daily value).
The spinach and banana are also great sources of potassium. There is also 6 grams of fiber in this smoothie. That's almost as much fiber as a serving of black beans! This helps keep you full for longer and helps aid the digestive tract in doing it's job.
Related Recipes
Green Tea Smoothie
This green tea smoothie is packed with health benefits. It is the perfect way to add a boost of natural energy in your smoothie and add in some extra greens.
Ingredients
1

cup

cold green tea

twice brewed (see note below)

2

cups

fresh spinach leaves

1

medium

frozen banana

ripe

1

cup

frozen mango cubes

½

cup

Greek yogurt

vanilla
Instructions
Combine the cold green tea and spinach in a blender. Blend on high until smooth and no visible pieces remain.

Note: to make the twice brewed green tea, heat 1 cup of water until hot. Add 2 tea bags and steep for 4 minutes. Remove the tea bags and refrigerate the tea until cold.

Add in the Greek yogurt, frozen banana and frozen mango. Blend until smooth.

Pour into a glass and serve immediately.
Notes
To make twice brewed green tea, make tea as normal, except add 2 tea bags instead of 1 to the same amount of water. 
Low sugar option: use plain Greek yogurt instead of vanilla greek yogurt. 
Nutrition
Calories:
279
kcal
|
Carbohydrates:
57
g
|
Protein:
16
g
|
Fat:
2
g
|
Saturated Fat:
0.4
g
|
Polyunsaturated Fat:
0.3
g
|
Monounsaturated Fat:
0.3
g
|
Cholesterol:
5
mg
|
Sodium:
86
mg
|
Potassium:
117
mg
|
Fiber:
7
g
|
Sugar:
41
g