This healthy pumpkin smoothie tastes just like pumpkin pie in a glass! It's the perfect blend of pumpkin, festive spices and sweetness. Make this smoothie for breakfast, lunch or dessert!
If you like pumpkin pie, there is a very good chance that you will LOVE this smoothie! It is a healthy alternative to eating a slice of pumpkin pie. This healthy pumpkin smoothie tastes very similar to pumpkin pie and is healthy way to satisfy cravings. The smoothie is sweetened with bananas, helping to keep it lower in calories and fat.
Looking for more smoothies? Check out this Pina Colada Smoothie or Green Tea Smoothie! And if you are really looking for another healthy alternative, pair this smoothie with these popular baked boneless wings!
Note: There are links on this site that are "affiliate links". This means that I may receive a small commission if you subscribe or purchase something through the links provided.
Jump to:
Reasons To Love This Smoothie
This is a healthy pumpkin flavored treat! The smoothie is sweetened with bananas, which provide a natural sweetener. You do not have to add any extra sugar.
The pumpkin smoothie is easy to make! It requires only 6 ingredients!
This is a great way to use up leftover pumpkin!
Ingredients Needed
Pumpkin Puree: Use only ½ cup for 1 serving of smoothie. Refrigerate the leftovers if you're planning to make more smoothies or pumpkin goodies. The pumpkin should last 3-4 days in the refrigerator if placed in an airtight container.
Banana: use a very ripe banana: this creates sweetness without having to add any extra sugar. Freeze the banana the night before making the smoothie.
Almond Milk: vanilla almond milk. Usually, I go for the unsweetened type, but this time I used the regular vanilla flavor for a hint of added sweetness.
Pumpkin Pie Spice

: adds the perfect amount of pumpkin pie flavor

Cinnamon: adds a festive flavor to the smoothie
Ways to Make This More Nutritious
Protein Powder: Add 1 scoop of your favorite vanilla protein powder (adds 10-15 grams protein depending on the brand)
Add ½ cup of vanilla Greek yogurt (adds 10 grams protein depending on brand)
Leafy Greens: Add a handful of spinach or kale to boost the fiber, vitamins, and minerals in your smoothie without significantly affecting the flavor.
Chia Seeds or Flaxseeds: A tablespoon of chia seeds or ground flaxseeds can provide omega-3 fatty acids, fiber, and additional thickness to your smoothie.
Greek Yogurt: Replace some of the almond milk with Greek yogurt to increase the protein content and creaminess of your smoothie.
Nut Butter: Add a tablespoon of almond or peanut butter for healthy fats and extra creaminess.
Oats: A couple of tablespoons of rolled oats will contribute fiber and make your smoothie more filling.
Hemp Seeds: Sprinkle some hemp seeds on top for protein, omega-3s, and a slight nutty taste.
Step by Step Instructions
Step 1: Add the almond milk, pumpkin, banana, ice and spices into a blender.
Step 2: Blend on high until smooth and no large pieces remain. Serve cold!
Expert Tips
Use a frozen banana and slice into pieces before adding to the blender. Using a frozen banana cuts down on the amount of ice that is needed.
Measure out your ice cubes. This is important to avoid getting too much or the smoothie will not have much flavor
This recipe can be double and tripled if wanting to make larger servings. I recommend using a large blender that has a strong motor.
If your blender does not have as powerful of a motor, blend all ingredients first and then add the ice.
Smoothie Meal Prep
This is a great smoothie for meal prep! Throw all ingredients except for the banana and ice into the blender the night before. The next morning, add your ice and banana and blend away.
This high-speed blender
is a great option for making smoothies on the go because the blending container is the same container you take with you!
Nutrition Information
This healthy pumpkin smoothie is loaded with pumpkin! One benefit of this smoothie vs. pumpkin goodies is that you get a ½ cup worth of pumpkin in one serving. Most other pumpkin treats only have a ½ cup - 1 cup TOTAL of pumpkin for the entire recipe.
Pumpkin Health Benefits
Canned pumpkin is a low-calorie food option with many nutritional benefits. ½ cup of pumpkin is only 50 calories, which makes it a great addition to smoothies, or even in cooking to add moisture, such as to a bread or chili!
Pumpkin is loaded with Vitamin A. ½ cup provides 250% of your daily needs. Some studies have found that this may help improve vision.
Pumpkin also has 3 g fiber per ½ cup. This is a soluble fiber that aids in digestion.
Need more convincing the pumpkin is a nutritional superstar? Check out this article on pumpkin.
Pumpkin Pie Vs. Pumpkin Pie Smoothie Nutrition
| | | |
| --- | --- | --- |
| | Pumpkin Pie | Pumpkin Smoothie |
| Calories | 325 | 240 |
| Fat | 13 g | 4g |
| Sugar | 25g | 19g |
| Protein | 5.2 g | 1.6g |
*adding protein powder adds an extra ~ 100 calories/15 g pro
Recommended Products
High Power Blender or Food Processor: Having a strong blender will help create an even consistency of the smoothie. A food processor can also be used if you do not have a blender.
Smoothie Cup: This insulated tumbler is perfect for taking your smoothie on the go! And it claims it can keep your drink cold for up to 18 hours with no sweating!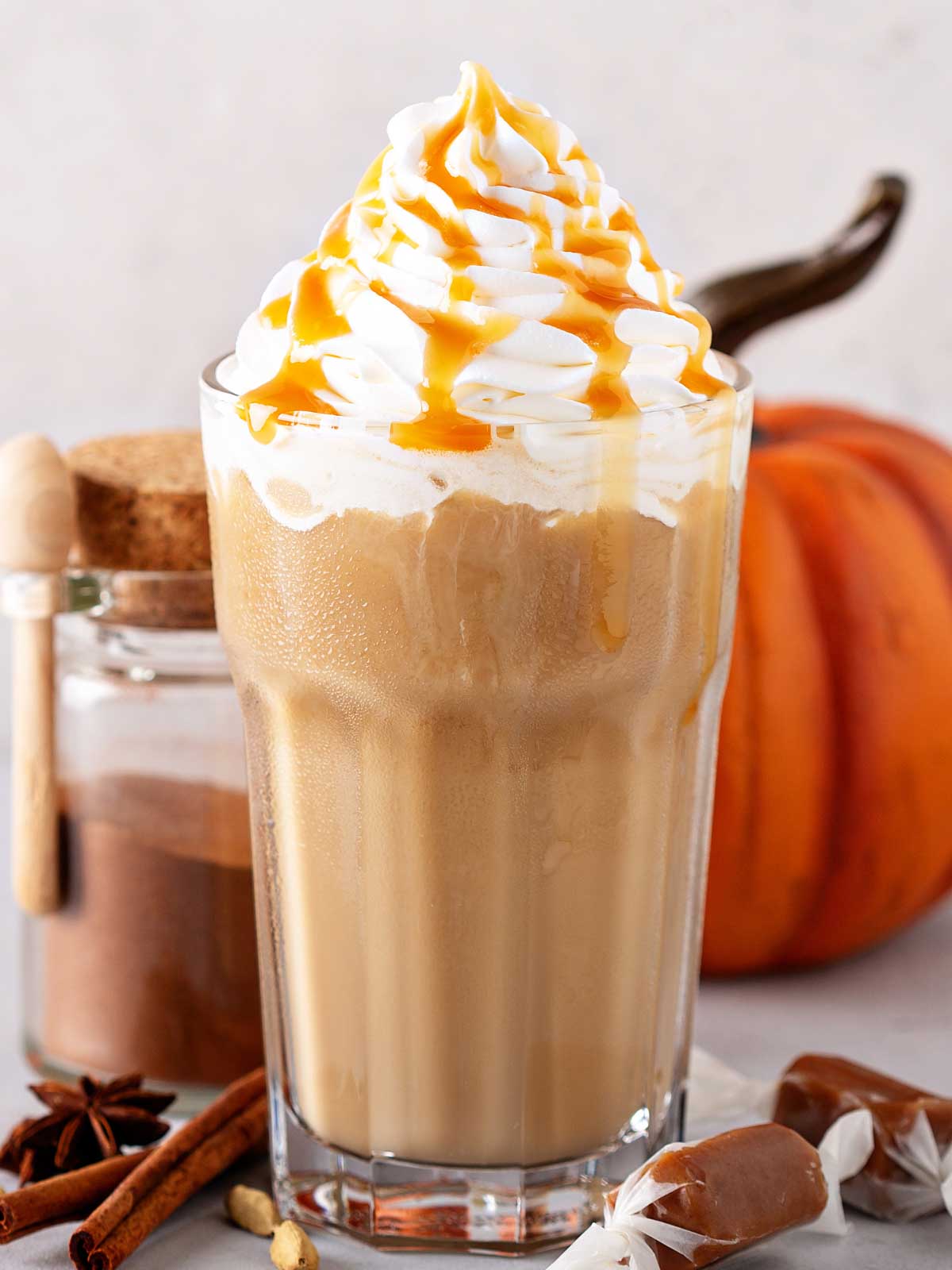 Recipe FAQs
What is the healthiest thing to put in a smoothie?
The healthiest things to put in a smoothie are typically leafy greens like spinach or kale, as they are packed with vitamins, minerals, and antioxidants. Also, adding a variety of fruits, such as berries, and a source of protein like Greek yogurt or plant-based protein powder can make your smoothie a well-rounded and nutritious choice.
What is the best liquid to put in a smoothie?
The best liquid in a smoothie often depends on your dietary preferences, but unsweetened almond milk is a commonly used option. It's low in calories, adds a nutty flavor, and pairs well with a wide range of fruits and vegetables in smoothies.
Can you lose weight drinking one smoothie a day?
Drinking one smoothie a day can be a part of a weight loss plan if the smoothie is well-balanced and fits within your daily caloric needs. However, weight loss primarily depends on your overall diet and lifestyle, so it's essential to ensure that the rest of your meals and snacks align with your weight loss goals as well.

More Fall Favorites
Healthy Pumpkin Smoothie
This healthy pumpkin smoothie is a festive fall drink that's easy to make! It has the perfect balance of sweetness, pumpkin and fall flavors.
Ingredients
1

cup

almond milk

vanilla

½

cup

canned pumpkin puree

1

banana

frozen

½

teaspoon

cinnamon

¼

teaspoon

pumpkin pie spice
Optional Add-In's
1

scoop

vanilla protein powder

honey
Instructions
Slice the frozen banana into 1 inch slices.

Combine the almond milk, banana, pumpkin puree, cinnamon and pumpkin pie spice in a blender.

Blend until smooth. Serve immediately!
Notes
TIPS
Banana should be ripe to give the smoothie a sweet flavor. 
Use a frozen banana so that you do not have to use ice cubes to get a frozen smoothie texture. 
Vanilla almond milk is recommended over the unsweetened almond milk. 
OPTIONAL ADD INS: 
Protein powder: add 1 scoop of vanilla flavored protein powder for extra protein 
Honey: add 1 tablespoon of honey for added sweetness
Increase the amount of cinnamon and pumpkin pie spice if desired
Nutrition
Calories:
241
kcal
|
Carbohydrates:
54
g
|
Protein:
4
g
|
Fat:
4
g
|
Saturated Fat:
0.3
g
|
Polyunsaturated Fat:
2
g
|
Monounsaturated Fat:
2
g
|
Sodium:
333
mg
|
Potassium:
682
mg
|
Fiber:
8
g
|
Sugar:
19
g