Gluten free pumpkin bread is moist, dense and the perfect balance of pumpkin and spices. You will love this delicious fall recipe!
There are links on this site are "affiliate links". This means that I may receive a small commission if you subscribe or purchase something through the links provided.
Fall is one of my favorite seasons! I love everything about it-- cooler weather, football, leaves on the ground, and of course all the Pumpkin recipes!
I love this pumpkin bread because it has the perfect balance of fall flavors. The texture of this bread is perfectly moist and dense- you can't even tell it's gluten free!
If you're looking for more pumpkin recipes, check out my gluten-free pumpkin cookies and gluten free pumpkin bars!
Jump to:
Reasons to Love this Recipe
I truly wish I could give everyone reading this a small sample of this pumpkin bread. That's how good it is. Out of all of the pumpkin bread recipes that I've made, this is the best!
The texture is perfect. The bread is moist (but not doughy or soggy) and it's not one bit dry or crumbly.
The bread tastes great fresh out of the oven, and it also tastes just as good a few days later.
It has the perfect amount of pumpkin flavor from the seasonings and spices.
Ingredients Needed
Coconut Oil: use melted coconut oil. This can also be subbed with canola oil.
Sugar: use both granulated sugar and brown sugar. The brown sugar helps make the bread moist.
Applesauce: unsweetened, plain applesauce is best. You can also use an applesauce substitute.
Pumpkin: use pumpkin puree. This recipe only uses 1 cup of pumpkin. Use your leftover pumpkin to make these mouthwatering gluten free pumpkin spice cookies.
Gluten Free Flour: The flour must be a baking flour that has a 1:1 ratio and contains Xanthan gum. I recommend King Arthur's or Bob's Red Mill 1:1 ratio baking flour.
Baking powder, Baking Soda & Salt: adds volume, texture and flavor
Pumpkin Pie Spice & Cinnamon: add the pumpkin flavors that we all love!
Step by Step Instructions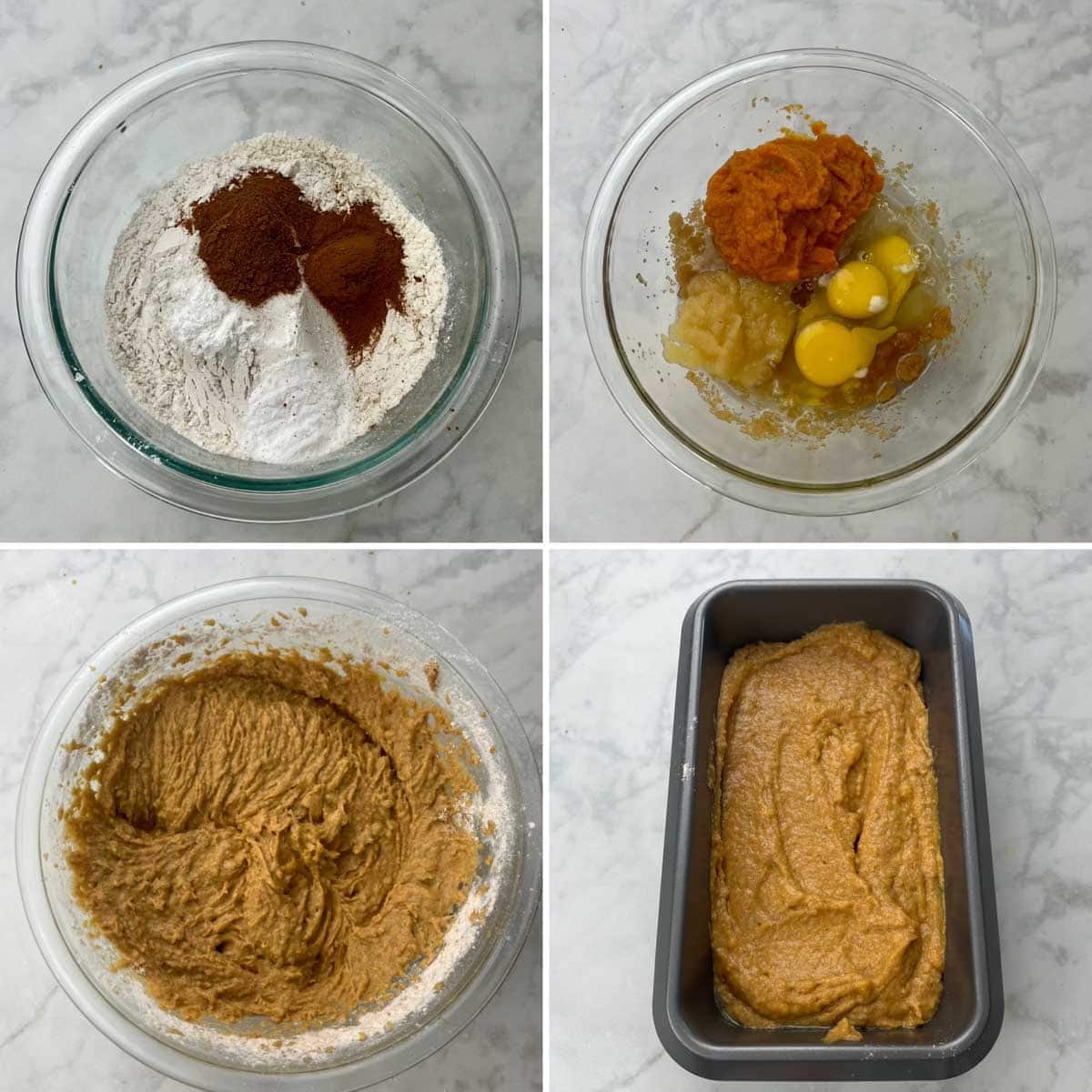 Combine all dry ingredients in a small bowl. Mix and set aside.
Combine the coconut oil and sugars with a mixer until creamy. Add the eggs, vanilla, applesauce and pumpkin. Mix until creamy.
Add the pumpkin mixture to the dry ingredients. Mix with a spoon until just mixed (don't over mix!). Pour into a loaf pan and bake in the oven!
Note: full instructions with times and amounts are at the bottom of the page.
Variations
Add In's
Add in 1 cup of any of these add-in's for some extra flavor or crunch:
Chocolate chips
White chocolate chips
Craisins
Walnuts
Pecans
Make Mini Bread Loaves or Pumpkin Muffins
This recipe can also be made into mini bread pan loaves or into muffins. (Seriously, how cute are these mini loaf pans?!) The cook time will be shorter if this recipe is made using muffins or mini bread loaves. The bread is done when the tooth pick is clean when removed.
Make A Large Batch
This recipe can be doubled or even tripled to make a large batch. To make two batches, simply double all of the ingredients, and bake the bread in two different loaf pans. This is perfect if cooking for a large family or giving away the bread as gifts.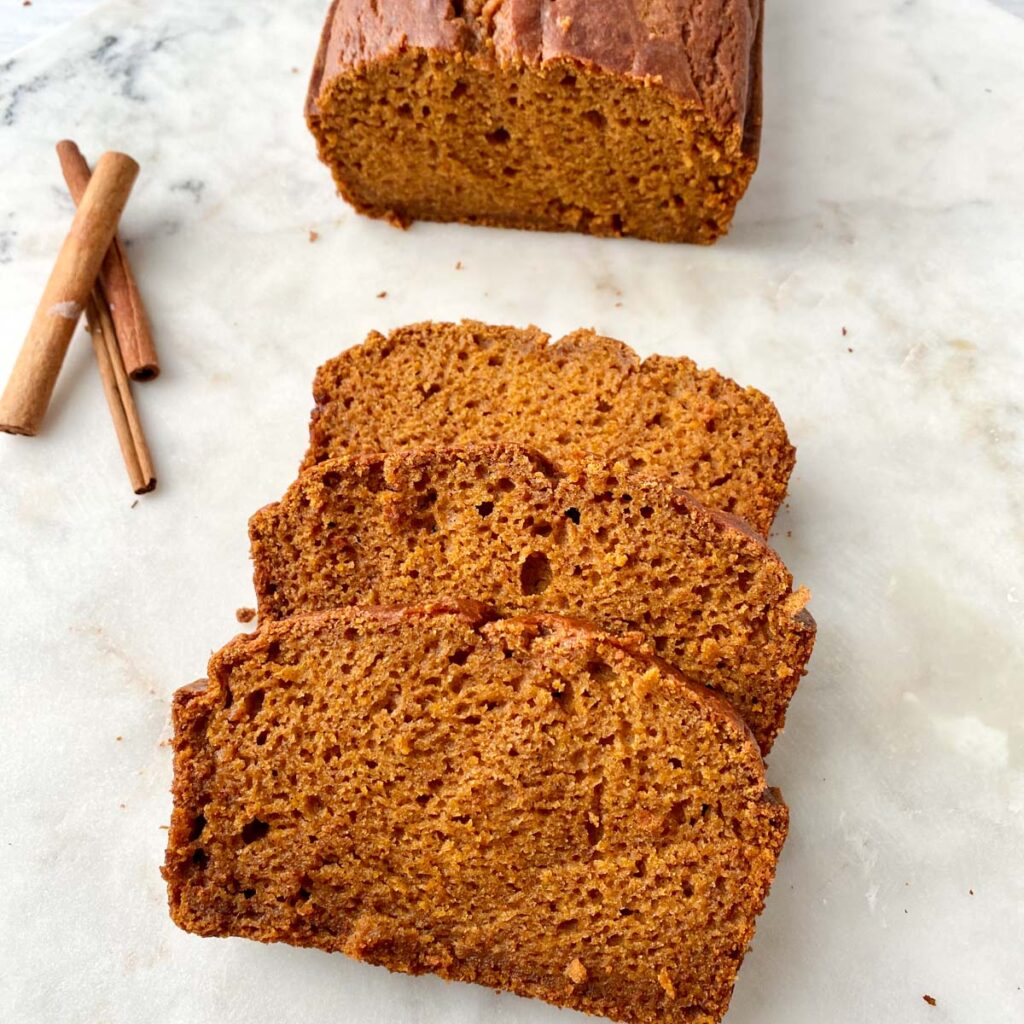 Allergen Information
This recipe makes a gluten free and dairy free pumpkin bread. To make sure the pumpkin bread is gluten free, use only gluten free flour and 100% gluten free ingredients.
Not concerned about making this bread gluten free? You can also use regular all purpose white flour. Use the same amount of all purpose flour as the recipe calls for; no need to make any adjustments!
Tips For Success
Here's some things I found that help make this the best pumpkin bread ever!
Cream together the sugar and oil first with an electric mixer. Don't just dump all the ingredients in the bowl and call it good. I promise this help create a better bread!
Don't over mix the batter when adding the flour mixture to the pumpkin mixture. Mix just until all ingredients are combined- this will help make your bread tender and moist and not overly chewy.
Frequently Asked Questions
How Do I keep the Outer Edges of my Bread From Burning While the Middle is Still Doughy?
One of the biggest challenges with baking bread is often that the tops/edges of the bread burn while the middle is still doughy. The trick to preventing this is to cover your bread tightly with foil for the last five or ten minutes of baking.

This allows the middle section to continue to cook, and helps prevent the outside of the bread from browning. In this specific recipe, cook the bread for 50-55 minutes, and then test the middle of the bread with a toothpick.

If the middle is still doughy, cover the bread with foil and bake for another 5 minutes or until the toothpick is inserted and comes out clean.
How Do You Keep Pumpkin Bread Moist?
Store the bread in an airtight container. Remove the bread from the pan when completely cooled, place in a zip lock bag, remove all air and seal completely shut. Another option is to store in a Tupperware container that has an airtight lid.
What Type of Pumpkin Should I Use?
Canned pumpkin works the best. Do not use pumpkin pie filling – it is different than can pumpkin and the recipe will not turn out the same!

Leftover canned pumpkin that is not used in the recipe can be placed in a ziplock bag and frozen for a few months.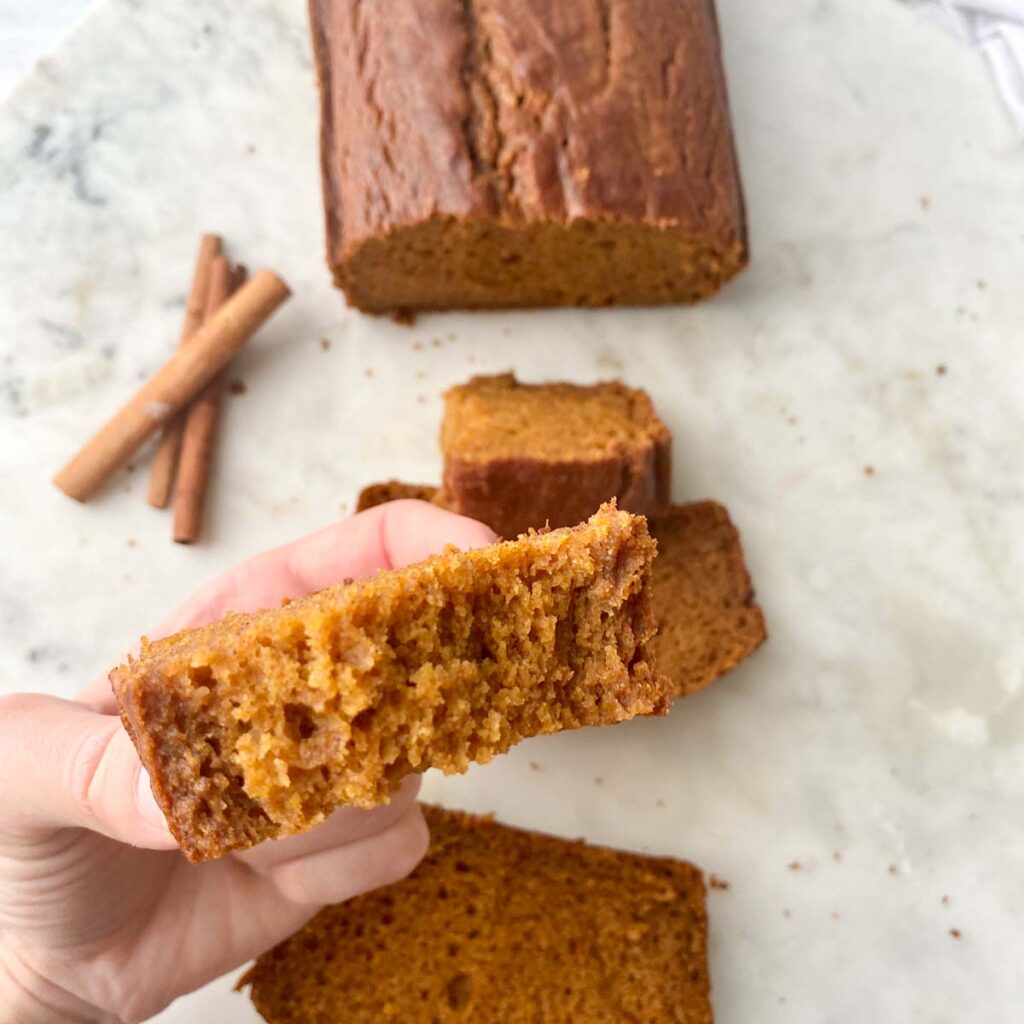 Serving Suggestions
Pumpkin bread can be eaten at any meal- breakfast, lunch or dinner! It's also a great snack or dessert option.
Here's some ideas of how to incorporate pumpkin bread into a balanced meal:
Breakfast
Serve pumpkin bread with a side of fruit and a protein. Pumpkin bread, scrambled eggs and fresh strawberries is a great combination!
Lunch/Dinner:
Serve pumpkin bread as the grain for your lunch meal. A healthy meal would be a salad topped with chicken (protein), avocado (healthy fat) and fruit. Serve with a glass of milk and pumpkin bread on the side.
Nutrition Information
This recipe has some modifications made that make it just a little bit healthier than your normal pumpkin bread.
The fat is reduced to ½ cup of coconut oil
Some of the sugar is replaced with applesauce. This adds extra sweetness without having to use table sugar.
The amount of pumpkin has been increased. Pumpkin is a great source of Vitamin A- this bread provides 64% of your daily value of vitamin A.
This recipe has some healthy changes made to it, however, it still has calories and fat as like any other bread. Keep reading for ideas on how to incorporate this bread as a healthy balanced meal.
Nutrition
The pumpkin bread makes 12 servings. The bread has 172 calories and 3 grams of protein per serving.
More Delicious Desserts
Gluten Free Pumpkin Bread
This gluten free pumpkin bread is moist and delicious! This bread is flavored with pumpkin pie spice, cinnamon and is lower in sugar than most breads!
Ingredients
Wet Ingredients
⅓

cup

coconut oil

melted

½

cup

brown sugar

packed

¼

cup

granulated sugar

½

cup

applesauce

unsweetened

2

teaspoon

vanilla extract

1

cup

canned pumpkin

(not pumpkin pie filling)

3

large

eggs
Dry Ingredients
1.5

cups

gluten free flour

(1:1 baking ratio)

1

teaspoon

baking soda

½

teaspoon

baking powder

½

teaspoon

salt

1

teaspoon

cinnamon

1.25

teaspoon

pumpkin pie spice
Instructions
Preheat oven to 350F. Grease the bottom and side of a 9x5" bread pan.

In a large mixing bowl, combine the coconut oil, brown sugar and granulated sugar. Beat with an electric mixer until combined and crumbly (about 1 minute).

Add in the applesauce, vanilla and pumpkin. Beat with electric mixer on medium speed until combined and creamy, about 1 minute.

Add in the eggs. Beat with mixer until combined. Set aside.

In a seperate medium mixing bowl, combine the flour, baking soda, baking powder, salt, cinnamon and pumpkin pie spice. Mix with a spoon until combined.

Add the flour mixture to the pumpkin mixture. Mix gently with a spoon until mixture is combined. (Don't overmix!)

Pour the batter evenly into a prepared baking pan.

Bake for 55 minutes, cover with foil and bake another 5 minutes. Toothpick should be come out clean when it is inserted into the middle of the bread.
Notes
The gluten free flour must be a 1:1 ratio baking flour. It also must contain xanthan gum. I recommend Bob's Red Mill 1:1 Baking flour.
Nutrition
Calories:
184
kcal
|
Carbohydrates:
27
g
|
Protein:
3
g
|
Fat:
8
g
|
Saturated Fat:
5
g
|
Polyunsaturated Fat:
0.4
g
|
Monounsaturated Fat:
1
g
|
Trans Fat:
0.01
g
|
Cholesterol:
47
mg
|
Sodium:
228
mg
|
Potassium:
82
mg
|
Fiber:
2
g
|
Sugar:
15
g