Applesauce is commonly used in baking recipes as a substitute for sugar or fat. It can also be used as an ingredient to add flavor to recipes, such as an apple cake or apple muffins.
If you find yourself in need of an applesauce substitute in baking, I have compiled a list of options that review different alternatives and how they will affect the product you are cooking.
Applesauce is often a staple used when baking healthy recipes. It adds moisture and natural sweetness without having to add extra calories or sugar. Regardless of if you don't have applesauce on hand, or just want to use another product, check out some of the alternatives listed below.
It is important to know why applesauce is being used in your dish. For example, if applesauce is used as a sugar replacement, I recommend a sweeter substitute, such as bananas or sweet potatoes. I will explain how each item affects the outcome of the dish you are baking.
Jump to:
Pureed Apples
Pureed apples are the best alternative to applesauce because they have the same flavor and texture. There are no extra sugars added and they are naturally sweet. The type of apple used will affect the flavor. Granny smith is a more bitter option, while gala or red delicious will be sweeter.
Pureed apples are a great source of potassium. Remember to cook the apples, remove the skin and puree until smooth so no large pieces remain!
Substitution ratio: replace in a 1:1 ratio, no adjustments are needed
Recipe impact: This works best for recipes that use applesauce to replace some of the sugar. This is also perfect for a recipe that uses apples as one of the main flavors.
Mashed Banana
Mashed bananas can be used as a replacement for applesauce. They have a similar texture and moisture content. Bananas also provide an added sweetness. Use a ripe banana and mash until smooth for best results.
Using a banana may add extra flavor depending on the dish. This would be perfect for a sweeter dish such as pumpkin bread or even zucchini muffins. Baked goods that already have a dominant flavor, such as blueberry bread, may take on the flavor of the banana if using.
Substitution Ratio: sub in a 1:1 ratio
Recipe Impact: this is best for recipes where applesauce is used as the sweetener. Note that bananas can impact the texture, so you may have to watch the cooking time, especially if baking bread or muffins.
Pumpkin Puree
Pumpkin has a similar texture to applesauce. It is not as sweet, however, so the flavor will be impacted. Pumpkin is often used to bind ingredients together, so it may affect the cooking time.
Be sure to use canned pumpkin puree and not pumpkin pie filling. Pumpkin pie filling contains added sweetener which will affect the final flavor.
Recipe Impact: this works best where applesauce is used as an ingredient and not in place of sugar. It is also great for a recipe that uses applesauce to reduce the fat content.
Greek Yogurt
Plain greek yogurt can be used in place of applesauce. It is thicker than applesauce, so it may make your batter slightly thicker. Consider adding a small amount of water if this is the case.
Greek yogurt works best if applesauce was used to replace the fat content. This is because Greek yogurt helps bind ingredients together. Yogurt is an excellent source of protein and calcium. A cup of yogurt can add up to 25 grams of protein to the recipe.
Recipe Impact: plain Greek yogurt will thicken the batter. It has a neutral flavor and does not add any sweetness, so avoid using yogurt if applesauce was used in the recipe as an ingredient for flavor or to add sweeteness. The cook time of your recipe may be impacted.
Ratio: use in a 1:1 ratio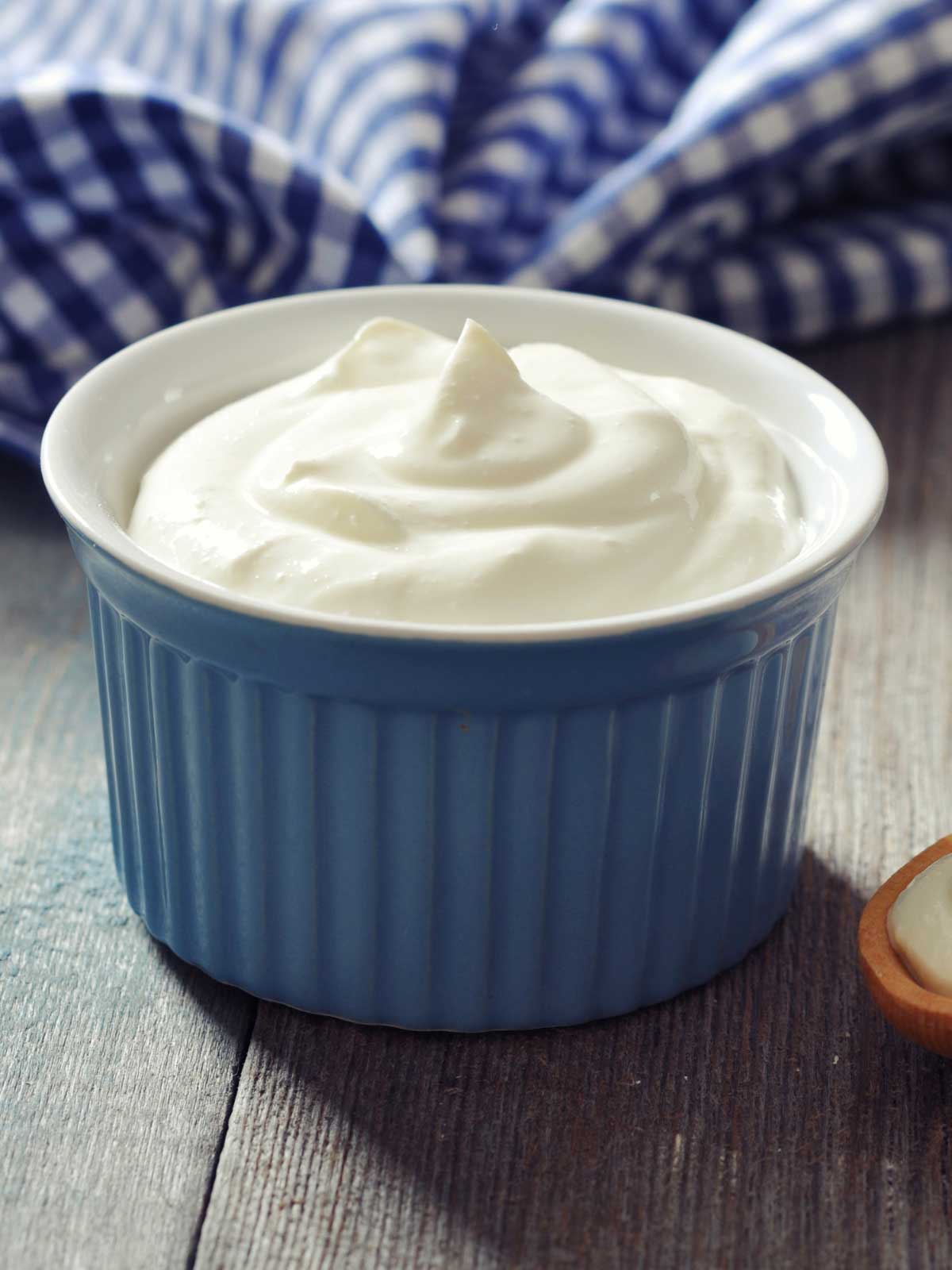 Buttermilk
Buttermilk is an option as a replacement for applesauce. It has a higher liquid content and thus the amount substituted needs to be adjusted.
Buttermilk works best for recipes that use applesauce as a replacement for fat or oil. I would not recommend it as a sweetener or flavor replacement, as it is low in sugar. Buttermilk is commonly used in recipes to add rich moisture.
Recipe Impact: This works best for cakes, cookies, or bread that have applesauce replacing the fat. Consider still adding some of the fat, and then using buttermilk to substitute the rest. Note, this may make the recipe more liquidy, so play around with the texture and cook time.
Ratio: use ½ cup buttermilk for 1 cup applesauce. Increase the amount of buttermilk as needed to meet the desired consistency.
Mashed Sweet Potato
Mashed sweet potatoes provide a natural sweetness to the dish. They are also loaded with vitamins and minerals, like Vitamin A and fiber. These work best for recipes that have applesauce as an ingredient and not as a replacement for fat/oil.
I would recommend using mashed sweet potatoes in a recipe such as pancakes or waffles. Be careful with adding to bread or muffins: sweet potato is a dense, heavy option that may impact the final product.
To make mashed sweet potatoes, cook a sweet potato until tender in the microwave, stovetop, or oven. Peel the skin and mash until smooth with a fork.
Recipe Impact: this works best for products like pancakes or waffles. Avoid adding to bread or muffins.
Ratio: add in a 0.5 : 1 ratio (for example ½ cup mashed sweet potato for every 1 cup applesauce)
Silken Tofu
Silken tofu is a great dairy-free, low-sugar option. Use silken tofu as opposed to regular tofu because it has a lower protein content, and thus will have a texture that is similar to applesauce.
Use silken tofu when applesauce was replacing the fat/oil. I would also use it in a recipe that has a strong flavor, such as double chocolate muffins.
Recipe Impact: Use when applesauce was added to a recipe to replace the fat content. Silken tofu is dense, so it works best in pancakes, waffles or a dense chocolate bread/muffin.
Ratio: use ⅓ cup of blended tofu for every ½ cup of oil/butter that needs replacement.
FAQS
Is there a substitute for applesauce in baking?
Pureed fruit such as banana, apples or pumpkin are all a great substitute for applesauce in baking. These substitutes will add extra moisture to the dish that is being baked.
What is a vegan substitute for applesauce?
Vegan substitutes for applesauce include mashed bananas, pumpkin, pureed apples and mashed sweet potato.
What is the purpose of applesauce in baking?
The purpose of applesauce in baking is primarily to act as a substitute for fats, such as butter or oil. It helps to reduce the overall fat content in the recipe while adding moisture and creating a softer texture in the baked goods. Applesauce also contributes natural sweetness and a hint of fruity flavor to the final product.
Does applesauce change the taste of baked goods?
Yes, applesauce can change the taste of baked goods. It adds natural sweetness and moisture to the recipe, resulting in a slightly tangy and fruity flavor. Additionally, applesauce can contribute to a softer texture in the final product.
Summary
This list of applesauce substitutes can be used when you need a replacement. Making a puree from apples or bananas will be the closest type of substitute to applesauce. If you are short on time, there are other options that will work great!
Make sure you know why your recipe called for applesauce in the first place. If it was to replace sugar, then I recommend using another fruit substituted for that sugar.
Some recipes use applesauce for flavor, so know that the applesauce replacement will affect the final sugar content.
Lastly, if applesauce was used as a fat option, you are safe to use any of the options listed above.
Favorite Baking Recipes