These gluten free pumpkin cookies are soft & light! The perfect balance of pumpkin and spice, these delicious cookies are hard to resist. They are topped with a cream cheese frosting and can be made in under 30 minutes!
Note: There are links on this site that are "affiliate links". This means that I may receive a small commission if you subscribe or purchase something through the links provided.
These GF pumpkin cookies are the perfect fall recipe! They have just enough pumpkin spice flavoring to satisfy any craving!
These delicious pumpkin cookies are soft, chewy and moist. They are gluten free, but you can't even tell!
Pair these cookies with a side of white chicken chili or chicken tortilla soup for a true fall treat!
If you're looking for more gluten free pumpkin recipes, be sure to check out my gluten free pumpkin bread, healthy pumpkin smoothie or gluten free pumpkin bars!
Jump to:
Jump to:
Reasons to Love These
These GF pumpkin cookies are light, fluffy and soft. They are the perfect fall dessert.
They are easy to make! Whip these up in under 30 minutes!
The cookies are gluten free, yet still have the same texture as normal cookies.
The pumpkin helps to add a natural sweetness to the cookie, and also keeps them moist and soft.
Ingredients Needed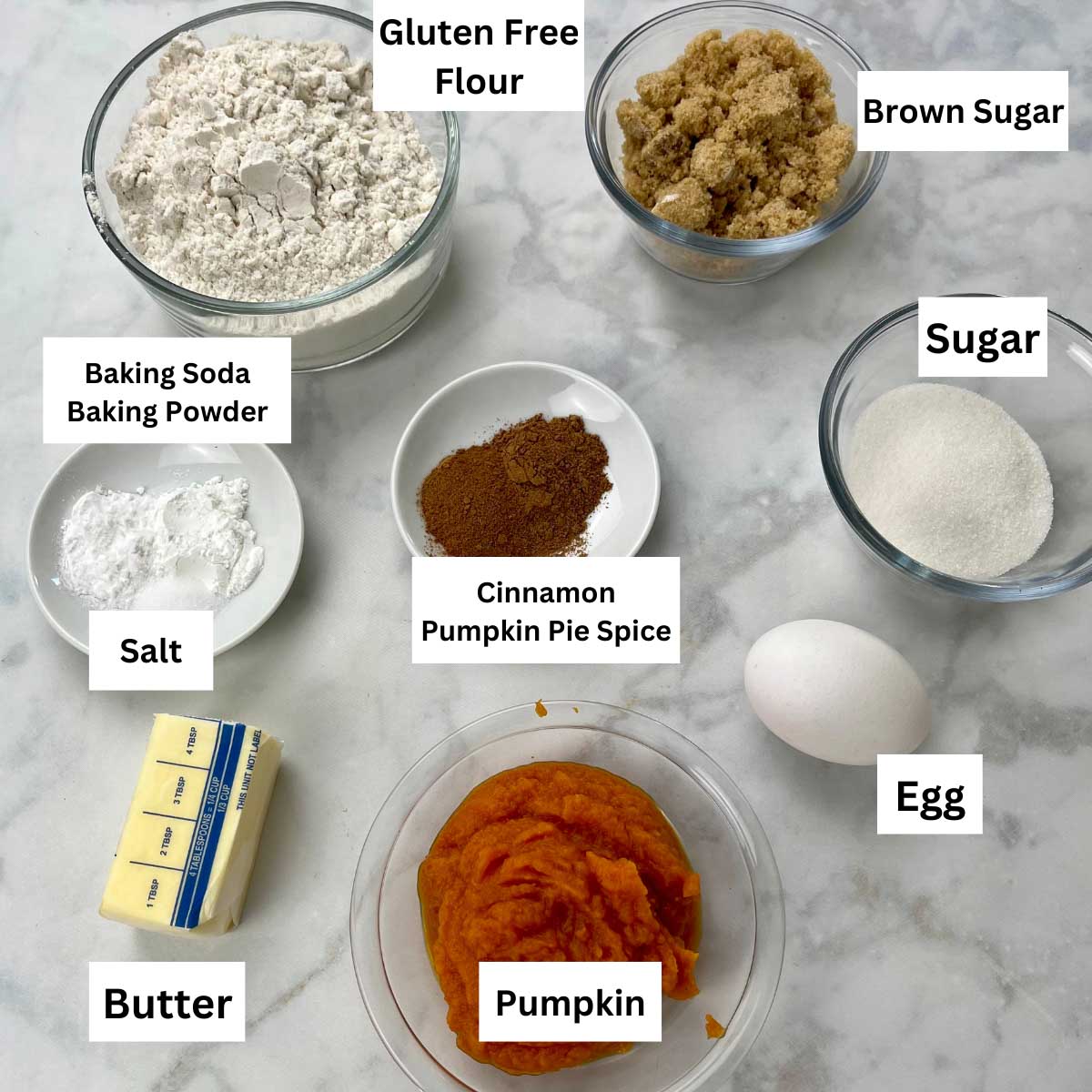 Canned Pumpkin: Be sure to use canned pumpkin and not pumpkin pie filling. This will change the recipe significantly.
Butter: adds moisture to the cookies. Butter is recommended, this recipe has not been tested with margarine.
Brown Sugar: The sugar is split between part brown sugar and part granulated sugar. The brown sugar makes the cookies extra moist.
Flour: I used the Bob's Red Mill Gluten Free Flour 1: 1 ratio. Any flour that is a 1:1 ratio baking flour will work. The flour must contain xanthan gum for these cookies to turn out.
Cinnamon & Pumpkin Pie Spice: Adds that good pumpkin spice flavor! Use extra for a deeper flavor.
Cream Cheese: Use softened cream cheese. Let the cream cheese sit out at room temperature for about 30 minutes before using. Pick low fat cream cheese for an option that is lower in fat and calories. 
Powdered Sugar: adds sweetness to the frosting, use less for a less sweet frosting 
See recipe card for full information on ingredients and quantities.
Variations
This recipe makes 22 cookies. If you are wanting more cookies, double or triple the recipe.
Flatter Cookies: Drop the cookie dough by the tablespoon on a cookie sheet and press down lightly with the back of a spoon to flatten the cookie.
Round Plump Cookies: Drop the cookie dough by the tablespoon on a cookie sheet and do not flatten with a spoon. The cookies will rise and have a round top.
Add-in's: Add some extra flavor or texture to the cookies! Choose any of the following and add up to ½ cup: white Chocolate Chips, chopped walnuts or pecans, craisins, or coconut.
Step By Step Instructions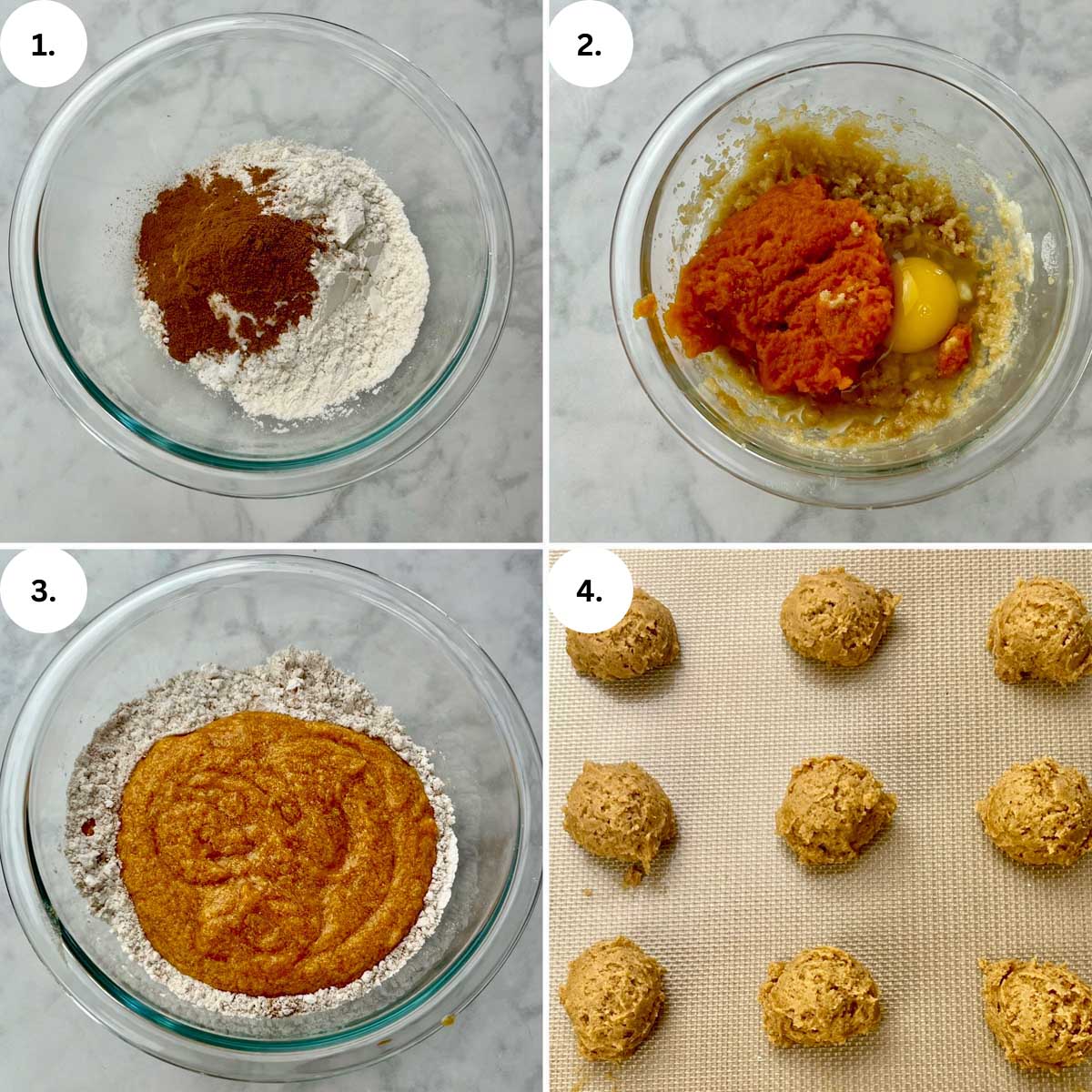 Step 1: Combine all dry ingredients in a small bowl. Mix and set aside. (Image 1)
Step 2: In a separate bowl, combine the butter and sugars. Mix with an electric mixer until creamy. Add the pumpkin, egg and vanilla. Mix until combined. (Image 2)
Step 3: Combine the pumpkin mixture with the flour mixture. Mix until combined. (Image 3)
Step 4: Use a cookie dough scoop or heaping tablespoon and drop cookies onto a baking sheet. Flatten with the back of a spoon and bake. Ice with frosting if desired!
Expert Tips
Measure the flour by scooping spoonfuls of flour into the measuring cup and leveling off at the top with a knife. Packing flour in the measuring cup or not leveling it will result in too much flour and a dry cookie.
Use a Silicone Non-Stick Baking Mat to make clean up easy. Place the mat on your cookie sheet and bake the cookies on top of it. Throw the baking mat in the dishwasher when done for easy cleanup.
Don't overcook! These cookies took about 10 minutes to cook in my oven. I would recommend setting the timer for 8 minutes, checking them, and then cooking another 2 minutes if still not done. They should look soft, but not doughy when done.
Freeze your extra dough and then cook a couple cookies whenever desired. Simply drop your tablespoon of cookie dough on to waxed paper, freeze for a few hours, then place in a freezer safe bag. Whenever you want a cookie, just preheat the oven, place on a pan, and cook away!
S

tore the cookies in the refridgerator if they have frosting on them.

The cookies taste best when at room temperature or warm. Heat them in the microwave for a few seconds or let them sit out at room temperature for about 15 minutes before eating. 
Healthy Alternatives
Use half the amount of butter and and replace the other half with applesauce or one of these applesauce substitutes to cut back on the fat. Replace part of the brown sugar with applesauce
Leave off the frosting (they really do taste good alone!)
Pumpkin Nutrition Information
Here's some fun nutrition information on pumpkin:
Pumpkin is loaded with Vitamin A, Vitamin K and fiber! In fact, ½ of a cup provides about 200% of the daily recommended value of vitamin A. Vitamin A is great for your immune system, eyes and in supporting cell growth. (More on vitamin A)
Are these cookies healthy because they contain pumpkin? In reality, these cookies realllly don't contain that much pumpkin per individual cookie. It equals out to about 1 teaspoon of pumpkin per cookie. So while the pumpkin does help cut down on the amount of fat used in the recipe, unfortunately you're not getting loads of health benefits from just 1 cookie.
More Gluten Free Desserts
Recommended Products
Gluten Free Pumpkin Cookies
These are the best gluten free pumpkin cookies! These cookies are moist, light and fluffy. The perfect balance of pumpkin spice flavors and sweetness.
Ingredients
1.25

cups

gluten free baking flour

1:1 baking flour

1

teaspoon

baking soda

1

teaspoon

baking powder

½

teaspoon

salt

1

teaspoon

ground cinnamon

1

teaspoon

pumpkin pie spice

¼

cup

butter

softened

½

cup

brown sugar

packed

¼

cup

granulated sugar

1

egg

1

teaspoon

vanilla extract

½

cup

canned pumpkin
Frosting
8

oz

low fat cream cheese

softened

1

cup

powdered sugar

1

teaspoon

vanilla
Instructions
Preheat oven to 350F and grease a cookie sheet.

In a medium mixing bowl, combine the flour, baking powder, baking soda, salt, cinnamon and pumpkin pie spice. Mix until combined.

In a seperate medium mixing bowl, combine the softened butter, brown sugar and granulated sugar. Beat using an electric mixer at medium speed for 2 minutes. Mixture should be creamy.

Add in egg, pumpkin and vanilla extract. Mix until combined.

Add the flour mixture into the pumpkin mixture. Mix using an electric mixer just until combined. Don't overmix!

Drop the cookie dough by rounded heaping tablespoons onto the prepared cookie sheet.

For flatter cookies: gently press down the center of the dough using the back of a spoon.

For round cookies: do not press down the center.

Bake in preheated oven for 8-10 minutes or until a toothpick is clean when inserted -into the middle of the cookies. Don't over bake or they will be dry.

Allow cookies to cool, and then drizzle frosting over the top (optional). Enjoy!
Frosting
Combine the softened cream cheese, powdered sugar and vanilla in a medium mixing bowl. Using an electric mixer, beat for 2 minutes on medium speed, until combined and creamy.

Drizzle over the top of cooled cookies.
Notes
1 Cookie

without

frosting: 75 calories/cookie
1 Cookie

with

frosting: 117 calories/cookie
TIPS: 
Gluten free flour: use

1:1 baking flour (King Arthurs or Bob's Red Mill). The flour must contain xanthan gum.  

Measure the flour by scooping spoonfuls into the measuring cup and leveling off at the top with a knife. Packing flour in the measuring cup or not leveling it will result in too much flour and a dry cookie. 
Don't overcook! Set the timer for 8 minutes, check them, and then continue to cook another 2 minutes if still not done. They should look soft, but not doughy when done
Flatter Cookies: Drop the cookie dough by the tablespoon on a cookie sheet and press down lightly with the back of a spoon to flatten the cookie
Round Plump Cookies: Drop the cookie dough by the tablespoon on a cookie sheet and do not flatten with a spoon. The cookies will rise and have a round top.
Add-in's: Add some extra flavor or texture to the cookies! Choose any of the following and add up to
Nutrition
Calories:
117
kcal
|
Carbohydrates:
19
g
|
Protein:
2
g
|
Fat:
4
g
|
Saturated Fat:
2
g
|
Polyunsaturated Fat:
0.2
g
|
Monounsaturated Fat:
1
g
|
Trans Fat:
0.1
g
|
Cholesterol:
19
mg
|
Sodium:
180
mg
|
Potassium:
49
mg
|
Fiber:
1
g
|
Sugar:
14
g