Cheesecake Fruit Salad is sweet and refreshing! It tastes like a slice of creamy cheesecake in a glass. This delicious salad is packed with strawberries, blueberries, and bananas and tossed with cheesecake pudding.
I shared this recipe almost 4 years ago, and it's one that I keep making time and time again! I love this recipe because it is so versatile. You can add as many different fruits as you'd like and switch them out each time.
This cheesecake pudding fruit salad is perfect for any occasion- birthday parties, the 4th of July, Mother's day, potlucks, or any gathering.
I love serving this as a side dish with my healthy turkey burgers or grilled chicken kabobs. Or, if you're going with a brunch theme, serve it with some blueberry crumble bars or crustless quiche recipe!
Jump to:
Reasons to Love This Recipe
It's the perfect last minute dessert because it's so easy to make. This salad took about 10 minutes total. This recipe tastes best cold, and I would recommend cooling it in the refrigerator for a couple hours before serving it.
This "no lettuce salad" is a great dessert, breakfast or snack! This is perfect for Christmas, Easter, cook outs, or really any occasion!
This is kid friendly

and even picky eaters like it!
Ingredients Needed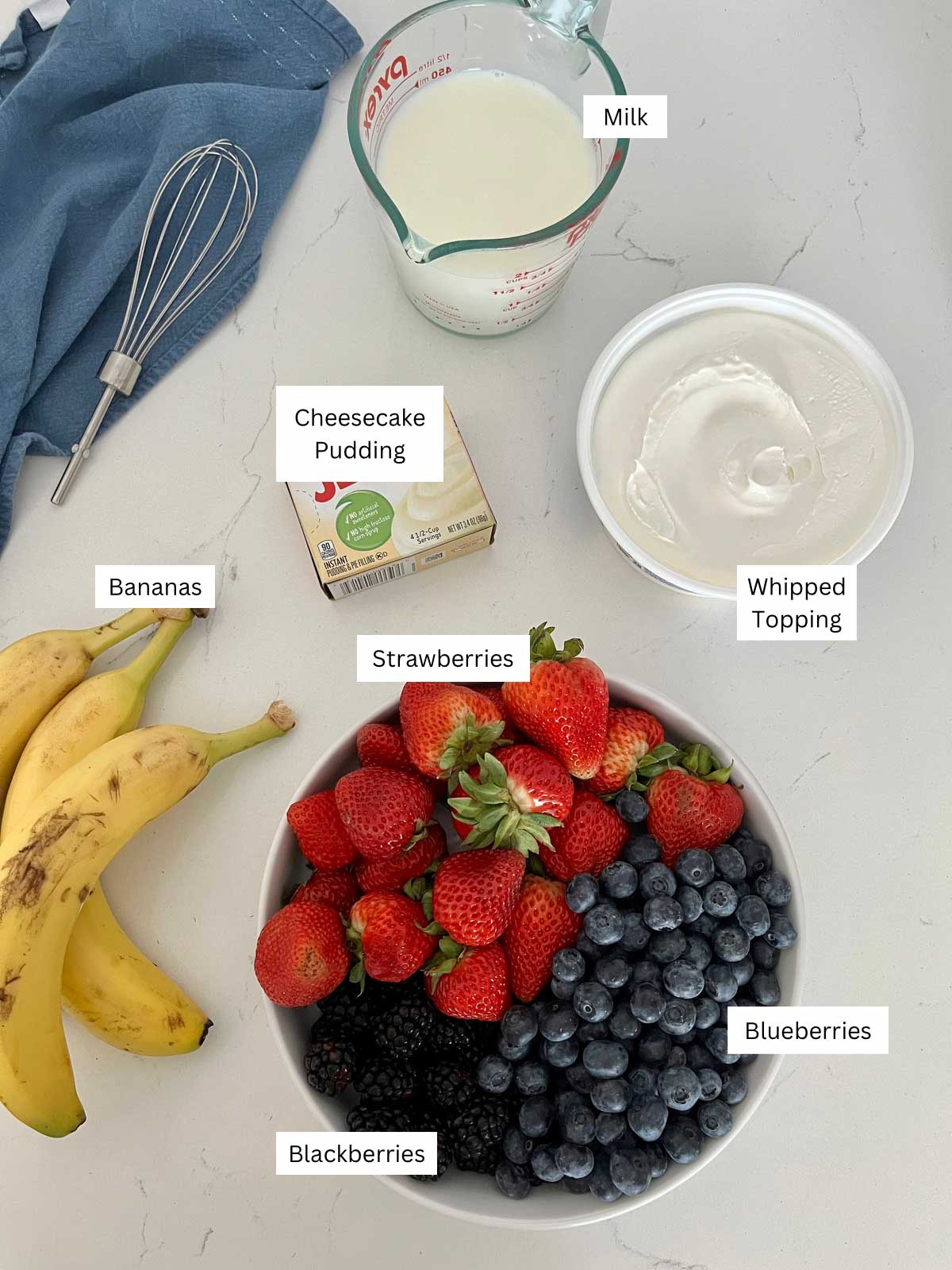 Cheesecake Pudding Mix: you can use regular or sugar free pudding mix. This can be substituted with vanilla pudding mix, however it will not have the cheesecake flavor.
Milk: skim milk, 1%, 2% or whole milk will work. Do not use almond milk or soymilk, as the pudding will not set correctly.
Cool Whip: use the cool whip that's in the tub (not the canned stuff)!
Bananas: select a banana that is perfectly yellow in color. Avoid overly ripe banana's, as they tend to be mushy and fall apart.
Strawberries: select strawberries that are bright red in color and don't have a lot of bruises.
Blueberries: select blueberries that are round and juicy. Sub with frozen if desired.
Blackberries

: these go bad quickly, so use them right away! These can be substituted for apples, oranges, or grapes.
Recipe Variations
Canned Fruit: feel free to substitute for fresh fruit with canned fruit. Mandarin oranges or tropical fruit mix or a great option. Be sure to drain all the juice before mixing in the fridge.
Frozen Fruit: This recipe can be made with frozen fruit. The fruit must be thawed and drained before adding it to the salad. This will prevent the juices of the frozen fruit from turning the cheesecake pudding salad a different color.
Fruit Variations: The fruits listed in the recipe can be substituted with any type of fruit. If using the whole fruit or larger types of fruit (such as a peach or kiwi), dice the fruit into bite-sized pieces before adding to the salad. Try fruit such as mango, kiwi, apple cubes, mandarin oranges or peaches.
Make it healthier: Cut the calories by using skim or 1% milk. Select a sugar-free cheesecake pudding and use fat-free or light cool whip.
Step by Step Instructions
Step 1: Make the pudding. Combine the dry pudding and the milk in a large mixing bowl. Mix using a whisk for two minutes. Allow the pudding to thicken for 5 minutes.
Step 2: While the pudding thickens, prepare the fruit. Cut the bananas into slices that are about ¼ inch thick. Cut the strawberries into slices about ¼ inch thick.
Step 3: Add the fruit to the pudding. Stir gently with a spoon.
Step 4: Carefully fold in the whipped cream using a spoon. Place in a serving bowl, cover, and refrigerate for two hours.
Expert Tips
The pudding must be made with a fluid cow's milk, such as skim, 1% or whole milk. It cannot be made with almond milk or soymilk, as the pudding will not thicken or set correctly.
This fruit salad tastes best when chilled for about 2 hours before serving.
To prep the day before: Prep the pudding, wash the fruit and slice the strawberries. Wait to add the fruit and slice the bananas until the day that it will be served.
Leftovers: store in the refrigerator for up to 3 days.
Freezer: you can freeze this recipe, however, I would not recommend re-thawing it, as the texture will be different. Instead, place this in a baking pan, freeze and cut into bars. Serve frozen as a frozen cheese cake bar!
Recipe FAQs
How do you keep fruit salads chilled until they are served?
Store the fruit salad in an airtight container in the refrigerator. If taking it to a party, place the air tight container in a cooler or dish filled with ice.
Is fruit salad an appetizer or dessert?
This cheesecake, fruit salad can be eaten either as a dessert or appetizer. Since it contains pudding and Cool Whip, which are sweeter, I typically like to serve it as a dessert.
Where Do I Purchase Cheesecake Pudding Mix?
Cheesecake pudding is found in the pudding aisle at most major grocery stores. Look for the "sugar-free" version to save on calories.
More Delicious Desserts
If you tried this Cheesecake Fruit Salad recipe or any other recipe on my website, please please leave a star rating and let me know how you like it in the comments below. I love hearing from you!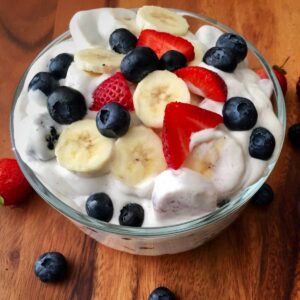 Cheesecake Fruit Salad
The cheesecake pudding fruit salad is rich and creamy, just like a slice of cheesecake. It contains a piece of fruit in each bite and is sure to make your tastebuds water!
Ingredients
1

package

cheesecake pudding dry mix

2

cups

skim milk

4

ounces

low-fat cool whip

3

bananas

sliced

1

cup

blueberries

1

cup

blackberries

2

cups

strawberries

sliced
Instructions
Combine the dry pudding mix and milk.

Mix well with mixer for two minutes. Let stand for 5 minutes, or until thickened.

Slice the bananas and strawberries.

Add the bananas, blackberries, blueberries and strawberries into the pudding. Use a spoon and stir gently.

Gently fold in the cool whip.

Refrigerate for two hours prior to serving. Serve cold.
Notes
Serving size: ¾ cup 
Total servings: 7
Lighter version: use skim milk, sugar-free cheesecake pudding mix and low fat or fat free cool whip
Fruit Variety: add any combination of fruit. Ideas are raspberries, apples, mangoes, peaches or mandarin oranges. 
Milk: This must be made with fluid cow's milk. Do not sub almond milk, as the pudding will not set. 
Nutrition
Calories:
176
kcal
|
Carbohydrates:
40
g
|
Protein:
4
g
|
Fat:
1
g
|
Saturated Fat:
1
g
|
Polyunsaturated Fat:
1
g
|
Monounsaturated Fat:
1
g
|
Cholesterol:
4
mg
|
Sodium:
129
mg
|
Potassium:
423
mg
|
Fiber:
4
g
|
Sugar:
28
g