This healthy gluten free quiche is easy to make, nutritious and tastes delicious! Loaded with spinach, mushrooms and cheese, this is an excellent source of protein and veggies. This is a crustless quiche, making it 100% gluten free without having to purchase any special gluten free foods.
This gluten free quiche is a recipe that I made for almost 2 months straight after having my son (I'm almost embarrassed to admit this!) Every Sunday, I would whip up a quiche, and then eat off it every morning. Usually, it wasn't until 9 or 10 in the morning, but at that point, I was just happy to be eating. It was the perfect breakfast for after having a newborn; I didn't have to do any cooking, it was super healthy and it was very filling!
This gluten free quiche is perfect for any event- whether you are a new mom, looking for an Easter Brunch or Christmas Breakfast recipe, or you just want an easy breakfast option. If you plan to take this dish somewhere I recommend using a disposable foil pie plate!
Looking for more high protein quick and easy breakfast ideas? Here's some of my favorites:
Jump to:
Ingredients Needed
Ingredients Notes
Eggs & Egg Whites: This quiche contains half egg whites and half regular eggs. This is decreases the calorie content. If using whole eggs in place of egg whites, only use 6 eggs total.
Milk: 2% milk is used because it provides some fat, but does not have as many calories as compared to cream or half and half.
Cheese: shredded cheddar and shredded parmesan work well in this quiche, however any type of cheese can be used.
Garlic: this adds flavor, use the store bought pre-diced garlic in water as a short cut.
Onion: use a white onion for optimal flavor.
Spinach: use 6 oz of fresh spinach which is about ¾ of a bag of spinach leaves. Remove all stems and tear the spinach into small pieces before cooking. Frozen spinach can be used as long as the water is drained before using.
Mushrooms: the mushrooms are healthy add in. Use baby bella mushrooms or white mushrooms.
How To Make A Healthy Gluten Free Quiche
Combine the eggs, egg whites and milk in a bowl. Use a whisk to mix until evenly combined. If the eggs do not mix well, use an electric mixer and beat on low speed for 20 seconds. (Do not mix longer than this to avoid adding too much air into the eggs).
Combine the diced onion, diced garlic and chopped mushrooms in a skillet over medium heat. Remove all stems from the spinach, tear the leaves into pieces and add them into the skillet. Stir frequently. Cook until the spinach is wilted and the mushrooms and onions are tender.
Begin to build the quiche! Layer the spinach and mushroom mixture evenly in the bottom of a greased 9 inch pie pan.
Next, top with the shredded cheeses. Sprinkle the cheeses evenly over the entire dish.
Pour the egg mixture over the top of the cheese. Bake in the oven. Let the quiche sit at room temperature for 15 minutes to allow it to set before cutting. Garnish with parmesan cheese and enjoy!
How To Tell When Quiche Is Fully Cooked
There are two ways to tell if a quiche is fully cooked. First, insert a clean toothpick into the center. The toothpick should be clean when removed. If egg remains on the toothpick, continue to cook, checking frequently.
A cooked quiche should also jiggle slightly in the middle. The outer edges will be firm, and the middle will wobble a little. It should not be runny. An over cooked quiche will not jiggle.
Always let your quiche sit for at least 10-15 minutes after pulling it out of the oven and before serving. This helps it to set and retain the shape.
Variations
Mix Ins
Transform this spinach and mushroom quiche into any type of quiche! Whether it's bacon and kale, or peppers and zucchini, the options are endless.
If switching out the vegetables, use a total of 2 cups of any cooked vegetable or meat. Chop all add-ins into ¼ to ½ inch pieces. Some vegetables can add extra liquid when cooked, so it is important to pat them dry if this is the case. Here are my favorite add-ins:
Bell peppers
Zucchini
Yellow squash
Kale
Turkey Bacon
Turkey Sausage
Mini Quiche
Make this quiche recipe into individual servings by making mini quiches. Prepare the quiche mixture as normal. Spray a muffin pan generously with nonstick pan spray. Fill each muffin tin three quarters the way full. Bake for 15 minutes or until fully cooked.
Add a Crust
While this is a crustless quiche, a crust can easily be added. I would recommend a store bought crust (gluten free if needed). Be sure to cook the crust before adding the egg mixture.
Leftovers
This recipe is perfect for someone looking to meal prep. The quiche holds up very well for 3-4 days in the refrigerator. It can be eaten as a quick breakfast or lunch multiple days in a row. Store all leftovers in an airtight container in the refrigerator. Do not freeze; it will affect the texture of the eggs when reheated.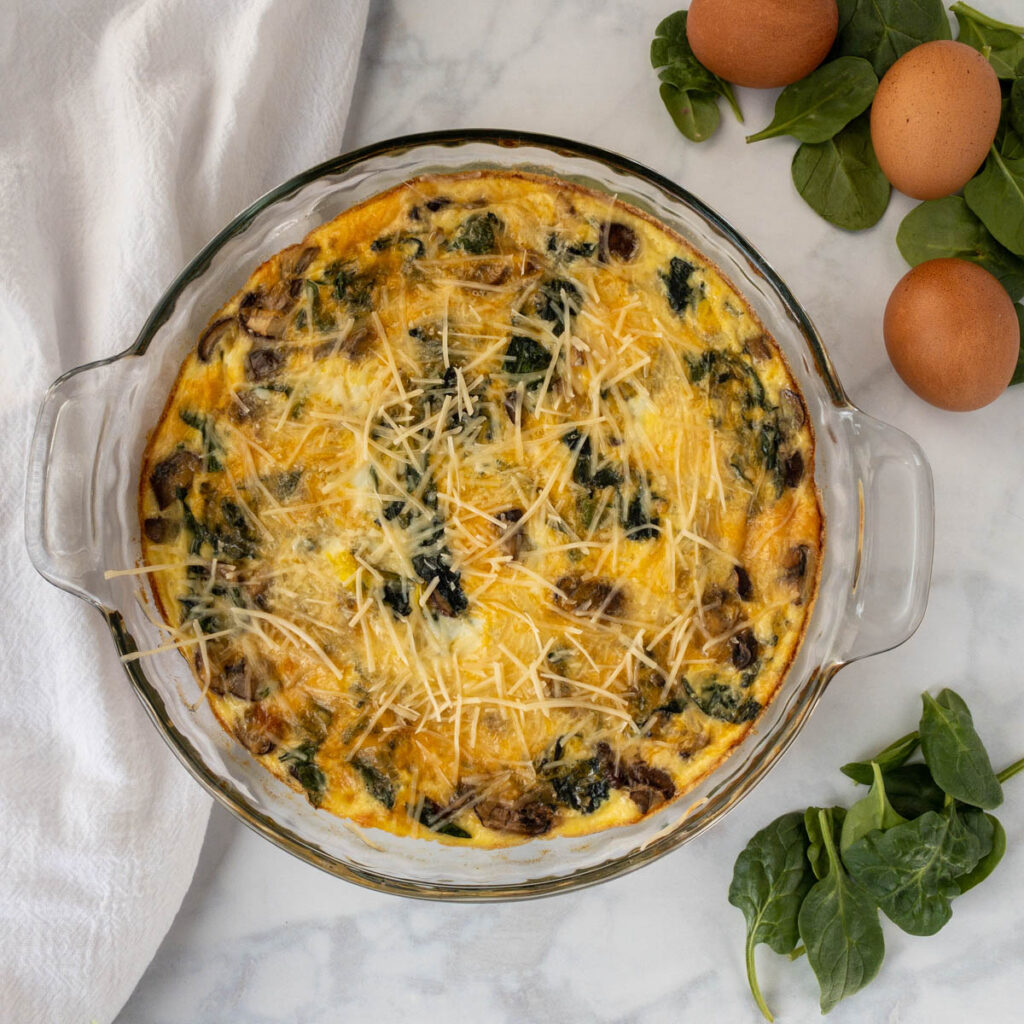 Frequently Asked Questions
What can I substitute for milk in the quiche?
Cream or half and half can be used in place of milk in a quiche. A quiche typically has a creamy, silky texture. This is why many recipes use a liquid that is higher in fat.
This recipe was modified with healthy substitutions, so it uses 2% milk which still contains some fat, but is much lower in calories than cream. It is possible to use plain almond milk or soy milk in the quiche, however this may affect the texture of the quiche.
What should I serve with quiche?
Since this crustless quiche is a good source of protein and fats, I like to pair it with a carb or a lighter option. Here's a few ideas:
Is a crustless quiche the same as a frittata?
A frittata is cooked on the stovetop and then finished in the oven. It has more eggs than a quiche. It does not usually have a pie crust.
A quiche is a savory, creamy dish and often contains more liquid and cheeses. The main method of cooking quiche is in the oven. A crustless quiche still has similarities of both a quiche and frittata, so feel free to call it what you want!
Gluten Free Quiche Nutrition Information
This quiche recipe is lower in fat and calories than your normal quiche, thanks to a few healthy swaps.
The quiche contains half egg whites in place of whole eggs.
2% milk replaces the typical cream or half and half that is found in quiche (This saves up to 330 calories!)
This is a crustless quiche, making it gluten free and lower in calories!
The veggies add some extra vitamins and minerals
A serving of quiche (⅛th of the dish) contains 125 calories and 11 grams of protein. This is so low in calories that you could easily double the serving size!
More Easy Recipes
I absolutely love making this healthy gluten free quiche and hope you did too! If you made this, feel free to tag me on Instagram or leave a note in the comments below!
Healthy Gluten Free Quiche
This healthy, crustless quiche is easy to make, packed with veggies and is very customizable!
Ingredients
4

large

eggs

4

egg whites

1

cup

2% milk

½

cup

shredded cheddar cheese

½

cup

shredded parmesean cheese

1

teaspoon

garlic

diced

¼

large

white onion

diced

¼

teaspoon

salt

6

oz

fresh spinach leaves

1

8 oz package

mushrooms

chopped
Instructions
Preheat oven to 350 F. Spray a 9 inch pie pan with non-stick spray.

In a large mixing bowl, combine the eggs, egg whites and milk.

Beat on low with an electric mixer for 20 seconds, or until eggs are combined (whichever is first). Set aside.

In a large skillet over medium heat, combine the chopped garlic, diced onion, and chopped mushrooms.

Tear spinach into small pieces and add to skillet. Stir frequently and cook for about 5-7 min or until spinach leaves are wilted and the mushrooms and onions are tender.

Begin to assemble quiche. Layer the spinach and mushroom mixture evenly in the bottom of the pie pan.

Sprinkle the cheddar cheese and ¼ cup of the Parmesan cheese over the top of the spinach mixture. (Reserve ¼ cup of Parmesan cheese for later).

Pour the egg mixture over the top.

Bake in the preheated oven for 35 minutes, or until toothpick is inserted and is clean when removed.

Top with ¼ cup of Parmesean cheese. Let quiche sit for 15 minutes before serving. Serve warm.
Notes
1 serving (⅛th of the quiche) contains:
125 calories
11 grams of protein
7.5 grams fat
4 grams carbohydrate 
Nutrition