Carrot cake overnight oats resembles the flavors of rich and moist carrot cake. This easy, on-the-go breakfast option that tastes so good it's hard to believe it's healthy!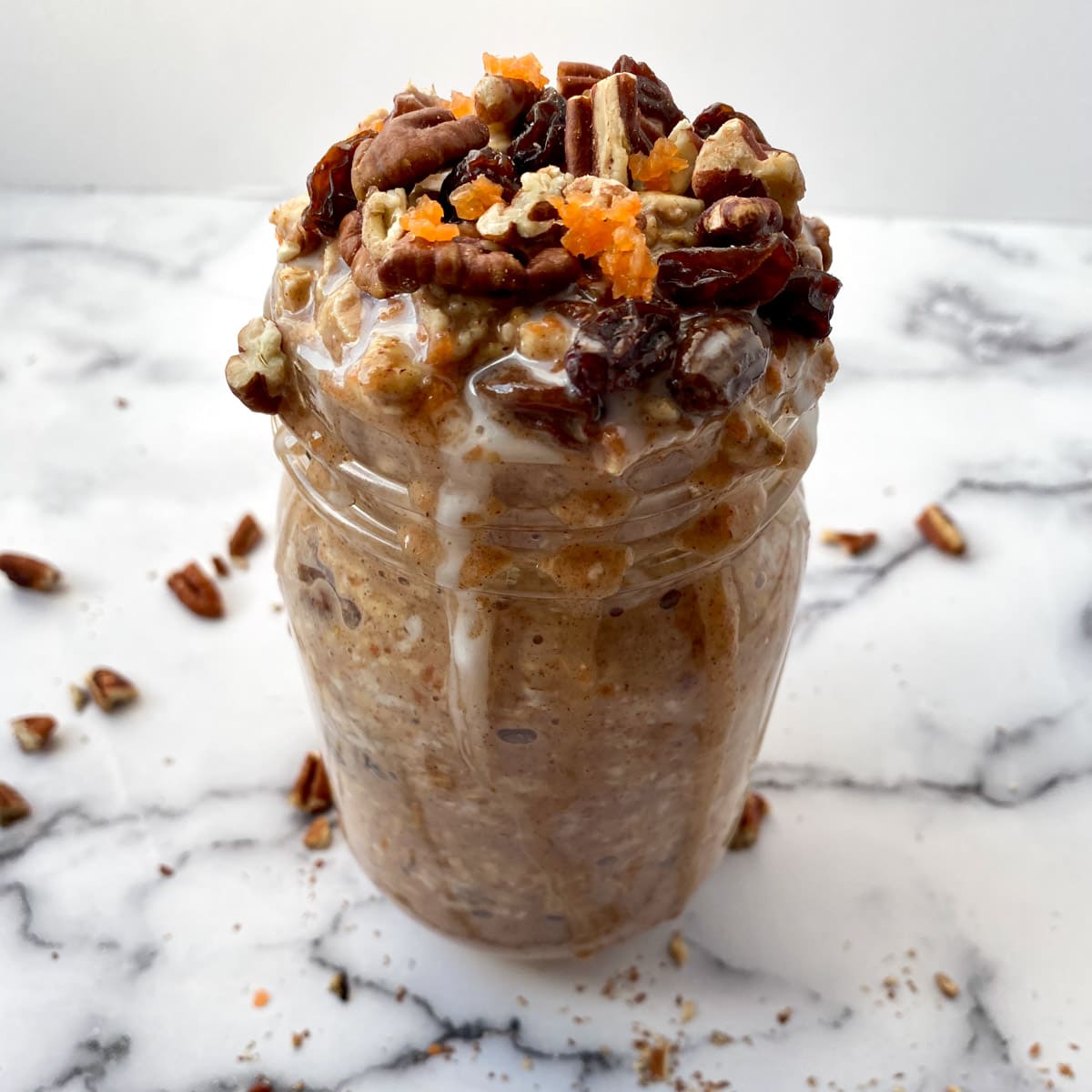 If you like carrot cake, you will LOVE this recipe! This overnight oatmeal recipe is packed with carrots, raisins, walnuts and spices. The oatmeal tastes similar to carrot cake, except lower in calories and fat!
I don't ever recommend eating dessert for breakfast, however this recipe is about as close as it gets! The carrot cake overnight oatmeal recipe was created because I was tired of plain, boring oatmeal. I've been craving sweets in the morning recently, and this is an easy, healthy way to make oatmeal taste good.
How to Meal Prep This Recipe
Carrot Cake overnight oatmeal is a perfect meal prep recipe, because the recipe must be made the night before. Refrigerate overnight and they are ready to go the next morning.
Carrot cake overnight oats can be made up to 2 days ahead of time, or you can double the batch and make 2 containers of oatmeal for multiple breakfasts. It is not recommended to make more than two days in advance, as the quality will be affected and the oats may become soggy.
Ingredients Needed to Make the Best Carrot Cake Overnight Oats
Oatmeal: Use the old fashioned oatmeal, as these types of oats are larger, which means they absorb more fluid. Gluten free oatmeal can be used if desired.
Almond Milk: While this recipe calls for almond milk, any type of milk will work. Other alternatives are soy milk, coconut milk or skim/1% milk.
Grated Carrots: Carrots must be very finely grated in order for these oats to taste good (no one wants large pieces of carrots in their oatmeal!) See below on how to properly grate the carrots.
Chopped Pecans: Chopped pecans work best for this recipe, as they closely resemble the type of nut used in a normal carrot cake. Another alternative is chopped walnuts. Chop into small, ¼ inch pieces.
Raisins: These are optional, however they add a good texture and flavor to the carrot cake overnight oats.
Maple Syrup: Used to add sweetness to the overnight oatmeal. Use sugar free syrup if concerned about sugar intake.
Cinnamon, Salt & Vanilla: The spices add extra flavor to the carrot cake oatmeal!
How To Grate The Carrots
This recipe calls for finely grated carrots, and it is very important that there are not large pieces of carrots used. This helps to maintain good texture of the oatmeal (no one wants to bite into crunchy oatmeal!) The carrots can be grated using a cheese grater or a food processor.
How to grate carrots using a cheese grater: Use a regular, full-length carrot as it is easier to grate. (This is different from the baby carrots that come already packaged). Slice off the top and bottom of the carrot. Using the smallest holes on a cheese grater, run the carrot up and down to create small shreds of carrot. Once finished grating the carrots, look at the end product and make sure no large pieces remain. Discard or re-grate any remaining large pieces.
How to grate carrots using a food processor: Chop the carrot into small pieces that are about 1 inch long (baby carrots can be used for this method). Attach the shredder blade to the food processor and add in carrots. Run the processor until carrots are finely grated- the end product should be similar size to store-bought finely shredded cheese. Sift through for any large pieces and either discard or re-shred.
Does it Matter What Type Of Oatmeal I Use?
Old fashioned oatmeal works best for carrot cake oats. Quick cooking oats are more processed and often become soggy. Steel cut oatmeal may not soften in time and will create a chewy texture.
Optional Overnight Oats Toppings
The best part about carrot cake overnight oatmeal is the toppings! Here's some topping ideas:
Greek yogurt (plain or vanilla)
Walnuts or pecans
Raisins
Shredded coconut
y Low fat cream cheese mixed with powdered sugar or honey walnut cream cheese
More Breakfast Recipes
Carrot Cake Overnight Oats
These overnight oats contain carrots, raisins, oatmeal, cinnamon and more! They are a healthy breakfast option that taste very similar to carrot cake.
Ingredients
½

cup

old fashioned oatmeal

(use gluten free if desired)

¾

cup

unsweetened almond milk

vanilla

2

tablespoon

finely grated carrots

1

tablespoon

maple syrup

¼

teaspoon

cinnamon

¼

teaspoon

all spice

⅛

teaspoon

salt

¼

teaspoon

vanilla

1

tablespoon

raisins

1

tablespoon

chopped pecans
Instructions
Combine the almond milk, grated carrots, maple syrup, cinnamon, salt and vanilla into a jar that has a lid. Mix well.

Add oatmeal, raisins and walnuts. Mix until combined.

Cover jar with lid and place in refrigerator. Refrigerate overnight or for at least 4 hours.

Mix before serving. Top with additional toppings if desired (extra raisins, walnuts, greek yogurt, cream cheese or coconut).
Notes
Carrot Cake Overnight Oatmeal can be eaten cold, or it can be served warm. To serve warm, place in a microwave safe dish and microwave for 45 seconds-1 minute before serving. 
Nutrition
Other Recipes You Will Love