This coffee protein shake puts a refreshing twist on your normal protein shake. Packed with protein and coffee, this drink is a great pick-me-up! It has a rich mocha flavor and iced smoothie consistency.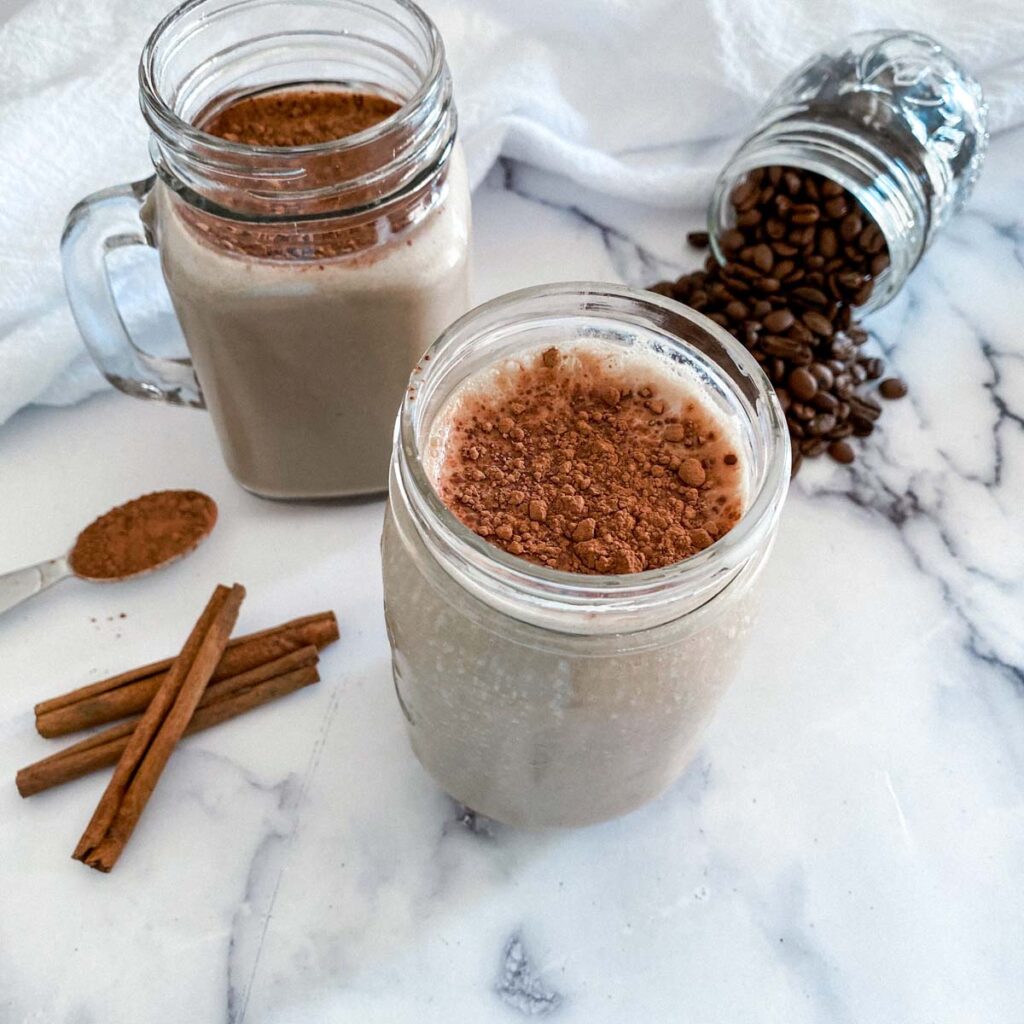 Note: There are links on this site that are "affiliate links". This means that I may receive a small commission if you subscribe or purchase something through the links provided.
This coffee protein shake is delicious and refreshing! It contains Greek yogurt, which adds in extra protein and some additional calcium! There are not added sweeteners, as the shake is naturally sweetened from bananas.
There are many variations to this shake, which are listed below! If you're looking for more high-protein breakfast treat, check out this chocolate protein mousse, this protein pudding or these protein overnight oats! If you're really in for a sweet treat, make this oreo protein shake!
Jump to:
Reasons to Love This
This has a rich coffee and mocha flavor, that is bold, but not overpowering.
This protein shake is healthy! It packs in protein and a serving of fruit.
If you are someone who likes to have protein after a workout, this is a great way to add some extra protein and it adds a little boost of caffeine!
This delicious shake is easy to make and requires ingredients that you most likely already have on hand!
Ingredients
Cold double strength coffee: decaf or caffeinated coffee works based on your preference. (See below on how to make double strength coffee). Brew the coffee the night before or a few hours before making this shake and refrigerate it so that it's cold before adding.
Frozen banana: it is important that the banana is ripe prior to freezing it. This will add extra sweetness to the coffee shake. Slice the banana into 1 inch pieces so that it blends easier.
Vanilla Almond Milk: Alternatives are vanilla coconut milk, vanilla soy milk or skim milk.
Cocoa Powder: adds a hint of mocha flavor to the protein shake
Vanilla Greek Yogurt: This is the protein source for the smoothie. I would recommend using the vanilla flavor and have not tried any other flavors.
Let's Make a Coffee Protein Shake!
Add your almond milk to a blender cup or blender. Next, add the double-strength coffee! (Make sure it's cold.)
Add the frozen banana. Slice first to make it easier to blend. Add Greek yogurt, and cocoa powder and blend until smooth!
Nutrition Information
This protein coffee shake contains 12 grams of protein per serving and 285 calories per serving. It is recommended to include a source of protein at every meal for most individuals on a regular, healthy diet. This coffee protein shake is a good start to adding extra protein at a meal or for a snack.
Increase the Protein Content
The coffee protein smoothie contains 12 grams of protein per serving, which is equivalent to the protein content of eating 3 egg whites.
The protein content of this shake can be increased in a couple ways:
Use Skim milk instead of Almond milk. This will add 4 extra grams of protein
Use double the amount of Greek yogurt. A good option would to use a mocha or coffee flavored Greek yogurt so that the protein shake still retains a coffee flavor.
Add in a scoop of protein powder, which may add anywhere from 10-20 grams of protein depending on the type of powder used.
Type of Protein to Use
The main protein source in this smoothie is from the Greek yogurt. The banana and almond milk provide a very trivial amount of protein.
Some brands of Greek yogurt have different amounts of protein than others, so always check the label. Here's the protein content of several common brands:
½ cup Dannon Vanilla Greek Yogurt = 9.3 grams protein
½ cup Chobani Vanilla Greek Yogurt = 9.3 grams protein
½ cup Oiko's Vanilla Greek Yogurt = 8.6 grams protein
Double Strength Coffee
This recipe uses double-strength coffee. An advantage of this is that you have a stronger coffee with less liquid required. This helps create a richer coffee flavor. To make double-strength coffee, simply add twice the amount of coffee grounds when brewing the coffee.
For example, I usually use 1 tablespoon of coffee grounds for an 8 ounce cup of coffee. To make double strength coffee, I would use 2 tablespoon of coffee grounds for an 8 ounce cup of coffee.
Expert Tips
Use a frozen banana- this helps to create a thicker, frozen consistency to the shake without having to add a lot of extra ice.
Add a few extra ice cubes after blending all ingredients if the shake is not thick enough.
Coffee must be cold prior to making the mocha protein shake. Warm coffee will result in a drink that does not have a shake-like texture.
Use a blender that has a strong motor, so that the smoothie blends easily. This blender is a great option!
Recommended Products
I have been using a Ninja coffee maker
for years now, and absolutely love it! This has the capability to make individual servings of coffee, if you don't want an entire pot of coffee. You can set your cup size anywhere from a standard mug (about 10 oz) to an XL cup. It also makes espresso!
The best part is that it doesn't require expensive K-Cup replacements- you use your own coffee grounds.
Ninja also has the option to make the coffee in a large coffee pitcher, if you are looking for multiple servings. I highly recommend this coffee pot- it has so many functions and is well worth the money if you make coffee even just a couple of times a week!
More Delicious Smoothies
Coffee Protein Shake
This coffee protein shake is a delicious and healthy treat! It adds a kick of java into your normal protein shake!
Ingredients
½

cup

cold double brewed coffee

see notes below

1

large

frozen banana

½

cup

vanilla almond milk

½

cup

vanilla Greek yogurt

½

tablespoon

cocoa powder
Instructions
Combine the almond milk, coffee, frozen banana, vanilla Greek yogurt and cocoa powder in a blender.

Blend for 1 minute, or until combined and smooth.

Smoothie should be a thick, frosty consistency. If not, add 4-5 ice cubes and blend again to thicken the smoothie.
Notes
To make double strength coffee, simply double the amount of coffee grounds that you use to brew your coffee. Do not make any adjustments to the amount of water used. 
Nutrition
Calories:
235
kcal
|
Carbohydrates:
47
g
|
Protein:
12
g
|
Fat:
2
g
|
Saturated Fat:
0.3
g
|
Polyunsaturated Fat:
1
g
|
Monounsaturated Fat:
1
g
|
Cholesterol:
4
mg
|
Sodium:
198
mg
|
Potassium:
627
mg
|
Fiber:
5
g
|
Sugar:
30
g