Protein chia pudding is a great way to add variety into your normal protein intake! This pudding has a rich chocolate flavor and can be customized to include all of your favorite ingredients. In addition to having high protein content, this pudding is loaded with healthy nutrients!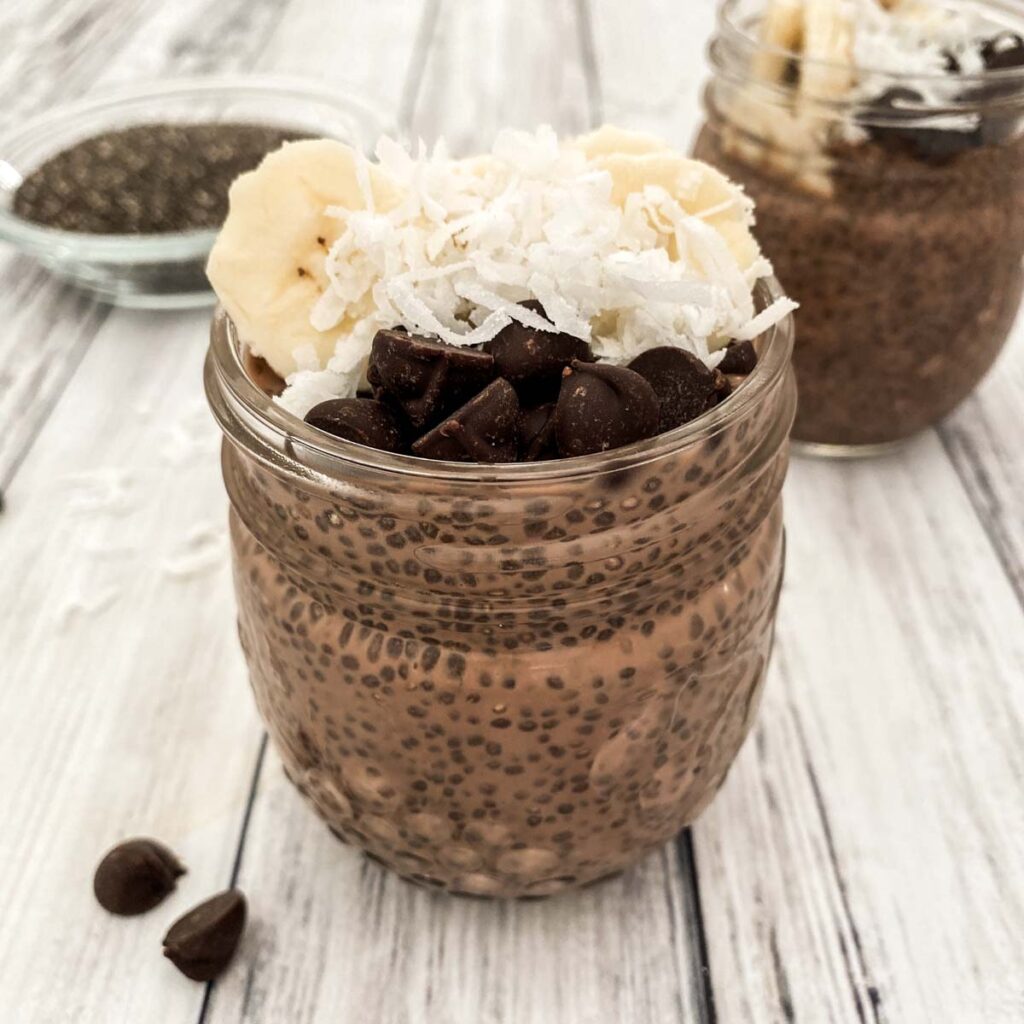 This protein pudding is SO easy to make. Just throw a few ingredients in a jar, mix and refrigerate! Give the pudding a few hours to set and it's ready to eat!
I love making this recipe the night before so I have an easy breakfast on hand. It's also perfect if you like to batch cook your breakfasts!
If you're looking for more high protein recipes, be sure to check out this chocolate protein mousse or this oreo protein shake!
Reasons You'll Love This
This chia pudding is healthy! It's packed with nutrient dense chia seeds which provide healthy fats and omega 3's.
Protein pudding is easy to make! This can be prepped in under 5 minutes.
This tastes like a dessert in a jar- if you love chocolate, you'll love this treat!
Ingredients for Protein Pudding
Chia Seeds: Chia seeds absorb the liquid they are mixed with, allowing them to expand in size and create a pudding like consistency.
Chocolate Almond Milk: the chocolate flavored almond milk helps add extra chocolate flavor to the pudding. Chocolate soy milk can also be substituted.
Protein Powder: use your favorite protein powder. Chocolate flavored protein powder is recommended to add to the chocolate flavor of this pudding.
Let's Make Some Protein Chia Pudding
Combine almond milk, chia seeds and protein powder in a large jar or cup. Use a cup that has a lid (such as a blender bottle or mason jar). The jar should be able to hold 12 ounces or more of fluid, allowing the chia seeds to fully expand.
Mix the chia seed mixture well until combined.
Place a lid on the container of the chia pudding and refrigerate for a least 4 hours. This gives the chia seeds time to expand and absorb the liquids they are mixed with.
Remove from refrigerator and stir until all ingredients are combined. The pudding should be thick and have a pudding texture. Garnish with desired toppings. Enjoy!
Increase the Protein Content
Here's a few ways to add even more protein to this chia seed protein pudding.
Add 2 tablespoon peanut butter as a garnish or into the pudding before refrigerating (adds ~7 grams protein)
Mix in 2 tablespoon PB2 Powder (adds ~6 grams protein)
Add an extra scoop of chocolate or vanilla flavored protein powder (adds 10-20 grams protein depending on brand of protein).
Serve it with another high protein food on the side, such as these homemade perfect bars or this gluten free quiche.
Variations to the Protein Pudding
This protein pudding has a rich chocolate flavor. Another flavor option is to make this a vanilla protein pudding. Simply use vanilla flavored almond milk in place of the chocolate almond milk. Also, use vanilla flavored protein powder instead of chocolate flavored protein powder.
Optional Garnishes
The chia pudding tastes great plain, but can also be garnished with any desired toppings. Here's some of my favorites:
Chocolate Chips
Crushed walnuts
Coconut
Banana's
Peanut Butter
Cocoa Powder
Leftovers
Store leftover chia pudding in an airtight container in the refrigerator. Use a container that has a lid, for easy storage. I like to use mason jars or protein shaker bottles. For best quality, eat the pudding within 2 days.
Nutritional Information
This protein pudding is an excellent way to add extra protein into your meals. Many protein powders have different amounts of protein in them, so the amount of protein in this recipe will vary based on the brand of protein used.
When using this recipe, I chose to use the Biochem chocolate whey protein powder (it's simply what I had on hand at home). Based on the ingredients I used, the protein pudding contains 170 calories and 15 grams of protein.
What Are Chia Seeds?
Chia seeds are a small seed that contains many different nutrients. When mixed with liquid, they absorb the liquid and expand in size. This is why they create a pudding or jello-like texture when mixed with liquid.
Chia seeds can be used in many ways other than making them into a pudding. They can be used in cooking, by adding them to energy balls or casseroles.
They also make a great addition to baked goods (add them to your able crisp topping). Chia seeds can also be sprinkled over yogurt, on top of cereal or added to smoothies.
Chia seeds contain many nutrients! A serving of Chia seeds (2 tablespoons) provides 11 grams of fiber. For comparison, this is almost double the fiber content of beans, which are commonly known as a high fiber food. (½ cup of canned black beans contains 5 grams of fiber). This article goes into more details on the nutrition content of Chia seeds.
Recommended Products
Protein Pudding
Protein pudding is a healthy treat and easy way to add in extra protein. This chocolaty pudding is a great breakfast, snack or dessert option!
Ingredients
3

tablespoon

chia seeds

1

cup

chocolate almond milk

1

scoop

chocolate protein powder
Instructions
Combine the chocolate almond milk, chia seeds and protein in a large mason jar or cup that has a lid on it.

Stir until all ingredients are combined. Cover.

Refrigerate for 4 hours, allowing the chia seeds time to absorb the liquid and create a pudding like consistency.

After 4 hours, remove from the refrigerator and mix well.

Garnish with desired toppings (coconut, banana, chocolate chips)
Notes
This recipe makes 2 servings of protein pudding. 
1 serving of protein pudding contains: 170 calories & 15 grams of protein 
*nutrition facts may vary based on brand of products used 
Nutrition
More Protein Rich Recipes