Gluten Free Banana Cake is a moist, banana flavored caked that's topped with a cream cheese frosting. The texture of this cake is just like a normal cake, and it's hard to tell that it's even gluten free!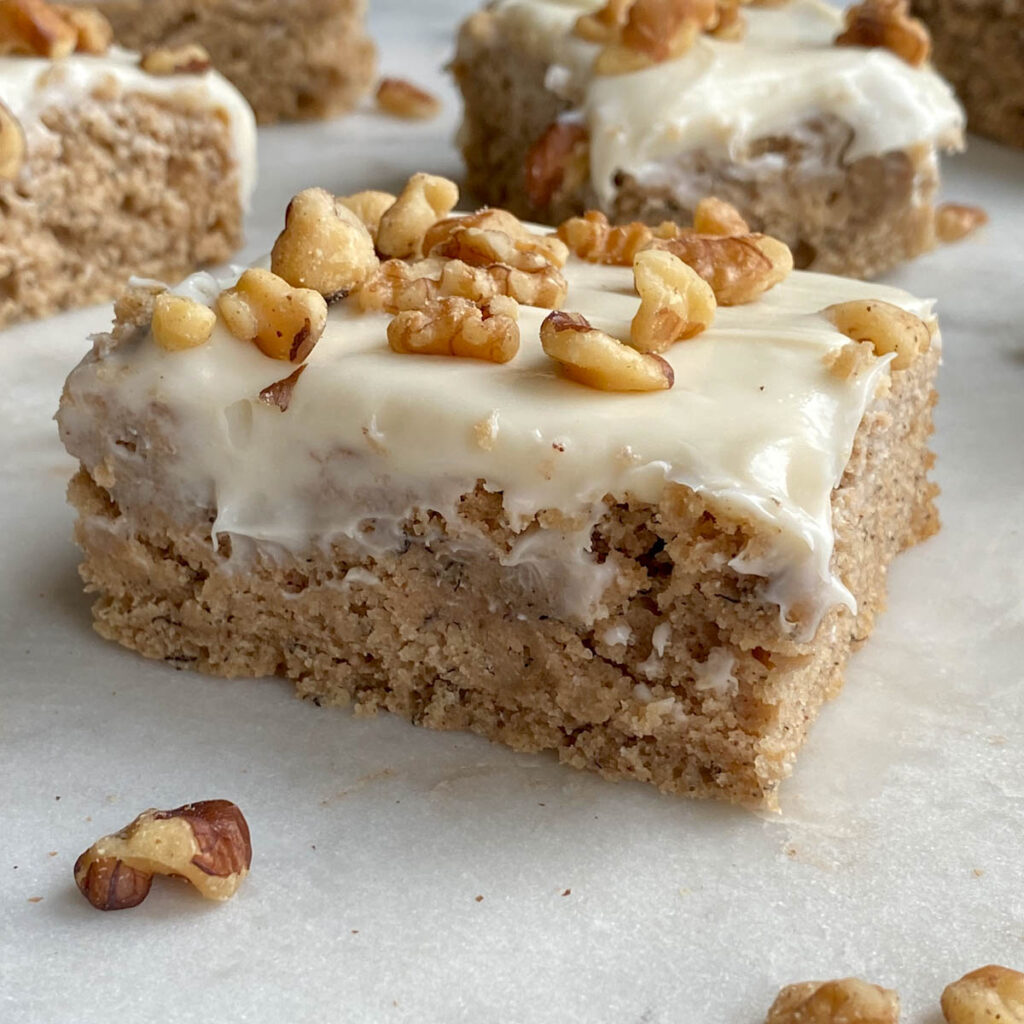 For some my reason bananas always seem to turn brown faster than I can eat them. I buy them with all intentions of eating them, however can never finish them before the brown spots pop up. It's like it happens overnight!
And recently, I've been using a grocery delivery service for all groceries, so I haven't had a whole lot of say in how ripe my bananas are when I receive them.
Sometimes they are green; sometimes they are speckled. It's always a guessing game, but I'm so appreciative that I don't have to do the grocery shopping!
There's so many ways to use ripe bananas, but I wanted to make something unique and different. And thus, the gluten free banana cake was created.
This recipe for gluten free banana cake is one of the best I have made! In fact, it tastes so good, I hand delivered individual pieces to some of my friends and family and insisted they try it (am I the only crazy person that does that??). They all agreed it was the BEST gluten free banana cake they had tried.
This GF banana cake is very similar to banana bread with frosting. If I could describe this cake in one word, it would be moist. This cake is moist, but not overly moist where it's soggy or doughy. These is just enough banana flavor that you can taste it, but it's not overbearing
The frosting has a cream cheese base and is similar to a carrot cake frosting. I personally can't even tell that it's made with a gluten free flour.
Ingredients Needed
Banana Cake
Butter: It is recommended to use butter, and not substitute with margarine, cooking oil or spread.
Sugar: Both brown sugar and granulated sugar are used. Using brown sugar helps to create a moist texture to the cake, and prevents if from tasting dry.
Eggs: Help the cake rise and binds all the ingredients together.
Vanilla: Enhances all the flavors in the recipe!
Bananas: Choose ripe bananas. It is really important that the bananas are ripe, because this will add extra sweetness to the cake. A banana that is not as ripe will result in a less sweet cake.
Milk: Any type of milk: 1%, 2% or skim. Another alternative is unsweetened almond milk or vanilla milk.
Flour: Use gluten free flour that has a 1:1 baking ratio blend. The flour must contain Xanthan gum.
Cinnamon: Provides extra flavor that blends perfectly with the banana's.
Baking Soda, Baking Powder and Salt: Helps the cake rise and adds flavor!
Frosting:
Cream Cheese: For a lower fat/calorie option, choose cream cheese that is ⅓ less fat. Cream cheese should be soft before using. Allow it to sit out at room temperature for 30 minutes prior to making the frosting.
Butter: Butter should be soft, but not melted.
Powdered Sugar: Adjust the amount used based on the amount of sweetness you prefer.
Vanilla: Adds flavor to the frosting.
Ripe Bananas
Use bananas that are very ripe. The skin should have multiple brown speckles at minimum. The banana should feel very soft and not have any green on them. This is important because a ripe banana will add more sweetness to the cake. This lets us decrease the amount of sugar used.
Gluten Free Banana Cake Nutrition 101
Here's a couple ways that the banana cake has been lightened up:
The cake contains only ½ cup of sugar, which is less than most cakes. The bananas contribute a large amount of sweetness, so that we can decrease the sugar used.
The frosting uses low fat cream cheese to reduce the fat and calorie content slightly. The frosting is 100% optional- if looking for a lower calorie version of this cake, leave the frosting off. The cake will still taste great!

A serving size is piece that's 1/12th of the cake.
1 Piece of Banana Cake without Frosting
Calories: 203 calories
Protein: 4 grams
Carbohydrates: 33 grams
Total Fat: 7 grams
1 Piece of Banana Cake with Frosting
Calories: 272 calories
Protein: 5 grams
Carbohydrates: 42 grams
Total Fat: 10.7 grams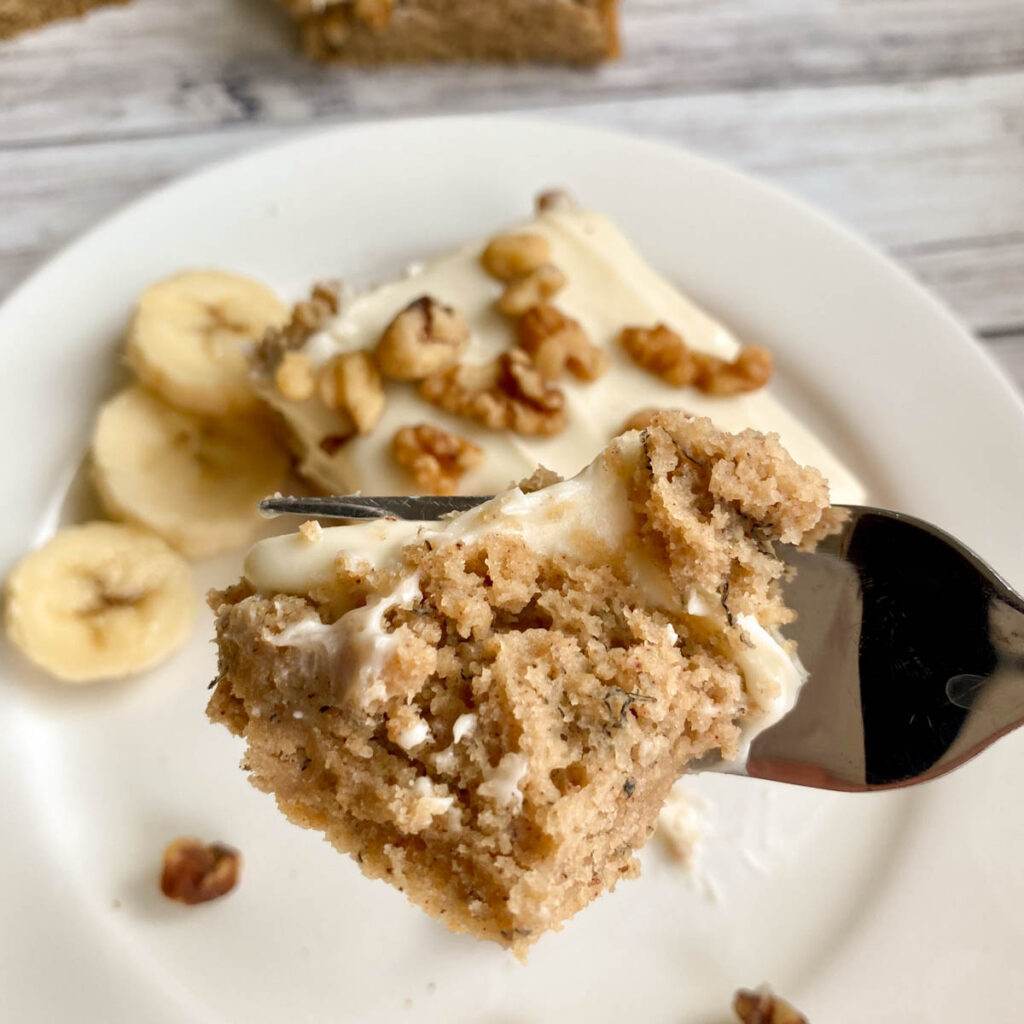 Variations
Dairy Free
This cake can be made dairy free with a few modifications:
Use a non-dairy butter in place of regular butter.
Sub the 2% milk with nonfat plain almond milk or skim milk.
Utilize dairy free cream cheese for the frosting. Or, omit the cream cheese and make a powdered sugar glaze. There are plenty or recipes on Google for this.
Gluten Free vs. Non Gluten Free Cake
This recipe is made with gluten free flour, yet you cannot tell! It is moist and not one bit crumbly. Double check all your ingredients used to ensure they are made with gluten free ingredients.
To make this cake Gluten Free:
Use a gluten free flour that is a baking flour with 1:1 ratio. Recommended brands are Bob's Red Mill Baking Flour 1:1 ratio or King Arthur's Gluten Free Baking Flour 1:1 Ratio. The flour should have xanthan gum in it. Both brands do contain Xanthan gum.
Using coconut flour or almond flour is not recommended- it is likely you will have to adjust the quantity used.
To make a version of this cake that is not gluten free:
Not concerned about a gluten free cake? Use regular all purpose flour. Use the exact amount the recipe calls for.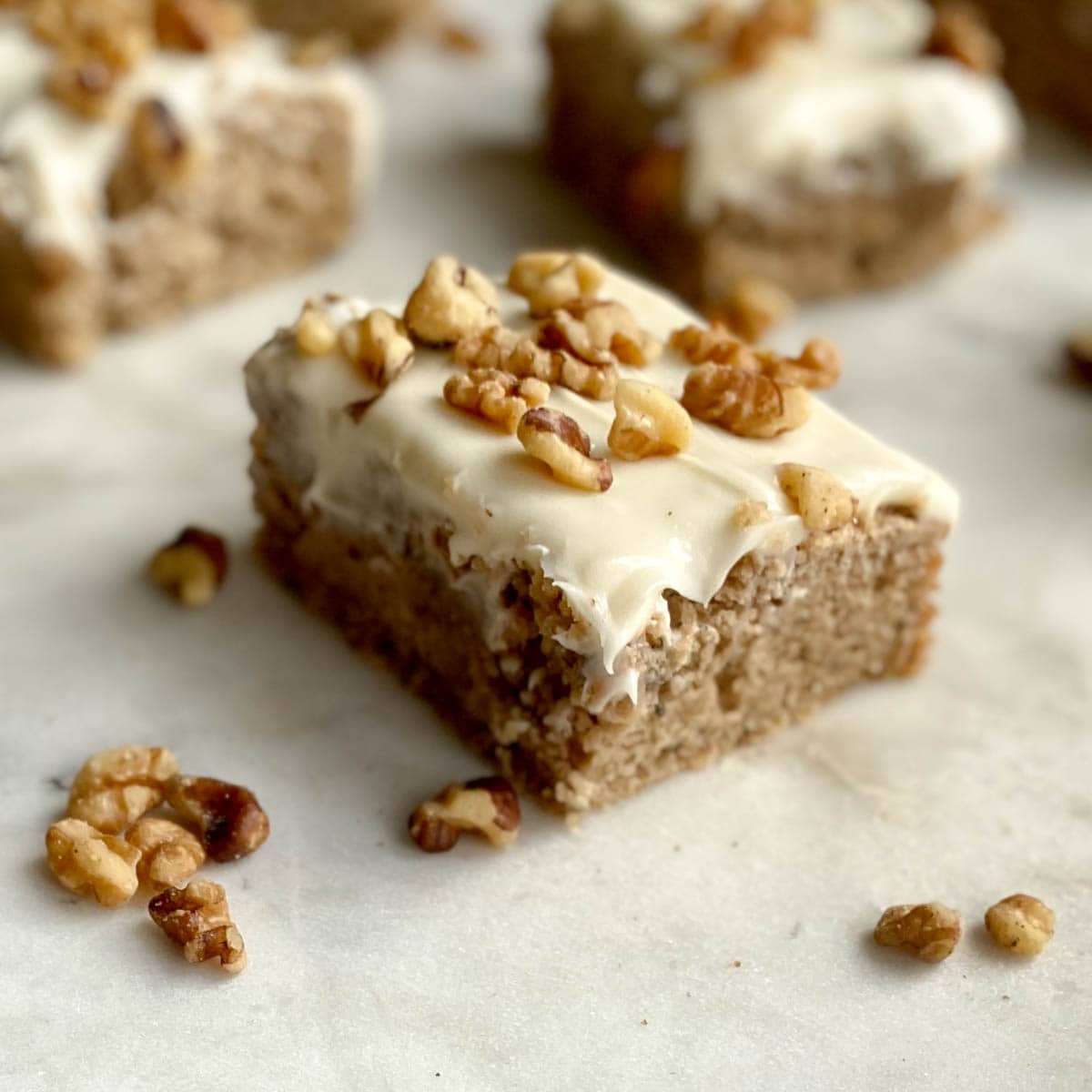 Leftovers
Store the banana cake in an airtight container in the refrigerator for up to 4 days. This must be refrigerated because it has a cream cheese based frosting. This cake tastes best when served at room temperature, so I like to let it sit out for about 30 minutes before eating.
Tips for the best results:
The butter should be softened, but not melted. This can be done by letting it sit at room temperature for an hour prior to using, or by heating in the microwave for 10 second intervals until soft, but not melted.
Cream the sugars and butters using an electric mixer. The mixture should be completely mixed and very creamy when done mixing.
Use ripe bananas! The cake will take a million times better, and have a much better texture if bananas are ripe.
Don't over mix the flour mixture with the wet ingredients. Mix just until combined! The flour contains xanthan gum, which can get tough and chewy if over mixed. 
Weigh the mashed bananas. For most accurate results, use 254 grams of mashed bananas.
Frosting the Banana Cake
The best part about this cake (in my opinion) is the frosting! Cool the cake completely prior to frosting it. Use a rubber spatula, and gently spread the frosting over the top of the cake.
More Gluten Free Desserts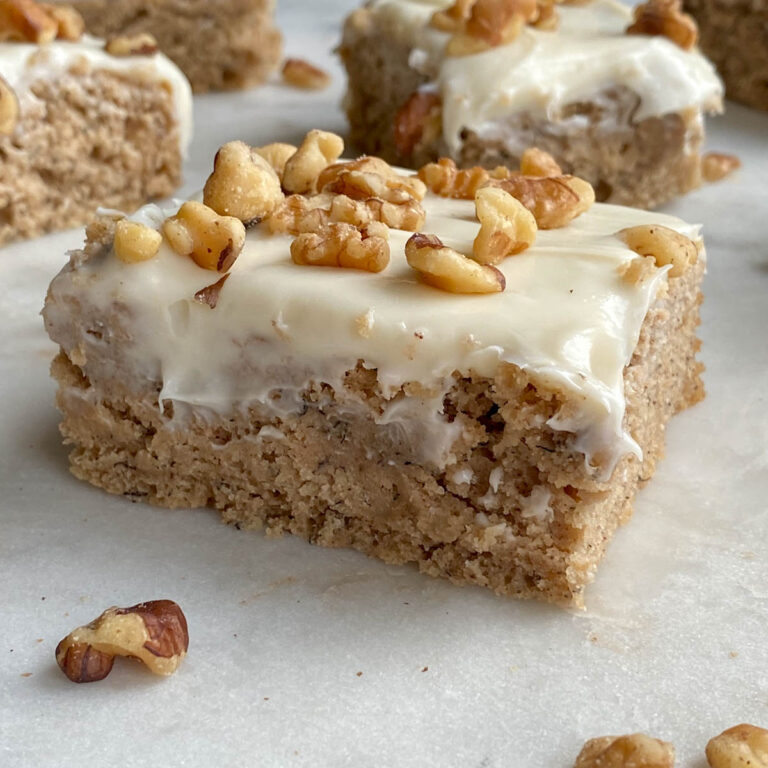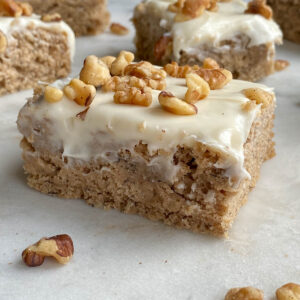 The Best Gluten Free Banana Cake
Gluten Free Banana cake is moist, light and may be your favorite dessert! This Banana Cake has the perfect balance of banana's and sweetness.
Ingredients
Banana Cake
2

cups

gluten free 1:1 baking flour

(Bob's Red Mill or King Arthur)

1

teaspoon

cinnamon

½

teaspoon

salt

½

teaspoon

baking powder

1

tsp

baking soda

¼

cup

granulated sugar

¼

cup

brown sugar

packed

6

tablespoon

butter

softened (not melted)

2

eggs

2

teaspoon

vanilla

½

cup

2% milk

1

cup

mashed bananas

254 grams (weigh for more accurate measurement)
Frosting
8

ounces

low fat cream cheese

¾

cup

powdered sugar

2

tablespoon

unsalted butter

softened

1

teaspoon

vanilla
Instructions
Preheat oven to 350F. Grease a 9x9 inch square baking pan and set aside.

Combine flour, cinnamon, salt, baking soda and baking powder in a medium sized bowl. Mix together and set aside.

In a large mixing bowl, combine the sugar, brown sugar and butter. Beat with a mixer on medium speed for about 1 minute, until mixture is creamy.

Add eggs, vanilla and milk. Mix until combined, about 1 minute.

In a separate bowl, mash the bananas until they are smooth and no large pieces remain. Use either a fork or electric mixer to do this.

Add the mashed bananas to your sugar mixture and mix using a spoon.

TIP: for best results, weight your mashed banana's before adding them. You need 254 grams (8.9 ounces) of mashed bananas.

Add the dry ingredients into the wet ingredients. Mix gently using a spoon until just combined. (Do not over mix!)

Pour into prepared baking pan.

Bake for 22-25 minutes, or until toothpick is inserted into the center and comes out clean.

Allow cake to cool completely before frosting.
Frosting
Combine the softened cream cheese, butter and vanilla in a medium mixing bowl.

Using an electric mixer, beat until combined.

Spread evenly over the cake. Enjoy!
Notes
Weigh the bananas: For best results, weigh out the bananas. You need 254 grams (8.9 ounces) of mashed banana. 
Measure the flour: Measure the flour by spooning it into the measuring cup and leveling off the top with a knife. Do not pack the flour into the cup. 
Pan Size: use a 9x9 inch square baking dish. You can also use a 13x9 inch baking pan, however the cooking time will vary. 
Cooking Time: be sure to preheat your oven! The cake is done when a toothpick is inserted into the middle and comes out clean. Add a few minutes to the cooking time if needed, as ovens may vary. 
Nutrition
Calories:
270
kcal
|
Carbohydrates:
37
g
|
Protein:
5
g
|
Fat:
12
g
|
Saturated Fat:
7
g
|
Polyunsaturated Fat:
1
g
|
Monounsaturated Fat:
3
g
|
Trans Fat:
1
g
|
Cholesterol:
58
mg
|
Sodium:
362
mg
|
Potassium:
149
mg
|
Fiber:
3
g
|
Sugar:
21
g